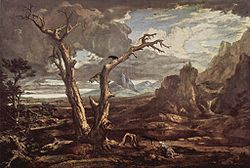 "Elijah in the wilderness"
A reader sent me the following by CGG's John Ritenbaugh:
(15) "The LORD your God will raise up for you a Prophet like me from your midst, from your brethren. Him you shall hear, (16) according to all you desired of the LORD your God in Horeb in the day of the assembly, saying, "Let me not hear again the voice of the LORD my God, nor let me see this great fire anymore, lest I die." (17) "And the LORD said to me: "What they have spoken is good. (18) I will raise up for them a Prophet like you from among their brethren, and will put My words in His mouth, and He shall speak to them all that I command Him.
New King James Version

All of us desire to know the future so we can be prepared for it. We want to be in control of our destinies and not at the mercy of events. However, some have this desire so strongly that they set themselves up as channels through which the future is revealed.

Such people have misled many. Deuteronomy 18, along with chapter 13, warns against such people. Whether they are called diviners, charmers, spiritists, or channelers, using methods like reading tea leaves, casting lots, or conducting séances, they are to be seriously and carefully avoided because there is no godly reality to their prognostications. Those seeking to know are being misguided, putting themselves at the mercy of lying demons, or at the very least, imaginative men and women.

At other times, simply following a church tradition regarding a prophecy can also mislead a person. This occurs because someone in the past, sincerely believing he understood a particular prophecy, began preaching his belief, and many in his audience then believed without the resources to prove the interpretation wrong. Due to frequent repetition, it came to be accepted as truth.

It is important for us to understand that prophets were not merely temporary and occasional expedients God would turn to. They played a vital and continuing role in Israel, especially in those times before the Word of God was widely distributed. This is why God makes provision for them within the law. He shows in many places that those He appoints to the prophetic office will always preach the keeping of the commandments of God as evidence of the Source of their inspiration. They will teach the conservation of past truths even as they break new doctrinal ground.

They both forthtell – that is, proclaim a message truthfully, clearly, and authoritatively to those for whom it is intended – and they will on occasion, but not always, foretell – that is, predict events before they take place.

It is misleading to believe these verses in Deuteronomy 18 apply only to Christ. His is undoubtedly their ultimate application, but the promise and description applies to all true, God-ordained prophets. Notice some of the identifiers in these verses:

1. God established the foundational pattern for the prophetic office in Moses ("like me").

2. God will raise a prophet up from among the Israelitish people. Later biblical sources show he might be drawn and appointed from any of the tribes and from any occupation. In other words, he did not have to be a Levite.

3. He will perform the function of a mediator between God and men (verses 16-18).

4. He will stand apart from the system already installed. He will not be antagonistic to the system, but he may be very antagonistic to the sins of those within the system, especially the leadership.

5. God will directly appoint and separate him for his office. Thus, the thrust of his service as God's representative is direct and authoritative. By contrast, the priest's function flowed from man to God by means of sacrifice – far less direct and more appealing and pleading than demanding. The New Testament ministry combines elements of both, but parallels the prophet's function more than the priest's.

Simply and broadly, a prophet is one who is given a message by another of greater authority and speaks for him to those for whom the message is intended. Thus, Moses was God's prophet, but Aaron was Moses' prophet.

Without a doubt, when we hear the word "prophet," we immediately think of the Old Testament. This is a natural reaction because that is where most of them appear in the Bible. Our memory instantaneously brings forth names like Moses, Isaiah, Jeremiah, Ezekiel, and David – all great men. However, without a doubt, the two greatest prophets of all time appear in the New Testament: John the Baptist and Jesus Christ. John the Baptist is the last and greatest under the Old Covenant, and Jesus Christ is the first and greatest of the New.
John W. Ritenbaugh
(The Berean, September 18, 2016)
While I am not about to analyze all of John Ritenbaugh's points, the reality is that most real Christians will NOT accept biblical criteria for prophets in this age.
Sadly, many people in the Church of God (COG) have trouble believing that God actually uses prophets or how He would use them today.
But first, it should be noted certain leaders of other COGs  have disqualified themselves on certain matters of prophecy, especially when they insist on matters that are wrong, or at best questionable (see Who is the Man of Sin of 2 Thessalonians 2? and Is the Future King of the South Rising Up? and The 'Peace Deal' of Daniel 9:27 and The Elijah Heresies and Must the Ten Kings of Revelation 17:12 Rule over Ten Currently Existing Nations? and The Falling Away: The Bible and WCG Teachings).
That being said  notice two portions of the New Testament:
27 Now you are the body of Christ, and members individually. 28 And God has appointed these in the church: first apostles, second prophets, third teachers, after that miracles, then gifts of healings, helps, administrations, varieties of tongues. 29 Are all apostles? Are all prophets? (1 Corinthians 12:27-29)

29 Let two or three prophets speak, and let the others judge. 30 But if anything is revealed to another who sits by, let the first keep silent. 31 For you can all prophesy one by one, that all may learn and all may be encouraged. 32 And the spirits of the prophets are subject to the prophets. (1 Corinthians 14:29-33)

6 Having then gifts differing according to the grace that is given to us, let us use them: if prophecy, let us prophesy in proportion to our faith (Romans 12:6).
The Apostle Paul makes it clear that not all are prophets. Prophet is an office and prophets are to prophesy. Although the position of groups like LCG is that it has NO prophets (which is likely the case as I stopped attending late on 12/28/12), it should be noted that its top leader had repeatedly taught in the past that God may consider Bob Thiel to be a prophet (see How To Determine If Someone is a True Prophet of God).
Jesus taught:
11 "Blessed are you when they revile and persecute you, and say all kinds of evil against you falsely for My sake. 12 Rejoice and be exceedingly glad, for great is your reward in heaven, for so they persecuted the prophets who were before you. (Matthew 5:11-12)
Contrary to scripture, most end time Christians do not heed the following from the Apostle Paul:
20 Despise not prophesyings. (1 Thessalonians 5:20, KJV)

20 Do not despise prophecies. (1 Thessalonians 5:20, NKJV)
Oh, yes the Laodicean Christians say that they believe biblical prophecies,  but they also tend to disbelieve that God has any prophets active today. Hence, in my view, they are despising prophecy.
The fact is that Laodiceans believe that they do not have need to listen to any of God's end time prophets (Revelation 13:14-18), even if some believe that God uses prophets.
Here is a list of three dozen prophetic errors that various claimed COG groups hold:
Some will come up with their preferred rational as why not to agree with the position of the Continuing Church of God (CCOG) on these matters. Yet not only are they biblical, on most of those points, the old WCG taught what I believe that the Bible teaches on them (on the few that it did not, one is consistent with a November 1979 HWA writing and on the others, a former adviser to HWA told me that HWA would have agreed with me on those as well, as one he had not investigated and some others were not issues when he was alive).
It should be noted that leaders in the Living Church of God and/or the United Church of God confirmed to me personally that I was biblically correct on all the above points, despite the fact that their respective churches hold to several of the errors pointed out above. Those who rely too much on a compromised ministry (Ezekiel 34:7-10) to teach them prophecy that is not truly in accordance with scripture need to realize that according to Jesus' words in Revelation 2 & 3 and Luke 21, only relatively few Christians will be protected from the hour of trial that will come upon the whole world (Revelation 3:10; see also There is a Place of Safety for the Philadelphians. Why it May Be Petra).
It astounds me how many in the COGs hold to criteria for prophets that are not biblical. To learn what they are, check out the article How To Determine If Someone is a True Prophet of God.
Of course, most did not believe the great prophet John the Baptist (Luke 28:33), nor that Jesus was the Christ (Luke 28:34) as most of the people then had different criteria than God set (cf. Luke 28:35).
What about you?
Some items of possibly related interest may include:
How To Determine If Someone is a True Prophet of God There are many false prophets, yet many overlook what the Bible teaches about how to recognize a true one. How can Christians determine who is a true prophet? This article contains a scripture-based checklist to assist with this determination.
How to determine if someone is a true prophet of God This is a sermon on YouTube addressing a subject that most in the Church of God do not seem to have looked into very much. It discusses scriptures and dispels some improper assertions that some associated with the COG have made about prophets in this time.
The Elijah Heresies Does the Bible teach that there will be a future Elijah? Must it be Herbert W. Armstrong? Two related sermons are available Elijah: Prophecies and Heresies and Elijah, Herbert W. Armstrong, and CCOG.
Why Be Concerned About False and Heretical Leaders? There have been many false leaders–here is some of why you should be concerned about them.
There is a Place of Safety for the Philadelphians. Why it May Be Petra This article discusses a biblical 'place of safety' and includes quotes from the Bible and Herbert W. Armstrong on this subject–thus, there is a biblically supported alternative to the rapture theory. There is also a video on the subject: Might Petra be the Place of Safety?  Here is something related in the Spanish language: Hay un lugar de seguridad para los Filadelfinos. ¿Puede ser Petra?
When Will the Great Tribulation Begin? 2016, 2017, or 2018? Can the Great Tribulation begin today? What happens before the Great Tribulation in the "beginning of sorrows"? What happens in the Great Tribulation and the Day of the Lord? Is this the time of the Gentiles? When is the earliest that the Great Tribulation can begin? What is the Day of the Lord? Who are the 144,000? Here is a version of the article in the Spanish language: ¿Puede comenzar la Gran Tribulación en 2016 o 2017? ¿Es el Tiempo de los Gentiles? You can also see the English language sermon videos: The Great Tribulation from the Mount of Olives and Can the Great Tribulation begin before 2020? A shorter video is: Can the Great Tribulation Start in 2016?
Who Are The Two Witnesses? What is their job? What does the Bible reveal? What has the Church of God taught on this subject? Might even Roman Catholic prophecies give some clues here?
The Final Phase of the Work What is the final phase of the work? Who will lead it? Do you have the courage to support it? Here is a related YouTube video titled The Final Phase of the Work. The written article has been translated into Spanish La Fase Final de la Obra.
Where is the True Christian Church Today? This free online pdf booklet answers that question and includes 18 proofs, clues, and signs to identify the true vs. false Christian church. Plus 7 proofs, clues, and signs to help identify Laodicean churches. A related sermon is also available: Where is the True Christian Church? Here is a link to the booklet in the Spanish language: ¿Dónde está la verdadera Iglesia cristiana de hoy?
Continuing History of the Church of God This pdf booklet is a historical overview of the true Church of God and some of its main opponents from c. 31 A.D. to 2014. Two related sermon links would include Continuing History of the Church of God: c. 31 to c. 300 A.D. and Continuing History of the Church of God: 4th-16th Centuries. In Spanish: Marque aquí para ver el pdf folleto: Continuación de la Historia de la Iglesia de Dios.
Continuing Church of God The group striving to be most faithful amongst all real Christian groups to the word of God. To see how CCOG has done so far, here is a sermon Continuing Church of God (CCOG) first year anniversary: What has been accomplished? Here is a written link to a version of that sermon in the Spanish language: Aniversario del primer año de la Continuación de la Iglesia de Dios: ¿Qué se ha cumplido?
Behind the Work: Go Therefore and Make Disciples How is the Continuing Church of God making disciples. What has been happening in the Continuing Church of God related to this and aspects of the final phase of the work. This 'behind the work' video shows New Zealand, Africa, Jerusalem, Vatican City, the USA, and the United Kingdom as well as one from Asia. Teaching and baptisms are shown.
CCOG.ASIA We in the Continuing Church of God also have the url www.ccog.asia which has a focus on Asia and has various articles in Mandarin Chinese as well as some in English, plus some items in other Asian languages. 我们在继续神的教会也提供此网址 www.ccog.asia, 关注于亚洲并且有各种各样的中英文文章,其中一些用菲律宾语翻译的文章也正在进行中,准备添加到这个网站中。 Here is a link to our Statement of Beliefs in Mandarin Chinese 继续神的教会的信仰声明.
CCOG.IN This is a website targeted towards those of Indian heritage. It has a link to an edited Hindi translation of The Mystery of the Ages and is expected to have more non-English language materials in the future.
CCOG.EU This is a website targeted towards Europe. It has materials in more than one language (currently it has English, Dutch, German, and Serbian, with links also to Spanish) and it is intended to have additional language materials added.
CCOG.NZ This is a website targeted towards New Zealand and others with a British-descended background.
CDLIDD.ES La Continuación de la Iglesia de Dios. This is the Spanish language website for the Continuing Church of God and has articles in español/castellano.
PNIND.PH Patuloy na Iglesya ng Diyos. This is the Philippines website Continuing Church of God. It has information in English and Tagalog.