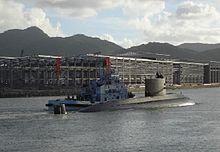 Chinese Submarine (Yuan-class SSK)
There is a lot going on in Asia.  One item is that China has basically decided to control some territory that Japan also claims:
November 25, 2013
BEIJING — China's neighbors Japan and South Korea have voiced concern about Beijing's decision Saturday to suddenly announce the establishment of an air defense identification zone over disputed waters in the East China Sea.

China's decision has escalated an already ongoing war of words over the disputed islands in the East China Sea, where Beijing and Tokyo's territorial claims overlap.

On Monday, Japan rejected the establishment of the zone and sharply criticized Beijing.

According to Japanese government spokesman Katsunobu Kato, by creating the zone and forcing others to abide by it, China has changed the situation in the East China Sea. He said it could cause a dangerous and unpredictable situation.

South Korea also voiced concern noting that China unilaterally made the decision to establish the zone, which overlaps with its own air defense identification zone.

South Korean Defense Ministry spokesman Kim Min-seok said that as of now, South Korea will allow airplanes to pass through the zone without notifying China…
Wendell Minnick, Asia editor for Defense News said Beijing's move is a response to Japan's actions three years ago to expand its zone.

Coming on a weekend before the U.S. Thanksgiving holiday, Minnick said the move by Beijing was clearly calculated to catch Washington off guard. "China's announcement appears to be an attempt to salami slice as they call it. China has a tendency to take territory or enforce new rules at a time when the U.S. is very friendly to them. The U.S. has been working very hard to improve military to military relations with China," he stated.

Minnick said the overlap of the two air defense zones raises some challenges for both Tokyo and Washington. However, he said it remains to be seen just how much China engages with Japanese and American jets in the area.   http://www.voanews.com/content/criticism-escalates-over-chinas-new-airspace-defense-rules/1796891.html
Let me clearly state that according to Bible prophecy, China will have an end-time militaristic role, but is not destined to rule the world either economically nor militarily.  And, according to Bible prophecy, there will be some type of confederation of the "kings of the sunrise," translated as "kings from the east" below:
12 Then the sixth angel poured out his bowl on the great river Euphrates, and its water was dried up, so that the way of the kings from the east might be prepared. 13 And I saw three unclean spirits like frogs coming out of the mouth of the dragon, out of the mouth of the beast, and out of the mouth of the false prophet. 14 For they are spirits of demons, performing signs, which go out to the kings of the earth and of the whole world, to gather them to the battle of that great day of God Almighty. 15 Behold, I am coming as a thief. Blessed is he who watches, and keeps his garments, lest he walk naked and they see his shame." 16 And they gathered them together to the place called in Hebrew, Armageddon (Revelation 16:12-16).
So, while what China is now doing is an affront to Japan, South Korea, and others, the time will come when those of eastern Asia will gather together at the place in Israel called Armageddon.  And from their they will move and engage in a battle that they ultimately will not win.
Elsewhere in Asia, there continue to be protests in Thailand:
BANGKOK — Thailand is facing escalating political tensions as tens of thousands of anti-government protesters have turned out in Bangkok, pressing the government to resign.

Anti-government street rallies escalated Monday as protestors marched to key government buildings, briefly occupying the finance ministry and targeting state enterprises, police and army and the ministry of interior.

There were no initial reports of violence or trouble as protestors handed flowers to state officials amid calls by rally leaders to enter buildings peacefully.

Monday's rallies followed a major gathering Sunday where an estimated 100,000 people turned out to call for Prime Minister Yingluck Shinawatra's government to resign.

Protestors are also calling for an end to what critics see as the excessive influence of her brother, former leader Thaksin Shinawatra, who remains overseas to avoid a two year jail term for corruption.

Thitinan Pongsudhirak, a political scientist at Chulalongkorn University, said the outlook for the government is highly uncertain. "It's going to be a tumultuous week, very precarious. Something will have to give. The government now has to respond," said Pongsudhirak. "The protestors are demanding the entire overhaul, uprooting of everything associated with Thaksin Shinawatra,  which is an open ended, very difficult demand to meet."  http://www.voanews.com/content/reu-thai-capital-hit-by-biggest-protests-since-deadly-2010-unrest/1796627.html
Thailand has been on my mind lately as during this month over 6100 have viewed something I posted back in 2007 that somehow was partially machine-translated and automatically save, into Siamese (the official language of Thailand)–here is the link /news/th/2007/10/.  It is not something we have ever promoted and, thus, it was nice to reach so many people this month in that language. (What was machine translated appears to be the first several news items from the following page: https://www.cogwriter.com/news/2007/10/)
Because of prophecies related to the four horsemen of Revelation 6 (specifically the second one, the red horse of war) as well as prophecies related to the rising European Beast power in Revelation 13, I have long written that we will see protests in many areas, and that we will see violent protests.
I clearly expect to see violent protests in the future in the USA, Europe, Asia, and elsewhere before the start of the Great Tribulation.  And while those in Thailand currently are peaceful, other protests may not be so.
Some articles of possibly related interest may include:
China, Its Biblical Past and Future, Part 1: Genesis and Chinese Characters This article provides information showing that the Chinese peoples must have known about various accounts in the Book of Genesis up until their dispersion after the Tower of Babel.
China, Its Biblical Past and Future, Part 2: The Sabbath and Some of God's Witness in China When did Christianity first come to China? And is there early evidence that they observed the seventh day sabbath?
Asia in Prophecy What is Ahead for China? Is it a "King of the East"? What will happen to nearly all the Chinese, Russians, and others of Asia? China in prophecy, where?
The Eurasian Union, the Kings of the East, and Bible Prophecy Is there a Eurasian union that will be formed? Is one being formed right now? Are any leaders working on that in the 21st century? Does the Bible teach that there will be a Eurasian union? If some type of Eurasian union is formed, who might it benefit and who will it destroy? A related video would be Is The Eurasian Union Rising?
Korea in Prophecy, Any Witness? Where did the Korean people come from? Does God have a plan for the Koreans? Is Korea mentioned in any prophecies? Will Koreans be among the first in the Kingdom of God? Here is a machine-translated link to that article in Korean: 한국의 언어로 : 한국 예언, 모든 증인에?; here is a link to that article in Mandarin Chinese: 在预言中的韩国:有任何证人吗?
Japan, Its Biblical Past and Future, Part 1: Any Witness? Where did the Japanese people come from? Have they had any witness?
Japan, Its Biblical Past and Future, Part 2: Prophecy Japan in prophecy. What is prophesied for Japan? Will God save the Japanese?
Continuing Church of God The group striving to be most faithful amongst all real Christian groups to the word of God
CCOG.ASIA We in the Continuing Church of God also have the url www.ccog.asia which has a focus on Asia and has various articles in Mandarin Chinese as well as some in English, with some in items in the Tagalog language in progress that are intended to be added.
What is the Gospel? True religion should be based upon the true gospel. What are some of the different gospels and where did they come from? Do you believe the true or a false gospel? Here is a version in Korean 복음이란 무엇인가?
Europa, the Beast, and Revelation Where did Europe get its name? What might Europe have to do with the Book of Revelation? What about "the Beast"? Is an emerging European power "the daughter of Babylon"? What is ahead for Europe?
Anglo – America in Prophecy & the Lost Tribes of Israel Are the Americans, Canadians, English, Scottish, Welsh, Australians, Anglo (non-Dutch) Southern Africans, and New Zealanders descendants of Joseph? Where are the lost ten-tribes of Israel? Who are the lost tribes of Israel? What will happen to Jerusalem and the Jews in Israel? Will God punish the U.S.A., Canada, United Kingdom, and other Anglo nations? Why might God allow them to be punished first? A video of possible interest may be Will Will USA Spying Help the Beast Power? Various allegations have surfaced about the United States government spying on its own citizens as well as its supposed allies in the European Union. Whether or not all the espionage allegations are true, and the main ones have not been publicly denied by the government of the USA, the reality is that this does have prophetic ramifications and will help the Beast of Revelation. This video provides quotes from the Bible showing how this is so. The USA is placing itself in a position to be taken over and its response to the allegations will make it easier for the Europeans to do so.
Four Horsemen of the Apocalypse What do each of the four horseman of the Apocalypse represent? Have they began their ride? Did Jesus discuss the any of this? Might their rides coincide with the "beginning of sorrows? Do they start their ride prior to the Great Tribulation? Did Nostradamus or any other 'private prophets' write predictions that may mislead people so that they may not understand the truth of one or more of the four horseman? There is also a related YouTube video titled The Four Horsemen of the Apocalypse.
When Will the Great Tribulation Begin? 2013, 2014, or 2015? Can the Great Tribulation begin today? What happens before the Great Tribulation in the "beginning of sorrows"? What happens in the Great Tribulation and the Day of the Lord? Is this the time of the Gentiles? When is the earliest that the Great Tribulation can begin? What is the Day of the Lord? Who are the 144,000? Here is a version of the article in the Spanish language: ¿Puede comenzar la Gran Tribulación en 2013 o 2014? ¿Es el Tiempo de los Gentiles? You can also see the English language video The Great Tribulation Will Not Begin Before 2017.
Barack Obama, Prophecy, and the Destruction of the United States-Second Edition for Second Obama Term This is a 160 page book for people truly interested in prophecies related to Barack Obama and the United States, including learning about many that have already been fulfilled (which the book documents in detail) and those that will be fulfilled in the future. It also has a chapter about a Republican choice. This book is available to order at www.barackobamaprophecy.com. The physical book can also be purchased at Amazon from the following link: Barack Obama, Prophecy, and the Destruction of the United States: Is Barack Obama Fulfilling Biblical, Islamic Catholic, Kenyan, and other America-Related Prophecies? What About Republican Leaders? Second Edition for Second Obama Term.
Barack Obama, Prophecy, and the Destruction of the United States-Second Term-Amazon Kindle edition. This electronic version is available for only US$2.99. And you do not need an actual Kindle device to read it. Why? Amazon will allow you to download it to almost any device: Please click HERE to download one of Amazon s Free Reader Apps. After you go to for your free Kindle reader and then go to Barack Obama, Prophecy, and the Destruction of the United States-Second Term-Amazon Kindle edition.