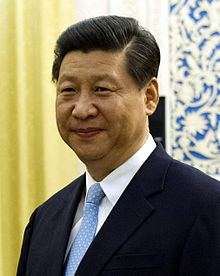 Xi Jinping

China predicts the rise of its system over Western democracy:
January 23, 2017

Chinese state media used President Donald Trump's inauguration to make a case for communism while slamming Western democracy. However, no direct reference to the new commander-in-chief was made.

The series of articles published Sunday in China's Communist Party's flagship paper People's Daily come at a time when President Xi Jinping is gearing up for a reshuffle in leadership posts that occurs once in five years.

"Western style democracy used to be a recognized power in history to drive social development. But now it has reached its limits," one of the articles reportedly said. "Democracy is already kidnapped by the capitals and has become the weapon for capitalists to chase profits."

The paper devoted an entire page in its Sunday edition to criticize democracy, quoting poetry by former Chairman Mao Zedong urging people to "range far your eyes over long vistas," and claiming that with the end of capitalism, communism will rise as the victor. http://www.ibtimes.com/us-china-relations-chinese-state-media-use-trump-inauguration-criticize-democracy-2479315

January 23, 2017

Ironically, realizing a power vacuum is forming in global "governance", Xi has used recent speeches to international audiences to tout China's economic and political values and has said that globalization, despite its flaws, should endure via the existing international system of finance and trade. That's even as state media criticizes democracy and capitalism amid efforts to build support at home for the party. Translation: China remains largely an export-driven economy, and any threats to the global trade model could have dire consequences for social stability in China.

"China's rising wealth has brought greater global presence, but that's not enough," said Zhang Ming, a political science professor at Renmin University in Beijing. "The Communist leaders want that someday China will matter globally for the nature of its political system and create its own universal values."

As a result, Trump's policies will give China a chance to take a bigger global role, said Zhang. "China doesn't have a better Communist system than it used to have, but the global economic and political turmoil has undermined public confidence in western democracy," he said. http://www.zerohedge.com/news/2017-01-23/china-says-its-ready-assume-world-leadership
While the Bible teaches that the USA, UK, Canada, Australia, and New Zealand will fall (Daniel 8:24-25; 11:39; Jeremiah 30:7), it teaches that it will be a European economic system that will dominate the world for a time, but that it will not last (cf. Revelation 18).
The Bible shows that many lands that were once Communist are prophesied to one day destroy the European power.
The Catholic Priest Kramer wrote that Russia, along with China, will attack Europe:
Priest Paul Kramer (21st century): Unanimously, in all the prophecies of the saints down through the ages, and in the most secure and certain apparitions of Our Lady, it is revealed that there is going to be a tremendous great World War. It will break out suddenly, from East to West…The Russians already have an army of Special Forces and Arab terrorists that they have trained, along with the Communist Red Chinese. They have a vast army, secret armies, who are waiting for the day when the signal is given…And they will attack Europe. In the morning it will appear that the world is at peace. By the evening, the entire world will be plunged into war. (Kramer P. The Imminent Chastisement for Not Fulfilling Our Lady's Request. An edited transcript of a speech given at the Ambassadors of Jesus and Mary Seminar in Glendale, California, September 24, 2004.THE FATIMA CRUSADER Issue 80, Summer 2005, pp. 32-45 http://www.fatimacrusader.com/cr80/cr80pg32.asp viewed 05/13/10)
The Bible also shows that this "Babylonian/European" empire will be destroyed by a northern power.
Notice something about this from the late Herbert W. Armstrong:
The second woe, with its symbols of horses and horsemen…and is also referred to as an event in the Day OF THE Eternal in Joel 2:4. This refers to a tremendous military power–also to the NORTH–due north! They come with an army of two hundred million! Think of it–an army of two hundred million! World events are now moving rapidly to make possible a Communist Eurasian army of that unbelievable manpower! (Armstrong HW. The Book of Revelation Unveiled at Last! 1972 edition. p. 38-39).
It should be noted that all of that Eurasian army does not need to be 'communist' (though most of the lands that Herbert Armstrong referred to were communist when he wrote that).
So, yes, one day China will matter politically as some are currently saying.
The Bible tells of a time when there will be a confederation of the 'kings of the east' that will get together:
12 Then the sixth angel poured out his bowl on the great river Euphrates, and its water was dried up, so that the way of the kings from the east might be prepared. 13 And I saw three unclean spirits like frogs coming out of the mouth of the dragon, out of the mouth of the beast, and out of the mouth of the false prophet. 14 For they are spirits of demons, performing signs, which go out to the kings of the earth and of the whole world, to gather them to the battle of that great day of God Almighty.

15 "Behold, I am coming as a thief. Blessed is he who watches, and keeps his garments, lest he walk naked and they see his shame."

16 And they gathered them together to the place called in Hebrew, Armageddon. (Revelation 16:12-16)
This will include Russia, China, Korea, Japan, and probably Malaysia, Vietnam, Thailand, and the Philippines. Things will one day dramatically change, militarily, in Asia, in terms of cooperation.
Notice also the following:
13 Then the sixth angel sounded: And I heard a voice from the four horns of the golden altar which is before God, 14 saying to the sixth angel who had the trumpet, "Release the four angels who are bound at the great river Euphrates." 15 So the four angels, who had been prepared for the hour and day and month and year, were released to kill a third of mankind. 16 Now the number of the army of the horsemen was two hundred million; I heard the number of them. (Revelation 9:13-17).
Only China, and possibly India and others in Asia (many of which will one-day align themselves with China and Russia against the European Empire), are capable of fielding a two hundred million man army. Thus, Revelation appears to be discussing an Asian role in the end-time prophecies.
As I have written before, there were only about 100,000,000 males (including children) on the entire earth when God had the Apostle John pen the prophecy in Revelation 9:16 that a 200,000,000 man army would form (Rastogi VB, Kishore B. A Complete Course in ISC Biology. Pitambar Publishing, 1997, p. 24). This means, despite those who claim that the Book of Revelation was fulfilled centuries ago (see The Dangerous Rise of Preterists), that the prophecy about the 200 million man army is for a time like we are now in.
In the Book of Jeremiah, it is shown that a northern people (which most logically would seem to have to be Russia at this stage) will be part of the force that extends to the ends of the earth (like China) and then eventually invades, end time Babylon (which will be a European power):
9 For behold, I will raise and cause to come up against Babylon
An assembly of great nations from the north country,
And they shall array themselves against her;
From there she shall be captured.
Their arrows shall be like those of an expert warrior;
None shall return in vain. (Jeremiah 50:9)

50:41 Behold, a people shall come from the north,
And a great nation and many kings
Shall be raised up from the ends of the earth.
42 They shall hold the bow and the lance;
They are cruel and shall not show mercy.
Their voice shall roar like the sea;
They shall ride on horses,
Set in array, like a man for the battle,
Against you, O daughter of Babylon. (Jeremiah 50:41-42).
From a European perspective, Russia is a north country whose borders reach to the eastern ends of the earth, as do China's and many Asian-Pacific nations.
Donald Trump's nationalist message may help encourage those in Asia to get closer to China and Russia's Eurasian Union.
Eurasian forces will one day gather at Armageddon. No, I am not saying that Donald Trump intentionally is causing Armageddon, but that some of his statements are probably going to help drive various Asian nations together.
Bible prophecies will be fulfilled.
Some items of possibly related interest may include:
Armageddon Dr. Thiel, from Tel Megiddo in Israel, discusses Armageddon, some of its history, and what the Bible says about it. Is this the place where forces in the world will gather to fight? Will they fight here or is the related battle somewhere else. Dr. Thiel answers these questions and more.
China, Its Biblical Past and Future, Part 1: Genesis and Chinese Characters Where did the Chinese people come from? This article provides information showing that the Chinese peoples must have known about various accounts in the Book of Genesis up until their dispersion after the Tower of Babel. Here is a link to a version of this article in Spanish: ¿Prueban los caracteres chinos la exactitud de la Biblia?
China, Its Biblical Past and Future, Part 2: The Sabbath and Some of God's Witness in China When did Christianity first come to China? And is there early evidence that they observed the seventh day sabbath?
Russia and Ukraine: Their Origins and Prophesied Future Russia in prophecy. Where do the Russians come from? What about those in the Ukraine? What is prophesied for Russia and its allies? What will they do to the Europeans that supported the Beast in the end? There is also a video sermon available: Russia in the Bible and in Prophecy and a video sermonette available: Ukraine in Prophecy?
Is Russia the King of the North? Some claim it is. But what does the Bible teach? Here is a link to a video, also titled Is Russia the King of the North?
Ezekiel 38: For Russia & Iran in Our Day? Is Ezekiel 38 about to be fulfilled? A related video is available titled Ezekiel 38: For Russia, Ukraine, & Iran Now? Another could be Russia, Iran, Syria, & the Bible (Code).
Islands and Bible Prophecy What's ahead for islands? What does the Bible prophesy about them?
Asia in Prophecy What is Ahead for Asia? Who are the "Kings of the East"? What will happen to nearly all the Chinese, Russians, Indians, and others of Asia? China in prophecy, where? Who has the 200,000,000 man army related to Armageddon? A YouTube video of interest may be Is China THE Threat to the United States of America?
The Eurasian Union, the Kings of the East, and Bible Prophecy Is there a Eurasian union that will be formed? Is one being formed right now? Are any leaders working on that in the 21st century? Does the Bible teach that there will be a Eurasian union? If some type of Eurasian union is formed, who might it benefit and who will it destroy? A related video would be Is The Eurasian Union Rising?
Korea in Prophecy, Any Witness? Where did the Korean people come from? Does God have a plan for the Koreans? Is Korea mentioned in any prophecies? Will Koreans be among the first in the Kingdom of God? Here is a machine-translated link to that article in Korean: 한국의 언어로 : 한국 예언, 모든 증인에?; here is a link to that article in Mandarin Chinese: 在预言中的韩国:有任何证人吗?
Islands and Bible Prophecy What's ahead for islands? What does the Bible prophesy about them?
Anglo – America in Prophecy & the Lost Tribes of Israel Are the Americans, Canadians, English, Scottish, Welsh, Australians, Anglo-Saxon (non-Dutch) Southern Africans, and New Zealanders descendants of Joseph? Where are the lost ten-tribes of Israel? Who are the lost tribes of Israel? What will happen to Jerusalem and the Jews in Israel? Will God punish the U.S.A., Canada, United Kingdom, and other Anglo-Saxon nations? Why might God allow them to be punished first? Here is a link to the Spanish version of this article: Anglo-América & las Tribus Perdidas de Israel. Information is also in the YouTube sermons titled Where are the Ten Lost Tribes? Why does it matter? and British are the Covenant People. A short YouTube of prophetic interest may be Barack Obama and the State of the Apocalypse.
Do You Know That Babylon is Forming? How is the final Babylon forming? Are Protestants such as Joel Osteen and Kenneth Copeland are endorsing something dangerous? Could Pope Francis be the 'False Prophet' that the Bible warns against? Is an antipope expected to endorse a one-world religion? Here is a link to a related written article In Vatican City: New Babylon more openly forming!
Europa, the Beast, and Revelation Where did Europe get its name? What might Europe have to do with the Book of Revelation? What about "the Beast"? Is an emerging European power "the daughter of Babylon"? What is ahead for Europe? Here is a link to a video titled: Can You Prove that the Beast to Come is European?
Who is the King of the West? Why is there no Final End-Time King of the West in Bible Prophecy? Is the United States the King of the West? Here is a version in the Spanish language: ¿Quién es el Rey del Occidente? ¿Por qué no hay un Rey del Occidente en la profecía del tiempo del fin?
Does God Have a 6,000 Year Plan? What Year Does the 6,000 Years End? Was a 6000 year time allowed for humans to rule followed by a literal thousand year reign of Christ on Earth taught by the early Christians? Does God have 7,000 year plan? What year may the six thousand years of human rule end? When will Jesus return? 2026 or 20xx? There is also a video titled The 6000 Year Plan: Is the end of humanity's reign almost up? Here is a link to the article in Spanish: ¿Tiene Dios un plan de 6,000 años?
When Will the Great Tribulation Begin? 2017, 2018, or 2019? Can the Great Tribulation begin today? What happens before the Great Tribulation in the "beginning of sorrows"? What happens in the Great Tribulation and the Day of the Lord? Is this the time of the Gentiles? When is the earliest that the Great Tribulation can begin? What is the Day of the Lord? Who are the 144,000? Here is a version of the article in the Spanish language: ¿Puede comenzar la Gran Tribulación en 2016 o 2017? ¿Es el Tiempo de los Gentiles? You can also see the English language sermon videos: The Great Tribulation from the Mount of Olives and Can the Great Tribulation begin before 2020? A shorter video is: Will the Great Tribulation Start in 2017?
Donald Trump in Prophecy Prophecy, Donald Trump? Are there prophecies that Donald Trump may fulfill? Are there any prophecies that he has already helped fulfill? Could a Donald Trump presidency be apocalyptic? A related video is titled: Donald: 'Trump of God' or Apocalyptic?