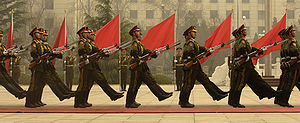 The USA has reportedly filed charges Chinese officials for engaging in cyber crime:
May 20, 2014

China Warns of More Repercussions Over US Cyber Indictments

BEIJING — China has lodged a protest with the U.S. Ambassador in Beijing in response to accusations that five Chinese military officers engaged in cyber theft and espionage targeting American companies and labor groups. China also says it could take further steps in response to the indictments.

China's Foreign Ministry says Beijing lodged the protest late Monday night to U.S. Ambassador Max Baucus, shortly after the indictments were announced.

China has flatly denied the accusations and called on the United States to revoke the indictment.

Beijing says it is Washington that owes the world an explanation about its own behavior in cyberspace.  Foreign Ministry spokesman Hong Lei says that "instead of giving an explanation, the U.S. is blurring right and wrong." He says, "China is demanding that the U.S. give a clear explanation and stop such activities."

In the past, the U.S. has accused China of hacking computers to steal everything from military technology to commercial secrets. But the indictments are the first attempt to hold individuals accountable for the crimes.

When pressed about whether China engages in cyber hacking on Tuesday, Foreign Ministry spokesman Hong Lei flatly denied the country has ever been involved in the use of cyber-theft of trade secrets. He also denied China has ever used hacking against its own people.

China says revelations made public by former U.S. intelligence contractor Edward Snowden and Wikileaks highlight the hypocrisy of the United States when it comes to cyber security.

In its indictment, the United States alleges the military officers were part of a Chinese military hacking group called unit 61398.  But, U.S. officials have been careful to point out that their key concern is the use of hacking to steal commercial secrets to benefit Chinese companies.

China's Defense Ministry has flatly denied the charges and warned the indictments could not only impact an ongoing dialogue over cyber security but military ties as well.

Wu Riqiang, a political scientist at Beijing's Renmnin University says he finds the indictments baffling.

Wu says, " China and the United States have just started a dialogue on Internet security that Washington has been asking for for a long time and Beijing just recently finally agreed." But now with the indictments, Wu says, "this has completely destroyed this newly established dialogue."

He says that although the United States and China have their own concerns about cyber security, those concerns  should be handled behind closed doors, not by applying pressure in public.

Wu says that "in the short term it will be really hard to even begin holding talks again," adding that this has "shut the door on talks all together."

AmCham China Chairman Gregory Gilligan says cyber security is a major concern for the business community.

In a statement on Tuesday, Gilligan says the group sees a "fundamental difference between intelligence gathering for legitimate national security purposes and intelligence gathering for stealing trade secrets."  http://www.voanews.com/content/china-summons-us-ambassador-after-spying-charges/1918158.html

China warns U.S. of "serious damage" to military ties over hacking charges against Chinese officers

May 20, 2014

BEIJING — China on Tuesday warned the United States was jeopardizing military ties by charging five Chinese officers with cyberspying and tried to turn the tables on Washington by calling it "the biggest attacker of China's cyberspace."

China announced it was suspending cooperation with the United States in a joint cybersecurity task force over Monday's charges that officers stole trade secrets from major American companies. The Foreign Ministry demanded Washington withdraw the indictment.  http://www.cbsnews.com/news/china-warns-u-s-of-serious-damage-to-military-ties-over-hacking/
What can China do to the USA?
Well, as I mentioned in a post yesterday, China could destroy the economy of the USA any time it decides it must as the Chinese lend the USA lots of money that it could cash out of (see USA charging Chinese military officials for economic espionage cyber crimes).  This would be devastating to both China and the USA, so that is not likely to happen yet.
China could also interfere with USA foreign policy initiatives and goals.  The situation between Ukraine and Russia come to mind.
China could also make a deal to have closer ties to Russia.  And this it has done today:
May 20, 2014

Russian President Vladimir Putin and his Chinese counterpart Xi Jinping promised closer bilateral ties during a meeting in Shanghai on Tuesday.

The two leaders oversaw the signing of 49 agreements in fields such as energy, transport and infrastructure, though no details were given.

But the countries were not able to reach a long-awaited deal that would supply China with billions of dollars of Russian natural gas for 30 years.

Nonetheless, President Xi praised his country's ties with Russia, saying the relationship is key to improving each others' international stature. "We attach a lot of importance to the quality of practical cooperation between China and Russia," he stated. "We will begin more large-scale, strategic project cooperation to improve our two nations' power and international competitiveness."

President Putin, meanwhile, stressed the importance of strong Russia-China military links, which he said could help maintain regional peace. "Cooperation between the two militaries is very important. Cooperation between the defense ministries of the two countries is also very important. This cooperation is very significant in maintaining regional and global peace and stability," he said.

Putin's government has become more isolated following Western sanctions over Moscow's actions in Ukraine.

The sanctions also have encouraged Russia to look for more non-European buyers for its natural gas supply.

The deal would be a good fit for China, which experiences natural gas shortages and relies heavily on coal.  http://www.voanews.com/content/xi-putin-promise-closer-ties-at-meeting-in-shanghai/1918247.html
The relations between Russia and China are sometimes strained, but they tend to believe that they need each other to try to minimize the power of the West in general, and the USA in particular.  For example, both Russia and China want to dethrone the USA dollar as the world's reserve currency.
But the Bible tells of a time of military cooperation between Russia and China.
Notice two such prophecies:
50:41 "Behold, a people shall come from the north,
And a great nation and many kings
Shall be raised up from the ends of the earth.
42 They shall hold the bow and the lance;
They are cruel and shall not show mercy.
Their voice shall roar like the sea;
They shall ride on horses,
Set in array, like a man for the battle,
Against you, O daughter of Babylon.

43 "The king of Babylon has heard the report about them,
And his hands grow feeble;
Anguish has taken hold of him,
Pangs as of a woman in childbirth…"(Jeremiah 50:41-43).

12 Then the sixth angel poured out his bowl on the great river Euphrates, and its water was dried up, so that the way of the kings from the east might be prepared. 13 And I saw three unclean spirits like frogs coming out of the mouth of the dragon, out of the mouth of the beast, and out of the mouth of the false prophet. 14 For they are spirits of demons, performing signs, which go out to the kings of the earth and of the whole world, to gather them to the battle of that great day of God Almighty. 15 Behold, I am coming as a thief. Blessed is he who watches, and keeps his garments, lest he walk naked and they see his shame." 16 And they gathered them together to the place called in Hebrew, Armageddon (Revelation 16:12-16).
Russia extends to the ends of the north and the east, while China is clearly one of the kings of the east.
While the end time cooperation between the two is not yet in place, both Russia and China want to move closer in that direction.  And according to biblical prophecy it will come to pass.
Some items of related interest may include the following:
The Eurasian Union, the Kings of the East, and Bible Prophecy Is there a Eurasian union that will be formed? Is one being formed right now? Are any leaders working on that in the 21st century? Does the Bible teach that there will be a Eurasian union? If some type of Eurasian union is formed, who might it benefit and who will it destroy? A related video would be Is The Eurasian Union Rising?
China, Its Biblical Past and Future, Part 1: Genesis and Chinese Characters Where did the Chinese people come from? This article provides information showing that the Chinese peoples must have known about various accounts in the Book of Genesis up until their dispersion after the Tower of Babel. Here is a link to a version of this article in Spanish: ¿Prueban los caracteres chinos la exactitud de la Biblia?
China, Its Biblical Past and Future, Part 2: The Sabbath and Some of God's Witness in China When did Christianity first come to China? And is there early evidence that they observed the seventh day sabbath?
Asia in Prophecy What is Ahead for Asia? Who are the "Kings of the East"? What will happen to nearly all the Chinese, Russians, Indians, and others of Asia? China in prophecy, where? Who has the 200,000,000 man army related to Armageddon? A YouTube video of interest may be Is China THE Threat to the United States of America?
Russia and Ukraine: Their Origins and Prophesied Future Russia in prophecy. Where do the Russians come from? What about those in the Ukraine? What is prophesied for Russia and its allies? What will they do to the Europeans that supported the Beast in the end? There is also a video sermon available: Russia in the Bible and in Prophecy and a video sermonette available: Ukraine in Prophecy?
Is Russia the King of the North? Some claim it is. But what does the Bible teach? Here is a link to a video, also titled Is Russia the King of the North?
Barack Obama, Prophecy, and the Destruction of the United States-Second Edition for Second Obama Term This is a 160 page book for people truly interested in prophecies related to Barack Obama and the United States, including learning about many that have already been fulfilled (which the book documents in detail) and those that will be fulfilled in the future. It also has a chapter about a Republican choice. This book is available to order at www.barackobamaprophecy.com. The physical book can also be purchased at Amazon from the following link: Barack Obama, Prophecy, and the Destruction of the United States: Is Barack Obama Fulfilling Biblical, Islamic Catholic, Kenyan, and other America-Related Prophecies? What About Republican Leaders? Second Edition for Second Obama Term.
Barack Obama, Prophecy, and the Destruction of the United States-Second Term-Amazon Kindle edition. This electronic version is available for only US$2.99. And you do not need an actual Kindle device to read it. Why? Amazon will allow you to download it to almost any device: Please click HERE to download one of Amazon s Free Reader Apps. After you go to for your free Kindle reader and then go to Barack Obama, Prophecy, and the Destruction of the United States-Second Term-Amazon Kindle edition.