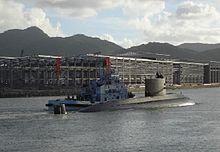 Chinese Submarine (Yuan-class SSK)
China's naval growth and assertiveness is causing concerns:
14 June 2012

In the early years of China's rise to economic and military prowess, the guiding principle for its government was Deng Xiaoping's maxim: "Hide Your Strength, Bide Your Time."
Now, more than three decades after paramount leader Deng launched his reforms, that policy has seemingly lapsed or simply become unworkable as China's military muscle becomes too expansive to conceal and its ambitions too pressing to postpone.

The current squabble with Southeast Asian nations over territorial claims in the energy-rich South China Sea is a prime manifestation of this change, especially the standoff with the Philippines over Scarborough Shoal.

"This is not what we saw 20 years ago," said Ross Babbage, a defense analyst and founder of the Canberra-based Kokoda Foundation, an independent security policy unit.

"China is a completely different actor now. Security planners are wondering if it is like this now, what is it going to be like in 20 years' time?"  http://www.msnbc.msn.com/id/47809326/ns/us_news-security/

14 June 2012

Just when external affairs minister S. M. Krishna was affirming in India's right to 'freedom of navigation' in Washington, news reports from Shanghai say China is testing Delhi's political will to exercise this right in the South China Sea.

Krishna's affirmation was part of the India-U.S. Strategic dialogue this week in Washington. Meanwhile an Indian naval contingent, on an extended operational deployment in the South China Sea during the last two months, has called in at the Shanghai port on its way home.

According to reports from Shanghai, when the Indian naval squadron led by 'INS Shivalik' was on its way to South Korea from the Philippines, the People's Liberation Army Navy provided an unwanted escort.  http://www.indianexpress.com/news/indian-navy-in-south-china-sea-beijings-unwelcome-escort/962011/
There have been numerous reports this year that China has had intimidated other nations as well out on the seas.
But the future of the seas will not ultimately belong to China (though it is likely to have at least a regional presence).
While China has grow tremendously economically, one of the things that most Westerners do not realize is that China has a system that prevents its citizens from agrarian areas from having the same rights as those in urban areas.  It is called the hukou.  Here is more information about that:
The hukou
Through a rigorous and rigid household registration system designed to control the movement of China's 1.3 billion people, the central government classifies all its citizens as either city dwellers or rural peasants. The registration, also known in Chinese as hukou, determines not only a citizen's residence but also what kind of social services individuals are eligible for…In Beijing, which has an estimated 5 million migrant workers, none of these people are allowed to obtain state-sponsored health care or schooling if their hukou is registered in their hometowns—which most likely it is. As a result, their children—many of whom are born in the Chinese capital—can only attend privately-run and unapproved schools. (Mong A, Gu B. In Beijing, 40,000 students stranded. MSNBC, August 19, 2011. http://behindthewall.msnbc.msn.com/_news/2011/08/19/7413538-in-beijing-40000-students-stranded?lite)
Even people who move from agrarian regions to the cities, still are registered as agrarian/rural and do not get the same rights or even education for their children. This disparity, combined with severe pollution, corruption, and a host of other problems, will affect China more than most realize.
China is becoming a military distraction for the USA and others, and while its threat appears carnally valid, the reality is that China is not, of itself, prophesied to takeover the USA.
Notice what RC Meredith of the Living Church of God wrote related to China and its future:
Many publications have suggested that the 21st century will be "China's century." Even though the Chinese are fiercely moving forward, and their progress in developing their industries is obvious, these publications are dead wrong for two reasons. First, the inspired word of God describes specifically how a coming European Union will be the dominant force in this world—obviously within the next several years. Therefore, brethren, I would like to focus your mind on this matter so you can more intelligently "watch" world events along this line as they unfold before your very eyes. In the coming years, you will perhaps even see a revolt of the peasants in the outlying Chinese cities, who have lagged far behind the standard of living afforded those who have moved to Beijing and Shanghai. Plus, the tremendous pollution of the water, air and foodstuffs may bring about massive disease epidemics and other problems for the Chinese.  (Meredith R.C. An Inspiring and Successful Trip. Living Church News. May-June 2007, p. 21).

China will not be the great power of the 21st century. Beset by increasing financial and social problems, Chinese influence will wane and a German-led "European Empire" will surge to the fore in world affairs. (Meredith RC. What is Just Ahead for You? Tomorrow's World magazine, Sept-Oct 2011, p. 5)
China is beginning to show some of its problems despite the government's attempts to keep such matters internal. Other problems are expected.  That does not mean that China does not have ambitious military and political goals, it is just that according to biblical prophecy, it will not attain all of them (though it may end up with Australia, despite USA and Australian efforts to stop that–see, for example, Australia accepts US troops, China not pleased).
And even though China will have some prominence in the end times (and will fairly certainly be one of the "kings of the east" of Revelation 16:12 and provide many soldiers in the 200,000,000 man army of Revelation 9:13-21), it will not end up as the top economic force in the 21st century. Europe will.
But partially because of increasing Chinese naval and other military influence, the USA will apparently expend so much energy preparing for military possibilities involving China that it will not be prepared for what is coming out of Europe.
Some articles of possibly related interest may include:
China, Its Biblical Past and Future, Part 1: Genesis and Chinese Characters This article provides information showing that the Chinese peoples must have known about various accounts in the Book of Genesis up until their dispersion after the Tower of Babel.
China, Its Biblical Past and Future, Part 2: The Sabbath and Some of God's Witness in China When did Christianity first come to China? And is there early evidence that they observed the seventh day sabbath?
Asia in Prophecy What is Ahead for China? Is it a "King of the East"? What will happen to nearly all the Chinese, Russians, and others of Asia? China in prophecy, where?
India, Its Biblical Past and Future: Any Witness? The Bible discusses the origins of those of Indian heritage and discusses some of the witness to them (including those in Bangladesh, Pakistan, and Sri Lanka).
Islands and Bible Prophecy What's ahead for islands? What does the Bible prophesy about them?
Will the Anglo-Nations be Divided? Will the lands of the United States, United Kingdom, Canada, Australia, and New Zealand be divided? Might military alliances be part of the reason that non-US Anglo-nations get divided? What does Bible prophecy teach? Are there non-biblical prophecies that support this idea? Who will divide those lands? Who will end up with the lands and the people?
Europa, the Beast, and Revelation Where did Europe get its name? What might Europe have to do with the Book of Revelation? What about "the Beast"? Is an emerging European power "the daughter of Babylon"? What is ahead for Europe?