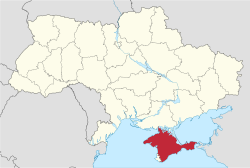 Ukraine with Crimea in Red

Those in Crimea have been voting today:
March 16, 2014
Perevalnoye, Ukraine (CNN) — Residents of Ukraine's Crimea region headed to the polls Sunday to vote in a disputed referendum on whether to join Russia or become an effectively independent state connected to Ukraine.
Preliminary results could come as soon as Sunday night local time. The United States, which says the vote is illegal, has already said it expects the Black Sea peninsula's majority ethnic Russian population to vote in favor of joining Russia. Moscow has strongly backed the referendum.

Kicking off the polling in a prerecorded statement, Crimean Prime Minister Sergey Aksyonov called on the residents of Crimea to cast their vote "independent of nationalism and disintegration."…

'Russia is an opportunity'

Another voter in Perevalnoye, Viktor Savchenko, said he would never vote for the government in Kiev. "I want us to join Russia, and live like Russians, with all their rights," he said.

Victoria Khudyakova said she also had voted to join Russia, which she sees as being "spiritually close" to Crimea. "For me, Russia is an opportunity for our Crimea to develop, to bloom. And I believe that it will be so," she said.

As of 3 p.m. (9 a.m. ET), voter turnout for all of Crimea stood at 63.9% of eligible voters, with 970,019 votes cast so far, Mikhail Malyshev, the head of the Crimean Election Commission, told reporters in the regional capital, Simferopol.

But Ukraine's Prime Minister Arseniy Yatsenyuk, speaking in Kiev, dismissed the referendum as illegitimate under Ukrainian and international law, and improperly run.

He said Ukrainian authorities had information from Crimea about voting irregularities, including people who are not Crimean citizens casting ballots, absence of proper monitoring and the presence of armed men.

Malyshev said there was no information that people with foreign passports were voting in the referendum. He also said no "provocations" had been reported at polling stations…

German Chancellor Angela Merkel criticized Russian activities in Kherson in a phone call with President Vladimir Putin on Sunday, according to a statement from her office.

She urged an increase in the presence on the ground of military observers from the Organization for Security and Co-operation in Europe, so they can quickly be sent to contested areas, especially in eastern Ukraine.  http://www.cnn.com/2014/03/16/world/europe/ukraine-crisis/

March 16, 2014

WASHINGTON — Supporters of Russian President Vladimir Putin expect to savor victory as residents of Crimeavote Sunday on splitting from Ukraine. But Western officials and analysts increasingly feel that in the long run, Russians will come to see their nation's military and political move into Crimea as a mistake. http://www.latimes.com/world/europe/la-fg-us-ukraine-20140316,0,4828947.story#ixzz2w8gxcXrc

March 16, 2014

SIMFEROPOL, UKRAINE — Diplomatic efforts to find a solution to the Ukraine crisis intensified on Sunday with a phone call between U.S. Secretary of State John Kerry and Russian Foreign Minister Sergei Lavrov.

A statement from Russia's foreign ministry said the two men had agreed on the need to push for constitutional reforms that would come "in a generally acceptable form and while taking into the account the interests of all regions of Ukraine."  No details of the type of reforms under discussion were divulged and officials in Washington have yet to comment on Sunday's discussion.

Meanwhile, under grey skies and the occasional flurry of snow, voters in Crimea's regional capital cast ballots Sunday in the controversial referendum on Crimean secession. The vote which took place across Ukraine's Crimean Peninsula offered to choices:  break from Ukraine and join Russia, or revert to their status under a 1992 constitution, which gives considerable latitude to join Russia in the future…for many voters, especially the elderly, the idea of coming back under Moscow's rule – as in Soviet days – is a dream come true.

An elderly woman turns emotional after she casts her ballot.  "It's been 23 years," she says, "don't make me cry"

At another polling station in Simferopol, Crimean parliament member Vladimir Klychnikov prepares to mark his ballot for joining Russia.

He says people have the opportunity to determine their future.  He calls it "a celebration – a celebration of democracy."

And, indeed, a fair amount of money has been spent in the run-up to the vote to present this as a festive pro-Russian occasion.

Entertainers from already-Russian republics took to the stage at a rally in the capital to cheer voters to the polls.  http://www.voanews.com/content/crimeans-vote-on-joining-russia/1872201.html

March 16, 2014

At a polling booth at a school in Simferopol, the Crimean regional capital, dozens of people lined up outside to cast their ballots early.

"I have voted for Russia," said Svetlana Vasilyeva, 27, a veterinary nurse. "This is what we have been waiting for. We are one family and we want to live with our brothers."

Vasilyeva voiced fears common among some of Ukraine's native Russian-speakers about the consequences of Yanukovich's downfall after protests in which over 100 people were killed. "We want to leave Ukraine because Ukrainians told us that we are people of a lower kind. How can you stay in such a country?" she said.

But ethnic Tatars – Sunni Muslims who make up 12 percent of Crimea's population – said they would boycott the vote despite promises by the regional authorities to give them financial aid and proper land rights…

Many Crimeans hope union with Russia will bring better pay and make them citizens of a country capable of asserting itself on the world stage. But others see the referendum as a land grab by the Kremlin from Ukraine, whose new rulers want to move the country towards the European Union and away from Russia's sway.

Putin defended the vote in a phone call on Sunday with German Chancellor Angela Merkel, saying it complied with international law, including Article 1 of the U.N. Charter which states the principle of self-determination of peoples. "It was emphasized that Russia will respect the choice of the Crimean people," a Kremlin statement said.

Putin has said he must protect the Russian-speaking population in Ukraine from "fascists" in Kiev who ousted Yanukovich. www.reuters.com/article/2014/03/16/us-ukraine-crisis-idUSBREA1Q1E820140316
Crimea is a fairly poor region that feels neglected and discriminated against by the western portion of Ukraine.  When Ukraine's coup government took over last month, one of the first things it did was to pass a bill (that ended up not being signed into law) to make Russian a second-class language in Ukraine.  That incensed those in Crimea and various ones in the eastern portion of Ukraine, as many in those regions speak Russian as their native language.
Many of those in Crimea (other than the Tartars) seem to believe that they will be much better off with Russia who wants them. than Kiev who claims to want to keep them, but has not shown signs that it would truly be able to help them.  The USA seems to want to stop Russia from expanding and has taken steps to isolate Russia from the rest of the world on this matter.  The European Union, who is very interested in getting Ukraine to join it, also has tried to isolate Russia.  However, while the European Union wants Crimea, it most likely will be satisfied with much of the remaining land of Ukraine and likely will allow the Crimean crisis to blow over in time.
That being said, I do believe that the situation with Russia and Crimea will embolden the Europeans to step up their desire to develop their own independent military deterrents so that they will feel that they can stand up to Russia on their own.  And while that will work for a while, the Bible is clear that a Russian-led confederation will eventually cause the Europeans problems (Daniel 11:44-45) and eliminate it (Jeremiah 51:11-32).
Of course, the situation in Ukraine and Crimea remains tense and difficult. The Bible shows that war is in the prophesied future for some or all of Ukraine/Crimea (watch the new video Ukraine in Prophecy?).
As I have written before, those in Ukraine and Crimea need our prayers and the kingdom of God.
Some items of possibly related interest may include:
Russia and Ukraine: Origins and Prophesied Future Where do the Russians come from? What about those in the Ukraine? What is prophesied for Russia and its allies? What will they do to the Europeans that supported the Beast in the end? You can also watch the new video Ukraine in Prophecy?
Is Russia the King of the North? Some claim it is. But what does the Bible teach? Here is a link to a video, also titled Is Russia the King of the North?
The Eurasian Union, the Kings of the East, and Bible Prophecy Is there a Eurasian union that will be formed? Is one being formed right now? Are any leaders working on that in the 21st century? Does the Bible teach that there will be a Eurasian union? If some type of Eurasian union is formed, who might it benefit and who will it destroy? A related video would be Is The Eurasian Union Rising?
The Gospel of the Kingdom of God was the Emphasis of Jesus and the Early Church Did you know that? Do you even know what the gospel of the kingdom is all about? You can also see a YouTube video sermon The Gospel of the Kingdom.
Just What Do You Mean the Kingdom of God? A booklet that was written by Herbert Armstrong answers questions about the Kingdom.
Europa, the Beast, and Revelation Where did Europe get its name? What might Europe have to do with the Book of Revelation? What about "the Beast"? Is an emerging European power "the daughter of Babylon"? What is ahead for Europe? Here is a link to a video titled: Can You Prove that the Beast to Come is European?
Who is the King of the North? Is there one? Do biblical and Roman Catholic prophecies for the Great Monarch point to the same leader? Should he be followed? Who will be the King of the North discussed in Daniel 11? Is a nuclear attack prophesied to happen to the English-speaking peoples of the United States, Great Britain, Canada, Australia, and New Zealand? When do the 1335 days, 1290 days, and 1260 days (the time, times, and half a time) of Daniel 12 begin? When does the Bible show that economic collapse will affect the United States? In the Spanish language check out ¿Quién es el Rey del Norte? Here is a link to a video titled: The Future King of the North.
Is the Future King of the South Rising Up? Some no longer believe there needs to be a future King of the South. Might Egypt, Islam, Iran, Arabs, or Ethiopia be involved? Might this King be called the Mahdi or Caliph? What does the Bible say? A YouTube video of related interest may be: The Future King of the South is Rising.
Does God Have a 6,000 Year Plan? What Year Does the 6,000 Years End? Was a 6000 year time allowed for humans to rule followed by a literal thousand year reign of Christ on Earth taught by the early Christians? Does God have 7,000 year plan? What year may the six thousand years of human rule end? When will Jesus return? 2021 or 20xx? There is also a video titled The 6000 Year Plan: Is the end of humanity's reign almost up?
When Will the Great Tribulation Begin? 2014, 2015, or 2016? Can the Great Tribulation begin today? What happens before the Great Tribulation in the "beginning of sorrows"? What happens in the Great Tribulation and the Day of the Lord? Is this the time of the Gentiles? When is the earliest that the Great Tribulation can begin? What is the Day of the Lord? Who are the 144,000? Here is a version of the article in the Spanish language: ¿Puede comenzar la Gran Tribulación en 2013 o 2014? ¿Es el Tiempo de los Gentiles? You can also see the English language video The Great Tribulation Will Not Begin Before 2017.
Blood Moons and Prophecy There are four 'blood moons' expected in 2014 and 2015. Do they signal the Day of the Lord or the return of Jesus Christ? A related YouTube video is also available: Blood Moons, Prophecy, 2014, and 2015.
Barack Obama, Prophecy, and the Destruction of the United States-Second Edition for Second Obama Term This is a 160 page book for people truly interested in prophecies related to Barack Obama and the United States, including learning about many that have already been fulfilled (which the book documents in detail) and those that will be fulfilled in the future. It also has a chapter about a Republican choice. This book is available to order at www.barackobamaprophecy.com. The physical book can also be purchased at Amazon from the following link: Barack Obama, Prophecy, and the Destruction of the United States: Is Barack Obama Fulfilling Biblical, Islamic Catholic, Kenyan, and other America-Related Prophecies? What About Republican Leaders? Second Edition for Second Obama Term.
Barack Obama, Prophecy, and the Destruction of the United States-Second Term-Amazon Kindle edition. This electronic version is available for only US$2.99. And you do not need an actual Kindle device to read it. Why? Amazon will allow you to download it to almost any device: Please click HERE to download one of Amazon s Free Reader Apps. After you go to for your free Kindle reader and then go to Barack Obama, Prophecy, and the Destruction of the United States-Second Term-Amazon Kindle edition.