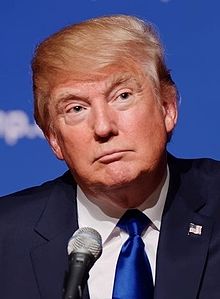 Donald Trump

Donald Trump accepted the Republican Party nomination and spoke on several of his concerns for the USA:
July 22, 2016

WASHINGTON—In his first speech Thursday night as the official Republican nominee for U.S. president, Donald Trump struck a tone of urgency regarding recent violent events in the U.S. and billed himself as a truth-teller in saying that under a Trump presidency the country would be one of "law and order."

"Our Convention occurs at a moment of crisis for our nation. The attacks on our police, and the terrorism in our cities, threaten our very way of life. Any politician who does not grasp this danger is not fit to lead our country," he said.

In the wide-ranging speech, Trump also hit on his plans to fight Islamic State and other terrorist organizations inside America's borders and throughout the world. Trump cut against the Republican Party grain in calling for an end to multilateral trade deals, advocating for the rights of the LGBTQ community and espousing a non-interventionist policy when dealing with international crises.

"As your President, I will do everything in my power to protect our LGBT citizens from the violence and oppression of a hateful foreign ideology. To protect us from terrorism, we need to focus on three things," Trump said.

The three things Trump referred to include having "the best intelligence gathering operation in the world," abandoning what he called the "failed policy of nation building and regime change that Hillary Clinton pushed in Iraq, Libya, Egypt and Syria" and suspending immigration from "any nation that has been compromised by terrorism" until a proper vetting mechanism can be put in place. http://www.voanews.com/content/trump-lays-out-law-and-order-platform-in-rnc-speech/3430080.html
Though Donald Trump professes Christianity, he has publicly stated that he has not repented or asked God for forgiveness.  Yet, I heard Jerry Falwell, Jr. try to explain over the radio why he felt Donald Trump was a Christian. Whatever religion Donald Trump holds, it most certainly is not the Christianity of the Bible.
As far as the LGBT (Lesbian-Gay-Bisexual-Transexual) crowd goes, the Bible denounces their agenda:
9 Know ye not that the unrighteous shall not inherit the kingdom of God? Be not deceived: neither fornicators, nor idolaters, nor adulterers, nor effeminate, nor abusers of themselves with mankind,  10 Nor thieves, nor covetous, nor drunkards, nor revilers, nor extortioners, shall inherit the kingdom of God.  (1 Corinthians 6:9-10, KJV)

22 You shall not lie with a male as with a woman. It is an abomination.  (Leviticus 18:22)

13 If a man lies with a male as he lies with a woman, both of them have committed an abomination. (Leviticus 20:13)

5 A woman shall not wear anything that pertains to a man, nor shall a man put on a woman's garment, for all who do so are an abomination to the Lord your God. (Deuteronomy 22:5)

26 For this reason God gave them up to vile passions. For even their women exchanged the natural use for what is against nature. 27 Likewise also the men, leaving the natural use of the woman, burned in their lust for one another, men with men committing what is shameful, and receiving in themselves the penalty of their error which was due.

28 And even as they did not like to retain God in their knowledge, God gave them over to a debased mind, to do those things which are not fitting; 29 being filled with all unrighteousness, sexual immorality, wickedness, covetousness, maliciousness; full of envy, murder, strife, deceit, evil-mindedness; they are whisperers, 30 backbiters, haters of God, violent, proud, boasters, inventors of evil things, disobedient to parents, 31 undiscerning, untrustworthy, unloving, unforgiving, unmerciful; 32 who, knowing the righteous judgment of God, that those who practice such things are deserving of death, not only do the same but also approve of those who practice them. (Romans 1:18-32)
But Donald Trump apparently has a different view on these matters.
Donald Trump and the USA need repentance–otherwise the USA is doomed.
European's were concerned about Donald Trump' speech for other reasons:
July 22, 2016

'Apocalypse now?' What Europe's media thought of the Trump speech

Capping a four-day convention in Cleveland, the billionaire businessman and reality TV star said he "humbly and gratefully" accepted the Republican presidential nomination.

Europe's most powerful nation was not too impressed, with newspapers in Germany generally noting that there was little humility in the one hour and 16 minutes Trump addressed the convention making it the longest speech in 44 years. …

So it was on Friday, with even Europe's conservative press critical of Trump's key messages. Germany's center-right, conservative Die Welt newspaper noted that Trump's message was "apocalyptic" and "bleak": "The speech was populist through and through and offered no solutions," the newspaper said, adding that it lacked "elegance, humor, self-irony."

France's Les Echos, a right-leaning financial newspaper, said Trump had posed as the "savior of a country at the edge of the Apocalypse" in his "endless" speech on "endangered America." The left-wing Le Monde newspaper also drew attention to Trump's attempt to paint the "most distressing picture possible of the U.S." although it feared that Trump now "has just over three months to arrive at 1600 Pennsylvania Avenue in Washington." http://www.cnbc.com/2016/07/22/apocalypse-now-what-europes-media-thought-of-the-trump-speech.html
Donald Trump is 'apocalyptic,' but not quite the way the Europeans seem to think (watch also Could Donald Trump be Apocalyptic?).
Other than national repentance, the only  real solution for the USA is the Kingdom of God.
Some items of possibly related interest may include:
Donald Trump in Prophecy Prophecy, Donald Trump? Are there prophecies that Donald Trump may fulfill? Are there any prophecies that he has already helped fulfill? Could a Donald Trump presidency be apocalyptic? A related video is titled Could Donald Trump be Apocalyptic?
Does God Have a 6,000 Year Plan? What Year Does the 6,000 Years End? Was a 6000 year time allowed for humans to rule followed by a literal thousand year reign of Christ on Earth taught by the early Christians? Does God have 7,000 year plan? What year may the six thousand years of human rule end? When will Jesus return? 2024 or 20xx? There is also a video titled The 6000 Year Plan: Is the end of humanity's reign almost up? Here is a link to the article in Spanish: ¿Tiene Dios un plan de 6,000 años?
When Will the Great Tribulation Begin? 2016, 2017, or 2018? Can the Great Tribulation begin today? What happens before the Great Tribulation in the "beginning of sorrows"? What happens in the Great Tribulation and the Day of the Lord? Is this the time of the Gentiles? When is the earliest that the Great Tribulation can begin? What is the Day of the Lord? Who are the 144,000? Here is a version of the article in the Spanish language: ¿Puede comenzar la Gran Tribulación en 2016 o 2017? ¿Es el Tiempo de los Gentiles? You can also see the English language sermon videos: The Great Tribulation from the Mount of Olives and Can the Great Tribulation begin before 2020? A shorter video is: Can the Great Tribulation Start in 2016?
Just What Do You Mean — Repentance? Do you know what repentance is? Have you truly repented? Repented of what? Herbert W. Armstrong wrote this as a booklet on this important subject.
The Gospel of the Kingdom of God This free online pdf booklet has answers many questions people have about the Gospel of the Kingdom of God and explains why it is the solution to the issues the world is facing.
The Gospel of the Kingdom of God was the Emphasis of Jesus and the Early Church Did you know that? Do you even know what the gospel of the kingdom is all about? You can also see a YouTube video sermons Why Teach the Kingdom of God? and The Gospel of the Kingdom.
Europa, the Beast, and Revelation Where did Europe get its name? What might Europe have to do with the Book of Revelation? What about "the Beast"? Is an emerging European power "the daughter of Babylon"? What is ahead for Europe? Here is a link to a video titled: Can You Prove that the Beast to Come is European?
European Technology and the Beast of Revelation Will the coming European Beast power would use and develop technology that will result in the taking over of the USA and its Anglo-Saxon allies? Is this possible? What does the Bible teach? Here is a related YouTube video: Military Technology and the Beast of Revelation.
Must the Ten Kings of Revelation 17:12 Rule over Ten Currently Existing Nations? Some claim that these passages refer to a gathering of 10 currently existing nations together, while one group teaches that this is referring to 11 nations getting together. Is that what Revelation 17:12-13 refers to? The ramifications of misunderstanding this are enormous. A related sermon is titled Ten Kings of Revelation and the Great Tribulation.
Cross-dressing and other assaults against your children.  What should you do? Is there an agenda to turn your children and/or grandchildren away from biblical morality and towards practices promoted by homosexuals? What does the Bible teach about cross-dressing? What should parents do? If there is an agenda, what has been going on?  There are also three YouTube videos related to this, titled Transgender 'Woe to those who call evil good' and Cross dressing and Other Assaults Against Your Children and USA pushing gender confusion.
The Bible Condemns Homosexuality "Same-sex marriage" for "gays" and lesbians is becoming more acceptable to many. What does the Bible teach about homosexuality?  Can homosexuals change? A related video sermon is titled: What Does the Bible Really Teach about Homosexuality?
Pornography: A scourge on society Is pornography harmless fun? Does the Bible teach anything about it? What are the views of some involved with it? A related sermons is titled: Pornography, False Comfort, and False Religion. Here a shorter YouTube video Pornography: Harmless Fun or a Scourge on Society?
Hillary Clinton in Prophecy Prophecy, Hillary Clinton? Are there prophecies that Hillary Clinton may fulfill? Are there any prophecies that she has already helped fulfill? Could Hillary Clinton be apocalyptic? Could Hillary Clinton be the final Antichrist? A video of related interest is titled Hillary Clinton and Bible Prophecy.
Anglo – America in Prophecy & the Lost Tribes of Israel Are the Americans, Canadians, English, Scottish, Welsh, Australians, Anglo-Saxon (non-Dutch) Southern Africans, and New Zealanders descendants of Joseph? Where are the lost ten-tribes of Israel? Who are the lost tribes of Israel? What will happen to Jerusalem and the Jews in Israel? Will God punish the U.S.A., Canada, United Kingdom, and other Anglo-Saxon nations? Why might God allow them to be punished first? Here is a link to the Spanish version of this article: Anglo-América & las Tribus Perdidas de Israel. Information is also in the YouTube sermons titled Where are the Ten Lost Tribes? Why does it matter? and British are the Covenant People. A short YouTube of prophetic interest may be Barack Obama and the State of the Apocalypse.
Will the Anglo-Saxon Nations be Divided and Have People Taken as Slaves? Will the lands of the United States, United Kingdom, Canada, Australia, and New Zealand be divided? What about Jerusalem? What does Bible prophecy teach? Are there non-biblical prophecies that support this idea? Who will divide those lands? Who will end up with the lands and the people? Here is a link to a video titled Will the USA and other Anglo-nations be Divided and Their People Made Slaves? Here is a related item in the Spanish language ¿Serán divididas las naciones anglosajonas?
Hillary Clinton, Prophecy, and the Destruction of the United States This is a 200 page book for people truly interested in prophecies related to Hillary Clinton and the United States, including learning about many that have already been fulfilled and those that will be fulfilled in the future. It also discusses Republicans. The physical book can be purchased at Amazon from the following link: Hillary Clinton, Prophecy, and the Destruction of the United States, 2nd edition: Is Hillary Clinton Fulfilling Biblical, Islamic Catholic, Hopi, and other America-Related Prophecies? What About Donald Trump? $11.99.
Hillary Clinton, Prophecy, and the Destruction of the United States-Amazon 2nd Kindle edition This electronic version of the 200 page print edition is available for only US$3.99. And you do not need an actual Kindle device to read it. Why? Amazon will allow you to download it to almost any device: Please click HERE to download one of Amazon s Free Reader Apps. After you go to for your free Kindle reader and then go to Hillary Clinton, Prophecy, and the Destruction of the United States-Amazon 2nd Kindle edition.