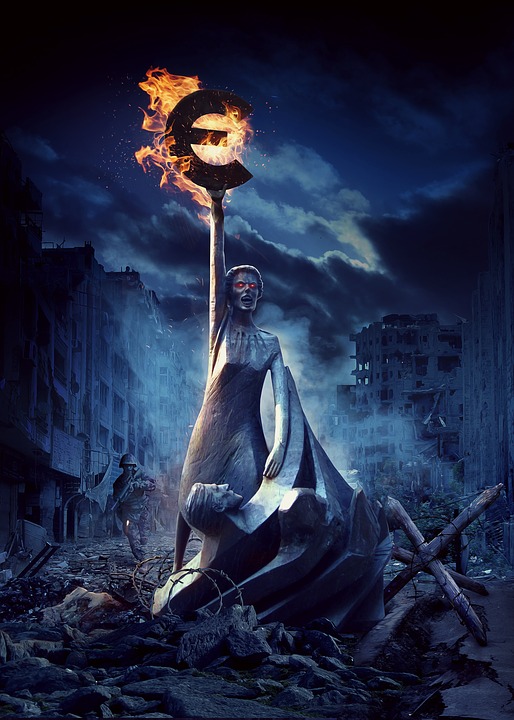 Artist's portrayal of a European Union New World Order

The German publication Deutsche Welle (DW) published the following:
Is Europe bold enough to counter US ambivalence?

16 February 2018


"The world is becoming less international and less orderly," Ambassador Wolfgang Ischinger, chairman of the Munich Security Conference, posits in his "conversation starter" report, which puts much of the blame for the chaos on the United States under Donald Trump. …

Trump ambivalence expedites European urgency

Weary proponents of a more self-sufficient Europe, however, say this has been a blessing in disguise. Trump's incessant bullying of European leaders over the transatlantic gap in military capabilities and freeloading on US security guarantees is not different from administrations past — it's just more extreme.

But Trump's clear ambivalence, even occasional animosity, toward Europe may finally have instilled the necessary amount of nervousness, according to Sven Biscop of Belgium's Egmont Institute. "There is a strong sense, I think, among the [European Union] member states that somehow they need to pull together because nobody is going to come and save us," he told DW. "I don't think it has yet translated into sufficient will to really act in the world, but we're getting there. And the more directly opposed to European interests US initiatives are, the more European action you will see."

Biscop said that one of the most promising "European actions" is the creation of the defense initiative PESCO (Permanent Structured Cooperation) —  a pact of 25 EU governmentsthat have pledged to design joint defense projects, pool money, assess resources and make collective decisions and deployments.  Biscop said that PESCO would not  compete with NATO, but complement it.

Promises, pledges with new EU pact

PESCO is coordinated by the European Defense Agency, whose chief executive, Jorge Domecq, told DW it would have to start producing results quickly. "Co-operation of all EU countries is essential now," Domecq said, "with the security environment, with the changing technologies, with the rise of new powers, the call of citizens to really take defense more seriously. I think heads of state and government now realize the importance of this."

Read more: PESCO: EU paves way to defense union

At the same time, Domecq is concerned that Europe's modest increase in defense investment will quickly be outpaced by Washington's. He says that he has made it abundantly clear to the "America First" – oriented Trump administration that it needs to share its high-tech advances "technologically and industrially" so that allied armies can operate together. http://www.dw.com/en/is-europe-bold-enough-to-counter-us-ambivalence/a-42573001

It is interesting that Europe expects the USA to share its military technologies with it–this will give the Europeans a unique ability to successfully attack the USA–which will happen per Daniel 11:39. For more details, check out the article: USA in Prophecy: The Strongest Fortresses.
So, to answer DW's question, yes, in time the Europeans will end up with a powerful military.
Consider also, as reported here BEFORE HIS ELECTION, various ones in Europe hoped that Donald Trump would become President of the USA as it would give more in Europe the impetus to arm and become a more substantial world power (see 'Why Europe Secretly Roots For Donald Trump'?).
That is coming to pass.
For many decades, Church of God writers have written that Europe would end up with its own military–we are seeing this happen.
We have known this would happen because of various biblical prophecies.
Consider that Revelation 18 shows, that for a time, this Babylonian European power will dominate world trade. Some type of European unity would be needed for this to happen. Hence, the Common Market and now the European Union have been involved in steps to set this up.
The Bible, in Daniel 11:25, teaches that the Europeans would end up with a "great army." Therefore, Europe needs to somehow develop its own army.
Daniel 2:41-43 shows that Europe, despite problems of getting along, will form a major union. So, when we see "bumps" along the road for European unity, we know that was prophesied.
While the current structure of Europe is not what the Bible prophesies, since Revelation 17:12-13 shows that Europe will reorganize (see also Must the Ten Kings of Revelation 17:12 Rule over Ten Currently Existing Nations?), that does not stop us from accepting biblical prophecies for Europe and noticing steps that appear to align with what the Bible says will happen.
Revelation 13:1-4 shows that a seemingly defeated European power would rise again and become a military power. Europe has been written off as a major military power, but is working towards having one consistent with those prophecies.
Christians are not to be like those that walk by sight (cf. 2 Corinthians 5:7) and have written off prophecies (or at least do not properly understand them).  Christians should be able to discern the season (cf. 1 Thessalonians 5:3-6) and signs of the end (Luke 21:31-35).
Daniel 11:39 shows, which would coincide with the start of the Great Tribulation (Matthew 24:21; Jeremiah 30:7), that Europe will defeat the power with the strongest military. In these end times, that would have to be the USA and its closest military allies, like the United Kingdom and Canada (Australia and New Zealand will also be taken over).
Regarding end time matters, Jesus said to "Watch!" (Mark 13:37).
While the end is not yet (cf. Matthew 24:6), we are getting closer and are seeing steps around the world that are aligning with properly understood biblical prophecies.
The European Beast is in the process of militarily rising up.
Some items of possibly related interest may include:
18 items to prophetically watch in 2018 Much is happening. Dr. Thiel points to 18 in this article. Here is a link to a related sermon: 18 items to prophetically watch in 2018.
Germany's Assyrian Roots Throughout History Are the Germanic peoples descended from Asshur of the Bible? Have there been real Christians in Germanic history? What about the "Holy Roman Empire"? There is also a You-Tube video sermon on this titled Germany's Biblical Origins.
Germany in Biblical Prophecy Does Assyria in the Bible equate to an end time power inhabiting the area of the old Roman Empire? What does prophecy say Germany will do and what does it say will happen to most of the German people? Here are links to two sermon videos Germany in Bible Prophecy and The Rise of the Germanic Beast Power of Prophecy.
Might German Baron Karl-Theodor zu Guttenberg become the King of the North? Is the former German Defense Minister (who is also the former German Minister for Economics and Technology) one to watch? What do Catholic, Byzantine, and biblical prophecies suggest? A video of related interest would be: Karl-Theodor zu Guttenberg and Europe's Future.
Europa, the Beast, and Revelation Where did Europe get its name? What might Europe have to do with the Book of Revelation? What about "the Beast"? Is an emerging European power "the daughter of Babylon"? What is ahead for Europe? Here is a link to a video titled: Can You Prove that the Beast to Come is European?
European Technology and the Beast of Revelation Will the coming European Beast power would use and develop technology that will result in the taking over of the USA and its Anglo-Saxon allies? Is this possible? What does the Bible teach? Here is a related YouTube video: Military Technology and the Beast of Revelation.
The 'Peace Deal' of Daniel 9:27 This prophecy could give up to 3 1/2 years advance notice of the coming Great Tribulation. Will most ignore or misunderstand its fulfillment? Here is a link to a related sermon video Daniel 9:27 and the Start of the Great Tribulation.
Must the Ten Kings of Revelation 17:12 Rule over Ten Currently Existing Nations? Some claim that these passages refer to a gathering of 10 currently existing nations together, while one group teaches that this is referring to 11 nations getting together. Is that what Revelation 17:12-13 refers to? The ramifications of misunderstanding this are enormous. A related sermon is titled Ten Kings of Revelation and the Great Tribulation.
World War III: Steps in Progress Are there surprising actions going on now that are leading to WWIII? Might a nuclear attack be expected? Does the Bible promise protection to all or only some Christians? How can you be part of those that will be protected? A related video would be Is World War III About to Begin? Can You Escape?
WTO/TTIP and the Babylonian Beast Will international trade agreements like WTO/TTIP/CETA lead to the fulfillment of end time prophecies concerning the Babylonian Beast power that the Book of Revelation warns against? What does the Bible teach? A related video would be WTO Trade Deal and the Rise of the European Beast Power.
Forbes' Brexit Monster is the Beast of Revelation Various ones have been properly convinced that there is a plan for a European superstate. Forbes' writer Tom Worstall wrote that the Brexit vote was about the United Kingdom "not joining the monster of the European Union to come." The Bible tells of a Beast monster that will arise in the end times in Europe. Dr. Thiel cites news reports, as well as the Old and New Testaments, to show that the monster many fear will arise in Europe, despite the vote by the British to exit the European Union. This is a video.
Post Brexit Prophecy On June 23, 2016, the voters of the United Kingdom of Great Britain and Northern Ireland (UK) chose to leave the European Union. Now with this BRitish EXIT (Brexit) vote, what is prophesied to happen to the UK? Will the UK do well or be taken over and made slaves? Dr. Thiel explains from biblical prophecies what is ahead for the UK, Europe, and even the USA, Canada, Australia, and New Zealand. This is a video.
Brexit and the fate of Northern Ireland, Gibraltar, the UK, and the USA On April 29, 2017, 27 of the nations of the European Union agreed to certain guidelines for the negotiations with the United Kingdom of Great Britain and Northern Ireland which gave its notice to leave on March 29, 2017. These guidelines are contrary to what the UK wants. Does the EU intend the UK to pay a price for leaving the EU? What does Spain want? What does the Republic of Ireland want? Will Northern Ireland and Gibraltar eventually fall under European control? Will the UK and USA be conquered? What does the Bible teach? Dr. Thiel answer these questions and more in this video.
USA in Prophecy: The Strongest Fortresses Can you point to scriptures, like Daniel 11:39, that point to the USA in the 21st century? This article does. A related sermon is titled: Do these 7 prophesies point to the end of the USA?
Is Russia the King of the North? Some claim it is. But what does the Bible teach? Here is a link to a video, also titled Is Russia the King of the North?
Who is the King of the North? Is there one? Do biblical and Roman Catholic prophecies for the Great Monarch point to the same leader? Should he be followed? Who will be the King of the North discussed in Daniel 11? Is a nuclear attack prophesied to happen to the English-speaking peoples of the United States, Great Britain, Canada, Australia, and New Zealand? When do the 1335 days, 1290 days, and 1260 days (the time, times, and half a time) of Daniel 12 begin? When does the Bible show that economic collapse will affect the United States? In the Spanish language check out ¿Quién es el Rey del Norte? Here is a link to a video titled: The Future King of the North.
Anglo – America in Prophecy & the Lost Tribes of Israel Are the Americans, Canadians, English, Scottish, Welsh, Australians, Anglo-Saxon (non-Dutch) Southern Africans, and New Zealanders descendants of Joseph? Where are the lost ten-tribes of Israel? Who are the lost tribes of Israel? What will happen to Jerusalem and the Jews in Israel? Will God punish the U.S.A., Canada, United Kingdom, and other Anglo-Saxon nations? Why might God allow them to be punished first? Here is a link to the Spanish version of this article: Anglo-América & las Tribus Perdidas de Israel. Information is also in the YouTube sermons titled Where are the Ten Lost Tribes? Why does it matter? and British are the Covenant People. A short YouTube of prophetic interest may be: Are Chinese threats against Australia for real?
Will the Anglo-Saxon Nations be Divided and Have People Taken as Slaves? Will the lands of the United States, United Kingdom, Canada, Australia, and New Zealand be divided? What about Jerusalem? What does Bible prophecy teach? Are there non-biblical prophecies that support this idea? Who will divide those lands? Who will end up with the lands and the people? Here is a link to a video titled Will the USA and other Anglo-nations be Divided and Their People Made Slaves? Here is a related item in the Spanish language ¿Serán divididas las naciones anglosajonas?
British are the Covenant People What do 'British' and 'Britain' mean in Hebrew? Are the descendants of the Anglo-Saxons people of the covenant? Does the British royal family connect to the throne of David? What does the Bible teach? What does history show us? Is there any DNA evidence related to British-Israelism? When did Christianity make it to the British Isles? Could Jeremiah have made it to the British Isles? What type of Christians made it to the British Isles? Did the last King of England believe in British Israelism?
Donald Trump in Prophecy Prophecy, Donald Trump? Are there prophecies that Donald Trump may fulfill?  Are there any prophecies that he has already helped fulfill?  Is a Donald Trump presidency proving to be apocalyptic?  Two related videos are available: Donald: 'Trump of God' or Apocalyptic? and Donald Trump's Prophetic Presidency.
Trump Presidency Magic 8 Ball or Bible Prophecy? BBC reported that one might as well use a 'Magic Eight-Ball' to try to predict what will happen in the remaining time of Donald Trump's presidency. What is a 'Magic Eight-Ball'? Dr. Thiel not only explains that, but also briefly goes over 10 biblically-based warnings he wrote would happen if Donald Trump were elected that have already began to come to pass. He also goes over something he wrote back in 2008 that the Trump presidency is also helping lead to fulfillment. Should you trust Bible prophecy or not? Dr. Thiel says that Bible prophecy can be trusted, despite the view of skeptics and others that either overlook or despise the Bible. This is a video.
Donald Trump and America's Apocalypse This 188 page book is for people truly interested in prophecies related to Donald Trump and the United States, including learning about several that have already been fulfilled and those that will be fulfilled in the future. The physical book can be purchased at Amazon for $12.99 from the following link: Donald Trump and America's Apocalypse.
Donald Trump and America's Apocalypse-Kindle Edition This electronic version of the 188 page print edition is available for only US$3.99. And you do not need an actual Kindle device to read it. Why? Amazon will allow you to download it to almost any device: Please click HERE to download one of Amazon s Free Reader Apps. After you go to for your free Kindle reader and then go to Donald Trump and America's Apocalypse-Kindle Edition.