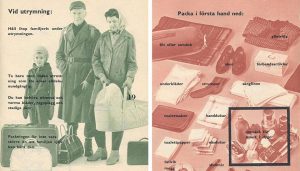 Swedish "If War Comes" brochure

The government of Estonia is taking steps to prepare for possible war:
January 24, 2018

Last week, for the first time since World War II, Sweden's government announced that it would soon distribute some 4.7 million civil defense brochures to its citizens, warning them about the onset of war.

In the latest installment of war preparations, Estonian public broadcaster ERR reports that the government of Estonia is preparing to send some 1.3 million civil defense brochures to its citizens, with instructions of what do in the event of a significant crisis or war, said Brig. Gen. Martin Herem of the Estonian Defence Forces in an interview with Postimees.

"When it will be published, I do not know. But work is in progress," said Brig. Gen. Herem. According to the Postimees, the Ministry of the interior is currently "coordinating work on the brochure."

Estonia, a former Soviet republic that borders Russia, is now a member of NATO, meaning the United States and Europe are obligated by treaties to defend it.  When analyst and policymakers war game scenarios between the United States and Russia, they usually point to the Estonia–Russia border as the highest probable area of where conflict in Europe could breakout besides Ukraine. …


War preparations in Europe appear to be in the final stages. European governments are now conditioning their civilian populations with manuals of what to expect in a wartime environment. Throughout history, this type of pre-conditioning usually occurs right before a major military operation. https://www.zerohedge.com/news/2018-01-23/estonia-issue-how-prepare-war-leaflets-13-million-citizens
As reported here last week, the Swedish government is also taking steps (see Sweden is preparing for possible external or civil war!).
Notice also the following report about North Korea:
WW3 Preparations? Amidst Drought, North Korean Officials Raid Homes And Farms To Feed Army

North Korean officials are ransacking homes and raiding farms in order to feed their starving army.

Not only has the drought taken its toll on the nation, but this newest harsh seizure of food is causing internal clashes between the civilians and the army.

Soldiers for the communist regime had already been given long periods of leave in order to try to find food and make money to purchase food. However, it hasn't been enough. Collective farms are suffering due to drought and poor harvests, leading officials to ransack farms and homes in order to find any stored food or money that might benefit the army, Daily NK reports.

While North Korean citizens are used to officials searching for food and asking for bribes, their use of increasingly brutal tactics to feed a starving army has led to reported clashes between troops and citizens. Farms in the country have not been able to meet quotas, and in response, officials are giving them new assignments. …

Famine is believed to have previously killed millions of people in the hermit kingdom. The communist regime prioritizes sending food and resources to the military and high ranking government officials over its general population. https://www.zerohedge.com/news/2018-01-23/ww3-preparations-amidst-drought-north-korean-officials-raid-homes-and-farms-feed
Jesus spoke of a time of wars, rumors of war, and famines:
4 And Jesus answered and said to them: "Take heed that no one deceives you. 5 For many will come in My name, saying, 'I am the Christ,' and will deceive many. 6 And you will hear of wars and rumors of wars. See that you are not troubled; for all these things must come to pass, but the end is not yet. 7 For nation will rise against nation, and kingdom against kingdom. And there will be famines, pestilences, and earthquakes in various places. 8 All these are the beginning of sorrows. (Matthew 24:4-8)
While what North Korea is preparing for is NOT WWIII, unknowingly, many Europeans are in the process of preparing for the next world war.
Contrary to the fears of some,WWIII will NOT be a major war between Europe and Russia.
World War Three will be be an attack by Europe against the USA (Daniel 11:39; see also USA in Prophecy: The Strongest Fortresses) and its Anglo-Saxon allies (cf. Daniel 8:24-25).
And Russia?
Russia will NOT be against Europe during that time, but will support it.
While ultimately, Russia and various other Eurasians will turn against Europe, that will not happen until years after the start of WWIII.
Currently, North Korea is preparing for a possible war with the USA–but that will not be WWIII. Notice also the following:
Various Europeans believe that Donald Trump has been 'warmongering' related to North Korea, Iran, Saudi Arabia, Afghanistan, and elsewhere. They believe that Europe must lead and that the US President must learn from Europe. Jesus spoke of a time called the "beginning of sorrows" that included wars and rumors of war. Are we in the time of sorrows now? Could the red horse of the apocalypse be about to ride? Did the old WCG teach this was a future event in 1985? Does this ride start before or after the start of the "great tribulation"? What does the Bible show? Is Satan involved in this? What about Armageddon? How will all of this end? Dr. Thiel addresses these issues and more.
Irrespective of what happens to North Korea, the Bible shows that Europe will eliminate the USA, UK, Canada, etc. as well as later eliminate a confederation of nations in the Middle East and North Africa (Daniel 11:39-43).
WWIII will come. But it will be Europe, and NOT Russia, that is the primary instigator of it according to biblical prophecies.
Some items of possibly related interest may include:
Europa, the Beast, and Revelation Where did Europe get its name? What might Europe have to do with the Book of Revelation? What about "the Beast"? Is an emerging European power "the daughter of Babylon"? What is ahead for Europe? Here is a link to a video titled: Can You Prove that the Beast to Come is European?
European Technology and the Beast of Revelation Will the coming European Beast power would use and develop technology that will result in the taking over of the USA and its Anglo-Saxon allies? Is this possible? What does the Bible teach? Here is a related YouTube video: Military Technology and the Beast of Revelation.
Must the Ten Kings of Revelation 17:12 Rule over Ten Currently Existing Nations? Some claim that these passages refer to a gathering of 10 currently existing
WTO/TTIP and the Babylonian Beast Will international trade agreements like WTO/TTIP/CETA lead to the fulfillment of end time prophecies concerning the Babylonian Beast power that the Book of Revelation warns against? What does the Bible teach? A related video would be WTO Trade Deal and the Rise of the European Beast Power.
Satan's Plan Does Satan have a plan? What is it? Has it already been successful? Will it be successful in the future? Here are links to a two-part sermon series: What are Some of the Parts of Satan's Plan? and Satan's Plan is More Dramatic than Many Realize.
The Eurasian Union, the Kings of the East, and Bible Prophecy Is there a Eurasian union that will be formed? Is one being formed right now? Are any leaders working on that in the 21st century? Does the Bible teach that there will be a Eurasian union? If some type of Eurasian union is formed, who might it benefit and who will it destroy? A related video would be Is The Eurasian Union Rising?
Russia and Ukraine: Their Origins and Prophesied Future Russia in prophecy. Where do the Russians come from? What about those in the Ukraine? What is prophesied for Russia and its allies? What will they do to the Europeans that supported the Beast in the end? There is also a video sermon available: Russia in the Bible and in Prophecy and a video sermonette available: Ukraine in Prophecy?
Is Russia the King of the North? Some claim it is. But what does the Bible teach? Here is a link to a video, also titled Is Russia the King of the North?
Ezekiel 38: For Russia & Iran in Our Day? Is Ezekiel 38 about to be fulfilled? A related video is available titled Ezekiel 38: For Russia, Ukraine, & Iran Now? Another could be Russia, Iran, Syria, & the Bible (Code).
Who is the King of the North? Is there one? Do biblical and Roman Catholic prophecies for the Great Monarch point to the same leader? Should he be followed? Who will be the King of the North discussed in Daniel 11? Is a nuclear attack prophesied to happen to the English-speaking peoples of the United States, Great Britain, Canada, Australia, and New Zealand? When do the 1335 days, 1290 days, and 1260 days (the time, times, and half a time) of Daniel 12 begin? When does the Bible show that economic collapse will affect the United States? Here is a link to a video titled: The Future King of the North.
Can You Prove that the Beast to Come is European? The Book of Revelation tells of a beast power that will rise up. Some think that this must be Russia or could be Islamic, while others say that this power is European. The Book of Daniel tells of the rise of an end time King of the North that some think must be referring to a Russian leader, while others say that this power is European. How can you be sure? This YouTube video has all the scriptural proofs that you should need to prove that this power must be a European one.
War is Coming Between Europeans and Arabs Is war really coming between the Arabs and the Europeans? What does Bible prophecy say about that? Do the Central Europeans (Assyria in prophecy) make a deal with the Arabs that will hurt the USA and its Anglo-Saxon allies? Do Catholic or Islamic prophecies discuss a war between Europe and Islam? If so, what is the sequence of events that the Bible reveals? Who does the Bible, Catholic, and Islamic prophecy teach will win such a war?
Korea in Prophecy, Any Witness? Where did the Korean people come from? Does God have a plan for the Koreans? Is Korea mentioned in any prophecies? Will Koreans be among the first in the Kingdom of God? Here is a machine-translated link to that article in Korean: 한국의 언어로 : 한국 예언, 모든 증인에?. Here is a link to a magazine with that article in Mandarin Chinese: 在预言中的韩国:有任何证人吗? A prophetic video is also available: Syria, North Korea, and Prophecy.
USA in Prophecy: The Strongest Fortresses Can you point to scriptures, like Daniel 11:39, that point to the USA in the 21st century? This article does. A related sermon is titled: Do these 7 prophesies point to the end of the USA?
Who is the King of the West? Why is there no Final End-Time King of the West in Bible Prophecy? Is the United States the King of the West? Here is a version in the Spanish language: ¿Quién es el Rey del Occidente? ¿Por qué no hay un Rey del Occidente en la profecía del tiempo del fin?
Donald Trump in Prophecy Prophecy, Donald Trump? Are there prophecies that Donald Trump may fulfill?  Are there any prophecies that he has already helped fulfill?  Could a Donald Trump presidency be apocalyptic?  Two related videos are available: Donald: 'Trump of God' or Apocalyptic? and Donald Trump's Prophetic Presidency.
Trump Presidency Magic 8 Ball or Bible Prophecy? BBC reported that one might as well use a 'Magic Eight-Ball' to try to predict what will happen in the remaining time of Donald Trump's presidency. What is a 'Magic Eight-Ball'? Dr. Thiel not only explains that, but also briefly goes over 10 biblically-based warnings he wrote would happen if Donald Trump were elected that have already began to come to pass. He also goes over something he wrote back in 2008 that the Trump presidency is also helping lead to fulfillment. Should you trust Bible prophecy or not? Dr. Thiel says that Bible prophecy can be trusted, despite the view of skeptics and others that either overlook or despise the Bible. This is a video.
Donald Trump and America's Apocalypse This 188 page book is for people truly interested in prophecies related to Donald Trump and the United States, including learning about several that have already been fulfilled and those that will be fulfilled in the future. The physical book can be purchased at Amazon for $12.99 from the following link: Donald Trump and America's Apocalypse.
Donald Trump and America's Apocalypse-Kindle Edition This electronic version of the 188 page print edition is available for only US$3.99. And you do not need an actual Kindle device to read it. Why? Amazon will allow you to download it to almost any device: Please click HERE to download one of Amazon s Free Reader Apps. After you go to for your free Kindle reader and then go to Donald Trump and America's Apocalypse-Kindle Edition.
Anglo – America in Prophecy & the Lost Tribes of Israel Are the Americans, Canadians, English, Scottish, Welsh, Australians, Anglo-Saxon (non-Dutch) Southern Africans, and New Zealanders descendants of Joseph? Where are the lost ten-tribes of Israel? Who are the lost tribes of Israel? What will happen to Jerusalem and the Jews in Israel? Will God punish the U.S.A., Canada, United Kingdom, and other Anglo-Saxon nations? Why might God allow them to be punished first? Here is a link to the Spanish version of this article: Anglo-América & las Tribus Perdidas de Israel. Information is also in the YouTube sermons titled Where are the Ten Lost Tribes? Why does it matter? and British are the Covenant People. A short YouTube of prophetic interest may be: Are Chinese threats against Australia for real?
Will the Anglo-Saxon Nations be Divided and Have People Taken as Slaves? Will the lands of the United States, United Kingdom, Canada, Australia, and New Zealand be divided? What about Jerusalem? What does Bible prophecy teach? Are there non-biblical prophecies that support this idea? Who will divide those lands? Who will end up with the lands and the people? Here is a link to a video titled Will the USA and other Anglo-nations be Divided and Their People Made Slaves? Here is a related item in the Spanish language ¿Serán divididas las naciones anglosajonas?
World War III: Steps in Progress Are there surprising actions going on now that are leading to WWIII? Might a nuclear attack be expected? Does the Bible promise protection to all or only some Christians? How can you be part of those that will be protected? A related video would be Is World War III About to Begin? Can You Escape?