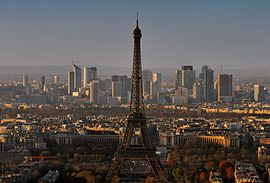 Paris, France

French police busted up an Islamic migrant camp known as "the Jungle":
March 1, 2016

PARIS — Police scuffled Tuesday with migrants protesting the demolition of a camp used for attempts to sneak into Britain as authorities moved ahead with a step-by-step demolition of a shantytown known as "the Jungle."

The French decision to raze the makeshift settlement in Calais reflects wider measures across Europe to tighten border controls and curb movements amid a historic wave of migrants, refugees and asylum seekers from regions such as North Africa and war zones in Syria and Iraq.

The so-called "Jungle" encampment — currently home to an estimated 4,000 people — has become an emblem of the entire European migrant crisis: a mix of squalor, desperation and hope.
The area, near ferry docks and the Eurotunnel rail link with Britain, is the staging ground for often dangerous bids to cross the English Channel by trying to stowaway aboard trucks, trains and vessels. Many migrants — from Syria, Afghanistan, Sudan, Ethiopia, Eritrea and other places . . .
The destruction of the camp — cleared by a French judge last week — has brought outrage from aid groups and others . . . https://www.washingtonpost.com/world/as-jungle-camp-taken-down-french-police-clash-with-desperate-migrants/2016/03/01/9c7a6668-dfa3-11e5-846c-10191d1fc4ec_story.html

March 1, 2016

(CNN)French authorities resumed clearing the infamous "Jungle" migrant camp in Calais Tuesday in the wake of violent clashes at the site, with the country's interior minister vowing "radical" pro-migrant activists would not block the operation. http://www.cnn.com/2016/03/01/europe/europe-migrants-calais-jungle/index.html
Obviously the Islamic residents were not pleased with this.
What is ahead for the French?
Troubles, economic growth, and disaster.
3 Now as He sat on the Mount of Olives opposite the temple, Peter, James, John, and Andrew asked Him privately, 4 "Tell us, when will these things be? And what will be the sign when all these things will be fulfilled?"

5 And Jesus, answering them, began to say: "Take heed that no one deceives you. 6 For many will come in My name, saying, 'I am He,' and will deceive many. 7 But when you hear of wars and rumors of wars, do not be troubled; for such things must happen, but the end is not yet. 8 For nation will rise against nation, and kingdom against kingdom. And there will be earthquakes in various places, and there will be famines and troubles. These are the beginnings of sorrows. (Mark 13:3-8)
It is likely that troubles for the French will include violent civil unrest, by people like the Islamic migrants.
Shortly after returning from a trip to Paris, I wrote the following just BEFORE the Charlie Hebdo events erupted in Paris:
Civil unrest and/or civil war will erupt in Europe. Places such as France, Germany, Spain, Portugal, Italy, Austria, Greece, and Eastern Europe (like Slovenia, Croatia, Moldova, and Bulgaria) have potential for this occurrence.
Why, did I post this then?
Because as I had written before, it is consistent with biblical prophecy, etc.
The Bible shows that terrorism is prophesied for descendants of Israel, and that would include the French:
14 'But if you do not obey Me, and do not observe all these commandments, 15 and if you despise My statutes, or if your soul abhors My judgments, so that you do not perform all My commandments, but break My covenant, 16 I also will do this to you: I will even appoint terror over you, wasting disease and fever which shall consume the eyes and cause sorrow of heart. And you shall sow your seed in vain, for your enemies shall eat it. 17 I will set My face against you, and you shall be defeated by your enemies. Those who hate you shall reign over you, and you shall flee when no one pursues you. (Leviticus 26:14-17)

25 The sword shall destroy outside; There shall be terror within (Deuteronomy 32:25)

12 "Cry and wail, son of man; For it will be against My people, Against all the princes of Israel. Terrors including the sword will be against My people; Therefore strike your thigh. (Ezekiel 21:12) 12 Behold, these are the ungodly,Who are always at ease; They increase in riches…19 Oh, how they are brought to desolation, as in a moment! They are utterly consumed with terrors. (Psalms 73:12,19)

25 Because you disdained all my counsel, And would have none of my rebuke, 26 I also will laugh at your calamity; I will mock when your terror comes, 27 When your terror comes like a storm, And your destruction comes like a whirlwind, When distress and anguish come upon you. (Proverbs 1:25-27)

5 Also they are afraid of height, And of terrors in the way (Ecclesiastes 12:5).
More terrorism should be expected in France, as well as other parts of Europe and the USA and Canada, etc.
As France has economic problems and a high Islamic population ("the terror within"?), those factors will likely collide and cause a backlash by the French.
The Bible teaches about some reorganizations that will occur in Europe:
12 "The ten horns which you saw are ten kings who have received no kingdom as yet, but they receive authority for one hour as kings with the beast. 13 These are of one mind, and they will give their power and authority to the beast.  (Revelation 17:12-13, NKJV throughout unless otherwise specified)
These ten kings have no kingdom, but are to attain one.  Thus, this is a type of reorganization in verse 12.  Since they give their power to the Beast in verse 13, this is a second reorganization.  The "beast" is not shown to have much power prior to Revelation 17:12-13.
According to the late evangelist Dibar Apartian, this involved the French:
"And the ten horns which thou sawest are TEN kings (kingdoms), which have received no kingdom as yet; but receive power as kings one hour with the BEAST" (Rev. 17:12).

France REPRESENTS today one of these 10 Kings. This Union of 10 Kingdoms is already in formation in Europe. In fact, France is at present one of its key members. As this prophecy reveals, this union will receive authority "for one hour" only-that is, a short time-because it is like "iron mixed with miry clay" (Dan. 2:43) …

Ask any average Frenchman what he thinks of his country's union with Germany. He is utterly puzzled at the idea that economic and political barriers are gradually falling between France and Germany. This union for him is unreal but demanded by the circumstances in which France today finds herself. It is a creation of the leaders of the two nations who blindly believe in its destiny. (Apartian D. Prophecy Reveals the Future of France. Plain Truth, August 1963, p. 19)
This will appeal to the French.  This Beast leader will be considered a military success (Revelation 13:4).  He will also takeover the USA (Daniel 11:39) and then many of the Islamic nations of the Middle East and North Africa (Daniel 11:40-43).
But his power will not last.
The Bible tells that the European Beast power will be destroyed (Revelation 19:19-20) and that massive destruction will one day come to Europe from armies from its north and east (Jeremiah 50:41-43; Daniel 11:44-45; cf. Joel 2:4-10,20).
44 But news from the east and the north shall trouble him; therefore he shall go out with great fury to destroy and annihilate many. 45 And he shall plant the tents of his palace between the seas and the glorious holy mountain; yet he shall come to his end, and no one will help him. (Daniel 11:44-45)

50:41 "Behold, a people shall come from the north,
And a great nation and many kings
Shall be raised up from the ends of the earth.
42 They shall hold the bow and the lance;
They are cruel and shall not show mercy.
Their voice shall roar like the sea;
They shall ride on horses,
Set in array, like a man for the battle,
Against you, O daughter of Babylon.

43 "The king of Babylon has heard the report about them,
And his hands grow feeble;
Anguish has taken hold of him,
Pangs as of a woman in childbirth…"(Jeremiah 50:41-43).

20 "But I will remove far from you the northern army,
And will drive him away into a barren and desolate land,
With his face toward the eastern sea
And his back toward the western sea;
His stench will come up,
And his foul odor will rise,
Because he has done monstrous things." (Joel 2:20)
Presuming they get to Paris, it will not fare well. A short video to consider is Terror: Will Paris be Destroyed?
Until then, we should watch world events as we see elements that fulfill biblical prophecies being unfolded.
Jesus said:
37 And what I say to you, I say to all: Watch!" (Mark 13:37)
Some items of possibly related interest may include:
The 'Lost Tribe' of Reuben: France in Prophecy? What is the origin of this in France? What is prophesied to happen to them? A two-part sermon related to history and prophecy is available online: The 'Lost Tribe' of Reuben and France and Prophecy.
Why Terrorism? Is Terrorism Prophesied? What does the Bible teach? Which nations may be affected? Here is a link to a related sermon: Terrorism, Christianity, and Islam.
Who is the Man of Sin of 2 Thessalonians 2? Is this the King of the North, the ten-horned beast of Revelation 13:1-11, or the two-horned Beast of Revelation 13:12-16? Some rely on traditions, but what does the Bible teach? Here is a related link in Spanish/español: ¿Quién es el Hombre de Pecado de 2 Tesalonicenses 2? Here is a version in Mandarin: 主编: 谁是'大罪人'?Here is a link to a related YouTube video, in English, titled Who is the Man of Sin?
Must the Ten Kings of Revelation 17:12 Rule over Ten Currently Existing Nations? Some claim that these passages refer to a gathering of 10 currently existing nations together, while one group teaches that this is referring to 11 nations getting together. Is that what Revelation 17:12-13 refers to? The ramifications of misunderstanding this are enormous. A related sermon is titled Ten Kings of Revelation and the Great Tribulation.
Ten clues tying Belgium and Luxembourg with the tribe of Asher Who did some in Belgium and Luxembourg descend from?
Ten clues tying Zebulun with the Dutch Who did some in the Netherlands descend from? Here is a link to information about doctrine in the Dutch language Verklaring van geloofspunten van de Continuing Church of God.
Europa, the Beast, and Revelation Where did Europe get its name? What might Europe have to do with the Book of Revelation? What about "the Beast"? Is an emerging European power "the daughter of Babylon"? What is ahead for Europe? Here is a link to a video titled: Can You Prove that the Beast to Come is European?
European Technology and the Beast of Revelation Will the coming European Beast power would use and develop technology that will result in the taking over of the USA and its Anglo-Saxon allies? Is this possible? What does the Bible teach? Here is a related YouTube video: Military Technology and the Beast of Revelation.
Catholic Prophecies: Do They Mirror, Highlight, or Contradict Biblical Prophecies? People of all faiths may be surprised to see what various Roman and Orthodox Catholic prophets have been predicting as many of their predictions will be looked to in the 21st century.
Might German Baron Karl-Theodor zu Guttenberg become the King of the North? Is the former German Defense Minister (who is also the former German Minister for Economics and Technology) one to watch? What do Catholic, Byzantine, and biblical prophecies suggest?
WTO/TTIP and the Babylonian Beast Will international trade agreements like WTO/TTIP/CETA lead to the fulfillment of end time prophecies concerning the Babylonian Beast power that the Book of Revelation warns against? What does the Bible teach? A related video would be WTO Trade Deal and the Rise of the European Beast Power.
Satan's Plan Does Satan have a plan? What is it? Has it already been successful? Will it be successful in the future? Here are links to a two-part sermon series: What are Some of the Parts of Satan's Plan? and Satan's Plan is More Dramatic than Many Realize.
The 'Peace Deal' of Daniel 9:27 This prophecy could give up to 3 1/2 years advance notice of the coming Great Tribulation. Will most ignore or misunderstand its fulfillment? Here is a link to a related sermon video Daniel 9:27 and the Start of the Great Tribulation.
Who is the King of the North? Is there one? Do biblical and Roman Catholic prophecies for the Great Monarch point to the same leader? Should he be followed? Who will be the King of the North discussed in Daniel 11? Is a nuclear attack prophesied to happen to the English-speaking peoples of the United States, Great Britain, Canada, Australia, and New Zealand? When do the 1335 days, 1290 days, and 1260 days (the time, times, and half a time) of Daniel 12 begin? When does the Bible show that economic collapse will affect the United States? Here is a link to a video titled: The Future King of the North.
Can You Prove that the Beast to Come is European? The Book of Revelation tells of a beast power that will rise up. Some think that this must be Russia or could be Islamic, while others say that this power is European. The Book of Daniel tells of the rise of an end time King of the North that some think must be referring to a Russian leader, while others say that this power is European. How can you be sure? This YouTube video has all the scriptural proofs that you should need to prove that this power must be a European one.
Persecutions by Church and State This article documents some that have occurred against those associated with the COGs and some prophesied to occur. Will those with the cross be the persecutors or the persecuted–this article has the shocking answer. There is also a YouTube video sermon you can watch: The Coming Persecution of the Church. Here is information in the Spanish language: Persecuciones de la Iglesia y el Estado.
Dreams, the Bible, the Radio Church of God, and the Continuing Church of God How has God used dreams in the past? Does God still use dreams? Did He use any involving those in the Continuing Church of God? A related sermon is also available: Dreams, COGs, and One Man Rule.
How To Determine If Someone is a True Prophet of God There are many false prophets. How can Christians determine who is a true prophet? There is also a sermon-length video titled How to determine if someone is a true prophet of God. Here is a related link in Spanish/español: ¿Cómo determinar si alguien es un verdadero profeta de Dios?
Terror: Will Paris be Destroyed? This is a new video. The Paris office of Charlie Hebdo were attacked in January 2015 and the City of Paris was hit with multiple terrorist attacks in November 2015. Will Paris be destroyed? Is more terrorism prophesied? Will a successful militaristic leader arise in Europe? What do biblical and Catholic prophecies teach? Could any non-biblical prophecies be devices of Satan that will deceive people about what will happen? Dr. Thiel answers these questions and more through scriptures and other writings.