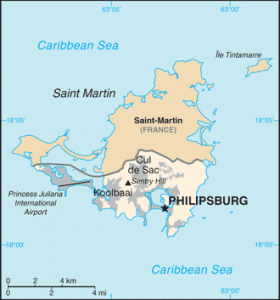 Saint Martin

The storm known as Hurricane Irma knocked out electrical power for millions, caused flooding in many areas, and has resulted in looting. In Saint Martin there reportedly is no food:
September 12, 2017

Hundreds of people across an island shared by Dutch St. Maarten and French St. Martin are trying to rebuild the lives they had before the hurricane hit … many … are struggling to maintain a semblance of the life they had before Irma as they fight off hunger and thirst."There's no food here. There's no water here," said 70-year-old Germania Perez.

Help was making it to the island, from the Dutch and French governments, other nations and private organizations. A French military ship with supplies was due to arrive Tuesday, coinciding with a visit by French President Emmanuel Macron, who arrived Tuesday in Guadeloupe, the first step of his visit to French Caribbean islands.

Dutch King Willem-Alexander, who arrived on Monday, said the scenes of devastation he witnessed on St. Maarten in the hurricane's aftermath were the worst he had ever seen.  …

As foreigners rushed to leave the island, some of those staying behind are still seeking meals and something to drink.

"We need water and food. It's not a 'maybe.' It's a 'for sure,'" said Phillip King, a 53-year-old tour bus driver. "My job is done right now. It's gone for a long time."

Shelter also is a growing concern for many residents. http://www.timesunion.com/news/world/article/St-Martin-s-residents-struggle-with-desperate-12190320.php

September 12, 2017

Hurricane Irma ravaged the Caribbean islands last week and wiped entire islands off the map. Now that the food and water have been scavenged from every grocery store on St. Martin, people are resorting to violence.

The people obviously started with the grocery stores, scavenging what they needed for sustenance; water, crackers, and fruit. But according to the New York Times, by nightfall on Thursday, what had been a search for food took a more menacing turn, as groups of people (some of whom were armed), swooped in and violently took anything of value that was left. Things like electronics, appliances, and vehicles were all stolen.

The social fabric has begun to fray now that people are without the most basic of essentials: food and water.

"All the food is gone now," Jacques Charbonnier, a 63-year-old resident of St. Martin, said in an interview on Sunday. "People are fighting in the streets for what is left." …


"There was some looting in the first few days, but the Dutch marines and police are on the street to prevent it," Paul De Windt, publisher of The Daily Herald, a newspaper on the Dutch side …

People get violent when food and water are scarce. Even minimal prepping and a small safe space for non-perishable food and water would have been an asset to those in the path of Irma. http://www.zerohedge.com/news/2017-09-11/all-food-gone-violence-erupts-caribbean-island-st-martin
Physical preparations do make sense (see Physical Preparation Scriptures for Christians), and people on islands should realize that. (As far as islands go, check out: Islands and Bible Prophecy.)
Hurricane Irma has also virtually destroyed the island of Barbuda:
12 September 2017

Barbuda's once charming surrounds are today ghostly quiet, the devastated ruins of its colourful homes and the absence of its 1,800 residents a galling testimony to the wrath of Hurricane Irma.

The monster category 5 hurricane which swept through here last Wednesday has transformed the idyllic isle – a former haunt of the late Princess Diana – into a ghastly, apocalyptic scene. http://www.independent.co.uk/news/world/americas/irma-barbuda-hurricane-island-damage-what-it-is-like-latest-a7941516.html
And then there is also the flooding from Hurricane Harvey, and the issues associated with Hurricanes Jose and Katia. (For scriptures related to hurricanes check out the video Hurricanes and Prophecy).
Notice the following report about looting:
September 12, 2017

Power has gone down for 7.2million homes and businesses in Florida meaning that there has been looting in the US as well as on Caribbean islands.

One man in the British Virgin Islands has resorted to carrying a knife around with him to protect himself as the situation teeters on the edge of losing control.Between 100 and 120 inmates were said to have escape a prison on the Virgin Islands after the building was partially destroyed by Irma.

Meanwhile in the US police have taken to shaming looters they captured, taking a picture of them as they sit in a cell.

Miami Police Department posted a Facebook image of nine people zip-tied in jail with the caption: 'Thinking about looting? Ask these guys how that turned out #stayindoors.'

Footage from St Martin … shows large-scale looting on the streets with people freely walking through town centres taking items.
Looting brings to mind the following prophecy for the last days:
1 But know this, that in the last days perilous times will come: 2 For men will be lovers of themselves, lovers of money, boasters, proud, blasphemers, disobedient to parents, unthankful, unholy, 3 unloving, unforgiving, slanderers, without self-control, brutal, despisers of good, 4 traitors, headstrong, haughty, lovers of pleasure rather than lovers of God, (2 Timothy 3:1-4)
Perhaps it should be pointed out that those who attacked hotel guests are not only being hateful, they are also helping to damage the future economy in lands that are dependent upon tourism.
Yet, these and other problems are not unexpected.
As regular readers of this page are aware, I have repeatedly warned of weather problems coming as well as chaos and food shortages. Back in 2009, in my book, 2012 and the Rise of the Secret Sect, I warned about something that would happen:
Odd weather patterns result in food shortages and natural disasters. Matthew 24:7 …

The world is actually in a berserk transition … It may be a period of chaos. It is the beginning of sorrows. Matthew 24:8 (Thiel B. 2012 and the Rise of the Secret Sect. Nazarene Books, 2009, p. 240)
Since that was published, we have had record smashing heat, stronger hurricanes, and odd weather problems. There has been a severe food shortage in St. Martin. There has been chaotic looting in the Caribbean and Florida. These issues should serve as a wake-up call.
Jesus taught the following related to the beginning of sorrows:
6 And you will hear of wars and rumors of wars. See that you are not troubled; for all these things must come to pass, but the end is not yet. 7 For nation will rise against nation, and kingdom against kingdom. And there will be famines, pestilences, and earthquakes in various places. 8 All these are the beginning of sorrows. (Matthew 24:6-8)

7 But when you hear of wars and rumors of wars, do not be troubled; for such things must happen, but the end is not yet. 8 For nation will rise against nation, and kingdom against kingdom. And there will be earthquakes in various places, and there will be famines and troubles. These are the beginnings of sorrows. (Mark 13:7-8)
Notice that troubles and famines are only the BEGINNING of sorrows. Jesus taught it would get worse:
21 For then there will be great tribulation, such as has not been since the beginning of the world until this time, no, nor ever shall be. 22 And unless those days were shortened, no flesh would be saved; but for the elect's sake those days will be shortened. (Matthew 24:21-22)
19 For in those days there will be tribulation, such as has not been since the beginning of the creation which God created until this time, nor ever shall be. 20 And unless the Lord had shortened those days, no flesh would be saved; but for the elect's sake, whom He chose, He shortened the days. (Mark 13:19-20)
While there is food in the USA, it should be understood that the time will come when that nation, too, will have severe food shortages.
Revelation 6:5-6 indicates that there will be food in the world, but that it will be quite expensive (food-price inflation), at least in some places:
5 When He opened the third seal, I heard the third living creature say, "Come and see." So I looked, and behold, a black horse, and he who sat on it had a pair of scales in his hand. 6 And I heard a voice in the midst of the four living creatures saying, "A quart of wheat for a denarius, and three quarts of barley for a denarius; and do not harm the oil and the wine." (Revelation 6:5-6)
Some will thus die as they will not be able to afford food, while others will survive but struggle.
The black horseman's future ride will reduce the proud faces of white America, Europe, and the British Common wealth into the blackened skin of starvation such as now afflicts the vast majority of mankind. (Alexander G. The Four Horsemen of the Apocalypse. Ambassador College Press, Pasadena (CA), 1973, p. 31)
And while the northern Babylonian Beast power will prosper for a short while, it too will ultimately succumb to famine according to Revelation 18:2,8:
2 Babylon…8 her plagues will come in one day–death and mourning and famine…
The storm related food shortages in St. Martin should show people that people get desperate when they do not have food. As Jesus wrote, a worse time is coming.
In addition to future storms, I suspect that agricultural practices, such as the heavy reliance on genetically-modified crops is helping set the stage for food problems in countries like the USA (see also GMOs and Bible Prophecy; there is a related YouTube video GMO Risks and the Bible).
Changes are happening.
Some items of possibly related interest may include:
Hurricanes and Prophecy Hurricane Harvey dropped the greatest amount of rainfall in any USA storm. Hurricane Irma was the strongest hurricane ever in the Atlantic. Hurricane Irma wiped out most of the island of Barbuda, caused a million to lose power in Puerto Rico, devastated St. Martin's, hit Cuba, and hit Florida. A news headline stated " 'Nature's gone crazy': Winds, fire, floods and quakes plague North America." Is there any tie to prophecy? Are heavy winds and rains discussed in the Bible? Any ties to homosexuality and other forms of immorality? What about Donald Trump and Jennifer Lawrence? Does God control the weather? What does God want people to do? Dr. Thiel addresses these issues and more. This is a video.
Weather Blessings and Sorrows Are weather problems a warning? What should be done? What does the Bible teach about weather? What about floods, droughts, heat, earthquakes, tornadoes, and solar storms? Here is a related YouTube video Does God Use Weather? A related item in the Spanish language would be Bendiciones y maldiciones del clima.
The Bible, Christians, and the Environment How should Christians view the environment? Does the Bible give any clues? What are some of the effects of air, water, and land pollution? Is environmental pollution a factor in autism and death? Do pollutants seem to double the autism risk? What will Jesus do? A YouTube video is available titled Air Pollution, Autism, and Prophecy.
Mexico, Central America, South America, Brazil, and the Caribbean in Prophecy [Español: México, América central, Suramérica, Brasil y el Caribe en la profecía] [Português: México, América Central, Ámérica do Sul, e Brasil na profecia] What will happen to those of Latin America? Will they have prosperity? Will they cooperate with Europe? Will they suffer in the future? What role might the various Caribbean nations/territories play?
Christian Repentance Do you know what repentance is? Is it really necessary for salvation? A related sermon is also available titled: Real Christian Repentance.
When Will the Great Tribulation Begin? 2017, 2018, or 2019? Can the Great Tribulation begin today? What happens before the Great Tribulation in the "beginning of sorrows"? What happens in the Great Tribulation and the Day of the Lord? Is this the time of the Gentiles? When is the earliest that the Great Tribulation can begin? What is the Day of the Lord? Who are the 144,000? Here is a version of the article in the Spanish language: ¿Puede comenzar la Gran Tribulación en 2016 o 2017? ¿Es el Tiempo de los Gentiles? You can also see the English language sermon videos: The Great Tribulation from the Mount of Olives and Can the Great Tribulation begin before 2020? A shorter video is: Will the Great Tribulation Start in 2017?
The Times of the Gentiles Has there been more than one time of the Gentiles? Are we in it now or in the time of Anglo-America? What will the final time of the Gentiles be like? A related sermon is available and is titled: The Times of the Gentiles.
Anglo – America in Prophecy & the Lost Tribes of Israel Are the Americans, Canadians, English, Scottish, Welsh, Australians, Anglo-Saxon (non-Dutch) Southern Africans, and New Zealanders descendants of Joseph? Where are the lost ten-tribes of Israel? Who are the lost tribes of Israel? What will happen to Jerusalem and the Jews in Israel? Will God punish the U.S.A., Canada, United Kingdom, and other Anglo-Saxon nations? Why might God allow them to be punished first? Here is a link to the Spanish version of this article: Anglo-América & las Tribus Perdidas de Israel. Information is also in the YouTube sermons titled Where are the Ten Lost Tribes? Why does it matter? and British are the Covenant People. A short YouTube of prophetic interest may be Barack Obama and the State of the Apocalypse.
Will the Anglo-Saxon Nations be Divided and Have People Taken as Slaves? Will the lands of the United States, United Kingdom, Canada, Australia, and New Zealand be divided? What about Jerusalem? What does Bible prophecy teach? Are there non-biblical prophecies that support this idea? Who will divide those lands? Who will end up with the lands and the people? Here is a link to a video titled Will the USA and other Anglo-nations be Divided and Their People Made Slaves? Here is a related item in the Spanish language ¿Serán divididas las naciones anglosajonas?
Physical Preparation Scriptures for Christians. We all know the Bible prophecies famines. Should we do something? Here is a version in the Spanish language Escrituras sobre Preparación física para los Cristianos.
Islands and Bible Prophecy What's ahead for islands? What does the Bible prophesy about them?