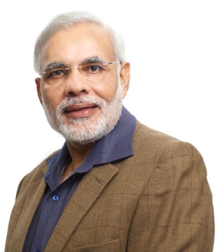 Narendra Modi

India's Prime Minister Narendra Modi hugged and met with US President Barack Obama:
January 25, 2015

U.S. President Barack Obama said he agrees with Indian Prime Minister Narendra Modi on a "new vision" for the Asia Pacific region.

In a joint news conference in New Delhi hours after arriving in India, the U.S. leader also said he and Modi have "agreed to deepen" their defense and security cooperation.

Modi said the relationship between the U.S. and India "stands at a new level." Obama arrived in India Sunday for a three-day visit during which he will become the first American leader to attend the country's Republic Day ceremony.

Indian Prime Minister Modi demonstrated the importance of the visit by breaking protocol to receive Obama at the airport with a big hug. http://www.voanews.com/content/obama-modi-discuss-relations-between-us-india/2612582.html
Why would India's Prime Minister Narendra Modi be so happy to meet US President Barack Obama?  Notice the following:
January 25, 2015

NEW DELHI — President Obama and Indian Prime Minister Narendra Modi said they reached "a breakthrough understanding" in freeing up U.S. investment in nuclear energy development in India, as Obama began a three-day visit to the country on Sunday.

Picking up from a stalled 2008 civil nuclear agreement between the two countries, the deal would allow U.S. firms to invest in energy in India, and resolve a dispute over U.S. insistence on tracking fissile material it supplies to the country, and over Indian liability provisions that have discouraged U.S. firms from capitalizing on the agreement.  http://www.usatoday.com/story/news/world/2015/01/25/obama-india-arrival/22307343/
So, one reason is that the USA has agreed to support some of India's nuclear ambitions and Narendra Modi would have known that prior to Barack Obama's arrival there. But there is also another reason:
January 25, 2015

Modi was banned from the USA for almost a decade over his alleged role in permitting the massacre of 2,000 Muslims when he was the governor of Gujarat in 2002. Obama lifted the ban last year after Modi took office, and the September visit began warming up ties that had been strained for years.

"Forging deeper ties between our two nations has been a key part of my foreign policy since I took office," Obama told India Today weekly magazine. "(It) can be one of the defining partnerships of the 21st century."  http://www.usatoday.com/story/news/world/2015/01/25/obama-india-arrival/22307343/
One of the reasons that I put the above up was to show that Hindus also have been know to slaughter Muslims–some do not seem to realize this.  It is not that I am saying that most terrorists are Hindus (most of Muslim), but that Muslims also have had issues.
As far as Barack Obama, India, and his agenda, notice something from when he was originally a candidate for the presidency:
Indian Americans Take Note of Obama, Thanks to Hanuman

Washington Post – June 27, 2008

At a town hall meeting, a woman asked Obama what kept him grounded, and in response he emptied his pockets. "People are so generous to me, investing their hopes in me," he said, holding up a cupped hand full of trinkets. "This I usually don't show in these town hall meetings. I have all these things that people give me — all these different little good luck charms."

One of the trinkets, it turns out, was a tiny figurine of Hanuman — the Hindu monkey god.

"It's a big deal," said Bhavna Pandit, 28, a political fundraising consultant based in Washington who thinks the revelations will lead to new interest in Obama among Indian American donors.

Pandit said news of the Obama trinket has swept across Indian American living rooms and through Indian newspapers and TV networks. She said the people she knows as "aunties and uncles" — women and men from her parents' generation — are suddenly taking note of Obama in a way they had not done before. "They think it's kind of neat. They rarely see our religion played out in the mainstream media in America." http://blog.washingtonpost.com/the-trail/2008/06/27/indian_americans_take_note_of.html

India monkey god idol for Obama

BBC – June 23, 2008

A group of Indians are planning to present a statue of the revered Indian monkey God, Hanuman, to Democratic presidential candidate Barack Obama.

The group decided to order the idol after they read a magazine report saying that Mr Obama carried a good luck 'monkey king' charm.

They say that a Barack Obama victory would be good for India.

Hindus revere monkeys which they believe are descendents of the monkey God Hanuman.

The two-foot tall, 15kg gold-polished, brass idol has been made as a present for Mr Obama because "he will be good for India if he becomes the next president," according to Brij Mohan Bhama, leader of the group.

Mr Bhama belongs to the ruling Congress party and also runs a textile mill in the western city of Mumbai.

'Monkey charm'

"We have heard that he carries a small monkey charm in his pocket. So he is a devotee of Hanuman. That's why we want to present him with this idol," he said.

Mr Bhama and his friends have also invited Carolyn Sauvage-Mar, chairwoman of the group, Democrats Abroad-India, to a meeting they are holding on Tuesday to pray for Mr Obama's success. http://news.bbc.co.uk/2/hi/south_asia/7468662.stm
So, Barack Obama believes that carry idols helps keep him "grounded."  Certainly not grounded in Christianity.  Barack Obama is one who, along with Pope Francis and UN Secretary Ban Ki-Moon,  supports the ecumenical-interfaith agenda.  An agenda that the Bible warns against (see also United Nations: Humankind's Last Hope or New World Order?).
That being said, the Bible does tell of a coming military alliance between the powers in Asia which would almost assuredly include India (Revelation 9:13-18; 16:12-16). India currently wants to strengthen itself militarily and technologically, and the agreement announced today is likely to assist that.
While Barack Obama probably considers the agreement simply one step in his Asian pivot strategy (which was pushed by his former Secretary of State Hillary Clinton), the time will come when the pivot away from Europe (which is also part of the 'pivot' to Asia strategy) will result in the end of the USA–which will happen according to various biblical prophecies (e.g. Daniel 11:39; see also Anglo – America in Prophecy & the Lost Tribes of Israel).
Some items of possibly related interest may include:
India, Its Biblical Past and Future: Any Witness? The Bible discusses the origins of those of Indian heritage. This article quotes the Bible and also discusses some of the witness to India throughout history and what is happening in the 21st century (including those in Bangladesh, Pakistan, and Sri Lanka).
India and the Beast of Revelation 13 Do biblical, Catholic, and even Hindu prophecies suggest that many in India will follow, for a while, the Beast and False Prophet/Antichrist? Here is link to a related YouTube video Will People in India Worship the Beast of Revelation 13?
Asia in Prophecy What is Ahead for Asia? Who are the "Kings of the East"? What will happen to nearly all the Chinese, Russians, Indians, and others of Asia? China in prophecy, where? Who has the 200,000,000 man army related to Armageddon? A YouTube video of interest may be Is China THE Threat to the United States of America?
United Nations: Humankind's Last Hope or New World Order? Is the UN the last hope for humanity? Or might its goals end up with sinister results? A related video would be United Nations and Vatican Are Planning the New World Order.
Will the Interfaith Movement Lead to Peace or Sudden Destruction? Is the interfaith movement going to lead to lasting peace or is it warned against?  A video of related interest would be Do You Know That Babylon is Forming?
Anglo – America in Prophecy & the Lost Tribes of Israel Are the Americans, Canadians, English, Scottish, Welsh, Australians, Anglo-Saxon (non-Dutch) Southern Africans, and New Zealanders descendants of Joseph? Where are the lost ten-tribes of Israel? Who are the lost tribes of Israel? What will happen to Jerusalem and the Jews in Israel? Will God punish the U.S.A., Canada, United Kingdom, and other Anglo-Saxon nations? Why might God allow them to be punished first? Here is a link to the Spanish version of this article: Anglo-América & las Tribus Perdidas de Israel. Information is also in the YouTube sermons titled Where are the Ten Lost Tribes? Why does it matter? and British are the Covenant People. A short YouTube of prophetic interest may be Barack Obama and the State of the Apocalypse.
Will the Anglo-Saxon Nations be Divided and Have People Taken as Slaves? Will the lands of the United States, United Kingdom, Canada, Australia, and New Zealand be divided? What about Jerusalem? What does Bible prophecy teach? Are there non-biblical prophecies that support this idea? Who will divide those lands? Who will end up with the lands and the people? Here is a link to a video titled Will the USA and other Anglo-nations be Divided and Their People Made Slaves? Here is a related item in the Spanish language ¿Serán divididas las naciones anglosajonas?
World War III: Steps in Progress Are there surprising actions going on now that are leading to WWIII? Might a nuclear attack be expected? Does the Bible promise protection to all or only some Christians? How can you be part of those that will be protected? A related video would be Is World War III About to Begin? Can You Escape?
When Will the Great Tribulation Begin? 2015, 2016, or 2017? Can the Great Tribulation begin today? What happens before the Great Tribulation in the "beginning of sorrows"? What happens in the Great Tribulation and the Day of the Lord? Is this the time of the Gentiles? When is the earliest that the Great Tribulation can begin? What is the Day of the Lord? Who are the 144,000? Here is a version of the article in the Spanish language: ¿Puede comenzar la Gran Tribulación en 2014 o 2015? ¿Es el Tiempo de los Gentiles? You can also see the English language sermon video: The Great Tribulation from the Mount of Olives.
Can the Great Tribulation Begin in 2015? When will the Great Tribulation begin? Can it begin in 2015 as some have indicated? What are the biblical requirements that precede the Great Tribulation? What did Jesus teach would happen prior to the Great Tribulation. Are there definite clues in the Book of Daniel that Christians should look out for? Is there a King of the North or a King of the South yet? Where does the 'prince' of Daniel 9:26-27 come from? What about 'blood moons'? Dr. Thiel videoed this on the Mount of Olives where Jesus specifically discussed events leading up to the Great Tribulation in Matthew 24.
Protestant and Church of God views of the United States in Bible Prophecy Is the USA mentioned in Bible prophecy? Some Protestants say yes, while others say no. What does the Bible really teach? Learn the truth about this. There is also a video available: Is The United States Mentioned In Bible Prophecy?
Dangerous Protestant Prophetic Errors What are some errors that various Protestants hold to that will tend to prevent them from knowing when the Great Tribulation will begin? A related video is titled Ten Dangerous Protestant Prophetic Errors.
Who is the King of the West? Why is there no Final End-Time King of the West in Bible Prophecy? Is the United States the King of the West? Here is a version in the Spanish language: ¿Quién es el Rey del Occidente? ¿Por qué no hay un Rey del Occidente en la profecía del tiempo del fin?
Hillary Clinton in Prophecy Prophecy, Hillary Clinton? Are there prophecies that Hillary Clinton may fulfill? Are there any prophecies that she has already helped fulfill? Could Hillary Clinton be apocalyptic? Could Hillary Clinton be the final Antichrist?
Barack Obama, Prophecy, and the Destruction of the United States-Second Edition for Second Obama Term This is a 160 page book for people truly interested in prophecies related to Barack Obama and the United States, including learning about many that have already been fulfilled (which the book documents in detail) and those that will be fulfilled in the future. It also has a chapter about a Republican choice. This book is available to order at www.barackobamaprophecy.com. The physical book can also be purchased at Amazon from the following link: Barack Obama, Prophecy, and the Destruction of the United States: Is Barack Obama Fulfilling Biblical, Islamic Catholic, Kenyan, and other America-Related Prophecies? What About Republican Leaders? Second Edition for Second Obama Term.
Barack Obama, Prophecy, and the Destruction of the United States-Second Term-Amazon Kindle edition. This electronic version is available for only US$2.99. And you do not need an actual Kindle device to read it. Why? Amazon will allow you to download it to almost any device: Please click HERE to download one of Amazon s Free Reader Apps. After you go to for your free Kindle reader and then go to Barack Obama, Prophecy, and the Destruction of the United States-Second Term-Amazon Kindle edition.
CCOG.IN  This is a website targeted towards those of Indian heritage. It has a link to an edited Hindi translation of The Mystery of the Ages and is expected to have more non-English language materials in the future.
CCOG.ASIA We in the Continuing Church of God also have the url www.ccog.asia which has a focus on Asia and has various articles in Mandarin Chinese as well as some in English, plus some items in other Asian languages. 我们在继续神的教会也提供此网址 www.ccog.asia, 关注于亚洲并且有各种各样的中英文文章,其中一些用菲律宾语翻译的文章也正在进行中,准备添加到这个网站中。 HHere is a link to our Statement of Beliefs in Mandarin Chinese 继续神的教会的信仰声明.