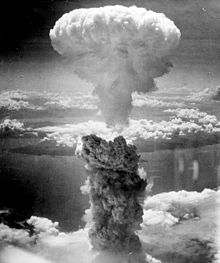 Nagasaki Nuclear Bomb (1945)
North Korea said it conducted a test of a nuclear bomb in order to send a message to the USA:
February 12, 2013
North Korea said the atomic test it conducted Tuesday in the remote, snowy northeast was merely its "first response" taken with "maximum restraint," in response to what it called U.S. threats, and said it will continue with unspecified "second and third measures of greater intensity" if Washington maintains its hostility.
The underground test, which set off powerful seismic waves, was a crucial step toward its goal of building a bomb small enough to be fitted on a missile capable of striking the United States. The test drew immediate condemnation from Washington, the U.N. and others. Even its only major ally, China, voiced opposition.

After the launch was first reported, U.S. officials confirmed that there are indications that North Korea intends to conduct a second test of its arsenal, reports CBS News correspondent Margaret Brennan.  http://www.cbsnews.com/8301-202_162-57568865/north-korea-nuke-test-just-a-first-response-aimed-at-u.s/
The North Korean politicians have often been playing a dangerous game with their country and their people.
While North Korea is not prophesied to take over the USA (Europe is per Daniel 11:39, etc.), it certainly is possible that it may decided to actually launch one or more missiles at the USA in the future.
Throughout the world there were condemnation of this North Korean nuclear test:
February 12, 2013

Governments and leaders from around the world are condemning North Korea's latest nuclear test.United Nations Secretary General Ban Ki-moon described the move as "deeply destabilizing." He says it is a "clear and grave violation" of sanctions banning Pyongyang from nuclear and missile tests.

U.S. President Barack Obama called the test "highly provocative." In a statement, he said it undermines regional stability and will not make North Korea safer. He called for "swift and credible" international action in response.

NATO said the nuclear test, combined with North Korea's December missile launch, poses a "grave threat to international peace, security and stability."

China, North Korea's main ally, expressed what it called "firm opposition" to the test. Beijing's foreign ministry urged Pyongyang to abide by its non-nuclear commitment, saying the issue should be resolved in the framework of long-stalled, six-nation de-nuclearization talks.

Even Iran, which the U.S. believes is pursuing a nuclear weapons program of its own, criticized the launch. A foreign ministry spokesperson said although all countries have the right to make use of nuclear activities "for peaceful purposes," Tehran hopes all weapons of mass destruction and nuclear arms will be destroyed.

South Korea called the test "an unacceptable threat to peace and stability" and a "head-on challenge" to the international community. Seoul says Foreign Minister Kim Sung-hwan agreed with U.S. Secretary of State John Kerry during a telephone call to take "swift and unified action" at the U.N. Security Council, which is meeting later Tuesday to discuss the test.

In Japan, Prime Minister Shinzo Abe said Tokyo would consider its own new sanctions against North Korea in response to the test, which he called "extremely regrettable."

The European Union called the move a "blatant challenge" to nuclear non-proliferation. Catherine Ashton, the High Representative for Foreign Affairs, said in a statement that North Korea should refrain from further provocative actions.

Elsewhere, British Foreign Minister William Hague says his country will push for a "robust" international response to the North Korean test.

French President Francois Hollande said he condemns the test "in the strongest terms," and promised to back "strong action" by the U.N. Security Council.

Moscow also "decisively" condemned the test as a violation of North Korea's international obligations.

German Foreign Minister Guido Westerwelle said the international community should respond to the provocation with a "clear stance," saying further sanctions against Pyongyang must be considered.

India's Ministry of External Affairs said it views the test as a "matter of deep concern."  http://www.voanews.com/content/nkorean-nuclear-test-prompts-wave-of-international-condemnation/1601811.html
If China is really upset and serious enough about this, it could take steps that would lead to the end of North Korea.  However, since it probably does not want to deal with what would happen if South Korea takes over the North, it likely will not take enough steps yet.  But we will see.
Eventually, I believe that there will be major change in the approach of the government of North Korea.
Why?
Because the Koreans are Asians and occupy some of the "land of the sunrise" (Revelation 16:2). Thus I also believe that they are to be part of the kings of the east that the Book of Revelation discusses having a role in the end time (Revelation 9:16). So, eventually North Korea will cooperate more with various ones in Asia.
Both Iraq's Saddam Hussein and Libya's Muammar Gaddafi thought that they could be brash and defiant successfully.  And while they were for some time, they later found out that they were mistaken.  The top leadership of North Korea may end up regretting what it has been doing as well.
Some articles of possibly related interest would include the following:
Korea in Prophecy, Any Witness? Does God have a plan for the Koreans? Is Korea mentioned in any prophecies? Will Koreans be among the first in the Kingdom of God? 한국의 언어로 : 한국 예언, 모든 증인에?
Japan, Its Biblical Past and Future, Part 1: Any Witness? Where did the Japanese people come from? Have they had any witness?
Japan, Its Biblical Past and Future, Part 2: Prophecy Japan in prophecy. What is prophesied for Japan? Will God save the Japanese?
Asia in Prophecy What is Ahead for Asia? Who are the "Kings of the East"? What will happen to nearly all the Chinese, Russians, Indians, Koreans, and others of Asia? China in prophecy, where? Who has the 200,000,000 man army related to Armageddon?
Barack Obama, Prophecy, and the Destruction of the United States-Second Edition for Second Obama Term This is a 160 page book for people truly interested in prophecies related to Barack Obama and the United States, including learning about many that have already been fulfilled (which the book documents in detail) and those that will be fulfilled in the future. It also has a chapter about a Republican choice. This book is available to order at www.barackobamaprophecy.com. The physical book can also be purchased at Amazon from the following link: Barack Obama, Prophecy, and the Destruction of the United States: Is Barack Obama Fulfilling Biblical, Islamic, Catholic, Kenyan, and other America-Related Prophecies? What About Republican Leaders? Second Edition for Second Obama Term.
Barack Obama, Prophecy, and the Destruction of the United States-Second Term-Amazon Kindle edition. This electronic version is available for only US$2.99. And you do not need an actual Kindle device to read it. Why? Amazon will allow you to download it to almost any device: Please click HERE to download one of Amazon s Free Reader Apps. After you go to for your free Kindle reader and then go to Barack Obama, Prophecy, and the Destruction of the United States-Second Term-Amazon Kindle edition.