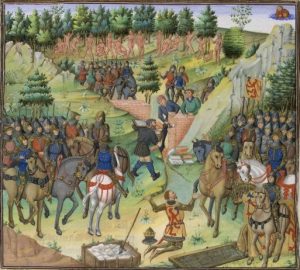 15th century portrayal of ancient Gog and Magog

The situation between Israel and Iran and Syria remains tense. Some are pointing to Russia as the possible solution:
Syria: Can Russia Balance Iran and Israel?

5 May 2018

The escalating proxy conflict between regional rivals Israel and Iran in Syria is fast approaching a fever pitch, and Russia's literally stuck in the middle as the only country with any chance of balancing between these two.

Israel has bombed the Arab Republic over 100 times since the beginning of its 2011 conflict on the alleged basis that it's targeting either Iran's elite Islamic Revolutionary Guard Corps (IRGC) troops or their Hezbollah allies, with many of these strikes having taken place since Russia's 2015 anti-terrorist military intervention and coordinated with Moscow per a so-called "deconfliction mechanism" signed in September of that year.  …
Russia is therefore walking a fine line in balancing between Iran and Israel in Syria, a remarkable diplomatic-military feat that's becoming more important than ever now that the two enemies are on the verge of taking their proxy war with one another to an unprecedented level, and there's a lot of weight on Moscow's shoulders to make sure that things don't get much worse anytime soon. https://sputniknews.com/radio_trendstorm/201805051064148181-syria-can-russia-balance-iran-And-israel/

Israel and Iran on Path to War as Mideast Tinderbox Awaits Spark

There's a growing risk that one is about to break out in Syria, pitting Israel against Iran.

The Islamic Republic's forces are entrenching there, after joining the fight to prop up President Bashar al-Assad. The Jewish state, perceiving a direct threat on its border, is subjecting them to an escalating barrage of airstrikes. Nobody expects those strikes to go unanswered.

The path to escalation is clear, and the rhetoric is apocalyptic. "We will demolish every site where we see an Iranian attempt to position itself,'' Israel's Defense Minister Avigdor Liberman told the London-based Saudi newspaper Elaph, adding that the Iranian regime is "living its final days.''

In Tehran, Hossein Salami, deputy commander of the Revolutionary Guards, said that "100,000 missiles are ready to fly'' in Israel's direction, and warned they could bring about its "annihilation and collapse.''

Light a Match

Iran and Israel have been exchanging threats for decades. What's different now is that Syria's civil war, which sucked in both countries, provides a potential battlespace — one that's much closer to Jerusalem than to Tehran. …

The only power with channels open to both sides, and the clout to play mediator, is Russia. 05/03/18 https://www.bloomberg.com/news/articles/2018-05-03/israel-sees-iran-war-looming-as-mideast-tinderbox-awaits-a-spark
The New York Times had the following headline a couple of days ago: Who Can Prevent a War Between Israel and Iran? Russia.
On the other hand, various Protestant, and some Jewish, prophecy watchers see danger in Russian involvement and point to Ezekiel 38:
"Therefore prophesy, O mortal, and say to Gog: Thus said Hashem: Surely, on that day, when My people Yisrael are living secure, you will take note." Ezekiel 38:14 (The Israel Bible™)

As Iran and Israel come into direct conflict in Syria and world leaders wonder what to do about Iran's nuclear program, Rabbinic authorities look to prophecy to find clear answers for a developing situation that one end-of-days expert says is "about to get Biblical."

The gravity of the rising tensions between Israel and Iran was described by an unnamed senior US official in an interview with NBC News.

"On the list of the potentials for most likely live hostility around the world, the battle between Israel and Iran in Syria is at the top of the list right now," the official said.

Rabbi Pinchas Winston, a prolific author on end-of-days subjects, agreed with that assessment though he expressed it in Rabbinic terms.

"Things are about to get Biblical," Rabbi Winston told Breaking Israel News. "Some people thought the Bible was dead. They thought they could sit back and relax.That is clearly not the case in Syria and soon, that will be clear to everyone."

The concern that Israel and Iran may become enmeshed in a war in the near future is due to recent escalation of Israel's conflict with Iran from indirect aggression to direct confrontation.  … According to the US officials cited by NBC News, Russia is now running the air war for Assad while Iran is running the land war. 05/02/18 https://www.breakingisraelnews.com/106985/end-of-days-expert-on-iran-things-are-about-to-get-biblical/

Are we living in the biblical end times?

That's a question that has consistently emerged over the past two millennia, with scores of Christians wondering when Jesus' second coming will unfold. It's a topic that famed Christian author Joel Rosenberg has often discussed, as the prophecy expert routinely shares what he believes the Bible says about the end of days.

Rosenberg, the author of the new book, "The Kremlin Conspiracy," said during a recent appearance on PureFlix.com's "Pure Talk" that he believes humanity technically entered the last days once Jesus came, died, rose and set the gospel message into motion.

Rosenberg also addressed claims that "Gog of the land of Magog" referenced in Ezekiel was a forewarning of a leader from Russia. Based on his reading of the text, Rosenberg explained what his interpretation of the still-unfulfilled events would be.

"The one-day, future evil leader of Russia is going to form an alliance with Iran, Turkey and some other hostile countries to come and surround and attack Israel in the last days," Rosenberg said, adding that these events could still be hundreds of years away.

That said, he believes Russia's activities in Syria and relations with other dangerous players like Iran and North Korea should raise some eyebrows.

"I don't know what to make of it, but it's not good," he said. 04/28/18 http://www1.cbn.com/cbnnews/2018/april/joel-rosenberg-explains-why-he-believes-humanity-is-living-in-the-end-of-days
Back in February 2018, Breaking Israeli News and World Net Daily ran stories citing Ezekiel 38 and suggesting that the Gog and Magog war may have begun that month (see Did the 'War of Gog and Magog' Already Begin?).
That speculation was in error.
The problem with citing Ezekiel 38 is that it is NOT for the time prior to the return of Jesus!
Notice the first 7 verses from Ezekiel 38:
1 Now the word of the Lord came to me, saying, 2 "Son of man, set your face against Gog, of the land of Magog, the prince of Rosh, Meshech, and Tubal, and prophesy against him, 3 and say, 'Thus says the Lord God: "Behold, I am against you, O Gog, the prince of Rosh, Meshech, and Tubal. 4 I will turn you around, put hooks into your jaws, and lead you out, with all your army, horses, and horsemen, all splendidly clothed, a great company with bucklers and shields, all of them handling swords. 5 Persia, Ethiopia, and Libya are with them, all of them with shield and helmet; 6 Gomer and all its troops; the house of Togarmah from the far north and all its troops — many people are with you.

7 "Prepare yourself and be ready, you and all your companies that are gathered about you; and be a guard for them.
Verses 1-7 talk about a group getting ready to battle. Various nations such as Russia, Iran, Asians, and others are included here.
What does the Bible actually teach about the timing? Notice two verses from Ezekiel 38:
8 After many days you will be visited. In the latter years you will come into the land of those brought back from the sword and gathered from many people on the mountains of Israel, which had long been desolate; they were brought out of the nations, and now all of them dwell safely. 9 You will ascend, coming like a storm, covering the land like a cloud, you and all your troops and many peoples with you."
Verses 8-9 refer to a regathering of Israel. Why do certain prophecy watchers say that it is for now?
Because some believe that the creation of the nation of Israel in 1948 fulfills verse 8.
Yet, this is not really the fulfillment for several reasons (watch also the video Israel, 1948, and Prophecy).
One is that even today most Jews do not live in the nation of Israel. The Jewish diaspora is scattered throughout the world. But the other problem is that many do not realize that there are multiple millions of the descendants of Israel that are not of the tribe of Judah. The Bible shows that Israel split into the kingdoms of Judah and Israel after the reign of Solomon and that later the ten tribes that were part of Israel (cf. 1 Kings 11:31,35; 12:16-17; 12:20-23) were carried into captivity (2 Kings 17:21-23). Those tribes represent hundreds of millions of people currently alive, and as there are less than 6,000,000 Jews in Israel, most simply have not been regathered (more information on the tribes of Israel is in the article Anglo – America in Prophecy & the Lost Tribes of Israel).
Furthermore, pay close attention to the part of verse 8 about people dwelling safely. That is NOT the case in Israel today.
Additionally, notice verses 10-13:
10 'Thus says the Lord God: "On that day it shall come to pass that thoughts will arise in your mind, and you will make an evil plan: 11 You will say, 'I will go up against a land of unwalled villages; I will go to a peaceful people, who dwell safely, all of them dwelling without walls, and having neither bars nor gates' —  12 to take plunder and to take booty, to stretch out your hand against the waste places that are again inhabited, and against a people gathered from the nations, who have acquired livestock and goods, who dwell in the midst of the land. 13 Sheba, Dedan, the merchants of Tarshish, and all their young lions will say to you, 'Have you come to take plunder? Have you gathered your army to take booty, to carry away silver and gold, to take away livestock and goods, to take great plunder?'"'
Israel has its walls and "iron dome" and military weaponry. Notice that it is against a 'peaceful people' in unarmed villages that the prince of Rosh is going against. This cannot happen until AFTER the return of Jesus. Furthermore, there simply is not a plan to take a lot of gold and silver out of Israel right now by the power of the far north, nor does the current nation of Israel have enough of it to likely justify an attack for that purpose (unless perhaps some hidden gold/silver mines or remaining treasure of David).
Notice the following:
Israel holds no gold reserves at all, according to a Bank of Israel spokesman. (Kopf S. Jerusalem of Gold. Jerusalem Post, February 16, 2011. http://www.jpost.com/Jerusalem-Report/Israel/Jerusalem-of-Gold viewed 07/21/14)

Israel's Gold Reserves was reported at 0.00 USD mn in Feb 2018. This stayed constant from the previous number of 0.00 USD mn for Jan 2018. (https://www.ceicdata.com/en/indicator/israel/gold-reserves viewed 05/05/18)
According to Index Mundi, the nation of Israel was not amongst the top 48 producers of silver in the world, so its supply of this would also seem to be limited–it also confirmed that Israel does not have gold reserves (though there is some gold and silver in coins, etc. in Israel). Israel in the early 21st century is NOT the target of Ezekiel 38.
Ezekiel was further inspired to write:
14 "Therefore, son of man, prophesy and say to Gog, 'Thus says the Lord God: "On that day when My people Israel dwell safely, will you not know it?  15 Then you will come from your place out of the far north, you and many peoples with you, all of them riding on horses, a great company and a mighty army. 16 You will come up against My people Israel like a cloud, to cover the land. It will be in the latter days that I will bring you against My land, so that the nations may know Me, when I am hallowed in you, O Gog, before their eyes." (Ezekiel 38:1-17)
So, a power from the far north, which would seem to have to be Russian-led as it is the only major military power in the far north now, and may be the only one also in the future, will come. But again, notice that this happens when Israel is dwelling safely.
Russia is NOT about to fulfill Ezekiel 38, which is also contrary to the views of some who claim to rely on some version of the 'Bible Code' (watch Russia, Iran, Syria, & the Bible (Code)).
Does that mean that nothing will happen?
No.
If we look at prophecies in Isaiah, we do not see such time restrictions as are in Ezekiel 38. We see prophecies that Iran and Syria will cause serious military damage to part of Jerusalem:
1 The burden against the Valley of Vision.

What ails you now, that you have all gone up to the housetops, 2 You who are full of noise, A tumultuous city, a joyous city? Your slain men are not slain with the sword, Nor dead in battle. 3 All your rulers have fled together; They are captured by the archers. All who are found in you are bound together; They have fled from afar. 4 Therefore I said, "Look away from me, I will weep bitterly; Do not labor to comfort me Because of the plundering of the daughter of my people."

5 For it is a day of trouble and treading down and perplexity By the Lord God of hosts In the Valley of Vision — Breaking down the walls And of crying to the mountain. 6 Elam bore the quiver With chariots of men and horsemen, And Kir uncovered the shield. 7 It shall come to pass that your choicest valleys Shall be full of chariots,And the horsemen shall set themselves in array at the gate.

8 He removed the protection of Judah. You looked in that day to the armor of the House of the Forest; 9 You also saw the damage to the city of David, That it was great; And you gathered together the waters of the lower pool. 10 You numbered the houses of Jerusalem, And the houses you broke down To fortify the wall. 11 You also made a reservoir between the two walls For the water of the old pool. But you did not look to its Maker, Nor did you have respect for Him who fashioned it long ago.

12 And in that day the Lord God of hosts Called for weeping and for mourning,For baldness and for girding with sackcloth. 13 But instead, joy and gladness, Slaying oxen and killing sheep, Eating meat and drinking wine: "Let us eat and drink, for tomorrow we die!"

14 Then it was revealed in my hearing by the Lord of hosts,"Surely for this iniquity there will be no atonement for you, Even to your death," says the Lord God of hosts. (Isaiah 22:1-14 NKJV)
Elam seems to be a reference to at least some in Iran. Kir is of interest as it has several possibilities. One is that the Bible tells that after Tiglath-Pileser king of Assyria took over Damascus, he moved Syrians to Kir. While this does not mean that Kir must (or must only) be a reference to Syria, the fact that Syria is an ally of Iran is interesting. Some believe Kir is an area in the south of Iran, while others suggest closer to the Black Sea. The Bible tells of a time when Kir will be destroyed (Isaiah 15:1b) and also says that Syria's capital Damascus will be destroyed (Isaiah 17:1).
Now it is not ALL of Jerusalem that is prophesied to be destroyed as Gill's Exposition of the Entire Bible correctly attests to:
Ye have seen also the breaches of the city of David, that they are many,…. Not Jerusalem in general, but that part of it which was called the stronghold of Zion, and in particular had the name of the city of David, 2 Samuel 5:7
Iran and Syria would seemingly try to avoid destroying all of Jerusalem as there are important parts dominated by and of significance to Muslims.
Despite Israel's insistence that Iran get out of Syria, the Hebrew Bible, which those in Israel should be familiar with, shows what looks like an Iranian-Syrian attack against part of Jerusalem that will be effective.
A time is coming when God will take away the protection of Judah and the City of David (Jerusalem, cf. 2 Kings 9:28).
But that does not mean that Iran or Syria could not be damaged.
Actually, the destruction of Syria's capital Damascus is prophesied:
1 The burden against Damascus. "Behold, Damascus will cease from being a city, And it will be a ruinous heap. (Isaiah 17:1)
The above has not happened and looks to happen BEFORE Jesus returns (watch also Damascus and Syria in Prophecy).
Notice also the following prophecy:
34 The word of the Lord that came to Jeremiah the prophet against Elam, in the beginning of the reign of Zedekiah king of Judah, saying, 35 "Thus says the Lord of hosts:

'Behold, I will break the bow of Elam,
The foremost of their might.
36 Against Elam I will bring the four winds
From the four quarters of heaven,
And scatter them toward all those winds;
There shall be no nations where the outcasts of Elam will not go.
37 For I will cause Elam to be dismayed before their enemies
And before those who seek their life.
I will bring disaster upon them,
My fierce anger,' says the Lord;
'And I will send the sword after them
Until I have consumed them.
38 I will set My throne in Elam,
And will destroy from there the king and the princes,' says the Lord. (Jeremiah 49:34-38)
Iran needs to be cautious as biblical prophecies suggest it will be involved in militaristic ventures, and ultimately that will not end well for Iran.
Yet, Iranian-Syrian military ventures look to harm the tiny nation of Israel, and could even impact the USA.
Do not think that the US will not have a price to pay for its military efforts.
Jesus foretold a time of 'troubles' (Mark 13:8) prior to the start of the Great Tribulation (Mark 13:19; Matthew 24:21), but Russia is NOT about to fulfill Ezekiel 38 prior to the return of Jesus.
UPDATE 05/08/18: We put together the following related video:
Could Iran and Syria combine to attack the state of Israel? The media has placed its hopes on Russia to prevent such a conflict. Some Protestant and Jewish sources point to Russia as an ally to Iran to invade Israel to fulfill Ezekiel 38. Can explanations based on Ezekiel 38 possibly come to pass before Jesus returns? How does it involve silver and gold? What does Ezekiel 38 really teach about its time period? Are there prophecies in Isaiah 22 that point to the possible destruction of part of Jerusalem by an alliance of Iran and Syria? What about Isaiah 17 and the destruction of Damascus? Could Jeremiah 49 be referring to destruction coming to Iran? Dr. Thiel addresses these issues and more.

Here is a link to that video: Iran & Syria vs Israel? Russia?
Some items of possibly related interest may include:
Iran in Prophecy Is Iran in Bible prophecy? If so, what does the Bible teach? What names, other than Persia, may be used to describe Iran? There is also a YouTube video titled Iran In Prophecy.
Syria and the start of World War 3 On April 14, 2018, Syrians were awoken by the sounds of about 120 missiles/bombs sent against areas of their country. The United States of America, United Kingdom, and France launched this attack related to claims of chemical weapons use earlier that week. Will Syria's capital one day be destroyed as prophesied in Isaiah chapter 17? If so, could this be before the start of the Great Tribulation? Are there prophecies about Syrians and the UK and USA? Is this attack against Syria leading to WWIII between the USA/UK/France and Russia/Syria/Iran? Is there an Arabic power that will rise up and be destroyed before the Great Tribulation as Tim McHyde has written related to Psalm 83? Is Ezekiel 38/39 about to be fulfilled? Who is the biblical King of the North and the biblical King of the South? Will the Beast power destroy the USA and its Anglo-Saxon descended allies (like the UK, Canada, Australia, & New Zealand)? Could this be WWIII and the start of the Great Tribulation? What is the prophetic sequence of events according to Jesus and Daniel the prophet? Dr. Thiel addresses all of these matters and more. This is a video.
Damascus and Syria in Prophecy Will Bashar Assad hold power as he has it? Does the Bible show that Damascus, the capital of Syria, will be destroyed? What will happen to Syria? Will the Syrians support the final King of the South that the Bible tells will rise up? Which scriptures discuss the rise and fall of an Arabic confederation? Does Islamic prophecy predict the destruction of Syria.
Ezekiel 38: For Russia & Iran in Our Day? Is Ezekiel 38 about to be fulfilled? A related video is available titled Ezekiel 38: For Russia, Ukraine, & Iran Now? Another could be Russia, Iran, Syria, & the Bible (Code).
Is the Future King of the South Rising Up? Some no longer believe there needs to be a future King of the South. Might Egypt, Islam, Iran, Arabs, or Ethiopia be involved? Might this King be called the Mahdi or Caliph? What does the Bible say? A YouTube video of related interest may be: The Future King of the South is Rising.
The Muslim Brotherhood and the Rise of the King of the South The Bible tells of the formation of a power of nations that are in the Middle East and North Africa that are part of the final "King of the South" (Daniel 11:40-43) The Muslim Brotherhood wishes to have an Islamic empire with basically the same nations. This YouTube video explains what to expect from such a confederation.
Why Terrorism? Is Terrorism Prophesied? What does the Bible teach? Which nations may be affected? Here is a link to a related sermon: Terrorism, Christianity, and Islam.
The Arab and Islamic World In the Bible, History, and Prophecy The Bible discusses the origins of the Arab world and discusses the Middle East in prophecy. What is ahead for the Middle East and those who follow Islam? What about the Imam Mahdi? What lies ahead for Turkey, Iran, and the other non-Arabic Muslims? An item of possibly related interest in the Spanish language would be: Líderes iraníes condenan la hipocresía de Occidente y declaran que ahora es tiempo para prepararse para el Armagedón, la guerra, y el Imán Mahdi.
The Prophesied 'Islamic' Confederation Where is an Islamic caliphate prophesied? Will one happen? Should you be concerned about it? A related video is Will an Arabic Calphiphate Destroy the West?
The 'Peace Deal' of Daniel 9:27 This prophecy could give up to 3 1/2 years advance notice of the coming Great Tribulation. Will most ignore or misunderstand its fulfillment? Here is a link to a related sermon video Daniel 9:27 and the Start of the Great Tribulation.
How Will Middle East Peace be Brought About? Can humans bring peace to the Middle East? Here is a link to a related video: Middle East Peace? When?
When Will the Great Tribulation Begin? 2018, 2019, or 2020? Can the Great Tribulation begin today? What happens before the Great Tribulation in the "beginning of sorrows"? What happens in the Great Tribulation and the Day of the Lord? Is this the time of the Gentiles? When is the earliest that the Great Tribulation can begin? What is the Day of the Lord? Who are the 144,000? Here is a version of the article in the Spanish language: ¿Puede comenzar la Gran Tribulación en 2018 o 2019? ¿Es el Tiempo de los Gentiles? You can also see the English language sermon videos: The Great Tribulation from the Mount of Olives and Can the Great Tribulation begin before 2020? A shorter video is: Can the Great Tribulation begin in 2018?
The Times of the Gentiles Has there been more than one time of the Gentiles? Are we in it now or in the time of Anglo-America? What will the final time of the Gentiles be like? A related sermon is available and is titled: The Times of the Gentiles.
Armageddon Who is involved and when will this gathering happen? Here is also a video from Dr. Thiel, from Tel Megiddo in Israel: Armageddon. Another video is: watch Is China paving roads to Armageddon?
The 'Peace Deal' of Daniel 9:27 This prophecy could give up to 3 1/2 years advance notice of the coming Great Tribulation. Will most ignore or misunderstand its fulfillment? Here is a link to a related sermon video Daniel 9:27 and the Start of the Great Tribulation.
Is Russia the King of the North? Some claim it is. But what does the Bible teach? Here is a link to a video, also titled Is Russia the King of the North?
Russia and Ukraine: Their Origins and Prophesied Future Russia in prophecy. Where do the Russians come from? What about those in the Ukraine? What is prophesied for Russia and its allies? What will they do to the Europeans that supported the Beast in the end? There is also a video sermon available: Russia in the Bible and in Prophecy and a video sermonette available: Ukraine in Prophecy?
The Eurasian Union, the Kings of the East, and Bible Prophecy Is there a Eurasian union that will be formed? Is one being formed right now? Are any leaders working on that in the 21st century? Does the Bible teach that there will be a Eurasian union? If some type of Eurasian union is formed, who might it benefit and who will it destroy? A related video would be Is The Eurasian Union Rising?
Anglo – America in Prophecy & the Lost Tribes of Israel Are the Americans, Canadians, English, Scottish, Welsh, Australians, Anglo-Saxon (non-Dutch) Southern Africans, and New Zealanders descendants of Joseph? Where are the lost ten-tribes of Israel? Who are the lost tribes of Israel? What will happen to Jerusalem and the Jews in Israel? Will God punish the U.S.A., Canada, United Kingdom, and other Anglo-Saxon nations? Why might God allow them to be punished first? Here is a link to the Spanish version of this article: Anglo-América & las Tribus Perdidas de Israel. Information is also in the YouTube sermons titled Where are the Ten Lost Tribes? Why does it matter? and British are the Covenant People. A short YouTube of prophetic interest may be: Are Chinese threats against Australia for real?
Will the Anglo-Saxon Nations be Divided and Have People Taken as Slaves? Will the lands of the United States, United Kingdom, Canada, Australia, and New Zealand be divided? What about Jerusalem? What does Bible prophecy teach? Are there non-biblical prophecies that support this idea? Who will divide those lands? Who will end up with the lands and the people? Here is a link to a video titled Will the USA and other Anglo-nations be Divided and Their People Made Slaves? Here is a related item in the Spanish language ¿Serán divididas las naciones anglosajonas?
British are the Covenant People What do 'British' and 'Britain' mean in Hebrew? Are the descendants of the Anglo-Saxons people of the covenant? Does the British royal family connect to the throne of David? What does the Bible teach? What does history show us? Is there any DNA evidence related to British-Israelism? When did Christianity make it to the British Isles? Could Jeremiah have made it to the British Isles? What type of Christians made it to the British Isles? Did the last King of England believe in British Israelism?
Donald Trump in Prophecy Prophecy, Donald Trump? Are there prophecies that Donald Trump may fulfill? Are there any prophecies that he has already helped fulfill? Is a Donald Trump presidency proving to be apocalyptic? Two related videos are available: Donald: 'Trump of God' or Apocalyptic? and Donald Trump's Prophetic Presidency.
Trump Presidency Magic 8 Ball or Bible Prophecy? BBC reported that one might as well use a 'Magic Eight-Ball' to try to predict what will happen in the remaining time of Donald Trump's presidency. What is a 'Magic Eight-Ball'? Dr. Thiel not only explains that, but also briefly goes over 10 biblically-based warnings he wrote would happen if Donald Trump were elected that have already began to come to pass. He also goes over something he wrote back in 2008 that the Trump presidency is also helping lead to fulfillment. Should you trust Bible prophecy or not? Dr. Thiel says that Bible prophecy can be trusted, despite the view of skeptics and others that either overlook or despise the Bible. This is a video.