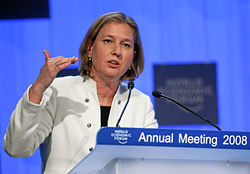 Tzipi Livni, Foreign Minister of Israel
In the past few days there have been a few news items indicating that the nation of Israel is not comfortable with USA President-elect Obama, and even Russia and China may have concerns.
Here is one news item from this morning:
Obama faces a Cold War threat and a warning from Israel…
Daily Mail, UK – By
Last updated at 9:47 AM on 07th November 2008
With barely time to savour his triumph, Barack Obama has been confronted with various international crises to test his mettle.
The U.S. President-elect faces threats from Russia, Israel and Afghanistan as it emerged his election team's computers were hacked by a 'foreign entity' during the election.
Officials at the FBI and the White House believe the hackers sought to gather information on the evolution of both his and Senator John McCain's policy positions with the idea of using that information in negotiations with the next administration.
Obama technical experts later speculated the hackers were Russian or Chinese, and security ended the intrusion, Newsweek reported…
Then Israel warned last night that the new U.S. Commander-in-Chief's campaign claim that he was ready to open talks with Iran could be seen in the Middle East as a sign of weakness.
After eight years of staunch support from President Bush, the Israelis are now watching Mr Obama closely  –  even though he does not take power until January  –  looking for indicators as to how he will handle the nuclear threat from Tehran.
'We live in a neighbourhood in which dialogue  –  in a situation where you have brought sanctions and you then shift to dialogue  –  is liable to be interpreted as weakness,' said Israeli foreign minister Tzipi Livni.
Asked if she supported any U.S. talks with Iran, she quickly said: 'The answer is no.'
In a step that will further increase Israel's anxiety about Obama, Tehran announced last night that President Mahmoud Ahmadinejad had broken a 29-year tradition and sent his congratulations to the President-elect  –  the first time an Iranian leader has offered such wishes since the 1979 Islamic Revolution.
Ahmadinejad congratulated the Democrat on 'attracting the majority of voters in the election'…
President Bush has repeatedly clashed with Tehran over its nuclear program and its opposition to the U.S.-led invasions and occupations of Afghanistan and Iraq. http://www.dailymail.co.uk/news/worldnews/article-1083501/Day-One-Obama-faces-Cold-War-threat-warning-Israel.html
Since Barack Obama has repeatedly stated that he is willing to speak with various hostile world leaders, I believe he will tend to brush off Israeli warnings that he not speak with Iran.
Of course, Barack Obama seems less likely to actually support an invasion of Iran than the current USA president may have been–but if Iran is perceived as too much of a threat in the next few years, it certainly is conceivable that it may be attacked, by Israel and even possibly the USA.
Since we in the Living Church of God teach that Iran cannot be the Future King of the South, it makes sense that somehow Iran's influence will be reduced, or at least changed in direction.
Now, if the price of oil stays down, this will likely help Barack Obama deal with both Russia and Iran (those with less money tend to sometimes spend less on their own militaries than they would otherwise).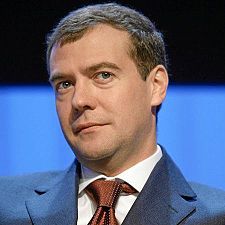 Dmitry Anatolyevich Medvedev, President of Russia
But perhaps it should be mentioned what the Russian President stated after Barack Obama's election:
President Dmitri Medvedev orders missiles deployed in Europe as world hails Obama
Times, November 6, 2008…
Speaking within hours of Barack Obama's election, Mr Medvedev announced that Russia would base Iskander missiles in its Baltic exclave of Kaliningrad – the former German city – next to the border with Poland…
The President failed to congratulate Mr Obama or even to mention him by name during the 85-minute address televised live across Russia.
Mr Medvedev blamed the US for the global financial crisis, saying that the rest of the world had been "dragged down with it into recession". He said that the era of American dominance after the collapse of the Soviet Union was over. http://www.timesonline.co.uk/tol/news/world/europe/article5090077.ece
The world is preparing for a time that the USA is simply not a truly major player.
Russia and China are obviously watching the USA.  And, irrespective of what the next USA president does or does not do regarding Iran, Russia and China are prophesied to remain major players on the world scene, while the USA and its Anglo-allies are prophesied to fall from power.
Several articles of possibly related interest may include:
Is There A Future King of the South? Some no longer believe there needs to be. Might Egypt, Islam, Iran, Arabs, or Ethiopia be involved? What does the Bible say?
China, Its Biblical Past and Future, Part 1: Genesis and Chinese Characters This article provides information showing that the Chinese peoples must have known about various accounts in the Book of Genesis up until their dispersion after the Tower of Babel.
China, Its Biblical Past and Future, Part 2: The Sabbath and Some of God's Witness in China When did Christianity first come to China? And is there early evidence that they observed the seventh day sabbath?
Asia in Prophecy What is Ahead for China? Is it a "King of the East"? What will happen to nearly all the Chinese, Russians, and others of Asia? China in prophecy, where?
Russia: Its Origins and Prophesied Future Where do the Russians come from? What is prophesied for Russia? What will it do to the Europeans that supported the Beast in the end?
Anglo – America in Prophecy & the Lost Tribes of Israel Are the Americans, Canadians, British, Scottish, Welsh, Australians, Anglo-Southern Africans, and New Zealanders descendants of Joseph? Where are the lost ten-tribes of Israel? Who are the lost tribes of Israel? Will God punish the U.S.A., Canada, United Kingdom, and other Anglo nations? Why might God allow them to be punished first?