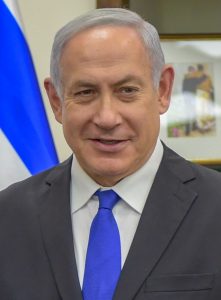 Benjamin Netanyahu (State Department photo)

Voice of America (VOA) and the Associated Press reported the following:
Israeli Election Puts Netanyahu on Track for Fifth Term

April 10, 2019

Israeli Prime Minister Benjamin Netanyahu appeared to be in position for a fifth term in power Wednesday as results from a tight parliamentary election showed his Likud Party and right-wing allies in the best position to form a coalition government.

With 97 percent of ballots counted, Likud stood even with the centrist Blue and White Party led by former military chief Benny Gantz.

With neither able to win a majority of the Knesset on its own, a coalition will be necessary. Likud and its allies could end up with about 65 seats in the 120-member body.

Both sides claimed victory in the hours after the voting ended.

As more results came in Wednesday, Netanyahu told his supporters Likud had achieved a "tremendous victory." He said that while his potential coalition would be a right-wing government, he pledged he would be "prime minister for all."

His comments stand in contrast to his appeal to voters in the final days of campaigning when he sought to solidify his conservative base, vowing to annex settlements in the occupied West Bank. Such a move could end any chance of creating an independent Palestinian state alongside Israel. …

Should his party form a coalition, Netanyahu would be on track later this year to become Israel's longest-serving leader, surpassing founding father David Ben-Gurion. https://www.voanews.com/a/israel-election-results/4869454.html

April 10, 2019

JERUSALEM (AP) — Benjamin Netanyahu appeared to be headed toward a historic fifth term as Israel's prime minister on Wednesday, with close-to-complete unofficial election results giving his right-wing Likud and other nationalist and religious parties a solid majority in parliament.

The outcome affirmed Israel's continued tilt to the right and further dimmed hopes of a negotiated solution to the Israeli-Palestinian conflict. Re-election will also give Netanyahu an important boost as he braces for the likelihood of criminal charges in a series of corruption scandals.

With 97.4% of the vote counted, Likud and its traditional political allies were in command of a 65-55 majority in parliament. A couple of small parties were still teetering along the electoral threshold and fighting for their survival, so the final makeup of the next parliament has yet to be decided. Final results were expected Thursday. …

An aide to Palestinian President Mahmoud Abbas said the outcome of the election raised Palestinian fears about an Israeli annexation of parts of the occupied West Bank. Ahmed Majdalani said Palestinians will seek the help of the international community to try to block any such plans. He said that the outcome of the election means a boost for what he called the "extreme right-wing camp" in Israeli politics.

Hanan Ashrawi, a senior Palestinian official, said Israel chose to entrench "the status quo of oppression, occupation, annexation and dispossession." https://www.apnews.com/1bc4b635516f41e2a18cd4d4f9cb9388
Before going further, let me state that VOA needs to be more careful about its political biases. Some type of peace deal will end up in the region. To declare that annexing settlements in the "occupied West Bank …  could end any chance of creating an independent Palestinian state alongside Israel" is both a political bias and in scriptural error.
That being said, yes, we may very well see more conflict in that region of the world.
Syria has not been pleased with Israeli actions or statements related to the Golan Heights, nor US President Donald Trump's endorsement of Israeli claims for that region (see Syria condemns Donald Trump's Golan Heights position as 'irresponsible.' Is destruction there prophesied during the Day of the Lord? and US State Dept. Drops "Occupied Territory" From Golan Description & U.N. Human Rights Council set to condemn Israel for Golan 'occupation').
Iran, Syria's closet ally, is also upset with the USA and Israel, plus appears to be prophesied to cause damage to Jerusalem per Isaiah:
1 The burden against the Valley of Vision.

What ails you now, that you have all gone up to the housetops, 2 You who are full of noise, A tumultuous city, a joyous city? Your slain men are not slain with the sword, Nor dead in battle. 3 All your rulers have fled together; They are captured by the archers. All who are found in you are bound together; They have fled from afar. 4 Therefore I said, "Look away from me, I will weep bitterly; Do not labor to comfort me Because of the plundering of the daughter of my people."

5 For it is a day of trouble and treading down and perplexity By the Lord God of hosts In the Valley of Vision — Breaking down the walls And of crying to the mountain. 6 Elam bore the quiver With chariots of men and horsemen, And Kir uncovered the shield. 7 It shall come to pass that your choicest valleys Shall be full of chariots,And the horsemen shall set themselves in array at the gate.

8 He removed the protection of Judah. You looked in that day to the armor of the House of the Forest; 9 You also saw the damage to the city of David, That it was great; And you gathered together the waters of the lower pool. 10 You numbered the houses of Jerusalem, And the houses you broke down To fortify the wall. 11 You also made a reservoir between the two walls For the water of the old pool. But you did not look to its Maker, Nor did you have respect for Him who fashioned it long ago.

12 And in that day the Lord God of hosts Called for weeping and for mourning, For baldness and for girding with sackcloth. 13 But instead, joy and gladness, Slaying oxen and killing sheep, Eating meat and drinking wine: "Let us eat and drink, for tomorrow we die!"

14 Then it was revealed in my hearing by the Lord of hosts,"Surely for this iniquity there will be no atonement for you, Even to your death," says the Lord God of hosts.  (Isaiah 22:1-14 NKJV)
Elam seems to be a reference to at least some in Iran.  Kir is of interest as it has several possibilities.  One is that the Bible tells that after Tiglath-Pileser king of Assyria took over Damascus, he moved Syrians to Kir.  While this does not mean that Kir must (or must only) be a reference to Syria, the fact that Syria is an ally of Iran is interesting.  Some believe Kir is an area in the south of Iran, while others suggest closer to the Black Sea. The Bible tells of a time when Kir will be destroyed (Isaiah 15:1b) and also says that Syria's capital Damascus will be destroyed (Isaiah 17:1).
In Isaiah 22: 8, "Judah" is a reference to those in the land commonly called Israel–God will allow Israel to be attacked! In Isaiah 22:9, consider that "the damage to the city of David" is a reference to at least part of Jerusalem–and notice that the damage will be great.
Anyway, 'peace deals' are usually preceded by war.
So, the apparent re-election of Benjamin Netanyahu (in Israeli politics it is still not 100% certain) is likely to upset the Palestinians, Iranians, and Syrians. Benjamin Netanyahu is also beholden to US President Donald Trump, who must be credited for taking steps Prime Minister Netanyahu wanted that no previous US president has done.
While Benjamin Netanyahu likely feels emboldened by support from the Trump Administration announcement, this will not stop prophecies such as Isaiah 22:9 from being fulfilled.
Yet, according to biblical prophecy some type of peace deal will come to the region BEFORE Jesus returns.
It will be a temporary 'peace deal' (see the article The 'Peace Deal' of Daniel 9:27). It will likely come after some devastation to Israel and others. It is likely that neither the Israelis nor the Palestinians will like the deal very much–but decide to agree to it anyway, especially since it will have a time element. And, the prophetic reality is that it will not end well for Israel. Lands that Israel currently claims will end up under control by those who are currently in opposition to Israel according to the Bible.
The apparent re-election of Benjamin Netanyahu will not solve Israel's problems. Like the rest of the world, Israel needs national repentance and the Kingdom of God.
Some items of possibly related interest may include:
The 'Peace Deal' of Daniel 9:27 This prophecy could give up to 3 1/2 years advance notice of the coming Great Tribulation. Will most ignore or misunderstand its fulfillment? Here is a link to a related sermon video Daniel 9:27 and the Start of the Great Tribulation.
How Will Middle East Peace be Brought About? Can humans bring peace to the Middle East? Here is a link to a related video: Middle East Peace? When?
Damascus and Syria in Prophecy Will Bashar al-Assad hold power as he has it? Does the Bible show that Damascus, the capital of Syria, will be destroyed? What will happen to Syria? Will the Syrians support the final King of the South that the Bible tells will rise up? Which scriptures discuss the rise and fall of an Arabic confederation? Does Islamic prophecy predict the destruction of Syria. This is a YouTube video.
Gaza and the Palestinians in Bible Prophecy What does the Bible teach about Gaza and the fate of the Palestinians? Here is a link to a related video: Gaza and Palestine in Prophecy.
Iran in Prophecy Is Iran in Bible prophecy? If so, what does the Bible teach? What names, other than Persia, may be used to describe Iran? There is also a related YouTube video titled Iran In Prophecy.
Mystery Babylon USA, Mecca, or Rome? The Bible tells of an end-time Mystery Babylon the Great that sits on seven hills. While Catholic and Church of God scholars have identified this as Rome, others point to other cities. Some who profess Christ have pointed to the USA. Some Protestants, like Joel Richardson, have pointed to Mecca in Saudi Arabia. Which of these places meets the biblical criteria for 'Mystery Babylon'? Is there any item of religious importance near the Caelian Hill (Cælius, Celio)? Dr. Thiel answers these questions from the Bible as well as certain historical information. This is a video.
Is Russia the King of the North? Some claim it is. But what does the Bible teach? Here is a link to a video, also titled Is Russia the King of the North?
Ezekiel 38: For Russia & Iran in Our Day? Is Ezekiel 38 about to be fulfilled? A related video is available titled Ezekiel 38: For Russia, Ukraine, & Iran Now? Another could be Russia, Iran, Syria, & the Bible (Code).
Why Terrorism? Is Terrorism Prophesied? What does the Bible teach? Which nations may be affected? Here is a link to a related sermon: Terrorism, Christianity, and Islam.
Iraq, the King of the South, Armageddon, and Prophecy What will happen to Iraq? Is it the prophesied Mystery Babylon? What is Armageddon and how does that have to do with Iraq? Here is a related video Iraq, Armageddon, & Prophecy.
Is the Future King of the South Rising Up? Some no longer believe there needs to be a future King of the South. Might Egypt, Islam, Iran, Arabs, or Ethiopia be involved? Might this King be called the Mahdi or Caliph? What does the Bible say? A YouTube video of related interest may be: The Future King of the South is Rising.
The Prophesied 'Islamic' Confederation Where is an Islamic caliphate prophesied? Will one happen? Should you be concerned about it? A related video is Will an Arabic Calphiphate Destroy the West?
Libya, Algeria, Morocco, and Tunisia in Prophecy What is ahead for North Africa? What does the Bible teach?
The Arab and Islamic World In the Bible, History, and Prophecy The Bible discusses the origins of the Arab world and discusses the Middle East in prophecy. What is ahead for the Middle East and those who follow Islam? What about the Imam Mahdi? What lies ahead for Turkey, Iran, and the other non-Arabic Muslims? An item of possibly related interest in the Spanish language would be: Líderes iraníes condenan la hipocresía de Occidente y declaran que ahora es tiempo para prepararse para el Armagedón, la guerra, y el Imán Mahdi.
Evangelical support for Donald Trump's Jerusalem policy BBC asked, "Why do US evangelicals support Trump's Jerusalem policy?" BBC provided quotes from some believing it has to do with the 'last days' while others saying that is not the reason. Hal Lindsey's book, 'The Late Great Planet Earth' is one of the sources pointed to. In this video, Dr. Thiel addresses scriptures related to Jerusalem as well as prophetic ones. He goes over the common 'fig tree' interpretation, belief about a 'Third Temple,' and statements about animal sacrifices. He explains biblical statements on those subjects as well as the views of certain modern Jewish organizations. This is a video.
Jerusalem, Donald Trump, and Prophecy On December 6, 2017, US President Donald Trump fulfilled a campaign promise related to the recognition of Jerusalem as Israel's capital. This brought anger, protests, and rockets from some Palestinians. It also brought condemnation from European allies–it has been claimed to be disruptive and even catastrophic. The Palestinian President (Mahmoud Abbas) said that this pronouncement eliminated the USA as being a fair mediator for a peace deal. Others have claimed that Donald Trump is an end time Cyrus and his pronouncement will lead to a Third Temple in Jerusalem. Is there ever going to be a peace deal? If so, will Europeans be part of it? Is Donald Trump a 'Cyrus.' Do the Jews require a Third Temple for sacrifices? Dr. Thiel answer those questions and more in this video.
Why is a Jewish Temple in Jerusalem Not Required? Although people like Timothy LaHaye teach a third Jewish temple is required, who is 'the temple of God" in the New Testament? Does the Bible require a rebuilt Jewish Temple? Could the old Temple have been somewhere other than the "Temple Mount"? Here is a related article in the Spanish language ¿Por qué no se requiere un templo judío en Jerusalén? Here is a link to a sermon titled The Temple, Prophecy, and the Work.
Jerusalem: Past, Present, and Future What does the Bible say about Jerusalem and its future? Is Jerusalem going to be divided and eliminated? Is Jesus returning to the area of Jerusalem? There are also two related YouTube videos you can watch: Jerusalem To be divided and eliminated and God's and Satan's Plan for Jerusalem.
Protestant and Church of God views of the United States in Bible Prophecy Is the USA mentioned in Bible prophecy? Some Protestants say yes, while others say no. What does the Bible really teach? Learn the truth about this. There is also a video available: Is The United States Mentioned In Bible Prophecy?
Dangerous Protestant Prophetic Errors What are some errors that various Protestants hold to that will tend to prevent them from knowing when the Great Tribulation will begin? A related video is titled Ten Dangerous Protestant Prophetic Errors.
The Dangerous Rise of Preterists Has the Great Tribulation finished? What was the view of early Christians? Why is the preterist view dangerous? A related sermon video is titled Preterism: You've Gotta Be Kidding…Right?
Donald Trump in Prophecy Prophecy, Donald Trump? Are there prophecies that Donald Trump may fulfill? Are there any prophecies that he has already helped fulfill? Is a Donald Trump presidency proving to be apocalyptic? Two related videos are available: Donald: 'Trump of God' or Apocalyptic? and Donald Trump's Prophetic Presidency.
Trump Presidency Magic 8 Ball or Bible Prophecy? BBC reported that one might as well use a 'Magic Eight-Ball' to try to predict what will happen in the remaining time of Donald Trump's presidency. What is a 'Magic Eight-Ball'? Dr. Thiel not only explains that, but also briefly goes over 10 biblically-based warnings he wrote would happen if Donald Trump were elected that have already began to come to pass. He also goes over something he wrote back in 2008 that the Trump presidency is also helping lead to fulfillment. Should you trust Bible prophecy or not? Dr. Thiel says that Bible prophecy can be trusted, despite the view of skeptics and others that either overlook or despise the Bible. This is a video.
Donald Trump and America's Apocalypse This 188 page book is for people truly interested in prophecies related to Donald Trump and the United States, including learning about several that have already been fulfilled and those that will be fulfilled in the future. The physical book can be purchased at Amazon for $12.99 from the following link: Donald Trump and America's Apocalypse.
Donald Trump and America's Apocalypse-Kindle Edition This electronic version of the 188 page print edition is available for only US$3.99. And you do not need an actual Kindle device to read it. Why? Amazon will allow you to download it to almost any device: Please click HERE to download one of Amazon s Free Reader Apps. After you go to for your free Kindle reader and then go to Donald Trump and America's Apocalypse-Kindle Edition.
Christian Repentance Do you know what repentance is? Is it really necessary for salvation? A related sermon is also available titled: Real Christian Repentance.
The Gospel of the Kingdom of God This free online pdf booklet has answers many questions people have about the Gospel of the Kingdom of God and explains why it is the solution to the issues the world is facing. Here are links to three related sermons: The World's False Gospel, The Gospel of the Kingdom: From the New and Old Testaments, and The Kingdom of God is the Solution.