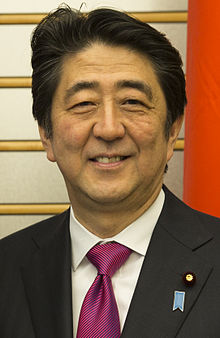 Japan's Prime Minister Shinzō Abe
Wikileaks reported that the USA has been doing a lot of spying on Japan and its Prime Minister is seriously concerned about the allegations:
August 5, 2015

Japan's Prime Minister Shinzo Abe has expressed his "serious concern" over allegations the United States spied on senior Japanese government and business officials.

Prime Minister Abe also called for an investigation into the matter during a phone call with U.S. Vice President Joe Biden, according to Japan's top government spokesman, Yoshihide Suga.

"If it is true these Japanese individuals were targeted, it could shake the relationship of trust in our alliance and I would have to express serious concerns," Suga quoted Abe as telling Biden.

Suga said Biden apologized for the matter, noting it has "stirred up debate in Japan." He did not say whether Biden specifically confirmed the spying.

Media whistleblower WikiLeaks last week published documents it says show the U.S. spied on 35 companies, government ministries, and individuals in Japan.

WikiLeaks said the intercepts related to topics such as U.S.-Japan relations, trade negotiations, and climate change strategy. It said the surveillance dates as far back as 2006, the first term of Prime Minister Abe. …

It is the latest of several spying revelations that have strained relations between Washington and its allies.

In June, WikiLeaks released documents saying the United States spied on the last three French presidents, prompting a diplomatic dispute between the nations, despite friendly ties dating back to the 1700s.

In 2013, WikiLeaks reported that the U.S. National Security Agency had wiretapped German Chancellor Angela Merkel's private phone. The report sparked a political scandal in Germany and prompted an official inquiry.

The United States and Japan have been allies for more than a half-century following the end of World War II.  http://www.voanews.com/content/japan-expresses-serious-concern-over-us-spying-reports/2902231.html
This should be a wake-up call to those in the USA.
Why?
One more of it military allies is offended.
Consider that the USA has greatly offended pretty much all of its major non-Anglo-Saxon allies through revelations of its espionage activities.  Those in Europe, South America, and Asia are very upset.  Some in Europe and South America have already taken steps to cooperate more together in ways to reduce the extent of espionage by the USA.
These 'allies' will not forget that they have been treated more like enemies than as friends.  And in the case of Japan, it has loaned the USA a lot of money (the government of the USA owes Japan around $1.2 trillion).
The only nations that the USA has exempted from its most intensive espionage activities, according to a document from the NSA that Edward Snowden leaked a while back, are Canada, the UK, Australia, and New Zealand.
According to an NSA document dated September 2010, only a few countries labeled as close friends by the U.S. are explicitly exempted from monitoring – Britain, Australia, Canada and New Zealand. http://www.voanews.com/content/germany-calls-allegations-of-us-bugging-unacceptable/1692522.html
And that is what an NSA document from 2010 made clear–only the Anglo-Saxon nations are trusted and close friends. World leaders do not like this and will long remember this.
Because of reports like the above, and the Wikileaks' revelations, the non-Anglo-Saxon world is outraged with the USA.  Do not think that this is going to go away.
Because of international concerns about the USA, the plans of the final Beast power, and the amount of debt that the USA owes, the Bible tells of a time when it will be defeated and its lands divided for gain:
39 Thus he shall act against the strongest fortresses with a foreign god, which he shall acknowledge, and advance its glory; and he shall cause them to rule over many, and divide the land for gain. (Daniel 11:39)
The "he" is the final European King of the North, the Beast of Revelation 13. The "strongest fortresses" in the world belong to the USA, and to a lessor degree, its Anglo-allies.
Notice that the land will be divided for gain.
What does any of this have to do with Japan?
As regular readers are aware, I have also wondered for years if Japan might end up with more territory, such as New Zealand (see the article Will the Anglo-Saxon Nations be Divided and Have People Taken as Slaves? and/or watch the video Will the USA and other Anglo-nations be Divided and Their People Made Slaves?).
Japan has long wanted more land.  Actually, that was part of why it entered World War II.  Well, Japan has even more people now than then and still would like to have more land.
I could see the Europeans proposing to the Japanese that if they cooperate that, as compensation for the debt that the USA owes it, that the land of New Zealand, as a possible example, could be given to Japan.
Sound far fetched?
First, consider that New Zealand was involved in the war against Japan in WWII.  In December 1941, Japan attacked and rapidly conquered much of the area to the north of New Zealand.  After submarine-launched Japanese float-planes overflew Wellington and Auckland in March and May 1942, New Zealand turned to the United States for assistance against Japan.  Gradually at first, the USA was able to supply New Zealand with aircraft for use in the Pacific Theatre.  In various ways, the USA and New Zealand cooperated militarily against Japan in WWII.
Second, consider that New Zealand is an island nation that in certain ways is the mirror image of Japan..  Although New Zealand has about 71% of the land mass of Japan, it only has about 3.6% of the population.  In other words, New Zealand has a much lower population  density than Japan, and hence could be attractive to Japan for that reason alone.
Third, Japan is a significant trading partner with New Zealand–New Zealand exports a lot to Japan and the Japanese thus, have interest in what New Zealand has to offer.
Fourth, consider that in the Book of Habakkuk there is a prophecy for the appointed time of the end that God warns that those who read it might wish to run (Habakkuk 2:2-3)–and it talks about creditors rising up against a nation that issues lots of 'pledges' (Habakkuk 2:6)–and that those there will become their 'booty' and be 'plundered' (Habakkuk 2:7-8).  And while it is possible that this may, in the case of Japan, mean that it could be given the islands of Hawaii (recall that Japan's attack on Hawaii brought the USA into WWII), it is possible that this could extend to the 'friends' of the USA like New Zealand. (For more information, see also Will the Anglo-Saxon Nations be Divided and Have People Taken as Slaves?)
The leaders of Japan are outraged about the latest espionage allegations related to the USA.  They also must realize that although they thought that they were considered close allies and friends of the USA, that according to USA documents they were not, but that nations like New Zealand were.
This will not bode well for the USA nor any of its close Anglo-Saxon descended allies.
Some items of possibly related interest would include the following:
Japan, Its Biblical Past and Future, Part 1: Any Witness? Where did the Japanese people come from? Have they had any witness?
Japan, Its Biblical Past and Future, Part 2: Prophecy Japan in prophecy. What is prophesied for Japan? Will God save the Japanese?
Korea in Prophecy, Any Witness? Does God have a plan for the Koreans? Is Korea mentioned in any prophecies? Will Koreans be among the first in the Kingdom of God? 한국의 언어로 : 한국 예언, 모든 증인에?
Asia in Prophecy What is Ahead for Asia? Who are the "Kings of the East"? What will happen to nearly all the Chinese, Russians, Indians, Koreans, and others of Asia? China in prophecy, where? Who has the 200,000,000 man army related to Armageddon?
The Snowden Leaks are Leading to the Destruction of the USA Can what happened with the leaks of what the NSA has done help the USA to be taken over? What does the Bible teach that seems to be related to this? Here is a related YouTube video titled Are the Snowden NSA leaks leading to the destruction of the USA?
World War III: Steps in Progress Are there surprising actions going on now that are leading to WWIII? What steps has the Obama Administration taken with Germany to assist thie? Might a nuclear attack be expected? Does the Bible promise protection to all or only some Christians? How can you be part of those that will be protected? A related video would be Is World War III About to Begin? Can You Escape?
Europa, the Beast, and Revelation Where did Europe get its name? What might Europe have to do with the Book of Revelation? What about "the Beast"? Is an emerging European power "the daughter of Babylon"? What is ahead for Europe? Here is a link to a video titled: Can You Prove that the Beast to Come is European?
European Technology and the Beast of Revelation Will the coming European Beast power would use and develop technology that will result in the taking over of the USA and its Anglo-Saxon allies? Is this possible? What does the Bible teach? Here is a related YouTube video: Military Technology and the Beast of Revelation.
Must the Ten Kings of Revelation 17:12 Rule over Ten Currently Existing Nations? Some claim that these passages refer to a gathering of 10 currently existing nations together, while one group teaches that this is referring to 11 nations getting together. Is that what Revelation 17:12-13 refers to? The ramifications of misunderstanding this are enormous.
Anglo – America in Prophecy & the Lost Tribes of Israel Are the Americans, Canadians, English, Scottish, Welsh, Australians, Anglo-Saxon (non-Dutch) Southern Africans, and New Zealanders descendants of Joseph? Where are the lost ten-tribes of Israel? Who are the lost tribes of Israel? What will happen to Jerusalem and the Jews in Israel? Will God punish the U.S.A., Canada, United Kingdom, and other Anglo-Saxon nations? Why might God allow them to be punished first? Here is a link to the Spanish version of this article: Anglo-América & las Tribus Perdidas de Israel. Information is also in the YouTube sermons titled Where are the Ten Lost Tribes? Why does it matter? and British are the Covenant People. A short YouTube of prophetic interest may be Barack Obama and the State of the Apocalypse.
Will the Anglo-Saxon Nations be Divided and Have People Taken as Slaves? Will the lands of the United States, United Kingdom, Canada, Australia, and New Zealand be divided? What about Jerusalem? What does Bible prophecy teach? Are there non-biblical prophecies that support this idea? Who will divide those lands? Who will end up with the lands and the people? Here is a link to a video titled Will the USA and other Anglo-nations be Divided and Their People Made Slaves? Here is a related item in the Spanish language ¿Serán divididas las naciones anglosajonas?
The 'Lost Tribe' of Reuben: France in Prophecy? What is the origin of this in France? What is prophesied to happen to them? A two-part sermon related to history and prophecy is available online: The 'Lost Tribe' of Reuben and France and Prophecy.
Mexico, Central America, South America, Brazil, and the Caribbean in Prophecy [Español: México, América central, Suramérica, Brasil y el Caribe en la profecía] [Português: México, América Central, Ámérica do Sul, e Brasil na profecia] What will happen to those of Latin America? Will they have prosperity? Will they cooperate with Europe? Will they suffer in the future? What role might the various Caribbean nations/territories play?
Might German Baron Karl-Theodor zu Guttenberg become the King of the North? Is the former German Defense Minister (who is also the former German Minister for Economics and Technology) one to watch? What do Catholic, Byzantine, and biblical prophecies suggest?
Germany's Assyrian Roots Throughout History Are the Germanic peoples descended from Asshur of the Bible? Have there been real Christians in Germanic history? What about the "Holy Roman Empire"? There is also a You-Tube video sermon on this titled Germany's Biblical Origins.
Germany in Biblical and Catholic Prophecy Does Assyria in the Bible equate to an end time power inhabiting the area of the old Roman Empire? What does prophecy say Germany will do and what does it say will happen to most of the German people? Here is a link to a video Is the USA Pushing Germany to Start WWIII?
Barack Obama, Prophecy, and the Destruction of the United States-Second Edition for Second Obama Term This is a 160 page book for people truly interested in prophecies related to Barack Obama and the United States, including learning about many that have already been fulfilled (which the book documents in detail) and those that will be fulfilled in the future. It also has a chapter about a Republican choice. This book is available to order at www.barackobamaprophecy.com. The physical book can also be purchased at Amazon from the following link: Barack Obama, Prophecy, and the Destruction of the United States: Is Barack Obama Fulfilling Biblical, Islamic Catholic, Kenyan, and other America-Related Prophecies? What About Republican Leaders? Second Edition for Second Obama Term.
Barack Obama, Prophecy, and the Destruction of the United States-Second Term-Amazon Kindle edition. This electronic version is available for only US$2.99. And you do not need an actual Kindle device to read it. Why? Amazon will allow you to download it to almost any device: Please click HERE to download one of Amazon s Free Reader Apps. After you go to for your free Kindle reader and then go to Barack Obama, Prophecy, and the Destruction of the United States-Second Term-Amazon Kindle edition.