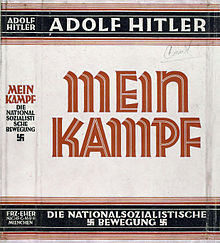 Dust jacket of Adolf Hitler's famous book

Now that the sale of Adolf Hitler's book Mein Kampf has resumed, it has already sold out:
January 16, 2016

For the first time since World War II, a new edition of Adolf Hitler's Mein Kampf has been published in Germany, and it's proving even more popular than when it first came out.

The new two-volume book, in which Hitler says Jews are "the personification of the devil," comes in at 2,000 pages, including 3,700 annotations. The Germany-based Institute for Contemporary History, which has been researching the Nazi regime since 1949, self-published the book. Magnus Brechtken, deputy director of the institute, says it had 15,000 orders by January 8, when it went on sale with an initial print run of 4,000. Days later, the book was on its third print run, and the number of orders continues to climb.

Hitler wrote much of the first volume of Mein Kampf—My Struggle—while in prison for treason, and it sold just 9,473 copies in 1925, the first year it was available. By war's end, 12 million copies had been sold in Germany.

Mein Kampf  has not been widely available in Germany since then, because the Bavarian state government obtained the copyright and refused to allow anyone to print it. The copyright expired at the end of December, 70 years after Hitler's death. Now anyone can publish it, as long as the edition includes criticism, so that it does not violate volksverhetzung, German laws against incitement to hatred. http://www.newsweek.com/mein-kampf-hitler-germany-416615

The German state of Bavaria, which held the copyright to Hitler's book from 1945, refused anyone the rights to publish it out of respect for victims of the Nazis. But on January 1, the work entered the public domain, and several publishers have prepared annotated reprints for sale.

Jewish communities say the book is a stark reminder of the evil it inspired.

"To find Mein Kampf in the windows of bookstores would be…I just can't imagine it.  I hope this will be prevented for going against sedition laws," said Charlotte Knobloch of the Center for the Israelite Community of Munich and Upper Bavaria.

The book is not banned in Germany and there is little authorities can do.

"It's not easy to ban this for copyright reasons; however, anything that seems to be a hate crime can be pursued.  Criminal offenses related to a hate crime will be very systematically pursued in the future," said Heiko Maas, Germany's justice minister.

There also are arguments that the 800-page book should be demystified, and that the best way to do that is to publish a properly annotated edition.

"Mein Kampf can't be read like a bible.  It has to be put into context, with sociologists and historians.  If we do it like that, it will no longer have a negative influence on the public, compared to what we see today with [the anti-immigrant group] Pegida for instance, who quote Mein Kampf without thinking," said Timo Schnirlein, an engineer.

Hitler's book is banned in several countries, including Austria and the Netherlands, and it is taboo in Israel, where only abbreviated copies are available for study.  Some Israeli scholars, like Dan Micham of the Yad Vashem International Institute for Holocaust Research, believe there is a need for the complete version. http://www.voanews.com/content/reprints-of-hitler-book-go-on-sale-after-70-years/3133086.html

January 16, 2016

MAINZ, Germany (NBC News) —The first 4,000 copies of Adolf Hitler's "Mein Kampf" have sold out less a week after a new annotated version of the Nazi leader's manifesto hit German bookstores.

Publishers also received 15,000 pre-orders before sales even started on January 8, said Simone Paulmichl of Munich-based Institute of Contemporary History (IFZ), the government-funded research institution that produced the book. http://christiannews.net/2016/01/16/adolf-hitlers-mein-kampf-sells-out-after-week-on-german-bookshelves/
In the 1920s and 1930s, Germans were getting upset with limits and territorial losses that the West had imposed on it.  The West, Jews, and others were blamed.
Now, between concerns about Russia, Islamic terrorists, the Islamic immigrants, feeling betrayed by USA espionage, and pressures from the UK, USA, and others, Germans are wondering if Germany needs to remain a second level power.
While the sales of  Mein Kampf are not astronomical, the growing concerns in Germany about its future are real.  The Germans also do not like that fact that even when traveling, they have been recently targets of Islamic terrorism (see Syrian terrorist kills Germans in Istanbul).
There is growing antisemitism in Europe.  Because of that Jews have been leaving at record levels (see Antisemitism has caused Jewish immigration from Western Europe to Israel to hit an all-time high).
But Adolf Hitler did not just write against Jews, he praised German ethnicity and German accomplishments.  Many Germans are wondering if letting in over 1,000,000 Islamic migrants was good or if it should be reversed at least for criminals (see Germany's Merkel proposes deportation of those migrants who commit crimes).
Some want to see Germany rise up again (see German foreign minister called for support and dominance similar to Adolf Hitler).  Many want to stop future migration from Islamic nations:
January 12, 2106

German police arrested more than 200 far-right extremists who went on a rampage in the eastern city of Leipzig, setting cars on fire and damaging property.

The chaos began late Monday, at about the same time thousands of supporters of the anti-migrant PEGIDA movement demonstrated, carrying signs with slogans like "RAPEfugees not welcome" and "Freedom for Germany."

Counter-demonstrators, led by Leipzig Mayor Burkhard Jung, carried a banner saying "Welcome in Leipzig" and signs saying "No PEGIDA."

PEGIDA, in German, stands for Patriotic Europeans Against the Islamization of the Western World.

Leipzig police spokesman Andreas Leopki said many of the suspected offenders, known to police as football hooligans were supporters of teams FC Lokomotive Leipzig and Hallescher FC.

Germany has been outraged by a rash of attacks on women in the western city of Cologne on New Year's Eve that has been blamed on migrants.

As PEGIDA supporters rallied in Leipzig to blame refugees for the violence, a group of hooligans nearby smashed windows, burned cars and garbage bins and shot fireworks that set a floor of a building on fire.  http://www.voanews.com/content/germany-extremists-arrested/3141811.html
Note: PEGIDA is NOT a newly formed group, and it has long protested against Islamic immigration.  The Cologne incident has made it bolder and made its message more acceptable to more Germans.
We will see that persecution will greatly increase before Jesus returns.
And this will not be limited to Jews or Muslims, but will include all real Christians (cf. Daniel 7:25; see also Persecutions by Church and State).
The underlying antisemitism in Europe and throughout the world will allow for this, especially when the time will come when the Beast's government will mandate it (Revelation 13:15-17).
Mein Kampf may give various ones related food for thought.
Some items of related interest may include:
Germany in Biblical and Catholic Prophecy Does Assyria in the Bible equate to an end time power inhabiting the area of the old Roman Empire? What does prophecy say Germany will do and what does it say will happen to most of the German people?
European Technology and the Beast of Revelation Will the coming European Beast power would use and develop technology that will result in the taking over of the USA and its Anglo-Saxon allies? Is this possible? What does the Bible teach? Here is a related YouTube video: Military Technology and the Beast of Revelation.
Europa, the Beast, and Revelation Where did Europe get its name? What might Europe have to do with the Book of Revelation? What about "the Beast"? Is an emerging European power "the daughter of Babylon"? What is ahead for Europe? Here is a link to a video titled: Can You Prove that the Beast to Come is European?
Who is the King of the North? Is there one? Do biblical and Roman Catholic prophecies for the Great Monarch point to the same leader? Should he be followed? Who will be the King of the North discussed in Daniel 11? Is a nuclear attack prophesied to happen to the English-speaking peoples of the United States, Great Britain, Canada, Australia, and New Zealand? When do the 1335 days, 1290 days, and 1260 days (the time, times, and half a time) of Daniel 12 begin? When does the Bible show that economic collapse will affect the United States? In the Spanish language check out ¿Quién es el Rey del Norte? Here is a link to a video titled: The Future King of the North.
Might German Baron Karl-Theodor zu Guttenberg become the King of the North? Is the former German Defense Minister (who is also the former German Minister for Economics and Technology) one to watch? What do Catholic, Byzantine, and biblical prophecies suggest?
Germany's Assyrian Roots Throughout History Are the Germanic peoples descended from Asshur of the Bible? Have there been real Christians in Germanic history? What about the "Holy Roman Empire"? There is also a You-Tube video sermon on this titled Germany's Biblical Origins.
Anglo – America in Prophecy & the Lost Tribes of Israel Are the Americans, Canadians, English, Scottish, Welsh, Australians, Anglo-Saxon (non-Dutch) Southern Africans, and New Zealanders descendants of Joseph? Where are the lost ten-tribes of Israel? Who are the lost tribes of Israel? What will happen to Jerusalem and the Jews in Israel? Will God punish the U.S.A., Canada, United Kingdom, and other Anglo-Saxon nations? Why might God allow them to be punished first? Here is a link to the Spanish version of this article: Anglo-América & las Tribus Perdidas de Israel. Information is also in the YouTube sermons titled Where are the Ten Lost Tribes? Why does it matter? and British are the Covenant People. A short YouTube of prophetic interest may be Barack Obama and the State of the Apocalypse.
Will the Anglo-Saxon Nations be Divided and Have People Taken as Slaves? Will the lands of the United States, United Kingdom, Canada, Australia, and New Zealand be divided? What about Jerusalem? What does Bible prophecy teach? Are there non-biblical prophecies that support this idea? Who will divide those lands? Who will end up with the lands and the people? Here is a link to a video titled Will the USA and other Anglo-nations be Divided and Their People Made Slaves? Here is a related item in the Spanish language ¿Serán divididas las naciones anglosajonas?
British are the Covenant People What do 'British' and 'Britain' mean in Hebrew? Are the descendants of the Anglo-Saxons people of the covenant? Does the British royal family connect to the throne of David? What does the Bible teach? What does history show us? Is there any DNA evidence related to British-Israelism? When did Christianity make it to the British Isles? Could Jeremiah have made it to the British Isles? What type of Christians made it to the British Isles? Did the last King of England believe in British Israelism?
Persecutions by Church and State This article documents some that have occurred against those associated with the COGs and some prophesied to occur. Will those with the cross be the persecutors or the persecuted–this article has the shocking answer. There is also a YouTube video sermon you can watch: The Coming Persecution of the Church.
Why Terrorism? Is Terrorism Prophesied? What does the Bible teach? Which nations may be affected? Here is a link to a related sermon: Terrorism, Christianity, and Islam.
God's Grace is For All Is being Jewish a hindrance to salvation? What about not being a descendant of Israel? What does the Bible really teach? Here is a link to a related sermon titled Race and Grace; Do you view race as God does?
The 'Lost Tribe' of Reuben: France in Prophecy? What is the origin of this in France? What is prophesied to happen to them? A two-part sermon related to history and prophecy is available online: The 'Lost Tribe' of Reuben and France and Prophecy.
When was the Exodus? Some deny it happened. Was Ramses II the pharaoh then? When did the Exodus occur?
John Chrysostom, Bishop of Constantinople and Anti-Semite This late fourth/early fifth century Bishop of Constantinople is considered to be a 'saint' and 'doctor' by the Church of Rome, Church of England, and the Eastern Orthodox, but he did not teach Christ's love.
The Similarities and Dissimilarities between Martin Luther and Herbert W. Armstrong This article clearly shows some of the doctrinal differences between in the two. At this time of doctrinal variety and a tendency by many to accept certain aspects of Protestantism, the article should help clarify why the genuine Church of God is NOT Protestant. Do you really know what the Protestant Reformer Martin Luther taught and should you follow his doctrinal example? Here is a related sermon video: Martin Luther and Herbert Armstrong: Reformers with Differences.
When Will the Great Tribulation Begin? 2015, 2016, or 2017? Can the Great Tribulation begin today? What happens before the Great Tribulation in the "beginning of sorrows"? What happens in the Great Tribulation and the Day of the Lord? Is this the time of the Gentiles? When is the earliest that the Great Tribulation can begin? What is the Day of the Lord? Who are the 144,000? Here is a version of the article in the Spanish language: ¿Puede comenzar la Gran Tribulación en 2014 o 2015? ¿Es el Tiempo de los Gentiles? You can also see the English language sermon video: The Great Tribulation from the Mount of Olives.