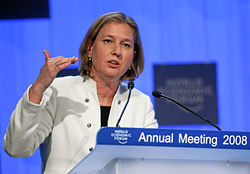 Tzipi Livni Candidate for Prime Minister of Israel
While nearly everyone is aware that John McCain picked Sarah Palin to be his vice-president if elected, few are aware that Israel may get a woman in its top job:
The Sunday Times – Sept 14, 2008
ISRAEL'S foreign minister, Tzipi Livni, has moved into a strong lead in the race to take over the governing party, putting her in line to become the country's first woman prime minister since Golda Meir became the original "Iron Lady" nearly 40 years ago.
Polls put Livni 15 points ahead in the Kadima party's leadership contest, in which voting takes place this week. She is expected to replace Ehud Olmert, the prime minister whose entanglement in corruption allegations led him to announce last week that he would resign once the new leader is elected.
Livni, 50, whose stylish appearance belies her tough outlook, is said to be regarded as a hardliner even by her husband. Ha'aretz newspaper has reported Naftali Spitzer, an advertising executive and father of her two children, as telling friends she is more right-wing than Benjamin Netanyahu, leader of the conservative opposition Likud party.
Livni served as a minister in her mentor Ariel Sharon's Likud government but joined the centrist Kadima when he founded it before suffering a crippling stroke in December 2005. She has said the only negotiating language Likud liked to use was "no"…
She has been guarded on the threat from Tehran. "The military option is there, and to say more than that will be irresponsible on my part," she told one newspaper last week.
However, she does not hide her opinions on Hamas. "If they resume firing, I'll act first and then we'll see," she said.
http://www.timesonline.co.uk/tol/news/world/middle_east/article4748989.ece
Although evangelicals in the USA and pragmatists in Israel seem pleased with their potential women leaders, many seem not to understand that the Bible indicates that this is not necessarily a blessing:
As for My people, children are their oppressors, And women rule over them. O My people! Those who lead you cause you to err, And destroy the way of your paths (Isaiah 3:12).
And that is NOT to say anything bad about the particular women attempting to attain high offices, but that there are essentially problems in both nations that lead to this possibility.
Several articles of possibly related interest may include:
Anglo – America in Prophecy & the Lost Tribes of Israel Are the Americans, Canadians, British, Scottish, Welsh, Australians, Anglo-Southern Africans, and New Zealanders descendants of Joseph? Are they related to Judah? Who are the lost tribes of Israel? Will God punish the U.S.A., Canada, United Kingdom, and other Anglo nations? Why might God allow them to be punished first?
Might Sarah Palin Fulfill Prophecy? Are there any prophecies that involve women ruling? Would Sarah Palin not be the top leader if John McCain becomes president and then has problems with his health?
Barack Obama, Prophecy, and the Destruction of the United States Some claim that Barack Obama is the prophesied "son of Kenya".
Women and the New Testament Church Were women important in the New Testament Church? Which women and how were they involved?