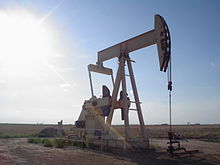 Texas Oil Pumpjack (Flcelloguy)

While this newspage tends to focus on why the USA is going to lose its dominance and be taken over, not all the news related to the USA and its economy is negative.  Notice the following:
April 1, 2013

Without fanfare, China passed the United States in December to become the world's leading importer of oil—the first time in nearly 40 years that the U.S. didn't own that dubious distinction. That same month, North Dakota, Ohio and Pennsylvania together produced 1.5 million barrels of oil a day—more than Iran exported.

As those data points demonstrate, a dramatic shift is occurring in how energy is being produced and consumed around the world—one that could lead to far-reaching changes in the geopolitical order…

Most agree the U.S. would be the big winner, in position to reshape its foreign policy and boost its global influence. http://www.cnbc.com/id/100606163

April 1, 2013

LUDWIGSHAFEN, Germany — The sprawling chemical plant in this city along the Rhine River has been a jewel of Germany's manufacturing-led economy for more than a century. But the plunging price of natural gas in the United States has European companies setting sail across the Atlantic to stay competitive.

German chemicals giant BASF, which operates the plant here, has announced plans for wide-ranging expansion in the United States, where natural gas prices have fallen to a quarter of those in Europe, largely because of American innovations in unlocking shale gas…Here in Ludwigshafen, many people view the United States as the land of the future. http://www.washingtonpost.com/world/europe/european-industry-flocks-to-cheap-us-gas/2013/04/01/454d06ea-8a2c-11e2-98d9-3012c1cd8d1e_story.html
Readers of my book, Barack Obama, Prophecy, and the Destruction of the United States-Second Edition for Second Obama Term have been aware of my own views on this, as in it, I wrote the following:
During the second term, agriculture in the U.S.A. will become more and more dependent on genetically modified foods, despite the fact that the Bible warns about buying food that is not really food (Isaiah 55:2).

The number of people on food stamps in the U.S.A. increased under the first Obama Administration and likely will increase again in his second Administration (Hawkins J. 40 Reasons Not To Re-Elect Barack Obama. Townhall.com, August 24, 2012).

But does this mean that the U.S.A. economy must go  straight down in President Obama's second term?

No.

There are some reasons to have some temporary optimism.  The longer there is economic stagnation, the more demand tends to build up, and an increase in demand may prolong the economy.  In addition, technological and other developments may temporarily support the U.S. economy.

In addition, because of improvements in various aspects of energy technology, the U.S.A. may experience an energy export boom, such as with oil and natural gas, etc. (Stansberry P. The Next Stage of America's Rise to Energy Dominance. Daily Wealth newsletter, November 28, 2012) that may prolong its days of economic prosperity.  But prolonging is likely all that is possible (cf. Daniel 4:27).  Thiel B. Barack Obama, Prophecy, and the Destruction of the United States-Second Edition for Second Obama Term. Nazarene Books, 2012/2013, pp. 67-68)
But, ultimately, and relatively soon, the USA will be taken over and be no more.
Yet, a boom in energy may prolong its days of dominance.  For a time.
Some items of possibly related interest may include:
Anglo – America in Prophecy & the Lost Tribes of Israel Are the Americans, Canadians, British, Scottish, Welsh, Australians, Anglo-Southern Africans, and New Zealanders descendants of Joseph? Where are the lost ten-tribes of Israel? Who are the lost tribes of Israel? Will God punish the U.S.A., Canada, United Kingdom, and other Anglo nations? Why might God allow them to be punished first? What will happen to the nation of Israel and Jerusalem?
Will the Anglo-Nations be Divided and Have People Taken as Slaves? Will the lands of the United States, United Kingdom, Canada, Australia, and New Zealand be divided? What about Jerusalem? What does Bible prophecy teach? Are there non-biblical prophecies that support this idea? Who will divide those lands? Who will end up with the lands and the people?
Asia in Prophecy What is Ahead for Asia? Who are the "Kings of the East"? What will happen to nearly all the Chinese, Russians, Indians, and others of Asia? China in prophecy, where? Who has the 200,000,000 man army related to Armageddon?
Germany's Assyrian Roots Throughout History Are the Germanic peoples descended from Asshur of the Bible? Have there been real Christians in Germanic history? What about the "Holy Roman Empire"?
Germany in Biblical and Catholic Prophecy Does Assyria in the Bible equate to an end time power inhabiting the area of the old Roman Empire? What does prophecy say Germany will do and what does it say will happen to most of the German people?
Barack Obama, Prophecy, and the Destruction of the United States-Second Edition for Second Obama Term This is a 160 page book for people truly interested in prophecies related to Barack Obama and the United States, including learning about many that have already been fulfilled (which the book documents in detail) and those that will be fulfilled in the future. It also has a chapter about a Republican choice. This book is available to order at www.barackobamaprophecy.com. The physical book can also be purchased at Amazon from the following link: Barack Obama, Prophecy, and the Destruction of the United States: Is Barack Obama Fulfilling Biblical, Islamic Catholic, Kenyan, and other America-Related Prophecies? What About Republican Leaders? Second Edition for Second Obama Term.
Barack Obama, Prophecy, and the Destruction of the United States-Second Term-Amazon Kindle edition. This electronic version is available for only US$2.99. And you do not need an actual Kindle device to read it. Why? Amazon will allow you to download it to almost any device: Please click HERE to download one of Amazon s Free Reader Apps. After you go to for your free Kindle reader and then go to Barack Obama, Prophecy, and the Destruction of the United States-Second Term-Amazon Kindle edition.