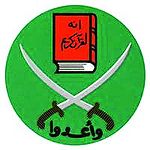 Muslim Brotherhood
الإخوان المسلمون
Al-Ikhwān Al-Muslimūn
The Muslim Brotherhood in Egypt has basically protested against the other protesters there and has apparently stopped the courts, at least for now, from being able to rule against the new Muslim Brotherhood proposed constitution for Egypt:
December 2, 2012
The Muslim Brotherhood also is involved in other Arab countries like Kuwait.  Islamists there are claiming victory today because they greatly reduced the number of voters in Kuwait yesterday:
December 2, 2012

KUWAIT CITY — Opposition groups in Kuwait hailed their election boycott as a success Sunday after officials said voter turnout on Saturday was sharply lower than during the last parliamentary races earlier this year.

Kuwait's Ministry of Information said 40.3 percent of eligible voters cast ballots. That compares with nearly 60 percent in the February elections…A wide-reaching opposition coalition, including conservative Islamists and Western-leaning liberals, boycotted the vote to protest alleged power abuses by the ruling family. They have vowed to press ahead with street demonstrations despite a ban on major political gatherings in public.  http://www.washingtonpost.com/world/middle_east/kuwait-opposition-hails-lower-election-turnout-after-boycott/2012/12/02/15620934-3c49-11e2-9258-ac7c78d5c680_story.html
The Muslim Brotherhood has made major strides in Syria:
CAIRO (Reuters) – The Syrian opposition made progress on Thursday toward forming a transitional government at the first meeting of their new coalition in Cairo and the Muslim Brotherhood emerged as an overwhelmingly powerful kingmaker, delegates said.

In a sign of its strength within the leadership of the opposition, the Brotherhood and its allies pushed for the adoption of an internal constitution that allows choosing the prime minister and the cabinet with a simple majority, rather than a two-thirds majority.

Since the coalition was set up in Qatar earlier this month with Gulf and Western support, the Brotherhood has swiftly assembled a de facto majority bloc, according to insiders keeping tabs of changes in the membership of the coalition.   http://articles.chicagotribune.com/2012-11-29/news/sns-rt-us-syria-crisis-oppositionbre8as122-20121129_1_muslim-brotherhood-turkey-and-gulf-arab-syria-robert-ford
Western support includes the United States.
Notice the following about USA and the Muslim Brotherhood:
Egyptians fear decades of Muslim Brotherhood rule, warn Morsi is no friend to US…

The era of the Muslim Brotherhood appears to have arrived. President Obama has hailed the Brotherhood's President Mohammed Morsi as a pragmatist who helped end the Gaza crisis. Egyptians here think the Brotherhood has conned Washington, just like it conned them.

"President Obama is supporting a terrorist," a man told me…http://worldnews.nbcnews.com/_news/2012/12/01/15578733-egyptians-fear-decades-of-muslim-brotherhood-rule-warn-morsi-is-no-friend-to-us

Congressman: Muslim Brotherhood advising Obama

Outspoken Republican congressman Louie Gohmert is continuing to press for investigation of the Muslim Brotherhood's influence on the federal government, contending in an interview that a probe is necessary because of the Obama administration's "horrendous decisions" in backing the so-called "Arab Spring" revolutions in the Middle East…

In July, Gohmert, along with Rep. Michele Bachmann, R, Minn., and three other Republican House members, pointed to Hillary Clinton's top aide, Huma Abedin, as a possible Muslim Brotherhood influence on U.S. policy…

Abedin worked for an organization founded by her family that is effectively at the forefront of a grand Saudi plan to mobilize U.S. Muslim minorities to transform America into a strict Wahhabi-style Islamic state, according to an Arabic-language manifesto issued by the Saudi monarchy. Abedin also was a member of the executive board of the Muslim Student Association, which was identified as a Muslim Brotherhood front group in a 1991 document introduced into evidence during the terror-financing trial of the Texas-based Holy Land Foundation trial.

The internal memo said Muslim Brotherhood members "must understand that their work in America is a kind of grand jihad in eliminating and destroying the Western civilization from within and 'sabotaging' its miserable house by their hands and by the hands of the believers so that it is eliminated and Allah's religion is made victorious over all other religions."  http://www.wnd.com/2012/11/congressman-muslim-brotherhood-advising-obama/
As far as US President Barack Obama goes, let me simply state that my book Barack Obama, Prophecy, and the Destruction of the United States goes into details as to why he is a Muslim sympathizer.  As far as his Administration goes, it lavished much praise on Dr. Morsi, the Muslim Brotherhood party member and president of Egypt, last month.
But, please notice what the Muslim Brotherhood wants:
The Muslim Brethren…believe that the caliphate is a symbol of Islamic Union and an indication of the bonds between the nations of Islam. They see the caliphate and its re-establishment as a top priority, subsequently; an association of Muslims people should be set up, which would elect the imam". (zhyntativ. HASAN AL-BANNA AND HIS POLITICAL THOUGHT OF ISLAMIC BROTHERHOOD. IkhwanWeb, May 13, 2008. http://www.ikhwanweb.com/article.php?id=17065 viewed 09/22/11)

What is the Muslim Brotherhood?
The world's largest and most influential Islamist movement…"The Islamic nation," its charter states, "must be fully prepared to fight the tyrants and the enemies of Allah as a prelude to establishing an Islamic state"—ideally a re-established caliphate, stretching from Spain across the Middle East and Central Asia to Indonesia, to be governed according to Islamic sharia law. (Understanding the Muslim Brotherhood. February 14, 2011. © The Muslim Brotherhood. http://www.ikhwanweb.com/article.php?id=28019 viewed 11/21/2011)
The Muslim Brotherhood apparently wants as its top priority a pan-national Islamic caliphate ruled by an Imam.  And while it will not get all the territory it wants, it is likely to end up in some type of confederation with at least most of North Africa and the Middle East.
Part of the reason I state that is because the type of Islamic confederation that the Muslim Brotherhood wants is consistent with one prophesied in the Bible (Ezekiel 30:1-8) that is to be led by one it calls the final King of the South (Daniel 11:40-43).
While some hope that the group has changed its goals, notice something reported about the current Muslim Brotherhood:
Abd al-Galil al-Sharnubi says he can only laugh at the thought that there are people in the West who still see the Muslim Brotherhood as "moderate Islamists." Sharnubi is a journalist and a Muslim — and he was a member of the Brotherhood for 23 years. He's been familiar with the movement since he was 14, and he says that the Brotherhood could be the kiss of death for democracy in Egypt…

As the former editor in chief of Ikhwan Online, the brotherhood's website, Sharnubi went public shortly after his resignation. In talk shows he warned his fellow Egyptians that the movement was undemocratic and authoritarian, and that leading Muslim Brothers were no less corrupt than politicians from the old regime…

In order to properly apply the Sharia code of conduct, the Islamists suggested that they should be interpreted by Muslim legal scholars, known as ulama…Consequently, even the most radical Islamists have become part of the daily political landscape in Egypt.

This includes preachers such as Wajdi Ghunaim, who views secular Egyptians as infidels who should be punished with death. (Steinvorth D. and Windfuhr V., translated by Cohen P. Morsi's Grab for Power Egyptian Revolutionaries Take on Radical Islam. Der Spiegel, November 26, 2012. http://www.spiegel.de/international/world/egypt-at-a-crossroads-after-morsi-grants-himself-sweeping-powers-a-869291.html)
The Muslim Brotherhood and/or groups with similar goals continue to rise up in the Islamic nations.  A confederation will form and many simply are not realizing this.
World events aligning with Bible prophecy are happening around the world and particularly in the Middle East.  As Jesus said, "Watch" (Mark 13:37).
Some articles of related interest may include:
Is There A Future King of the South? Some no longer believe there needs to be. Might Egypt, Islam, Iran, Arabs, or Ethiopia be involved? Might this King be called the Mahdi? What does the Bible say?
The Arab and Islamic World In the Bible, History, and Prophecy The Bible discusses the origins of the Arab world and discusses the Middle East in prophecy. What is ahead for the Middle East and those who follow Islam? What about the Imam Mahdi? What lies ahead for Turkey, Iran, and the other non-Arabic Muslims?
Is There an Islamic Antichrist? Is Joel Richardson correct that the final Antichrist will be Islamic and not European? Find out.
Barack Obama, Prophecy, and the Destruction of the United States This is a 160 page book for people truly interested in prophecies related to Barack Obama and the United States, including learning about many that have already been fulfilled (which the book documents in detail) and those that will be fulfilled in the future. It also has a chapter about Mitt Romney. This book is available to order at www.barackobamaprophecy.com. The physical book can also be purchased at Amazon from the following link: Barack Obama, Prophecy, and the Destruction of the United States: Is Barack Obama Fulfilling Biblical, Islamic, Catholic, Kenyan, and other America-Related Prophecies?
Barack Obama, Prophecy, and the Destruction of the United States–Amazon Kindle edition. This electronic version is available for only US$2.99. And you do not need an actual Kindle device to read it. Why? Amazon will allow you to download it to almost any device: Please click HERE to download one of Amazon's Free Reader Apps. After you go to for your free Kindle reader and then go to Barack Obama, Prophecy, and the Destruction of the United States–Amazon Kindle edition.)