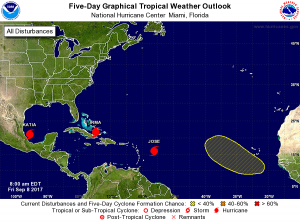 Has the weather gotten crazy? Notice the following:
"Nature's gone crazy": Winds, fire, floods and quakes plague North America

September 9, 2017

WASHINGTON — With four big hurricanes, a powerful earthquake and wildfires, it seems that nature recently has just gone nuts.

Some of these disasters, like Friday's earthquake in Mexico, are natural. Others may end up having a mix of natural and man-made ingredients after scientists examine them. We also always tend to look for patterns and order in chaos, even when they aren't there, psychologists say.

"Nature's gone crazy," mused Jeff Masters, meteorology director at the private service Weather Underground. "Welcome to the future. Extreme weather like this is going to be occurring simultaneously more often because of global warming."

A look at a rough few weeks in North America:

HURRICANE QUARTET

Hurricane Harvey hadn't even fizzled and Houston hadn't even dried out from record flooding before Hurricane Irma formed and also grew into a powerful Category 4 storm. Right behind Irma, Jose has powered up to a Category 4 storm. It is highly unusual, but not unprecedented to have back-to-back storms of that strength, Masters said. And then there is Hurricane Katia, just a shade under major hurricane status, due to hit Mexico's Gulf coast.  http://www.denverpost.com/2017/09/08/earthquake-floods-hurricanes-wildfires-north-america/

Winds, fire, floods and quakes: A nutty run of nature

http://abcnews.go.com/Technology/wireStory/winds-fire-floods-quakes-nutty-run-nature-49712451
Irma has been called "the most powerful Atlantic hurricane on record." Hurricanes, Jose and Katia, have also been causing problems.
September 9, 2017

CABARET, Haiti — Hurricane Jose, a powerhouse tropical cyclone barreling northwest toward the Caribbean islands already hammered by Irma, has weakened but remains a dangerous Category 4 storm, officials said.

The National Hurricane Center said that Jose's maximum sustained wind speed is at 145 mph, as the storm is expected to pass north of the northern Leeward Islands later on Saturday. That's down by 10 mph from late Friday, when officials said the hurricane was just shy of a Category 5 storm. https://www.washingtonpost.com/news/worldviews/wp/2017/09/08/hurricane-jose-threatens-a-second-blow-to-caribbean-islands-devastated-by-irma/?utm_term=.f406c8589d5e

September 9, 2017

The governor of the Gulf coast state of Veracruz is reporting two deaths related to the arrival of Hurricane Katia, which hit the state overnight.

Gov. Miguel Angel Yunes says the two died in a mudslide. The mountainous region where the storm has been dumping rain has a history of deadly floods and slides. https://www.washingtonpost.com/world/the_americas/the-latest-katia-weakens-into-a-tropical-storm-over-mexico/2017/09/09/a9cf2b2e-9527-11e7-8482-8dc9a7af29f9_story.html?utm_term=.2f98a40bb07e
There are also many affected by typhoons in Asia. Also, Southern China has been seeing more typhoons than usual this year. Plus:
Bangladesh, India and Nepal have been affected by the worst floods in decades impacting on almost 41 million people and killing thousands. … More than a third of Bangladesh and Nepal, and large areas of India have been flooded, and the situation is expected to worsen as monsoon season continues through the end of September. http://www.independent.co.uk/voices/houston-texas-floods-storm-harvey-south-east-asia-wont-hear-a7920381.html
Plus there still is flooding and other problems associated with Hurricane Harvey.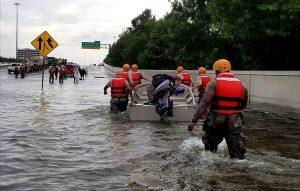 If evangelical figures in the US are to be believed, gay people caused Hurricane Harvey.

And this comes despite overwhelming evidence that adverse weather and climate changes were responsible for the storm that has devastated parts of Texas, numerous voices claimed that the flood, was, biblical.

Among those who have been shouting slogans at the LGBTQ community, were minister Kevin Swanson, who believes the Bible preaches death to gays, and the similarly delightful radio host Rick Wiles, who thinks Ebola would be a handy way to wipe out the LGBT community.

The best was, however, right-wing commentator Ann Coulter, who suggested that she would be more willing to believe gay people caused the flood than the idea of climate changes.

"I don't believe Hurricane Harvey is God's punishment for Houston electing a lesbian mayor. But that is more credible than 'climate change,'" Coulter wrote on Twitter. http://www.deccanchronicle.com/lifestyle/viral-and-trending/040917/gay-people-caused-hurricane-harvey-says-right-wing-commentator-twitter-goes-berserk.html
Weather changes help show us that the world can quickly and dramatically change.
Jesus said:
45 … He makes His sun rise on the evil and on the good, and sends rain on the just and on the unjust. (Matthew 5:45)

2 "Do you suppose that these Galileans were worse sinners than all other Galileans, because they suffered such things? 3 I tell you, no; but unless you repent you will all likewise perish. 4 Or those eighteen on whom the tower in Siloam fell and killed them, do you think that they were worse sinners than all other men who dwelt in Jerusalem? 5 I tell you, no; but unless you repent you will all likewise perish." (Luke 13:2-5)
The Prophet Amos wrote:
6 "Also I gave you cleanness of teeth in all your cities. And lack of bread in all your places; Yet you have not returned to Me," Says the Lord. 7 "I also withheld rain from you, When there were still three months to the harvest. I made it rain on one city, I withheld rain from another city. One part was rained upon, And where it did not rain the part withered. 8 So two or three cities wandered to another city to drink water, But they were not satisfied; Yet you have not returned to Me," Says the Lord. (Amos 4:6-8)
People who advocate acceptance of homosexuality as harmless may also wish to notice something else that God had the Prophet Amos write would happen some time after the drought and weather problems:
9 "I blasted you with blight and mildew.
When your gardens increased,
Your vineyards,
Your fig trees,
And your olive trees,
The locust devoured them;
Yet you have not returned to Me,"
Says the Lord. (Amos 4:9)

11 "I overthrew some of you,
As God overthrew Sodom and Gomorrah,
And you were like a firebrand plucked from the burning;
Yet you have not returned to Me,"
Says the Lord.

12 "Therefore thus will I do to you, O Israel;
Because I will do this to you,
Prepare to meet your God, O Israel!" (Amos 4:11-12)
Mildew is prophesied. Hurricanes can trigger this.
As regular readers of this page are aware, I have repeatedly warned of weather problems coming. Back in 2009, in my book, 2012 and the Rise of the Secret Sect, I wrote that the following was about to happen:
| | |
| --- | --- |
| Odd weather patterns result in food shortages and natural disasters. | Matthew 24:7 |
| | |
| --- | --- |
| The world is actually in a berserk transition, as the real age of peace is not yet here. It may be a period of chaos. It is the beginning of sorrows. | Matthew 24:8 |
Since that was published, we have had record smashing heat, stronger hurricanes, and odd weather problems. These weather issues should serve as a wake-up call.
The word berserk essentially means crazy, nuts, or nutty–three words in the news now explaining the weather.
Notice also two items that were posted here years ago:
Since the USA is already in more debt than any nation in the history of the world, it may be that weather problems (such as one or two incidents like Hurricane Katrina), earthquakes, and crop failures may combine in what could be called a "perfect storm" to push the USA over the edge for it to fall. (Thiel B. Weather Affected Fall of Rome, Will it Affect the USA's Fall? COGwriter, January 16, 2011)

Weather events will negatively affect the USA and contribute to its downfall. …

The USA more and more trusts in perversity with its governmental acceptance of abortion, selling baby parts, pornography, massive debt, and the homosexual agenda. …

The USA did not repent after Hurricane Katrina. I do believe that something much worse than Hurricane Katrina will affect the USA. (Thiel B. Hurricane Katrina ten years later: Will something worse happen to the USA? COGwriter.com, August 28, 2015)
It is not just hurricanes that are risks.
Earthquakes, Yellowstone, and other geological events are also risks. As are solar flares.  CBS reported:
Early Wednesday morning, the sun released two powerful solar flares — the second was the most powerful in more than a decade. …

According to SWPC, the flares resulted in radio blackouts: high-frequency radio experienced a "wide area of blackouts, loss of contact for up to an hour over [the] sunlit side of Earth," and low frequency communication, used in navigation, was degraded for an hour. 09/07/17 https://www.cbsnews.com/news/solar-flares-cause-radio-blackouts-on-earth-coronal-mass-ejection-cme/
Solar flares remain a risk. Hurricanes, too, can knock out power: More than 1 million left without power in Puerto Rico; some could stay in the dark for months.
Those affected by the hurricanes, typhoons, and this earthquake are in my prayers.
Weather events should serve as a wake-up call to all.
Weather issues are among the "troubles" Jesus warned would happen in the "beginning of sorrows" (Mark 13:8)–a time we are now in.
A time that will be followed by the Great Tribulation (Matthew 24:21), which will be the end of the USA.
Weather issues are among the factors that will weaken the USA enough for it to be taken over (Daniel 11:39). So is debt (Habakkuk 2:6-8)– which the major storms, like Hurricane Harvey, have already resulted in increased debt.
Changes are happening.
Some items of possibly related interest may include:
Weather Blessings and Sorrows Are weather problems a warning? What should be done? What does the Bible teach about weather? What about floods, droughts, heat, earthquakes, tornadoes, and solar storms? Here is a related YouTube video Does God Use Weather? A related item in the Spanish language would be Bendiciones y maldiciones del clima.
Earthquakes Today and Bible Prophecy Contains a cool up-to-the-hour update of earthquakes around the world from USGS. It also explains what did Jesus teach about earthquakes and how the Bible describes "the big one" (as well as when it is expected).
The 'Unpardonable Sin' and 'Climate Change'? On September 7, 2016, Olav Fykse Tveit, Church of Norway Pastor, and the General Secretary of the World Council of Churches, essentially declared that those who ignore 'climate change' are committing the 'unpardonable sin' against the Holy Spirit. Are those two even related? In this video, Dr. Thiel answers that and explains from the Bible what the 'unpardonable sin' is and how you can avoid it. He also discusses aspects of Christianity and the environment.
The Bible, Christians, and the Environment How should Christians view the environment? Does the Bible give any clues? What are some of the effects of air, water, and land pollution? Is environmental pollution a factor in autism and death? Do pollutants seem to double the autism risk? What will Jesus do? A YouTube video is available titled Air Pollution, Autism, and Prophecy.
Mexico, Central America, South America, Brazil, and the Caribbean in Prophecy [Español: México, América central, Suramérica, Brasil y el Caribe en la profecía] [Português: México, América Central, Ámérica do Sul, e Brasil na profecia] What will happen to those of Latin America? Will they have prosperity? Will they cooperate with Europe? Will they suffer in the future? What role might the various Caribbean nations/territories play?
Christian Repentance Do you know what repentance is? Is it really necessary for salvation? A related sermon is also available titled: Real Christian Repentance.
The Bible Condemns Homosexuality "Same-sex marriage" for "gays" and lesbians is becoming more acceptable to many. What does the Bible teach about homosexuality? Can homosexuals change? A related video sermon is titled: What Does the Bible Really Teach about Homosexuality?
Pornography: A scourge on society Is pornography harmless fun? Does the Bible teach anything about it? What are the views of some involved with it? Here is a link to a YouTube video Pornography: Harmless Fun or a Scourge on Society?
Anglo – America in Prophecy & the Lost Tribes of Israel Are the Americans, Canadians, English, Scottish, Welsh, Australians, Anglo-Saxon (non-Dutch) Southern Africans, and New Zealanders descendants of Joseph? Where are the lost ten-tribes of Israel? Who are the lost tribes of Israel? What will happen to Jerusalem and the Jews in Israel? Will God punish the U.S.A., Canada, United Kingdom, and other Anglo-Saxon nations? Why might God allow them to be punished first? Here is a link to the Spanish version of this article: Anglo-América & las Tribus Perdidas de Israel. Information is also in the YouTube sermons titled Where are the Ten Lost Tribes? Why does it matter? and British are the Covenant People. A short YouTube of prophetic interest may be Barack Obama and the State of the Apocalypse.
Will the Anglo-Saxon Nations be Divided and Have People Taken as Slaves? Will the lands of the United States, United Kingdom, Canada, Australia, and New Zealand be divided? What about Jerusalem? What does Bible prophecy teach? Are there non-biblical prophecies that support this idea? Who will divide those lands? Who will end up with the lands and the people? Here is a link to a video titled Will the USA and other Anglo-nations be Divided and Their People Made Slaves? Here is a related item in the Spanish language ¿Serán divididas las naciones anglosajonas?
British are the Covenant People What do 'British' and 'Britain' mean in Hebrew? Are the descendants of the Anglo-Saxons people of the covenant? Does the British royal family connect to the throne of David? What does the Bible teach? What does history show us? Is there any DNA evidence related to British-Israelism? When did Christianity make it to the British Isles? Could Jeremiah have made it to the British Isles? What type of Christians made it to the British Isles? Did the last King of England believe in British Israelism?
Donald Trump in Prophecy Prophecy, Donald Trump? Are there prophecies that Donald Trump may fulfill? Are there any prophecies that he has already helped fulfill? Could a Donald Trump presidency be apocalyptic? A related video is titled: Donald: 'Trump of God' or Apocalyptic?
Trump Presidency Magic 8 Ball or Bible Prophecy? BBC reported that one might as well use a 'Magic Eight-Ball' to try to predict what will happen in the remaining time of Donald Trump's presidency. What is a 'Magic Eight-Ball'? Dr. Thiel not only explains that, but also briefly goes over 10 biblically-based warnings he wrote would happen if Donald Trump were elected that have already began to come to pass. He also goes over something he wrote back in 2008 that the Trump presidency is also helping lead to fulfillment. Should you trust Bible prophecy or not? Dr. Thiel says that Bible prophecy can be trusted, despite the view of skeptics and others that either overlook or despise the Bible. This is a video.