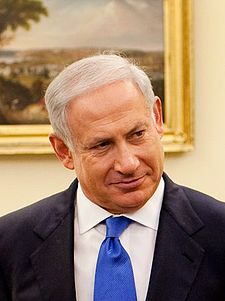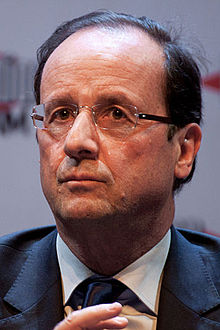 Israel's Prime Minister is warning against lifting any sanctions related to Iran, and France's President Hollande and certain other political leaders agree:
November 17, 2013

JERUSALEM — Israeli Prime Minister Benjamin Netanyahu launched an intensive campaign on Sunday to convince world powers to toughen terms of a proposed nuclear deal with Iran ahead of negotiations reconvening this week in Geneva.

After meeting Francois Hollande on Sunday as part of a three-day state visit by the French president, Netanyahu was scheduled to travel to Moscow to see Russian President Vladimir Putin and return to Israel to meet U.S. Secretary of State John Kerry on Friday.

Netanyahu has condemned a proposal, to be discussed in a third round of talks between six world powers and Tehran on Nov. 20 – 23, to ease economic sanctions on Iran if it suspends parts of its nuclear program.

"I hope that we will be able to persuade our friends during this week and in the days that follow to get a much better agreement," Netanyahu said in public remarks at the start of a weekly cabinet meeting.

Netanyahu says tough measures must not only remain but be strengthened until Iran dismantles its entire uranium enrichment program, arguing that anything less would enable it to develop nuclear bombs.

His position has found support in the U.S. Congress, where legislation to impose tough new sanctions could come to the Senate floor in the coming week.  http://www.voanews.com/content/reu-netanyahu-to-lobby-world-powers-against-iran-nuclear-deal/1791774.html

November 17, 2013

(Reuters) – French President Francois Hollande assured Israel on Sunday that France would continue to oppose an easing of economic sanctions against Iran until it was convinced Tehran had ended a pursuit of nuclear weapons.

Hollande's pledge, at the start of a three-day visit to Israel, could help underpin an intensive campaign by Prime Minister Benjamin Netanyahu to convince world powers to toughen terms of a proposed nuclear deal with Iran ahead of negotiations reconvening this week in Geneva.

"France will not give way on nuclear proliferation," Hollande said at a welcoming ceremony at Tel Aviv airport. "So long as we are not certain that Iran has renounced nuclear arms, we will keep in place all our demands and sanctions."  http://www.reuters.com/article/2013/11/17/us-israel-usa-kerry-idUSBRE9AG06720131117
Israel believes that Iran absolutely is developing nuclear weapons and that it wants to use them against Israel.  Iran has repeatedly stated that it wants to eliminate the nation of Israel. Iran has also made it clear that it wants to rule the Arab peoples and all Islam.
Well, Iran will not succeed in eliminating Israel or ruling over all the Arabs, it very well may make (and possibly try to use) nuclear bombs of some type.  While sanctions do hurt countries economically, normally they tend to increase resentment and do not result it countries truly disavowing their military intentions (North Korea comes to immediate mind).
In the past, the USA and Israel have stated that it was unacceptable for Iran to acquire nuclear weapons–but Israel's Prime Minister has been more vocal about many aspects of it than US President Obama has been.  And this is part of why Israel's Prime Minister Netanyahu has began his latest campaign.  He is most likely highly pleased that France's President Hollande has publicly agreed.
As regular readers of the COGwriter news page are aware, I have been warning for some time that a regional war involving Iran, Israel, the USA, and/or Syria seems likely. And Israel and Iran keep taking steps which may help it get ready for such a war (Isaiah 22:6-13).
Since Iran, however, is NOT really south of Jerusalem–it is pretty much straight east–it will not be the final King of the South of Bible prophecy (cf. Daniel 11:40-43; though it may support such a king per certain interpretations of the peoples listed in Ezekiel 30:1-9). Because of that, I have tended to believe that Iran may somehow get "neutralized" before this final king rises up. A serious attack by the USA and/or Israel may neutralize Iran and much of its influence. It also may take a regional war for the seven-year confirmation of the deal in Daniel 9:27 to come about.  It is also possible that sanctions and other factors could lead to enough civil unrest in Iran to derail it; we will wait and see.
My reading and re-reading of Bible prophecy simply does not show that Iran will be a major player in Daniel 11:21-44 nor the deal of Psalm 83:4-8 (Arabs, Turks, and Europeans are).
"Neutralizing" Iran would allow most of the other Islamic states (like Saudi Arabia and Egypt) to continue to exist (Syria might not do well per Isaiah 17:1) and allow for the rising of the prophesied King of the South to rise up (revolution in Iran, is also another possibility, for its "neutralization").
Leaders in the USA and Israel have sometimes suggested that they may intervene and attack Iran. But if the USA and/or Israel do hit Iran, Iran would likely not fare well, but that does not mean that Israel and/or the USA would not suffer. Israel seems prophesied to possibly be hit by Iran per Isaiah 22:6-13.  Benjamin Netanyahu's current campaign make increase the desire of some in the Iranian leadership to do so.
Israel's Prime Minister has made many statements that suggests that when he feels he needs to, he does intend to attack Iran over the nuclear matter. This is a matter those of us who follow prophecy should watch.
Some items of possibly related interest may include:
Is the Future King of the South Rising Up? Some no longer believe there needs to be a future King of the South. Might Egypt, Islam, Iran, Arabs, or Ethiopia be involved? Might this King be called the Mahdi or Caliph? What does the Bible say? A YouTube video of related interest may be: The Future King of the South is Rising.
The Arab and Islamic World In the Bible, History, and Prophecy The Bible discusses the origins of the Arab world, discusses Turkey and Iran, and discusses the Middle East in prophecy. What is ahead for the Middle East and those who follow Islam?
Jerusalem To be divided and eliminated Many want Jerusalem. Who does the Bible teach will control Jerusalem? Will the Jews be forced out of Jerusalem and many made captive? What did Jesus teach about this? Are nations even now considering providing the prophesied armies to surround Jerusalem? What is Jerusalem Day? What is Nakba Day? What events should Christians watch in Jerusalem as signs that the Great Tribulation will begin? What is the solution to Jerusalem? This is a video.
Jerusalem: Past, Present, and Future What does the Bible say about Jerusalem and its future? Is Jerusalem going to be divided and eliminated? Is Jesus returning to the area of Jerusalem?
Anglo – America in Prophecy & the Lost Tribes of Israel Are the Americans, Canadians, English, Scottish, Welsh, Australians, Anglo (non-Dutch) Southern Africans, and New Zealanders descendants of Joseph? Where are the lost ten-tribes of Israel? Who are the lost tribes of Israel? What will happen to Jerusalem and the Jews in Israel? Will God punish the U.S.A., Canada, United Kingdom, and other Anglo nations? Why might God allow them to be punished first?
Who is the King of the West? Why is there no End-Time King of the West in Bible Prophecy? Is the United States the King of the West?
When Will the Great Tribulation Begin? 2013, 2014, or 2015? Can the Great Tribulation begin today? What happens before the Great Tribulation in the "beginning of sorrows"? What is the seven-year deal? What happens in the Great Tribulation and the Day of the Lord? Is this the time of the Gentiles? When is the earliest that the Great Tribulation can begin? What is the Day of the Lord? Who are the 144,000?
Barack Obama, Prophecy, and the Destruction of the United States-Second Edition for Second Obama Term This is a 160 page book for people truly interested in prophecies related to Barack Obama and the United States, including learning about many that have already been fulfilled (which the book documents in detail) and those that will be fulfilled in the future. It also has a chapter about a Republican choice. This book is available to order at www.barackobamaprophecy.com. The physical book can also be purchased at Amazon from the following link: Barack Obama, Prophecy, and the Destruction of the United States: Is Barack Obama Fulfilling Biblical, Islamic Catholic, Kenyan, and other America-Related Prophecies? What About Republican Leaders? Second Edition for Second Obama Term.
Barack Obama, Prophecy, and the Destruction of the United States-Second Term-Amazon Kindle edition. This electronic version is available for only US$2.99. And you do not need an actual Kindle device to read it. Why? Amazon will allow you to download it to almost any device: Please click HERE to download one of Amazon s Free Reader Apps. After you go to for your free Kindle reader and then go to Barack Obama, Prophecy, and the Destruction of the United States-Second Term-Amazon Kindle edition.