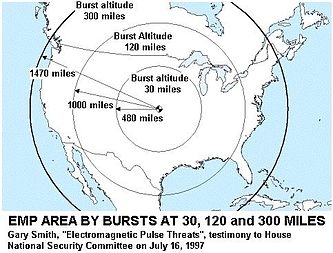 North Korea has announced that it will not warn before it attacks South Korea:
16 April 2013

North Korea says it won't warn South Korea before an attack

(CNN) — North Korea is raising the temperature on its neighbors, saying in its latest threat that it would not give any warning before any attack on South Korea.

"Our retaliatory action will start without any notice from now," Pyongyang said in a statement published Tuesday by its official news agency, KCNA.  http://www.cnn.com/2013/04/16/world/asia/koreas-tensions/index.html
This may also mean that it would not warn the USA before an attack.
US President Barack Obama declared that the USA was prepared for dealing all contingencies in dealing with North Korea:
President Obama says U.S. officials don't believe North Korea can deliver a nuclear warhead on a ballistic missile, but aren't taking anything for granted.

Asked on NBC's Today show about the prospect of a North Korean nuclear missile, Obama said: "You know, based on our current intelligence assessments, we do not think that they have that capacity. But, you know, we have to make sure that we are dealing with every contingency out there.  http://www.usatoday.com/story/theoval/2013/04/16/obama-north-korea-today-show/2087417/
Some contingencies would not be able to be dealt with well.
A few weeks ago during a radio interview, I discussed my view that the USA is vulnerable to terrorist attacks from North Korea, such as detonating a small nuclear bomb or "dirty bomb" (a conventional type of explosion with radioactive materials added to it), or an emp-bomb attack.
Since then, World News Daily reported the following:
North Korean EMP attack 'unstoppable'

Weapon could slip U.S. defenses via satellite, detonating over Nebraska…

If North Korea were to launch a preemptive nuclear attack on the United States, it could use a long-range missile to orbit a satellite over the South Pole, putting it in line to fly over Omaha, Neb., and explode it at a 300-mile altitude where U.S. Aegis anti-ballistic missile systems cannot reach, sources have told WND…

The U.S. has positioned Aegis ships near North Korea and Japan, but a political decision apparently has been made not to attempt to shoot it down if it is heading for open water.

Sources say, however, that a missile to be launched toward the U.S. would take a trajectory over the South Pole, and it is questionable whether the U.S. has Aegis assets anywhere along the southerly path such a missile would take.

In addition, the missile would need to be shot down almost after lift-off, since the missile would launch the satellite relatively quickly into an orbit of 300 miles, which was the altitude of its satellite launch last December.

North Korea, meanwhile, announced in a statement that it has drawn the "arrows" for "merciless retaliatory strikes" at the U.S. mainland, U.S. military bases in the Pacific and "all other bases where the U.S. imperialist aggression forces station…

"A nuclear weapon designed specifically to generate a powerful electromagnetic pulse, or EMP – a single such 'super-EMP' warhead would be able to collapse the U.S. electric grid and other critical infrastructures, inflicting catastrophic consequences on the entire nation – would probably be deliverable by North Korea's so-called 'space launch vehicle' over the United States," said Pry, who also worked for the Central Intelligence Agency. "North Korea orbited its satellite on a trajectory and at an altitude ideal for making an EMP attack on the U.S."

Pry pointed out that South Korean military intelligence has warned not only their government but also the U.S. that North Korea is developing super-EMP warheads with Russian help.

In 2011, Pry pointed out, a military commentator with the People's Republic of China stated that North Korea has super-EMP warheads. Data from North Korea's nuclear tests, he said, are consistent with a super-EMP warhead.  http://www.wnd.com/2013/04/north-korean-emp-attack-unstoppable/
In October 2012, Boeing, a USA aerospace company, successfully tested an electromagnetic pulse (EMP) missile.  So, while the North Koreans have not done yet what Boeing has, Boeing's test suggested that an emp-bomb could be dangerous and knock out electrical systems and computers (see USA EMP Works, But USA Itself is at Risk).
What if the USA itself were to be hit by one or more EMP weapons in the right areas?
The results of an EMP incident would be catastrophic:

· The U.S. power grid could be destroyed;
· Planes would crash;
· Water and sewerage systems would fail;
· Banks could not access their records;
· Transportation systems would be inoperable;
· The internet would go down;
· Emergency services would severely hampered.

Both U.S. and Soviet scientists became increasingly aware of the threat in 1962. A Financial Sense review of the problem noted that 50 years ago, a nuclear test 800 miles away from Hawaii knocked out 300 of the states' street lights, triggered alarms, and caused damages to a telephone company. The same year, Moscow conducted three tests to discover the precise altitude a nuclear bomb needed to detonate at to destroy electronics on the ground. http://www.examiner.com/article/crippling-america-an-instant
One way that a country like North Korea (or Iran, etc.) could inflict major damage to the USA would be an effective use of electromagnetic pulse (EMP) weapons. This type of weapon may also be used by the coming prophesied King of the South and/or the King of the North.
For some time, the USA has been aware of the potential threat of an EMP attack. Notice also the following:
In written testimony delivered to the United States Senate in 2005, an EMP Commission staff member reported:

The EMP Commission sponsored a worldwide survey of foreign scientific and military literature to evaluate the knowledge, and possibly the intentions, of foreign states with respect to electromagnetic pulse (EMP) attack. The survey found that the physics of EMP phenomenon and the military potential of EMP attack are widely understood in the international community, as reflected in official and unofficial writings and statements. The survey of open sources over the past decade finds that knowledge about EMP and EMP attack is evidenced in at least Britain, France, Germany, Israel, Egypt, Taiwan, Sweden, Cuba, India, Pakistan, Iraq under Saddam Hussein, Iran, North Korea, China and Russia. (Wikipedia. EMP. Accessed 07/17/12)
An EMP attack by North Korea could greatly affect the USA, or even South Korea or Japan.
Power transformers in the USA (and elsewhere) are at risk and this could cause major economic and other damage to the USA. Such emp weapons, however, have never been used large scale, so precisely what would happen is subject to debate. But the reality is that emp weapons, as well as solar flares which have similar potential, are threats to the USA, its defenses, and its economy.
The USA, despite its military strength, is vulnerable to being hurt by EMP weapons as well as nuclear weapons, chemical weapons, dirty bombs, terrorism, and biological weapons. Now that everyone knows that EMPs can basically work as advertised, this may give the Iranians more reason to look further into using them if they feel pressed.
"And what I say to you, I say to all: Watch!" (Mark 13:37).
Some articles of possibly related interest may include:
Anglo – America in Prophecy & the Lost Tribes of Israel Are the Americans, Canadians, English, Scottish, Welsh, Australians, Anglo (non-Dutch) Southern Africans, and New Zealanders descendants of Joseph? Where are the lost ten-tribes of Israel? Who are the lost tribes of Israel? What will happen to Jerusalem and the Jews in Israel? Will God punish the U.S.A., Canada, United Kingdom, and other Anglo nations? Why might God allow them to be punished first?
When Will the Great Tribulation Begin? 2012, 2013, or 2014? Can the Great Tribulation begin today? What happens before the Great Tribulation in the "beginning of sorrows"? Is there a needed peace deal first in the Middle East? What happens in the Great Tribulation and the Day of the Lord? Is this the time of the Gentiles? When is the earliest that the Great Tribulation can begin? What is the Day of the Lord? Who are the 144,000?
Who is the King of the West? Why is there no End-Time King of the West in Bible Prophecy? Is the United States the King of the west?
Asia in Prophecy What is Ahead for Asia? Who are the "Kings of the East"? What will happen to nearly all the Chinese, Russians, Indians, and others of Asia? China in prophecy, where? Who has the 200,000,000 man army related to Armageddon?
Korea in Prophecy, Any Witness? Where did the Korean people come from? Does God have a plan for the Koreans? Is Korea mentioned in any prophecies? Will Koreans be among the first in the Kingdom of God? 한국의 언어로 : 한국 예언, 모든 증인에?
Japan, Its Biblical Past and Future, Part 1: Any Witness? Where did the Japanese people come from? Have they had any witness?
Japan, Its Biblical Past and Future, Part 2: Prophecy Japan in prophecy. What is prophesied for Japan? Will God save the Japanese?
Barack Obama, Prophecy, and the Destruction of the United States-Second Edition for Second Obama Term This is a 160 page book for people truly interested in prophecies related to Barack Obama and the United States, including learning about many that have already been fulfilled (which the book documents in detail) and those that will be fulfilled in the future. It also has a chapter about a Republican choice. This book is available to order at www.barackobamaprophecy.com. The physical book can also be purchased at Amazon from the following link: Barack Obama, Prophecy, and the Destruction of the United States: Is Barack Obama Fulfilling Biblical, Islamic Catholic, Kenyan, and other America-Related Prophecies? What About Republican Leaders? Second Edition for Second Obama Term.
Barack Obama, Prophecy, and the Destruction of the United States-Second Term-Amazon Kindle edition. This electronic version is available for only US$2.99. And you do not need an actual Kindle device to read it. Why? Amazon will allow you to download it to almost any device: Please click HERE to download one of Amazon s Free Reader Apps. After you go to for your free Kindle reader and then go to Barack Obama, Prophecy, and the Destruction of the United States-Second Term-Amazon Kindle edition.