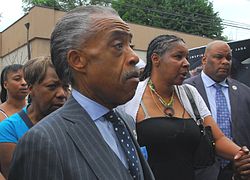 Al Sharpton and Mrs. Eric Garner at protest
(photo by Thomas Altfather Good)
There were protests in New York City and elsewhere related to the death of Eric Garner and others related to police actions:
December 5, 2014

New York City Police arrested 223 people in overnight protests, the second consecutive night of demonstrations in opposition to a grand jury's decision not to indict officers in the choke hold death of Staten Island man Eric Garner.

Many of the arrests involved charges for disorderly conduct or refusal to clear the streets, authorities told ABC News. http://abcnews.go.com/US/protesters-police-clash-york-city-eric-garner-decision/story?id=27383303

December 5, 2014

Demonstrators disrupted New York City streets again Thursday night over the decision not to charge Officer Daniel Pantaleo in the death of Eric Garner. While the protests were large and more than 200 arrests were made by NYPD officers, they were mostly peaceful — nothing like the rioting in Ferguson, Missouri, last week surrounding the death of Michael Brown…

In this case, it was preparation and experience that made a difference, CBS News' Michelle Miller reports.

"Demonstrators were not intent on using violence, and the police were certainly intent on giving them room to demonstrate, if you will," New York Police Commissioner Bill Bratton said. "I think one of the things we benefit from is that we have so many different demonstrations. I have 150 events on average every week in the city."

Last week, Ferguson exploded despite assurances that law enforcement had a plan months in the making. Businesses and police cars were torched, looters ransacked stores, police fired tear gas and dozens were arrested for arson and robbery. … Ijames said deployment in New York also made a difference. Five thousand cops were standing by on Wednesday… http://www.cbsnews.com/news/eric-garner-case-why-werent-protests-as-violent-as-in-ferguson/

December 5, 2014NEW YORK—Protests in New York and other U.S. cities continued Thursday, following a New York grand jury's decision not to charge a white police officer in the death of an unarmed African American man.

Demonstrators in New York and other American cities, from Chicago to Minneapolis, protested Thursday over a New York grand jury's decision not to indict a white police officer in the chokehold death of Eric Garner. The case has become another flashpoint for the issue of police use of excessive force against people of color in many American cities, as President Obama acknowledged Thursday.

"Too many Americans feel deep unfairness when it comes to the gap between our professed ideals and how laws are applied on a day-to-day basis," said Obama.

Graduate student Monica Melton demonstrated in New York early in the evening, before the peaceful protests closed several major arteries.

"It's becoming a really disturbing and unfortunate trend with Michael Brown, Eric Garner and countless others. And I wanted to show my support, and say that this is not something that is going to be tolerated," said Melton.

Retraining ordered

New York Mayor Bill Di Blasio said the city's police force will undergo three days of retraining to reduce unnecessary use of force and give confidence to all New Yorkers that they will be treated equally.

"They need to know that in doing this crucial work, our police will always, with every fiber of their beings, avoid any needless injury, and God forbid, avoid any death that could have been stopped. People need to know that, they need to feel that," said de Blasio.

Cleveland case

In Cleveland, Ohio, where police shot and killed 12-year-old Tamir Rice in November while he was holding a fake gun, U.S. Attorney General Eric Holder said the Justice Department's nearly two-year-long review of Cleveland police found a pattern of excessive force and that the department will come under federal supervision.

"The city has acknowledged that the department's findings raise issues of importance to people really throughout this community, and together, we have agreed to a statement of principles that will lead to a court-enforceable consent decree," said Holder.

Among those protesting in Washington was student Nicole Dashiell who grew up in Cleveland.

"It's finally gotten my home town, the effects of racialized police violence, and I just wanted to let the world know that a lot of Americans are upset about this, and we want it to change," said Dashiell.

Civil rights leaders, including Rev. Al Sharpton, have announced a national demonstration to be held December 13 in Washington. http://www.voanews.com/content/new-protests-against-police-brutality-in-many-us-cities/2546908.html
Many are upset that a Grand Jury concluded that no charges needed to be brought against the white police officer who shot the black Michael Brown, and the other Grand Jury who concluded that no charges needed to be brought against the white police officer who put some type of choking arrest move on the black Eric Garner. Many believe that both incidents were racially motivated, which if either was (and I have strong doubts that either were) that would, of course, be wrong.
While I am glad that the more recent protests have been more peaceful than some last month, I do expect more serious and severe civil unrest in the future.
I believe that there are people who want to make issues of police behavior racial issues when they were not racial issues. Some people bring up race to incite protests and even violence–they play the 'race card' for what they perceive to be their personal and/or political benefit.  And of course, there are profiling and other racial things that the police do, despite their official denials.
As far as race goes, notice the following from the Statement of Beliefs of the Continuing Church of God:
LOVE AND SALVATION FOR ALL RACES AND PEOPLES

Racial hatred is wrong.  While there can be racial differences, the Bible does not teach that one race is superior in His eyes to any other. The Bible commands all humankind to love their neighbors as themselves (Leviticus 19:18; Matthew 22:39; Acts 17:24-29). Jesus came to bring joy to all peoples (Luke 2:10). The Bible shows that salvation is now freely offered to both Jews and Gentiles (Acts 10:34-35; Romans 10:12-13; cf. Joel 2:32) and that God intends to save people "of all nations, tribes, peoples, and tongues" (Revelation 7:9). Christian love should be shown to people of all ethnicities (Romans 13:10; Luke 10:30-37). "Our God is the God of salvation" (Psalm 68:20) "And all flesh shall see the salvation of God" (Luke 3:6).
God has a plan so that all can be saved, irrespective of race. God is NOT a respecter of persons (Acts 10:34, KJV).
How are we saved?
8 For by grace you have been saved through faith, and that not of yourselves; it is the gift of God, 9 not of works, lest anyone should boast. 10 For we are His workmanship, created in Christ Jesus for good works, which God prepared beforehand that we should walk in them. (Ephesians 2:8-10)
God's Word shows that God loves everyone (John 3:16-17). God also commands all mankind to love their neighbors as themselves (Leviticus 19:18; Matthew 22:39; Acts 17:24-29). Jesus came to bring joy to all peoples (Luke 2:10)–this is not limited to one race or group.  God's Word shows that salvation is now freely offered to both Jews and Gentiles (Acts 10:34-35; Romans 10:12-13; cf. Joel 2:32) and that God intends to save people "of all nations, tribes, peoples, and tongues" (Revelation 7:9).
Not only can all be saved, prior to the age to come, God will save people of all races.  And that is the position of the Continuing Church of God.
Another issue to address in this post is violence.  Notice the following about the police department in Cleveland, Ohio, USA:
A sign you'd expect to see in a war zone, hanging at a police station. Two unarmed civilians shot more than 20 times after a high-speed chase. A man in the middle of a medical emergency, jolted with a Taser while strapped to a gurney.

These are alarming examples, federal investigators say, that show police in Cleveland have been using unnecessary and unreasonable force at a "significant rate," employing "dangerous tactics" that put the community at risk.

A report released Thursday details a nearly two-year Justice Department investigation which found that Cleveland police use guns, Tasers, pepper spray and their fists excessively, unnecessarily or in retaliation. Officers also have used excessive force on those "who are mentally ill or in crisis," the Justice Department said. …

Sign of the times: Above a vehicle bay at one of the Cleveland Division of Police's district stations hangs a sign that reads, "forward operating base," a term usually used to describe an area of tactical operations in a war zone. The sign sends a message indicative of the community's opinion of the division, Justice Department officials said.

"This characterization reinforces the view held by some — both inside and outside the Division — that CDP is an occupying force instead of a true partner and resource in the community it serves," the investigative report said. It's one illustration, the Justice Department's report says, that "officer training instills in officers an 'us-against-them' mentality."

Issues resonate beyond Cleveland

The results of the federal review come as the Cleveland Division of Police is under fire for the November fatal shooting of 12-year-old Tamir Rice. The incident sparked even more outrage amid high tensions over Michael Brown's shooting death in Missouri and similar situations that have put police use of force under a microscope.

Cleveland police Chief Calvin Williams has defended Rice's shooting, saying he reached for an air pistol that was "indistinguishable from a real firearm."

While Thursday's announcement was set in Cleveland, Attorney General Eric Holder said Thursday that the problems it highlights aren't contained by city limits.  http://www.cnn.com/2014/12/04/us/cleveland-justice-department-police-excessive-force/
There has been a 'militarization,' if you will, of many police departments all across the U.S.A.  The fact that New York City had 5,000 police in reserve to deal with Eric Garner related protests suggests that the police believe that they need to function like an army, or as the United Nations would classify them "peacekeeping' troops.
Violence is not the answer to violence. Notice what Jesus and John the Baptist said:
52 Then said Jesus unto him, Put up again thy sword into his place: for all they that take the sword shall perish with the sword. (Matthew 26:52, KJV)

2…the word of God came unto John the son of Zacharias in the wilderness. 3 And he came into all the country about Jordan, preaching the baptism of repentance for the remission of sins… 14 And the soldiers likewise demanded of him, saying, And what shall we do? And he said unto them, Do violence to no man, neither accuse any falsely; and be content with your wages. (Luke 3:2-3, KJV)
Christians are not to be violent.
Vengeance belongs to God:
17 Repay no one evil for evil. Have regard for good things in the sight of all men. 18 If it is possible, as much as depends on you, live peaceably with all men. 19 Beloved, do not avenge yourselves, but rather give place to wrath; for it is written, "Vengeance is Mine, I will repay," says the Lord. (Romans 12:17-19, NKJV)
What is needed is peace:
9 Blessed are the peacemakers, For they shall be called sons of God. (Matthew 5:9)
It is my view, that some of the protesters and some in the government turn too quickly to violence and that some play the 'race card' for their own purposes. None of that bodes well for various ones in the USA.
Some items of possibly related interest may include:
God's Grace is For All Is being Jewish a hindrance to salvation? What about not being a descendant of Israel? What does the Bible really teach? Here is a link to a related sermon titled Race and Grace; Do you view race as God does?
Military Service and the Churches of God: Do Real Christians Participate in Carnal Warfare or Encourage Violence? Here are current and historical perspectives on a matter which show the beliefs of the true church on military participation. Is war proper for Christians? A related sermon would be: Christians, Violence, and Military Service.
Christian Soldiers How are Christians to be like soldiers? How are they to be different?
Anglo – America in Prophecy & the Lost Tribes of Israel Are the Americans, Canadians, English, Scottish, Welsh, Australians, Anglo-Saxon (non-Dutch) Southern Africans, and New Zealanders descendants of Joseph? Where are the lost ten-tribes of Israel? Who are the lost tribes of Israel? What will happen to Jerusalem and the Jews in Israel? Will God punish the U.S.A., Canada, United Kingdom, and other Anglo-Saxon nations? Why might God allow them to be punished first? Here is a link to the Spanish version of this article: Anglo-América & las Tribus Perdidas de Israel. Information is also in the YouTube sermons titled Where are the Ten Lost Tribes? Why does it matter? and British are the Covenant People. A short YouTube of prophetic interest may be Barack Obama and the State of the Apocalypse.
Will the Anglo-Saxon Nations be Divided and Have People Taken as Slaves? Will the lands of the United States, United Kingdom, Canada, Australia, and New Zealand be divided? What about Jerusalem? What does Bible prophecy teach? Are there non-biblical prophecies that support this idea? Who will divide those lands? Who will end up with the lands and the people? Here is a link to a video titled Will the USA and other Anglo-nations be Divided and Their People Made Slaves? Here is a related item in the Spanish language ¿Serán divididas las naciones anglosajonas?
The Ten Commandments Reflect Love, Breaking them is Evil Some feel that the ten commandments are a burden. Is that what Jesus, Paul, Peter, James, and John taught?
Barack Obama, Prophecy, and the Destruction of the United States-Second Edition for Second Obama Term This is a 160 page book for people truly interested in prophecies related to Barack Obama and the United States, including learning about many that have already been fulfilled (which the book documents in detail) and those that will be fulfilled in the future. It also has a chapter about a Republican choice. This book is available to order at www.barackobamaprophecy.com. The physical book can also be purchased at Amazon from the following link: Barack Obama, Prophecy, and the Destruction of the United States: Is Barack Obama Fulfilling Biblical, Islamic Catholic, Kenyan, and other America-Related Prophecies? What About Republican Leaders? Second Edition for Second Obama Term.
Barack Obama, Prophecy, and the Destruction of the United States-Second Term-Amazon Kindle edition. This electronic version is available for only US$2.99. And you do not need an actual Kindle device to read it. Why? Amazon will allow you to download it to almost any device: Please click HERE to download one of Amazon s Free Reader Apps. After you go to for your free Kindle reader and then go to Barack Obama, Prophecy, and the Destruction of the United States-Second Term-Amazon Kindle edition.