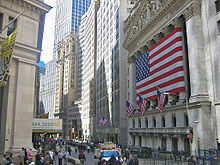 New York Stock Exchange

There were some supposedly unrelated technological glitches yesterday that had major impact in the USA:
July 9, 2015

Three outages came one after another on Wednesday morning, affecting one of America's biggest airlines, its largest financial news publication and its main stock exchange. The spate of technological foul-ups grounded United Airlines flights, sidelined the Wall Street Journal's website and halted trading for more than three hours on the New York Stock Exchange.

The

LA Times

reports that the successive timing of these events ignited widespread speculation about hacking attacks and conspiracy theories about who might be responsible, raising serious concerns about the vulnerability of vital organisations that can be crippled by cyber attacks.

Read more

The government and company officials, however, said the causes were more mundane and technical. …

Conspiracy theories floated around on Wednesday with attention paid to a rather unsubtle tweet written by an account (@YourAnonNews) with ties to the hacktivist group Anonymous with 1.4 million followers. "Wonder if tomorrow is going to be bad for Wall Street..we can only hope".

The tweet, made at 11:45pm Tuesday, came less than 12 hours before the NYSE announced technical glitches were forcing it to suspend trading. The timing, if nothing else, is exceptional. Here are top 10 conspiracy tweets during the NYSE outage.

Salon reports that ironically, Department of Homeland Security Secretary Jeh Johnson was delivering a speech on the very subject of cybersecurity while the outages took place.

NYSE outage raises questions about technology

NEW YORK, N.Y. – A shutdown in trading at one the world's most famous exchanges raised the tension in financial markets Wednesday.

Investors already were unnerved by plunging Chinese stocks and a jarring Greek debt crisis. Then the New York Stock Exchange halted buying and selling of stocks for about 3 1/2 hours due to what it called a "technical issue," putting traders even more on edge and raising questions about the reliability of computerized trading systems.

The halt came after a technical snafu at United Continental that forced the nation's biggest airline to ground dozens of flights. And it was followed by temporary trouble accessing the Wall Street Journal's website, and a flood of conspiracy theories on social media about a co-ordinated hack attack.

Government officials said it did not appear that the technical troubles were related, or that the various shutdowns were due to hacking or sabotage. And stock trading resumed on the NYSE late in the afternoon. http://www.montrealgazette.com/business/NYSE+outage+raises+questions+about+technology/11198401/story.html

Conspiracy theories following computer outages at United Airlines and the New York Stock Exchange on the same day have sparked accusations that China is involved. The Wall Street Journal website also went down at about the same time as trading was halted at the NYSE, according to CNN. But U.S. officials are denying that the outages are related and that they were caused by hacking, according to multiple reports. http://heavy.com/news/2015/07/united-airlines-new-york-stock-exchange-hacking-china-imf-euro-european-union-greece-united-states/
Some believe that all of this was the result of risks of technology.  Some suspect that some of this was intentional.  I saw a couple of comments related to news articles that some consider this to have been a 'false flag.'  Why?  So that in the future, outages of airlines and/or the stock exchange will be called a normal technological risk, while in reality the 'government' is intentionally trying to stop freedom of movement–through travel and/or financial decisions.
Whether or not anything was intentionally done to cause yesterday's problems, the reality is that the USA is vulnerable to problems in this technological age.  More and more systems are integrated together, which increases risks.
Even shipping via United Parcel System (UPS) is highly internet-based as it is through internet connections that companies that ship via UPS must print shipping labels that get data from the internet for each shipment, to cite just one example.
While increased integration can often improve 'efficiency' it also increases vulnerability.  In addition to normally occurring glitches and problems, such systems are vulnerable to terrorism and intentional manipulation.
An electro-magnetic pulse (EMP) attack could be disastrous.
How disastrous?
Notice part a letter sent to Barack Obama last month by various experts (see Experts try to warn Barack Obama of EMP risks):
an existential threat posed by natural and manmade electromagnetic pulse (EMP). The consequent failure of critical infrastructure that sustain our lives is a major national security threat and would be catastrophic to our people and our nation.
An "existential threat" means that the USA, as it has been, would no longer exist. "Catastrophic" results could be expected. Jesus taught of a time of "troubles" that would come in Mark 13:8. While most in the USA act like it will go on indefinitely and cannot truly be brought down, the reality is that EMP and other events can devastate the USA.
What happened yesterday was only a minor foretaste of what can happen.
Was it a false flag?
Possibly not as there are real technological risks.
However, I will mention that I am convinced that the time will come when the government of the USA will prevent the Continuing Church of God (CCOG) to fully having the Gospel of the Kingdom of God message over the internet (cf. Amos 8:11-12).  That is part of why we need to do what we can now to prepare for the work that will be done (Matthew 24:14), but while we also realize that it be cut short (Romans 9:28; see also Preparing for the 'Short Work' and The Famine of the Word).
A famine of the word is coming (Amos 8:11-12; watch also Famine of the Word?).  Before a nation like the USA may try to stop CCOG on the internet openly, it may well do it behind-the-scenes–and blame technological 'glitches.'
Are you ready spiritually to deal with what can happen in the USA?
Some items of possibly related interest may include:
Preparing for the 'Short Work' and The Famine of the Word What is the 'short work' of Romans 9:28? Who is preparing for it? Here is a link to a related video sermon titled: The Short Work.
The Final Phase of the Work What is the final phase of the work? Who will lead it? Do you have the courage to support it? Here is a related YouTube video titled The Final Phase of the Work. The written article has been translated into Spanish La Fase Final de la Obra.
The Gospel of the Kingdom of God was the Emphasis of Jesus and the Early Church Did you know that? Do you even know what the gospel of the kingdom is all about? You can also see a YouTube video sermon The Gospel of the Kingdom.
Just What Do You Mean the Kingdom of God? A booklet that was written by Herbert Armstrong answers questions about the Kingdom.
Anglo – America in Prophecy & the Lost Tribes of Israel Are the Americans, Canadians, English, Scottish, Welsh, Australians, Anglo-Saxon (non-Dutch) Southern Africans, and New Zealanders descendants of Joseph? Where are the lost ten-tribes of Israel? Who are the lost tribes of Israel? What will happen to Jerusalem and the Jews in Israel? Will God punish the U.S.A., Canada, United Kingdom, and other Anglo-Saxon nations? Why might God allow them to be punished first? Here is a link to the Spanish version of this article: Anglo-América & las Tribus Perdidas de Israel. Information is also in the YouTube sermons titled Where are the Ten Lost Tribes? Why does it matter? and British are the Covenant People. A short YouTube of prophetic interest may be Barack Obama and the State of the Apocalypse.
Will the Anglo-Saxon Nations be Divided and Have People Taken as Slaves? Will the lands of the United States, United Kingdom, Canada, Australia, and New Zealand be divided? What about Jerusalem? What does Bible prophecy teach? Are there non-biblical prophecies that support this idea? Who will divide those lands? Who will end up with the lands and the people? Here is a link to a video titled Will the USA and other Anglo-nations be Divided and Their People Made Slaves? Here is a related item in the Spanish language ¿Serán divididas las naciones anglosajonas?
Iran in Prophecy Is Iran in Bible prophecy? If so, what does the Bible teach? What names, other than Persia, may be used to describe Iran? There is also a YouTube video titled Iran in Prophecy. Here is a related video Iran In Prophecy.
Europa, the Beast, and Revelation Where did Europe get its name? What might Europe have to do with the Book of Revelation? What about "the Beast"? Is an emerging European power "the daughter of Babylon"? What is ahead for Europe? Here is a link to a video titled: Can You Prove that the Beast to Come is European?
European Technology and the Beast of Revelation Will the coming European Beast power would use and develop technology that will result in the taking over of the USA and its Anglo-Saxon allies? Is this possible? What does the Bible teach? Here is a related YouTube video: Military Technology and the Beast of Revelation.
Must the Ten Kings of Revelation 17:12 Rule over Ten Currently Existing Nations? Some claim that these passages refer to a gathering of 10 currently existing nations together, while one group teaches that this is referring to 11 nations getting together. Is that what Revelation 17:12-13 refers to? The ramifications of misunderstanding this are enormous. A related sermon is titled Ten Kings of Revelation and the Great Tribulation.
Barack Obama, Prophecy, and the Destruction of the United States-Second Edition for Second Obama Term This is a 160 page book for people truly interested in prophecies related to Barack Obama and the United States, including learning about many that have already been fulfilled (which the book documents in detail) and those that will be fulfilled in the future. It also has a chapter about a Republican choice. This book is available to order at www.barackobamaprophecy.com. The physical book can also be purchased at Amazon from the following link: Barack Obama, Prophecy, and the Destruction of the United States: Is Barack Obama Fulfilling Biblical, Islamic Catholic, Kenyan, and other America-Related Prophecies? What About Republican Leaders? Second Edition for Second Obama Term.
Barack Obama, Prophecy, and the Destruction of the United States-Second Term-Amazon Kindle edition. This electronic version is available for only US$2.99. And you do not need an actual Kindle device to read it. Why? Amazon will allow you to download it to almost any device: Please click HERE to download one of Amazon s Free Reader Apps. After you go to for your free Kindle reader and then go to Barack Obama, Prophecy, and the Destruction of the United States-Second Term-Amazon Kindle edition.