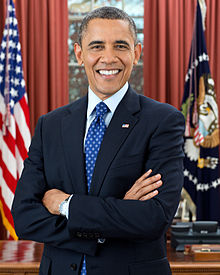 Barack Obama Official Whitehouse Photograph
US President Barack Obama attempted to defend one of his latest proposals for increasing taxes:
WASHINGTON (MarketWatch) — Higher capital gains taxes on wealthy Americans would help working moms — and wouldn't hurt Corporate America, according to President Barack Obama. …

Obama tells Vox's Ezra Klein the capital-gains proposal "would make a big difference in our capacity to give a tax break to working moms for child care." And, says Obama: "There's no evidence that would hurt the incentives of folks at Google or Microsoft or Uber not to invent what they invent or not to provide services they provide."

Obama says this is "smart policy." Republicans, however, slam it and swiftly rejected most of Obama's tax proposals contained in the budget the president unveiled last week. Rep. Paul Ryan, the Wisconsin Republican who leads the House Ways and Means Committee, said Obama was proposing tax increases "that kill investments and jobs."  http://www.marketwatch.com/story/obama-higher-capital-gains-taxes-wouldnt-hurt-corporate-america-2015-02-09?link=MW_latest_news
Now to what extent taxes increases will affect the three large companies that Barack Obama mentioned can be debated.  But the economic reality is that increasing capital gains tax rates will hurt investment in US companies of all sizes.
Why?
Because it makes the investment less profitable.
The tax rates are one of several important factors that investors look at when they are considering investing in companies, especially small ones that are not listed on stock markets.  There is real evidence that capital gains taxes provide a disincentive to venture capitalists.  This disincentive is passed on to owners of small firms, for example, if they one-day chose to try to sell some or all of their companies.
Research shows that tax rates do affect investment and the creation of jobs.  Notice also the following:
Productivity declines as the tax rate increases, as people choose to work less. The higher the tax rate, the more time people spend evading taxes and the less time they spend on more productive activity. So the lower the tax rate, the higher the value of all the goods and services produced.
Government tax revenue does not necessarily increase as the tax rate increases. The government will earn more tax income at 1% rate than at 0%, but they will not earn more at 100% than they will at 10%, due to the disincentives high tax rates cause. Thus there is a peak tax rate where government revenue is highest. The relationship between income tax rates and government revenue can be graphed on something called a Laffer Curve.  http://economics.about.com/cs/taxpolicy/a/taxing_growth.htm
So what does the academic literature say about the empirical relationship between taxes and economic growth? While there are a variety of methods and data sources, the results consistently point to significant negative effects of taxes on economic growth even after controlling for various other factors such as government spending, business cycle conditions, and monetary policy. http://taxfoundation.org/article/what-evidence-taxes-and-growth
The Bible warned that when children of Israel wanted to be under a government other than God's that taxes would be raised (1 Samuel 8:14-17).  And not only has this happened, proposed increases to taxes keep happening.
Some items of possibly related interest may include:
Taxes What caused the descendants of Israel to pay taxes? Should Christians pay taxes? If you prefer, or additionally, you could watch the video Should Christians Pay Taxes?
Anglo – America in Prophecy & the Lost Tribes of Israel Are the Americans, Canadians, English, Scottish, Welsh, Australians, Anglo-Saxon (non-Dutch) Southern Africans, and New Zealanders descendants of Joseph? Where are the lost ten-tribes of Israel? Who are the lost tribes of Israel? What will happen to Jerusalem and the Jews in Israel? Will God punish the U.S.A., Canada, United Kingdom, and other Anglo-Saxon nations? Why might God allow them to be punished first? Here is a link to the Spanish version of this article: Anglo-América & las Tribus Perdidas de Israel. Information is also in the YouTube sermons titled Where are the Ten Lost Tribes? Why does it matter? and British are the Covenant People. A short YouTube of prophetic interest may be Barack Obama and the State of the Apocalypse.
Will the Anglo-Saxon Nations be Divided and Have People Taken as Slaves? Will the lands of the United States, United Kingdom, Canada, Australia, and New Zealand be divided? What about Jerusalem? What does Bible prophecy teach? Are there non-biblical prophecies that support this idea? Who will divide those lands? Who will end up with the lands and the people? Here is a link to a video titled Will the USA and other Anglo-nations be Divided and Their People Made Slaves? Here is a related item in the Spanish language ¿Serán divididas las naciones anglosajonas?
British are the Covenant People What do 'British' and 'Britain' mean in Hebrew? Are the descendants of the Anglo-Saxons people of the covenant? Does the British royal family connect to the throne of David? What does the Bible teach? What does history show us? Is there any DNA evidence related to British-Israelism? When did Christianity make it to the British Isles? Could Jeremiah have made it to the British Isles? What type of Christians made it to the British Isles? Did the last King of England believe in British Israelism?
The 'Lost Tribe' of Reuben: France in Prophecy? What is the origin of this in France? What is prophesied to happen to them? A two-part sermon related to history and prophecy is available online: The 'Lost Tribe' of Reuben and France and Prophecy.
Ten clues tying Belgium and Luxembourg with the tribe of Asher Who did some in Belgium and Luxembourg descend from?
Ten clues tying Zebulun with the Dutch Who did some in the Netherlands descend from?
Differences Between Islam and the Continuing Church of God What are some of the main differences? Are there any similarities?
Four Horsemen of the Apocalypse What do each of the four horseman of the Apocalypse represent? Have they began their ride? Did Jesus discuss the any of this? Might their rides coincide with the "beginning of sorrows? Do they start their ride prior to the Great Tribulation? Did Nostradamus or any other 'private prophets' write predictions that may mislead people so that they may not understand the truth of one or more of the four horseman? There is also a related YouTube video titled The Four Horsemen of the Apocalypse.
Fourth Horseman of the Apocalypse What is the pale horse of death and pestilences? What will it bring and when? Spanish: El cuarto jinete de Apocalipsis, el caballo pálido de muerte y pestilencia.
Barack Obama, Prophecy, and the Destruction of the United States-Second Edition for Second Obama Term This is a 160 page book for people truly interested in prophecies related to Barack Obama and the United States, including learning about many that have already been fulfilled (which the book documents in detail) and those that will be fulfilled in the future. It also has a chapter about a Republican choice. This book is available to order at www.barackobamaprophecy.com. The physical book can also be purchased at Amazon from the following link: Barack Obama, Prophecy, and the Destruction of the United States: Is Barack Obama Fulfilling Biblical, Islamic Catholic, Kenyan, and other America-Related Prophecies? What About Republican Leaders? Second Edition for Second Obama Term.
Barack Obama, Prophecy, and the Destruction of the United States-Second Term-Amazon Kindle edition. This electronic version is available for only US$2.99. And you do not need an actual Kindle device to read it. Why? Amazon will allow you to download it to almost any device: Please click HERE to download one of Amazon s Free Reader Apps. After you go to for your free Kindle reader and then go to Barack Obama, Prophecy, and the Destruction of the United States-Second Term-Amazon Kindle edition.