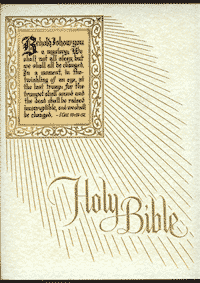 Jesus taught:
20 If they persecuted Me, they will also persecute you (John 15:20).

29… Assuredly, I say to you, there is no one who has left house or brothers or sisters or father or mother or wife or children or lands, for My sake and the gospel's, 30 who shall not receive a hundredfold now in this time–houses and brothers and sisters and mothers and children and lands, with persecutions–and in the age to come, eternal life (Mark 10:29-30).

10 Blessed are those who are persecuted for righteousness' sake, For theirs is the kingdom of heaven. 11 Blessed are you when they revile and persecute you, and say all kinds of evil against you falsely for My sake. 12 Rejoice and be exceedingly glad, for great is your reward in heaven, for so they persecuted the prophets who were before you (Matthew 5:10-12).
The Apostle Paul taught:
12 Yes, and all who desire to live godly in Christ Jesus will suffer persecution. (2 Timothy 3:12)
Notice what sometimes has happened to those that are persecuted:
56…Then all the disciples forsook Him and fled…75 And Peter remembered the word of Jesus who had said to him, "Before the rooster crows, you will deny Me three times." So he went out and wept bitterly.  (Matthew 26:56, 75)

50 Then they all forsook Him and fled. (Mark 14:50)

5 My enemies speak evil of me: "When will he die, and his name perish?"  6 And if he comes to see me, he speaks lies;
His heart gathers iniquity to itself; When he goes out, he tells it.  7 All who hate me whisper together against me;
Against me they devise my hurt.  8 "An evil disease," they say, "clings to him. And now that he lies down, he will rise up no more."  9 Even my own familiar friend in whom I trusted, Who ate my bread, Has lifted up his heel against me.  (Psalms 41:5-9)

16 At my first defense no one stood with me, but all forsook me. May it not be charged against them. (2 Timothy 4:16)
What should a Christian do when persecuted?
43 You have heard that it was said, 'You shall love your neighbor and hate your enemy.' 44 But I say to you, love your enemies, bless those who curse you, do good to those who hate you, and pray for those who spitefully use you and persecute you (Matthew 5:43-44).

23 When they persecute you in this city, flee to another. For assuredly, I say to you, you will not have gone through the cities of Israel before the Son of Man comes (Matthew 10:23).

10 But You, O Lord, be merciful to me, and raise me up, That I may repay them. 11 By this I know that You are well pleased with me, Because my enemy does not triumph over me.  12 As for me, You uphold me in my integrity, And set me before Your face forever.  13 Blessed be the Lord God of Israel From everlasting to everlasting!  Amen and Amen. (Psalms 41:10-13)

14 Bless those who persecute you; bless and do not curse. (Romans 12:14)

10 We are fools for Christ's sake, but you are wise in Christ!  We are weak, but you are strong!  You are distinguished, but we are dishonored! 11 To the present hour we both hunger and thirst, and we are poorly clothed, and beaten, and homeless. 12 And we labor, working with our own hands. Being reviled, we bless; being persecuted, we endure; 13 being defamed, we entreat. We have been made as the filth of the world, the offscouring of all things until now.  14 I do not write these things to shame you, but as my beloved children I warn you.  (1 Corinthians 4:10-14)

1 Imitate me, just as I also imitate Christ (1 Corinthians 11:1).

21 For to this you were called, because Christ also suffered for us, leaving us an example, that you should follow His steps: 22 "Who committed no sin, Nor was deceit found in His mouth"; 23 who, when He was reviled, did not revile in return; when He suffered, He did not threaten, but committed Himself to Him who judges righteously (1 Peter 2:21-23).

59 Now the chief priests, the elders, and all the council sought false testimony against Jesus to put Him to death, 60 but found none. Even though many false witnesses came forward, they found none. But at last two false witnesses came forward 61 and said, "This fellow said, 'I am able to destroy the temple of God and to build it in three days.'"   62 And the high priest arose and said to Him, "Do You answer nothing? What is it these men testify against You?" 63 But Jesus kept silent.  (Matthew 26:59-63)

12 And while He was being accused by the chief priests and elders, He answered nothing.  13 Then Pilate said to Him, "Do You not hear how many things they testify against You?" 14 But He answered him not one word, so that the governor marveled greatly.  (Matthew 27:12-14)
Notice also the following related to the Apostle Paul:
2 And when he was called upon, Tertullus began his accusation, saying: "Seeing that through you we enjoy great peace, and prosperity is being brought to this nation by your foresight, 3 we accept it always and in all places, most noble Felix, with all thankfulness. 4 Nevertheless, not to be tedious to you any further, I beg you to hear, by your courtesy, a few words from us. 5 For we have found this man a plague, a creator of dissension among all the Jews throughout the world, and a ringleader of the sect of the Nazarenes. 6 He even tried to profane the temple, and we seized him, and wanted to judge him according to our law. 7 But the commander Lysias came by and with great violence took him out of our hands, 8 commanding his accusers to come to you. By examining him yourself you may ascertain all these things of which we accuse him." 9 And the Jews also assented, maintaining that these things were so.

10 Then Paul, after the governor had nodded to him to speak, answered: "Inasmuch as I know that you have been for many years a judge of this nation, I do the more cheerfully answer for myself, 11 because you may ascertain that it is no more than twelve days since I went up to Jerusalem to worship. 12 And they neither found me in the temple disputing with anyone nor inciting the crowd, either in the synagogues or in the city. 13 Nor can they prove the things of which they now accuse me. 14 But this I confess to you, that according to the Way which they call a sect, so I worship the God of my fathers, believing all things which are written in the Law and in the Prophets. 15 I have hope in God, which they themselves also accept, that there will be a resurrection of the dead, both of the just and the unjust. 16 This being so, I myself always strive to have a conscience without offense toward God and men.   (Acts 24:2-16)
The most faithful to the word of God often are amongst the most persecuted.
Remember also that Jesus said:
32 "Do not fear, little flock, for it is your Father's good pleasure to give you the kingdom.  (Luke 12:32)

10 Do not fear any of those things which you are about to suffer (Revelation 2:10).
Persecution is not fun, but it is expected.
Those now truly in the Church of God should understand that the only doctrine listed in the current Catechism of the Catholic Church that it claims is associated with the final Antichrist is teaching about the millennial reign of Christ (though they have other claimed "antichrist" doctrines in other literature, including Sabbath-keeping!).   And proclaiming this millennial kingdom is something that the Philadelphia remnant of the Church of God does.  Will you be faithful despite persecution or not?  Will you scatter?  How will you feel when people scatter away from you?
The Bible teaches that end time persecution will come:
17 And the dragon was enraged with the woman, and he went to make war with the rest of her offspring, who keep the commandments of God and have the testimony of Jesus Christ. (Revelation 12:17)
Notice that even Catholic "saints" believe a coming "Roman" leader will persecute (and while this would include those in the true Church of God, this would also seem to include non-believers as well):
Methodius (circa 385): A time will come when the enemies of Christ will boast…Then a Roman emperor will arise in great fury against them . . . Drawing his sword, he will fall on the foes of Christianity and crush them. (Culleton, p. 110)

Francis of Paola (Born in Italy, 15th century). "By the grace of the Almighty, the Great Monarch will annihilate heretics and unbelievers. He will have a great army, and angels will fight at his side. He will be like the sun among the stars. His influence will spread over the whole earth. All in all, there will be on earth twelve Kings, one Emperor, one Pope and a few Princes. They will all lead holy lives." (Dupont, p.38).
That "Roman emperor/Great Monarch" seems to be the same one as the Beast of Revelation 13, who is also warned against as a persecutor in Daniel 7:25.  The end-time ecumenical power that will likely at first call itself Catholic will point to pronouncements from their "saints" as justification for this persecution.  And this would seem to be part of Satan's plan as the dragon and Beast are tied together in scripture (e.g. Revelation 16:13).
All the faithful will be subject to persecution and being betrayed by professing believers (Matthew 24:9-13, Mark 13:12-13; Luke 21:16-18; Daniel 11:32-35).   Persecution has taken many forms throughout history and a deadly time of persecution is coming.
Some articles of possibly related interest may include:
Persecutions by Church and State This article documents some that have occurred against those associated with the COGs and some prophesied to occur. Will those with the cross be the persecutors or the persecuted–this article has the shocking answer.
Is the Genuine Church of God a Cult? There are misleading statements on the internet that this article tries to address.
The Gospel of the Kingdom of God was the Emphasis of Jesus and the Early Church Did you know that? Do you even know what the gospel of the kingdom is all about?
The Philadelphia Church Era was predominant circa 1933 A.D. to 1986 A.D. The old Radio Church of God and old Worldwide Church of God, now basically the most faithful in the Church of God.
Did The Early Church Teach Millenarianism? Was the millennium (sometimes called chiliasm) taught by early Christians? Who condemned it? Will Jesus literally reign for 1000 years on the earth? Is this time near?  Will teaching this doctrine bring about persecution?