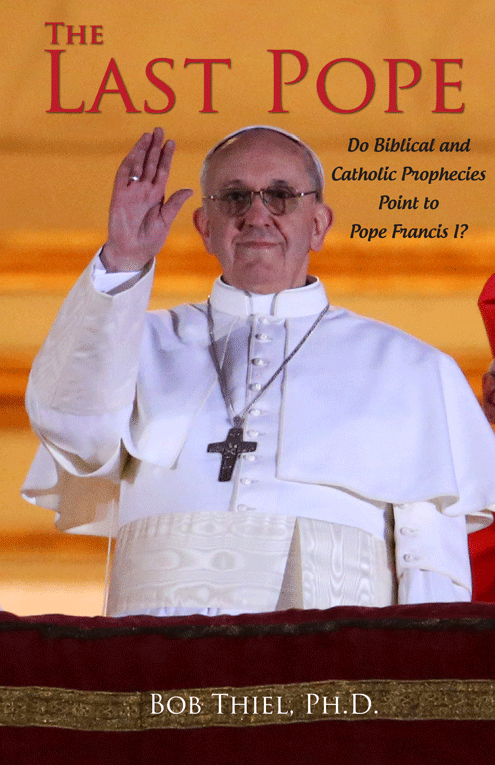 Some believe that Pope Francis performed a quick exorcism in public, and days earlier he called for a new financial system:
 VATICAN CITY May 21, 2013 (AP)

Is Pope Francis an exorcist?

The question has been swirling ever since Francis laid his hands Sunday on the head of a young man after celebrating Mass in St. Peter's Square. The young man heaved deeply a half-dozen times, convulsed and shook, and then slumped in his wheelchair as Francis prayed over him. The television station of the Italian bishops' conference said it had surveyed exorcists, who agreed that Francis either performed an exorcism or a prayer to free the man from the devil.

The Vatican was more cautious Tuesday, saying Francis "didn't intend to perform any exorcism. But as he often does for the sick or suffering, he simply intended to pray for someone."

Fueling the speculation is Francis' obsession with the devil, a frequent subject of his homilies.  http://abcnews.go.com/International/wireStory/pope-devil-francis-exorcist-19223208#.UZt54Zxkl1Y

Pope Francis has blasted economists, financiers and politicians for a lack of ethics, rooted in a rejection of God, which has led to dire circumstances for the majority of mankind.

In a speech, given to a group of new ambassadors to the Holy See on Thursday, the pontiff exhorted world leaders to look to God in order to design an ethical financial system that benefits everyone.

"While the income of a minority is increasing exponentially, that of the majority is crumbling," said the Pope…Pope Francis said the economic imbalance is due to ideologies which uphold the absolute autonomy of markets and financial speculation and take control away from States, which he said are charged with providing for the common good…

Pope Francis encouraged politicians in particular to change their attitude and take the lead in economic reform.  http://www.ecumenicalnews.com/article/pope-francis-rebukes-finance-leaders-for-rejection-of-god-ethics-22203
I would also add that Pope Francis seems to have taken more early steps towards Marianism than any recent pontiff (perhaps I should mention that Catholic prophesy says that "Mary" will have power over the demons in the end times; see Pope Francis continues to direct his followers towards "Mary"). Pope Francis also has clearly demonstrated an ecumenical agenda since becoming Bishop of Rome.  That ecumenical agenda includes Europe, it includes Latin America, it includes the Eastern & Russian Orthodox, it includes Africa & Asia, and it includes Islam.
While other pontiffs have called for changes in the financial system, had some dedication to Marianism, and promoted an ecumenical agenda, Pope Francis has gone beyond what I recall any recent pontiffs doing, especially in their first ten weeks of becoming pope.
From the beginning, Francis dedicated his pontificate to "Mary" (Pope Francis entrusts pontificate to 'Mary' and Cardinal hopes for Islamic cooperation). He also had it consecrated to the "Lady of Fatima" last week (see Pope Francis' pontificate consecrated to 'Lady of Fatima').
He also has not done certain things that one normally dedicated to the traditions of the Church of Rome would have been expected to do (see Is Pope Francis Catholic?).  He also took steps when meeting the Eastern Orthodox Patriarch of Constantinople beyond what other pontiffs had done (e.g. COGM asks, If Patriarch Bartholomew is Andrew, is Pope Francis Peter?).  He, within days of his pontifical election, came out stating that his church should be poor and for the poor (see Pope Francis claims he wants his church to be poor and help the poor)–this could greatly increase the influence of the Church of Rome if he does this literally.
And now there is this report of some type of exorcism (the Vatican is calling it a prayer and not an exorcism).  Is he starting to display some type of signs and wonders?
Could Pope Francis be the last pope and THE Antichrist?
The Bible warns that the false prophet, the beast of the earth and THE Antichrist (although there have been antichrists since the time of the Apostle John), will perform signs and be involved with a different type of financial order:
11 Then I saw another beast coming up out of the earth, and he had two horns like a lamb and spoke like a dragon. 12 And he exercises all the authority of the first beast in his presence, and causes the earth and those who dwell in it to worship the first beast, whose deadly wound was healed. 13 He performs great signs, so that he even makes fire come down from heaven on the earth in the sight of men. 14 And he deceives those who dwell on the earth by those signs which he was granted to do in the sight of the beast, telling those who dwell on the earth to make an image to the beast who was wounded by the sword and lived. 15 He was granted power to give breath to the image of the beast, that the image of the beast should both speak and cause as many as would not worship the image of the beast to be killed. 16 He causes all, both small and great, rich and poor, free and slave, to receive a mark on their right hand or on their foreheads, 17 and that no one may buy or sell except one who has the mark or the name of the beast, or the number of his name.   (Revelation 13:11-17)
While it is still too early to tell for sure if Pope Francis is this individual, all the events I have discussed in today's post point to that as a possibility (and are consistent with the many of the details I wrote about in my book The Last Pope: Do Biblical and Catholic Prophecies Point to Pope Francis?).   And if he is not, he certainly is setting the stage for the one who will be.