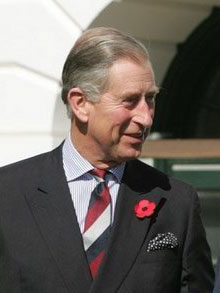 Prince Charles
Prince Charles was in the news related to comments he made in the USA:
March 21, 2015

Prince Charles spoke of an "economic system that seems to have enormous shortcomings" at one of the final events of his four day royal tour of the United States.

The future King gave a speech yesterday tackling the environmental and economic issues faces the world at the Cathedral of the Assumption in Louisville, Kentucky.  http://www.independent.co.uk/news/people/prince-charles-warns-economic-system-has-enormous-shortcomings-on-final-day-of-us-tour-10124805.html
So, Prince Charles spoke at a Roman Catholic cathedral dedicated to the so-called 'Assumption of Mary' to deliver a message the the economic system and environment needs to be looked at.
While he is right that there are issues with those, they will simply not be properly resolved until Jesus Christ returns.
If Charles becomes King of England, he could be the last occupant of that throne until Jesus comes and takes the throne for Himself.  If he becomes King of England, one of his titles is supposed to be "defender of the faith"–the Anglican faith.  But Prince Charles frequently has hinted that he has more ecumenical tendencies.  Perhaps I should also add that Prince Charles' father was raised Greek Orthodox.
I suspect, since he has some interest in matters Eastern Orthodox and Roman Catholic, that he may help support the likely reunification between the Church of Rome and the Orthodox and some of the Protestants. He may believe that "church unity" may be part of how he hopes to help "save the world."
However, biblical, Orthodox, and Catholic prophecy suggests this would be a compromising disaster (for scriptures and other details, check out Why Should American Catholics Fear Unity with the Orthodox? and Beware: Protestants Going Towards Ecumenical Destruction!).
Back in July 2010, I reported that Prince Charles believed that it was his purpose was to "save the world" (see Prince Charles Claims Purpose is 'to Save the World').  He apparently believes denouncing the economy and working on environmental matters is part of how he is to do that.
As far as the economic system goes, the Bible warns of changes to the economic system with 666 (Revelation 13:16-18), and that although they will prosper much of the world for a while, that system will end in disaster (Revelation 18).  Perhaps I should add in that 'new world order' the UK and USA will not benefit (they will be eliminated by then, cf. Daniel 11:39).
If he is around long enough, Charles might partially fulfill the following verses in the Bible in trying to get help from the Assyrians (modern Germany with its allies; see Germany in Biblical and Catholic Prophecy) after they have destroyed the U.S.A. and its Anglo-Allies (the Anglo-Saxon-Celtic peoples are descendants of Ephraim; see Anglo – America in Prophecy & the Lost Tribes of Israel):
1 "Ephraim also is like a silly dove, without sense–They call to Egypt, They go to Assyria. 12 Wherever they go, I will spread My net on them; I will bring them down like birds of the air;
I will chastise them According to what their congregation has heard (Hosea 7:11-12).

8 Israel is swallowed up; Now they are among the Gentiles
Like a vessel in which is no pleasure. 9 For they have gone up to Assyria, Like a wild donkey alone by itself; Ephraim has hired lovers (Hosea 8:8-9).

1 Ephraim feeds on the wind, And pursues the east wind; He daily increases lies and desolation. Also they make a covenant with the Assyrians, And oil is carried to Egypt (Hosea 12:1).
It would seem that perhaps, if he survives, Charles would try to use his contacts at the European power in order to try to improve the lot of the British at that time since he currently has many contacts within the EU.
Since I tend to believe that these verses in Hosea will be fulfilled after the start of the Great Tribulation and before the return of Jesus Christ and the establishment of the Kingdom of God, if Charles is involved in their fulfillment, in that specific way he might personally also be Apocalyptic. He may try to help change the world, but it may not be quite the way he hopes to.
Some items of possibly related interest may include:
Anglo – America in Prophecy & the Lost Tribes of Israel Are the Americans, Canadians, English, Scottish, Welsh, Australians, Anglo-Saxon (non-Dutch) Southern Africans, and New Zealanders descendants of Joseph? Where are the lost ten-tribes of Israel? Who are the lost tribes of Israel? What will happen to Jerusalem and the Jews in Israel? Will God punish the U.S.A., Canada, United Kingdom, and other Anglo-Saxon nations? Why might God allow them to be punished first? Here is a link to the Spanish version of this article: Anglo-América & las Tribus Perdidas de Israel. Information is also in the YouTube sermons titled Where are the Ten Lost Tribes? Why does it matter? and British are the Covenant People. A short YouTube of prophetic interest may be Barack Obama and the State of the Apocalypse.
Will the Anglo-Saxon Nations be Divided and Have People Taken as Slaves? Will the lands of the United States, United Kingdom, Canada, Australia, and New Zealand be divided? What about Jerusalem? What does Bible prophecy teach? Are there non-biblical prophecies that support this idea? Who will divide those lands? Who will end up with the lands and the people? Here is a link to a video titled Will the USA and other Anglo-nations be Divided and Their People Made Slaves? Here is a related item in the Spanish language ¿Serán divididas las naciones anglosajonas?
British are the Covenant People What do 'British' and 'Britain' mean in Hebrew? Are the descendants of the Anglo-Saxons people of the covenant? Does the British royal family connect to the throne of David? What does the Bible teach? What does history show us? Is there any DNA evidence related to British-Israelism? When did Christianity make it to the British Isles? Could Jeremiah have made it to the British Isles? What type of Christians made it to the British Isles? Did the last King of England believe in British Israelism?
The Bible, Christians, and the Environment How should Christians view the environment? Does the Bible give any clues? What are some of the effects of air, water, and land pollution? Is environmental pollution a factor in autism and death? Do pollutants seem to double the autism risk? What will Jesus do? A YouTube video is available titled Air Pollution, Autism, and Prophecy.
Orthodox Must Reject Unity with the Roman Catholics There are many problems that will happen if they unify, including make them part of end time Babylon.
Why Should American Catholics Fear Unity with the Orthodox? Are the current ecumenical meetings a good thing or will they result in disaster? Is doctrinal compromise good? Here is a link to a related video Should you be concerned about the ecumenical movement?
Will the Interfaith Movement Lead to Peace or Sudden Destruction? Is the interfaith movement going to lead to lasting peace or is it warned against? A video of related interest could be Do You Know That Babylon is Forming?
Beware: Protestants Going Towards Ecumenical Destruction! What is going on in the Protestant world? Are Protestants turning back to their 'mother church' in Rome? Does the Bible warn about this? What are Catholic plans and prophecies related to this? Is Protestantism doomed? See also World Council of Churches Peace Plan.
United Nations: Humankind's Last Hope or New World Order? Is the UN the last hope for humanity? Or might its goals end up with sinister results? A related video would be United Nations and Vatican Are Planning the New World Order.
Germany's Assyrian Roots Throughout History Are the Germanic peoples descended from Asshur of the Bible? Have there been real Christians in Germanic history? What about the "Holy Roman Empire"? There is also a You-Tube video sermon on this titled Germany's Biblical Origins.
Germany in Biblical and Catholic Prophecy Does Assyria in the Bible equate to an end time power inhabiting the area of the old Roman Empire? What does prophecy say Germany will do and what does it say will happen to most of the German people? Here is a link to a video Is the USA Pushing Germany to Start WWIII?
Assumption of Mary Did Mary die? Was she taken to heaven on August 15th? What is known? What does the Bible show?