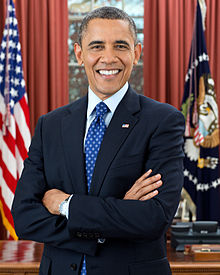 Barack Obama (Official Whitehouse Photograph)
Despite the declared 'state of emergency,' dozens were arrested in Ferguson:
August 11, 2015

FERGUSON, MISSOURI—

Police arrested more than 20 protesters Monday night in Ferguson, Missouri, which continues to be a flashpoint one year after the high-profile shooting death of 18-year-old Michael Brown, an unarmed black man who was shot by a white police officer.

Officials declaring a state of emergency did not prevent further clashes between demonstrators and police during a second night of unrest in the embattled St. Louis suburb.

As night fell, dozens of protesters repeatedly defied police orders to stay off the street and stopped traffic on West Florissant Avenue, the scene of riots and looting over the past year.  …

In the face of flying water bottles and rocks, police moved quickly to keep large numbers of protesters from filling the streets and stopping traffic, something they had accomplished on a busy highway earlier in the day.

"This is a lot milder than last year, I mean, last year it was unexpected, it was a larger body of people, so the outcome was a little more dramatic. This is more positive than last year, it's more powerful," Mal Stiff said.

Police have appealed for calm as more protests are expected.  http://www.voanews.com/content/unrest-marks-anniversary-in-ferguson-missouri/2913225.html
UPDATE 312 pm Ferguson Time.  I have not changed this article but added the following news piece to it:
8/11/15
FERGUSON, Mo. About 150 people have been arrested during several days of protests around Ferguson, Missouri, where largely peaceful demonstrations over police shootings of unarmed black men have been punctuated by flashes of violence. http://www.reuters.com/article/2015/08/11/us-ferguson-anniversary-idUSKCN0QE0HI20150811
Sadly, more civil unrest is expected in the USA.  As regular readers of this page are aware, I believe that the Obama Administration has helped 'fan the flames' for the protests in Ferguson.
Of course, I have long believed that the USA would have more civil unrest.  Here are some prediction from my book Barack Obama, Prophecy, and the Destruction of the United States-Second Edition for Second Obama Term:
Barack Obama has made a variety of "class warfare" comments (e.g. Obama B. Transcript: President Obama delivers State of the Union speech. CNN, January 24, 2012).  Increased civil unrest is coming to the U.S.A. and Barack Obama has helped fan the flames for this… (p. 48)

Civil unrest will occur, though that is likely to increase further after he is out of office. (p. 62)

While there will be some civil unrest and possibly riots in Barack Obama's second term, what happens later will be far worse. (p. 68)
Now, getting to the Obama Administration's position on certain international matters, both a Republican and Democratic leader are in the news related to US President Barack Obama's claimed 'indifference' to the persecution of professed Christians in the Middle East:
August 11, 2015

Former U.S. White House Chief of Staff John Sununu has said in an interview on that President Barack Obama seems to be "indifferent" to the persecution of Christians in the Middle East. …
"It's a tragedy what's happening," Sununu, a Republican who was born in Cuba, told host John Catsimatidis, The Hill reported.

"And I cannot believe that this administration, this president, does not understand that there is a concerted effort to destroy the Christian community in Iraq, the Christian community in Syria in particular, and they're being slaughtered."

Sununu, who comes from Greek Orthodox family with roots in the Middle East, said there are tens of thousands of Christians being killed.

"There seems to be an indifference in Washington to what is happening there," he said. "These are not trivial numbers." …

His stance was borne out by Democrat presidential contender and former Maryland Gov. Martin O'Malley, the Daily Caller reported Aug. 7.

O'Malley said the group calling itself Islamic State is trying to wipe Christians off the face of the Earth, and the United States isn't doing enough to stop them.

"ISIS' plan to destroy Christianity in the Middle East is more ambitious than simply wiping out the Christian population; it also aspires to erase any semblance that Christianity ever existed in the Middle East," O'Malley wrote in an editorial in the Detroit Free Press.

"'Genocide' is not an overstatement," he added, saying ISIS' violence against Christians "requires an extraordinary effort on our part to protect them."  http://www.ecumenicalnews.com/article/former-bush-aide-democrat-presidential-contender-lament-us-stance-on-christian-slaughter-32544
The Islamic State has persecuted both Muslims and non-Muslims in the Middle East–they hurt anyone who will not accept their faith–whether or not one claims Christianity–but they are often harder on those that do.  What has happened to the Kurds, Armenians, Yazidis, and others by the Islamic State has been horrific. As news accounts have shows, US President Obama originally  dismissed the Islamic State as of little consequence.  He later, after they seized a lot of territory and US weapons, said he would basically stop them, but they have not stopped (see also Islamic State again captures hundreds, despite USA's efforts to defeat it).
Despite his claims to be a 'Christian,' which he truly is not, some have wondered if Barack Obama is some type of Muslim.  Various ones have wondered if Barack Obama's upbringing may have at least made him a Muslim sympathizer.  Here is something else from my book Barack Obama, Prophecy, and the Destruction of the United States-Second Edition for Second Obama Term:
Is Barack Obama a Muslim Sympathizer?

Many have wondered if Barack Obama is a Muslim sympathizer.  The answer to that question seems to be yes. He did grow up in Muslim Indonesia, however, and has had more early Muslim contacts than has anyone else ever elected as President of the United States.  Therefore, he would probably have more reasons than most U.S. presidents to have sympathy for certain Muslim perspectives.

Here is some of what Barack Obama's Fight the Smears website quoted about this:

Newsweek:  Obama's only personal contact with Islam came as a boy when he moved to Jakarta, Indonesia, with a stepfather who mixed his Islam with Hindu and Animist traditions…

Boston Globe:  His Kenyan paternal grandfather and Indonesian stepfather were Muslim…

Thus, while the selected quotes seem to have been intended by the Obama campaign to minimize his ties to Islam, Barack Obama has more early ties to Islam than has any President of the United States in history.

Interestingly, in 2012 Newsweek referred to Barack Obama as "The First Gay President," (WHISTLEBLOWER MAGAZINE: THE FIRST MUSLIM PRESIDENT The 1 honorary title Barack Obama doesn't want – but definitely deserves. World News Daily, January 3, 2013) which would not be appropriate if he was truly Muslim or a real Christian.

Oddly, years ago, Barack Obama told Charles Bolden, the head of the National Aeronautic Space Administration (NASA), to set as one of his top priorities trying to make Muslims feel good about their historic contributions to science (Harnden T.  Barack Obama: Nasa must try to make Muslims 'fee good.'  The Telegraph, July 6, 2010). This is an unusual top priority for NASA (space exploration and U.S. interests always presumably had been its historic top priorities).

Interestingly, notice a report concerning Barack Obama and  his long-term pastor, Jeremiah Wright:

According to Mr. Klein, Mr. Wright directly contradicts Mr. Obama's narrative of having little contact with Trinity United Church. Instead, Mr. Wright alleges that he was Mr. Obama's close spiritual and political adviser, someone who for more than 20 years shaped the future president's worldview. In fact, the pastor claims that he was like "a second father" to Mr. Obama.

Furthermore, Mr. Wright says Mr. Obama possessed an "Islamic background" and despite his conversion to Christianity has never abandoned his Muslim roots (Kuhner JT.  Jonathan Wright can sink Obama. The Washington Times online, May 17, 2012).

The fact that Barack Obama was influenced by Jeremiah Wright seems confirmed by many matters, including the fact that Barack Obama wrote a book in 2008, The Audacity of Hope, which had the same title as an earlier sermon he reported that he heard Jeremiah Wright give (Obama B.  Dreams from My Father: A Story of Race and Inheritance.  Crown, 2007, p. 292).

As far as influence from Islam, like he had done before, on August 10, 2012, Barack Obama hosted an Iftar dinner related to the Islamic observance of Ramadan (President Obama's Remarks at the White Houser Iftar Dinner. Huffington Post online, May 17, 2012).  So, there are apparent ties to that faith.

Some have suggested that Barack Obama is actually Muslim and is under a taqiyya arrangement with Islam (a provision that supposedly authorizes deception) in order to deceive non-Muslims so he can advance Islam and groups likes the Muslim Brotherhood (Klein J. Muslim Brotherhood and Obama: Partners in Taqiyya. FrontPageMag.com  January 24, 2012). This author cannot look into Barack Obama's heart, so how deeply involved theologically he is with Islam is a question that only he and God can answer (cf. 1 Samuel 16:7).  Barack Obama, himself, publicly claims as his religion his version of Christianity.

The front cover of the January 2013 edition of the magazine whistleblower calls Barack Obama "THE FIRST MUSLIM PRESIDENT" essentially because of how he was raised and how his Administration has handled various matters (WHISTLEBLOWER MAGAZINE: THE FIRST MUSLIM PRESIDENT The 1 honorary title Barack Obama doesn't want – but definitely deserves. World News Daily, January 3, 2013) —not necessarily because they believe that he is somehow a "secret Muslim." (Thiel B. Barack Obama, Prophecy, and the Destruction of the United States-Second Edition for Second Obama Term. Nazarene Books, 2012, pp. 32-35)
As far as possible 'indifference' goes, I would add that one or more of the Americans that Iran is still holding are believed to be some type of Protestant pastors.
Anyway, expect more civil unrest in the USA.
Also expect that eventually the tide will turn against the Islamic State.  The ruthlessness of the Islamic State will ultimately lead to its end.  After certain difficulties, and perhaps a regional war in the Middle East, eventually a confederation of nations in the Middle East and North Africa will form (Daniel 11:40-43; Ezekiel 30:2-9), a temporal peace will be had (Daniel 9:27; see also The 'Peace Deal' of Daniel 9:27), but Philadelpian Christian persecution will happen (Daniel 11:28-35 ; see also Persecutions by Church and State)the USA will not do well (Daniel 11:39), nor will later the King of the South confederation (Daniel 11:40-43; Ezekiel 30:2-9).
Anyway, my prayers go out for all affected currently by violence, in an out of the USA, Muslim and non-Muslim.  We are to pray for God's kingdom to come (Matthew 6:10) as then the prince of peace (Isaiah 9:6) will return before all of humanity is destroyed (cf. Matthew 24:22).
Some items of possibly related interest may include:
Iraq, the King of the South, Armageddon, and Prophecy What will happen to Iraq and the Islamic State? Is it the prophesied Mystery Babylon? What is Armageddon and how does that have to do with Iraq? Here is a related video Iraq, Armageddon, & Prophecy.
Iran in Prophecy Is Iran in Bible prophecy? If so, what does the Bible teach? What names, other than Persia, may be used to describe Iran? There is also a YouTube video titled Iran in Prophecy. Here is a related video Iran In Prophecy.
Persecutions by Church and State This article documents some that have occurred against those associated with the COGs and some prophesied to occur. Will those with the cross be the persecutors or the persecuted–this article has the shocking answer. There is also a YouTube video sermon you can watch: The Coming Persecution of the Church. Here is information in the Spanish language: Persecuciones de la Iglesia y el Estado.
The 'Peace Deal' of Daniel 9:27 This prophecy could give up to 3 1/2 years advance notice of the coming Great Tribulation. Will most ignore or misunderstand its fulfillment? Here is a link to a related sermon video Daniel 9:27 and the Start of the Great Tribulation.
When Will the Great Tribulation Begin? 2015, 2016, or 2017? Can the Great Tribulation begin today? What happens before the Great Tribulation in the "beginning of sorrows"? What happens in the Great Tribulation and the Day of the Lord? Is this the time of the Gentiles? When is the earliest that the Great Tribulation can begin? What is the Day of the Lord? Who are the 144,000? Here is a version of the article in the Spanish language: ¿Puede comenzar la Gran Tribulación en 2014 o 2015? ¿Es el Tiempo de los Gentiles? You can also see the English language sermon video: The Great Tribulation from the Mount of Olives.
How Will Middle East Peace be Brought About? Can humans bring peace to the Middle East? Here is a link to a related video: Middle East Peace? When?
The Gospel of the Kingdom of God was the Emphasis of Jesus and the Early Church Did you know that? Do you even know what the gospel of the kingdom is all about? You can also see a YouTube video sermon The Gospel of the Kingdom.
Anglo – America in Prophecy & the Lost Tribes of Israel Are the Americans, Canadians, English, Scottish, Welsh, Australians, Anglo-Saxon (non-Dutch) Southern Africans, and New Zealanders descendants of Joseph? Where are the lost ten-tribes of Israel? Who are the lost tribes of Israel? What will happen to Jerusalem and the Jews in Israel? Will God punish the U.S.A., Canada, United Kingdom, and other Anglo-Saxon nations? Why might God allow them to be punished first? Here is a link to the Spanish version of this article: Anglo-América & las Tribus Perdidas de Israel. Information is also in the YouTube sermons titled Where are the Ten Lost Tribes? Why does it matter? and British are the Covenant People. A short YouTube of prophetic interest may be Barack Obama and the State of the Apocalypse.
Will the Anglo-Saxon Nations be Divided and Have People Taken as Slaves? Will the lands of the United States, United Kingdom, Canada, Australia, and New Zealand be divided? What about Jerusalem? What does Bible prophecy teach? Are there non-biblical prophecies that support this idea? Who will divide those lands? Who will end up with the lands and the people? Here is a link to a video titled Will the USA and other Anglo-nations be Divided and Their People Made Slaves? Here is a related item in the Spanish language ¿Serán divididas las naciones anglosajonas?
Barack Obama, Prophecy, and the Destruction of the United States-Second Edition for Second Obama Term This is a 160 page book for people truly interested in prophecies related to Barack Obama and the United States, including learning about many that have already been fulfilled (which the book documents in detail) and those that will be fulfilled in the future. It also has a chapter about a Republican choice. This book is available to order at www.barackobamaprophecy.com. The physical book can also be purchased at Amazon from the following link: Barack Obama, Prophecy, and the Destruction of the United States: Is Barack Obama Fulfilling Biblical, Islamic Catholic, Kenyan, and other America-Related Prophecies? What About Republican Leaders? Second Edition for Second Obama Term.
Barack Obama, Prophecy, and the Destruction of the United States-Second Term-Amazon Kindle edition. This electronic version is available for only US$2.99. And you do not need an actual Kindle device to read it. Why? Amazon will allow you to download it to almost any device: Please click HERE to download one of Amazon s Free Reader Apps. After you go to for your free Kindle reader and then go to Barack Obama, Prophecy, and the Destruction of the United States-Second Term-Amazon Kindle edition.