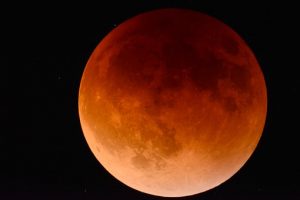 Blood moon

A 'super blood moon' is expected next month. Some are concerned that it has prophetic ramifications:
Rabbinic Expert: First Super Blood Moon of the Year Sign of Earthquakes, Governments Will Fall

December 30, 2018

"The sun shall turn into darkness And the moon into blood." Joel 3:4 (The Israel Bible™)

On the evening of January 21, as the holiday of Tu B'shvat begins, a lunar eclipse will pass over the Washington D.C., just as the President will reach the halfway point of his term in office. The eclipse will be a super blood moon, described in Jewish sources as having powerful significance. …
Rabbi Mordechai Genut discussed the lunar eclipse in his book Davar B'ito, a guide to the calendar based on esoteric Jewish sources.

"A lunar eclipse in the month of Shevat is a sign of the rise of the aspect of din (judgment) in the world," Rabbi Genut told Breaking Israel News. "This eclipse will rule over the Americas but for Israel, it will bring chesed (loving-kindness)."

Rabbi Genut described specifically how this judgment will be expressed.

Judgement Expressed

"There will be a marked increase in earthquakes and volcanoes, even more than we have seen in the past year," Rabbi Genuth said. "Just as the eclipse is a conflict between the sun and the moon to rule over the heavens, there will be a similar conflict on earth. This will begin a time when governments are in balance. Some governments that seem powerful right now will fall and others will rise in their place." …

"It's not that the bad judgment symbolized by the lunar eclipse just disappears," Rabbi Berger told Breaking Israel News. "It is merely averted to our enemies. In this case, the wars and evil will fall on our enemies. By choosing to be our enemies, the Arab nations have brought the evil that might have befallen Israel upon themselves."

"This is especially true when the lunar eclipse falls on Tu B'Shvat, a day when only good can happen to Israel." https://www.breakingisraelnews.com/119523/rabbinic-expert-first-super-blood-moon-of-the-year-sign-of-earthquakes-governments-will-fall/
No, next month's blood moon is NOT related to the prophecies in Joel 2. Nor is there any calendar date "when only good can happen to Israel."
A few weeks ago, a Protestant Pastor, named Paul Begley, indicated that January's blood moon had prophetic significance:
Will the blood moon in January 2019 signal the end of the world?

Pastor Begley points to some key Biblical passages as evidence of the end of the earth being nearly upon us.

Known as the blood moon prophecy, they include one 'warning' from the Book of Joel 2:31.

The passage reads: "The sun shall be turned into darkness, and the moon into blood, before the great and terrible day of the Lord come."

Another can be found in the Book of Revelation 6:12.

This one states: "And I beheld when he had opened the sixth seal, and lo, there was a great earthquake, and the sun became black as sackcloth of hair, and the moon became as blood."

Pastor Begley said: "Is this an omen? Is this a sign of things that will happen in those following two years?

"Well, this is definitely a sign of the end times and America plays a key role in the end times.

Where can you watch January's blood moon?

January's blood moon will be visible from the United States, South America, western Europe and Africa between January 20 and 21.

In London, UK, the total eclipse will begin at 4.41am on January 21. 12/03/18 https://www.express.co.uk/news/weird/1053774/blood-moon-eclipse-2019-lunar-eclipse-next-end-of-the-world-bible-prophecy-conspiracy
Years ago, I denounced the view that the 'blood moons' of 2014 and 2015 could mean that Jesus would return or that the 'Day of the Lord' was about to start. This was something that the Protestant John Hagee as well as Mark Biltz (who practices Messianic Judaism) started promoting back in 2008–but they were wrong.Paul Begley was wrong in about one of more blood moons for 2018 and will be wrong again related to 2019.
I have repeatedly warned against false 'blood moon' interpretations, as the following articles over the past five years help demonstrate:
Sunday, December 29th, 2013

Monday, January 20th, 2014

Wednesday, April 9th, 2014

Monday, December 22nd, 2014

Sunday, March 15th, 2015

Friday, April 3rd, 2015

Monday, August 31st, 2015

Wednesday, September 16th, 2015

Sunday, September 27th, 2015

Sunday, September 25th, 2016

Tuesday, April 11th, 2017

Monday, January 22nd, 2018

Wednesday, June 27th, 2018

Thursday, July 19th, 2018

Friday, July 27, 2018

Sunday, December 9, 2018
Repeatedly, those who pointed to prophetic significance of the blood moons which have happened over the past several years were wrong.
What is a blood moon? Here is one explanation:
A lunar eclipse occurs when the moon passes in the shadow of Earth. This is an area known as the umbra, where light from the Sun is blocked by our planet.

When the light refracts differently in the atmosphere and hits the moon, it makes it appear red. During a total eclipse, the entire moon is in shadow and it appears 'blood red'. 07/11/18 https://www.mirror.co.uk/science/what-blood-moon-heres-moon-12801318
So, a blood moon is basically a reddish appearing shadow on the moon.
The Bible teaches:
2 The LORD says, "Do not start following pagan religious practices. Do not be in awe of signs that occur in the sky even though the nations hold them in awe. 3 For the religion of these people is worthless. They cut down a tree in the forest, and a craftsman makes it into an idol with his tools. 4 He decorates it with overlays of silver and gold. He uses hammer and nails to fasten it together so that it will not fall over. (Jeremiah 10:2-4, NET Bible)
So, before the longest blood moon of the century occurs, I again want to inform people that this eclipse is a natural phenomenon.
Some are the following, which are all expected in 2019:
A 'super blood wolf moon' and five eclipses are among 2019's major astronomy events

Although we would love to talk about all of the extraordinary occurrences, these are our top events to watch for in the sky in 2019:

January 6: Partial Solar Eclipse …

January 21: Super Blood Wolf Moon Eclipse …

May 6: Eta Aquarids Meteor Shower …

July 2: Total Solar Eclipse …

July 16: Partial Lunar Eclipse …

November 11: Rare Transit of Mercury …

December 26: Annular Solar Eclipse

2019 closes on a high note with a rare and glorious "ring of fire."

The annular eclipse occurs when the circumference of the sun shines brightly from behind the moon. This year, the eclipse will begin right at dawn and pass over the Arabian Peninsula and arc over areas of South Asia.

We hope you enjoy these amazing events to the fullest, but remember, NEVER look at the sun during any type of solar eclipse, as it could cause damage to your eyes. https://fox4kc.com/2018/12/29/a-super-blood-wolf-moon-and-five-eclipses-are-among-2019s-major-astronomy-events/
Do not let people who claim to be Christian or cite scripture deceive you on these matters.
There are many false and heretical leaders that lead people astray on prophecy and sometimes they mention the Bible to try to act like God sanctions their nonsense, they should be denounced as false.
All should REALLY pay attention to what the Bible really teaches.
We in the Continuing Church of God "have also a more sure word of prophecy; whereunto ye do well that ye take heed, as unto a light that shineth in a dark place, until the day dawn, and the day star arise in your hearts" (2 Peter 1:19, KJV)."
Thus, you can be certain that next month's 'blood moon' is not a message from God related to Jesus' return, Joel 2, or Daniel 9:27.
As far as 2019 goes, consider the following:
19 items to prophetically watch in 2019 Much is happening. Dr. Thiel points to 19, plus another, in this article. Here is a link to a related sermon: 19 items to watch in 2019.
Some items of related interest may include:
Blood Moons, Eclipses, and Prophecy There were four 'blood moons' expected in 2014 and 2015. Some claimed that they signaled the Day of the Lord or the return of Jesus Christ. I denounced that view in advance. Some claimed an eclipse in 2017 signaled the end and a "super blue blood moon" in 2018 was a divine warning: Iis that true? Two related videos are available: Blood Moons, Prophecy, 2014, and 2015. and Solar Eclipse and the Apocalypse.
NASA predicts irreversible collapse of civilization; 'perfect storm' within 15 years? How has NASA predicted the end? Here is a link to a related video: BibleNewsProphecy: NASA 'Irreversible Collapse' of Industrial Civilization by 2030? Another video of interest may be Is the Universe Expanding or about to Catastrophically Collapse?
Comets, Wormwood, and Planet Nibiru Will the Earth be devastated by Planet X or Comet Encke? What about Planet Nine? Could it happen in 2017? Here is a link to two related YouTube videos Planet Nibiru to Destroy Earth by 2017? and Could Comet ISON be Wormwood of Bible Prophecy?
The 'Peace Deal' of Daniel 9:27 This prophecy could give up to 3 1/2 years advance notice of the coming Great Tribulation. Will most ignore or misunderstand its fulfillment? Here is a link to a related sermon video Daniel 9:27 and the Start of the Great Tribulation.
Is There A Secret Rapture for the Church? When and Where is the Church Protected? What does the Bible really teach? Does the Church flee or is it taken up just prior to the great tribulation? Who really is left behind? There is also a YouTube video with information Did Jesus Teach a Pre-tribulation Rapture?
Harold Camping's Teachings About the End of the World Do Not Agree with the Bible Harold Camping taught that the rapture will be on May 21, 2011 and the world would end on October 21, 2011. What does the Bible show?
There is a Place of Safety for the Philadelphians. Why it May Be Near Petra This article discusses a biblical 'place of safety' and includes quotes from the Bible and Herbert W. Armstrong on this subject–thus, there is a biblically supported alternative to the rapture theory. Two sermon-length videos of relaled interest are available Physical Protection During the Great Tribulation and Might Petra be the Place of Safety? Here is something related in the Spanish language: Hay un lugar de seguridad para los Filadelfinos. ¿Puede ser Petra?
The Dangerous Rise of Preterists Has the Great Tribulation finished? What was the view of early Christians? Why is the preterist view dangerous? A related sermon video is titled Preterism: You've Gotta Be Kidding…Right?
Zephaniah's 'Gather Together' Prophecy Is it safe to be 'independent' or in a non-Philadelphin Church of God? What did God inspire Zephaniah to write?
Does God Have a 6,000 Year Plan? What Year Does the 6,000 Years End? Was a 6000 year time allowed for humans to rule followed by a literal thousand year reign of Christ on Earth taught by the early Christians? Does God have 7,000 year plan? What year may the six thousand years of human rule end? When will Jesus return? 2027 or 20xx? There is also a video titled The 6000 Year Plan: Is the end of humanity's reign almost up? Here is a link to the article in Spanish: ¿Tiene Dios un plan de 6,000 años?
When Will the Great Tribulation Begin? 2019, 2020, or 2021? Can the Great Tribulation begin today? What happens before the Great Tribulation in the "beginning of sorrows"? What happens in the Great Tribulation and the Day of the Lord? Is this the time of the Gentiles? When is the earliest that the Great Tribulation can begin? What is the Day of the Lord? Who are the 144,000? Here is a version of the article in the Spanish language: ¿Puede comenzar la Gran Tribulación en 2018 o 2019? ¿Es el Tiempo de los Gentiles? You can also see the English language sermon videos: The Great Tribulation from the Mount of Olives and Can the Great Tribulation begin before 2020? A shorter and newer video is: Might the Great Tribulation start in 2019?
The Times of the Gentiles Has there been more than one time of the Gentiles? Are we in it now or in the time of Anglo-America? What will the final time of the Gentiles be like? A related sermon is available and is titled: The Times of the Gentiles.
Should You Observe God's Holy Days or Demonic Holidays? This is a free pdf booklet explaining what the Bible and history shows about God's Holy Days and popular holidays.
Messianic Judaism Beliefs Differ from the Continuing Church of God Both groups keep the seventh-day Sabbath, but have important differences in doctrines and practices. Here is a link to a related sermon: Messianic Jewish Beliefs.