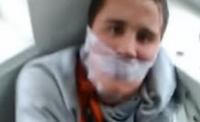 Victim of Racial Violence

In a horrific act, four racists hit and videoed a mentally disabled man in Chicago:
January 5, 2017

Authorities say the victim, who had been reported missing before the attack, has "mental health challenges." He was encountered by police on Tuesday evening and is recovering in the hospital. …

The Facebook stream has been deleted. But multiple outlets have posted videos they identify as archives of the stream, recorded by a woman who frequently turns the camera on herself. The clips show multiple people taunting, threatening and hitting a man who is tied up in a corner. At least once, a man uses a knife to cut the victim's hair, cutting into his scalp. …

The victim, a resident of a Chicago suburb, apparently spent at least 24 hours in the company of his alleged assailants — one of whom he knew from school, police say. He had been reported missing on Monday. Police say he traveled into the city with his acquaintance in a stolen van and that it's not yet clear whether a kidnapping was involved.

Police Superintendent Eddie Johnson highlighted the "brazenness" of the assailants, for not just carrying out the attack but broadcasting it "for all to see."

"It's sickening," he said. "It makes you wonder what would make individuals treat somebody like that. I've been a cop for 28 years — I've seen things that you shouldn't see in a lifetime — but it still amazes me how you still see things that you just shouldn't [see]." http://www.npr.org/sections/thetwo-way/2017/01/05/508331652/4-people-in-custody-in-chicago-over-beating-live-streamed-on-facebook

4 in custody after mentally disabled man tied up, tortured on Facebook Live

January 4, 2017

FOX 32 NEWS – Chicago investigators are questioning four African-Americans after a Facebook Live video shows a group of people torturing a white mentally disabled man while someone yelled "F*** Trump!" and "F*** white people!"

Chicago police were made aware of the video Tuesday afternoon. A young African American woman streamed the video live on Facebook showing at least four people holding the young white man hostage.

 "The video is reprehensible," said police spokesman Anthony Guglielmi.

"It's sickening. You know it makes you wonder what would make individuals treat somebody like that," Police Supt. Eddie Johnson added.

Throughout the video, the victim is repeatedly kicked and hit, his scalp is cut, all while he is tied up with his mouth taped shut.

At one point, the victim is held at knife point and told to curse President-elect Donald Trump. The group also forces the victim to drink water from a toilet.

The suspects can be heard saying they want the video to go viral. http://www.fox32chicago.com/news/crime/227116738-story
This was horrible. Pray for God's Kingdom to come (Matthew 6:10). This incident brought the following to mind:
10 "How long, O Lord, holy and true, until You judge and avenge our blood on those who dwell on the earth?" (Revelation 6:10)
As the father of a mentally-disabled son, it pains me that people can be so hateful.
Of course, horrible behavior was prophesied:
1 But know this, that in the last days perilous times will come: 2 For men will be lovers of themselves, lovers of money, boasters, proud, blasphemers, disobedient to parents, unthankful, unholy, 3 unloving, unforgiving, slanderers, without self-control, brutal, despisers of good, 4 traitors, headstrong, haughty, lovers of pleasure rather than lovers of God, 5 having a form of godliness but denying its power. And from such people turn away! 6 For of this sort are those who creep into households and make captives of gullible women loaded down with sins, led away by various lusts, 7 always learning and never able to come to the knowledge of the truth. (2 Timothy 3:1-7)

23 'Make a chain,
For the land is filled with crimes of blood,
And the city is full of violence.
24 Therefore I will bring the worst of the Gentiles,
And they will possess their houses;
I will cause the pomp of the strong to cease,
And their holy places shall be defiled. (Ezekiel 7:23-24)

13 … evil men and impostors will grow worse and worse, deceiving and being deceived. (2 Timothy 3:13)
All involved in this hateful incident should be punished and should personally repent.
While they may not repent now, God does have a plan.  Notice something from the old Ambassador College Research Department:
God's Stern Warning

As God Almighty has said: "Ah, sinful nation, a people laden with iniquity, a seed of evildoers, children that are corrupters: they have forsaken the Lord, they have provoked the Holy One of Israel into anger, they are gone away backward. Why should ye be stricken anymore? Ye will revolt more and more: the whole head is SICK, and the whole heart FAINT. From the sole of the foot even unto the head there is no soundness in it; but wounds, and bruises, and putrefying sores: they have not been closed, neither bound up, neither mollified with ointment" (Isaiah 1:4-6).

What a vivid description of our urbanized society today!

And yet, in spite of this bleak and pessimistic outlook for the immediate future — the painful lessons that must yet be learned by a rebellious and sinning mankind — there is GOOD NEWS AHEAD! Beyond the catastrophic events destined to take place within the next few years (all fully explained in our free book The United States and British Commonwealth in Prophecy), there is the bright prospect, the happy outlook of The WORLD TOMORROW — God's Great Society — His kind of city.

Just as man has reached the end of his rope and is about to blast himself into nothingness, God will intervene and STOP man's … inhumanity to man. He will send Jesus Christ back to this earth to CRUSH man's rebellion and to establish God's Government on this earth once and for all — to FORCE mankind to be happy, healthy and prosperous. (Plain Truth, October 1968)
Jesus will return.
It remains my view that we currently are in the beginning of sorrows that Jesus prophesied (Matthew 24:4-8). The Great Tribulation is coming relatively soon.
Some items of possibly related interest may include:
When Will the Great Tribulation Begin? 2017, 2018, or 2019? Can the Great Tribulation begin today? What happens before the Great Tribulation in the "beginning of sorrows"? What happens in the Great Tribulation and the Day of the Lord? Is this the time of the Gentiles? When is the earliest that the Great Tribulation can begin? What is the Day of the Lord? Who are the 144,000? Here is a version of the article in the Spanish language: ¿Puede comenzar la Gran Tribulación en 2016 o 2017? ¿Es el Tiempo de los Gentiles? You can also see the English language sermon videos: The Great Tribulation from the Mount of Olives and Can the Great Tribulation begin before 2020? A shorter video is: Will the Great Tribulation Start in 2017?
God's Grace is For All Is being Jewish a hindrance to salvation? What about not being a descendant of Israel? What does the Bible really teach? Here is a link to a related sermon titled Race and Grace; Do you view race as God does?
The Gospel of the Kingdom of God This free online pdf booklet has answers many questions people have about the Gospel of the Kingdom of God and explains why it is the solution to the issues the world is facing. Here are links to three related sermons: The World's False Gospel, The Gospel of the Kingdom: From the New and Old Testaments, and The Kingdom of God is the Solution.
Crime can be stopped…here's how! This was a booklet that was edited with some updates by Dr. Thiel. Here is a link to a related sermon: Crime and How it Will be Stopped!
Anglo – America in Prophecy & the Lost Tribes of Israel Are the Americans, Canadians, English, Scottish, Welsh, Australians, Anglo-Saxon (non-Dutch) Southern Africans, and New Zealanders descendants of Joseph? Where are the lost ten-tribes of Israel? Who are the lost tribes of Israel? What will happen to Jerusalem and the Jews in Israel? Will God punish the U.S.A., Canada, United Kingdom, and other Anglo-Saxon nations? Why might God allow them to be punished first? Here is a link to the Spanish version of this article: Anglo-América & las Tribus Perdidas de Israel. Information is also in the YouTube sermons titled Where are the Ten Lost Tribes? Why does it matter? and British are the Covenant People. A short YouTube of prophetic interest may be Barack Obama and the State of the Apocalypse.
Will the Anglo-Saxon Nations be Divided and Have People Taken as Slaves? Will the lands of the United States, United Kingdom, Canada, Australia, and New Zealand be divided? What about Jerusalem? What does Bible prophecy teach? Are there non-biblical prophecies that support this idea? Who will divide those lands? Who will end up with the lands and the people? Here is a link to a video titled Will the USA and other Anglo-nations be Divided and Their People Made Slaves? Here is a related item in the Spanish language ¿Serán divididas las naciones anglosajonas?
Is the USA now an Evil Empire? Dr. Thiel gives many reasons to consider. A related video is also available: Is the USA an Evil Empire?
USA in Prophecy: The Strongest Fortresses Can you point to scriptures, like Daniel 11:39, that point to the USA in the 21st century? This article does. A related sermon is titled: Do these 7 prophesies point to the end of the USA?
Who is the King of the West? Why is there no Final End-Time King of the West in Bible Prophecy? Is the United States the King of the West? Here is a version in the Spanish language: ¿Quién es el Rey del Occidente? ¿Por qué no hay un Rey del Occidente en la profecía del tiempo del fin?
The Ten Commandments Reflect Love, Breaking them is Evil Some feel that the ten commandments are a burden. Is that what Jesus, Paul, Peter, James, and John taught? For a more detailed discussion of the first four commandments, please see the video The Ten Commandments: Loving God. For a more detailed discussion of the last six commandments, please see: The Ten Commandments: Loving Your Neighbor. Here is a link to a related article in Mandarin Chinese 十条诫命显示爱,违反诫命的就是邪恶的