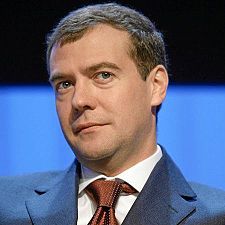 Dmitry Medvedev
In the news today were two stories about the two most militarily powerful nations in the world showing that one will increase its spending on modern advanced weapons, while the other plans to decrease it:
Russia announces rearmament plan
Russian President Dmitry Medvedev has said Moscow will begin a comprehensive military rearmament from 2011.
BBC – March 17, 2009
Mr Medvedev said the primary task would be to "increase the combat readiness of [Russia's] forces, first of all our strategic nuclear forces".
Explaining the move, he cited concerns over Nato expansion near Russia's borders and regional conflicts.
Last year, the Kremlin set out plans to increase spending on Russia's armed forces over the next two years.
Russia will spend nearly $140bn (£94.5bn) on buying arms up until 2011…
In his first address to a defence ministry meeting in his capacity as supreme commander, Mr Medvedev said considerable sums are being channelled towards developing and purchasing modern military equipment…
The Russian Security Council is currently developing a new military doctrine which is expected to reflect current and forthcoming international developments, including any changes Nato may set out this year, missile defence deployments and WMD proliferation.
"The Security Council will approve Russia's national security strategy until 2020 in the near future," President Medvedev said. http://news.bbc.co.uk/2/hi/europe/7947824.stm
The USA looks like it will take a different approach:
Gates readies big cuts in weapons



Battle looms with Congress
Boston Globe – March 17, 2009
WASHINGTON – As the Bush administration was drawing to a close, Robert M. Gates, whose two years as defense secretary had been devoted to wars in Iraq and Afghanistan, felt compelled to warn his successor of a crisis closer to home.
The United States "cannot expect to eliminate national security risks through higher defense budgets, to do everything and buy everything," Gates said. The next defense secretary, he warned, would have to eliminate some costly hardware and invest in new tools for fighting insurgents.
What Gates didn't know was that he would be that successor.
Now, as the only Bush Cabinet member to remain under President Obama, Gates is preparing the most far-reaching changes in the Pentagon's weapons portfolio since the end of the Cold War, according to aides.
Two defense officials who were not authorized to speak publicly said Gates will announce up to a half-dozen major weapons cancellations later this month. Candidates include a new Navy destroyer, the Air Force's F-22 fighter jet, and Army ground-combat vehicles, the officials said.
More cuts are planned for later this year after a review that could lead to reductions in programs such as aircraft carriers and nuclear arms, the officials said…
Gates is not the first secretary to try to change military priorities. His predecessor, Donald H. Rumsfeld, sought to retool the military but succeeded in cancelling only one major project, an Army artillery system…
"Let's be honest with ourselves," Gates told the National Defense University last September. "The most likely catastrophic threats to our homeland – for example, an American city poisoned or reduced to rubble by a terrorist attack – are more likely to emanate from failed states than from aggressor states."
Gates has said it would be "irresponsible" not to plan for the possibility that another nation could threaten US military dominance, but he pointed out that the US Navy is larger than the next 13 navies combined, 11 of which are American allies. http://www.boston.com/news/nation/washington/articles/2009/03/17/gates_readies_big_cuts_in_weapons/
While the USA cannot afford to remain the world's premier military super-power (see also LCG: What if We Can't Afford the Military?), it sometime next decade will probably learn part of why it cannot afford not to.
The USA will also learn that by ultimately placing too much reliance on its allies (several of which it fought last century) will insure that it falls faster than its attackers even expect.
Several articles of possibly related interest may include:
Russia: Its Origins and Prophesied Future Where do the Russians come from? What is prophesied for Russia? What will it do to the Europeans that supported the Beast in the end?
Anglo – America in Prophecy & the Lost Tribes of Israel Are the Americans, Canadians, British, Scottish, Welsh, Australians, Anglo-Southern Africans, and New Zealanders descendants of Joseph? Where are the lost ten-tribes of Israel? Who are the lost tribes of Israel? Will God punish the U.S.A., Canada, United Kingdom, and other Anglo nations? Why might God allow them to be punished first?
Barack Obama, Prophecy, and the Destruction of the United States Some claim that Barack Obama is the prophesied "son of Kenya", based up an early 20th century writing.
Prophecies of Barack Obama? There are biblical and non-biblical prophecies about Barack Obama. Did Nostradamus predict Barack Obama dealing with the Antichrist? This is the longest and most detailed of the articles here related to prophecy and Barack Obama.
Who is the King of the North? Is there one? Do biblical and Roman Catholic prophecies point to the same leader? Should he be followed? Who will be the King of the North discussed in Daniel 11? Is a nuclear attack prophesied to happen to the English-speaking peoples of the United States, Great Britain, Canada, Australia, and New Zealand? When do the 1335 days, 1290 days, and 1260 days (the time, times, and half a time) of Daniel 12 begin? When does the Bible show that economic collapse will affect the United States?
Europa, the Beast, and Revelation Where did Europe get its name? What might Europe have to do with the Book of Revelation? What about "the Beast"? What is ahead for Europe?
End of Mayan Calendar 2012–Might 2012 Mean Something? There is a Mayan calendar prediction for change in 2012. 2012 changes were also centuries ago predicted by the Hopi Native Americans (the Hindu Indians may have some for the next decade as well). Do these Mayan/Hindu/Hopi prophecies have any value? Why might Satan have inspired this date? Does the Dresden codex show destruction of the earth by flood? Can the great tribulation start before 2012?