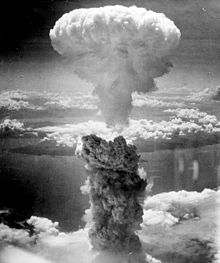 A reader sent the following:
With the world waiting for the official results of Crimea's referendum on leaving Ukraine and joining Russia, news anchor Dmitry Kiselyov took to the Rossiya 1 news channel to put the situation into a broader geopolitical context for views.

One part of his explanation, however, has caught a lot of attention: Kiselyov explained to his viewers that Russia is the only country capable of turning the United States into "radioactive ashes." He then went on to use animated maps to show exactly how Russia would automatically respond with nuclear missiles if command and control were attacked or disabled by a U.S. attack…

He may seem extreme, but Kiselyov apparently has the blessing of the Kremlin: He's been selected to head the new Russian state media conglomerate, Rossiya Segodnya, that is due to replace the well-respected Ria Novosti. He also has a point. Russia is still a major nuclear power, with an estimated 8,500 nuclear warheads, more than the United States. http://www.washingtonpost.com/blogs/worldviews/wp/2014/03/16/russian-tv-host-russia-is-the-only-country-with-capability-to-turn-u-s-into-radioactive-ashes/
Because of state control over television in Russia, it would seem that the government of Russia wanted to send the world in general, and the USA in particular, a very strong message.  And while Russia's military has many problems that the USA's does not, the reality is that Russia does have enough nuclear weapons to destroy the USA.  Although this will not happen according to biblical prophecy, since USA politicians do not normally rely on the Bible, some may decide to at least partially consider the threat from Russia.
Notice something from the late Hebert Armstrong decades ago, during the time of the old Soviet Union, titled Why Russia Will Not Attack the United States:
For decades now, the prospect of war between Russia and the United States has continually heightened and lessened.

Many who claim to be authorities on prophecy assure people a war involving Russia and the United States, Canada and England is prophesied in Ezekiel 38.

The United States, Britain and other democracies of north-western Europe, they recognize, are nations descended from the lost Ten Tribes. Therefore, they conclude, the prophecy of Ezekiel 38 foretells a military invasion of the North American continent from the Soviet Union. But this is not what prophecy says…

But this very fact – that this invasion will not come until after the Second Coming of Christ – will seem preposterous to many, at first thought.

That is because we have been accustomed merely to assume things that are not true. We have blindly assumed that when Christ comes, there will be no opposition. Every person and power on earth, we have thought, will simply submit meekly and instantly to him and his power. But that is not true!

Some gentile nations understandably shall not submit until forced to. The final restoration of the Roman Empire shall be subdued and conquered at a battle commonly called "Armageddon." But the populous nations of Eurasia that the Almighty God up to this point has not dealt with shall still have to be brought to submission.

"Gog" Identified

"Gog in the land of "Magog" is the vast regions of the U.S.S.R. in northern Eurasia extending from the Baltic to the Pacific. "Meshech" is Moscow, "Tubal" is Tobol'sk.

Notice the allies who come with them in this future battle. You will find "Gomer" "Togarmah," "Magog," "Meshech" "Tubal" identified in Genesis 10 as the sons of Japheth, father of the Eurasians. Ethiopia and Phut (mistranslated Libya) are descended from Ham.

Therefore, this prophecy of Ezekiel 38 shows who shall finally succeed in marshaling peoples of each major race into a gigantic invasion upon our people.

When God begins to rule the world, through Christ – with His chosen people restored to prosperity in the land of Israel, the very center of the land surface of the earth (verse 12, Moffatt translation) – this, great Eurasian union of nations shall finally be tempted to use their mighty air force. (Armstrong HW. Why Russia Will Not Attack the United States, article).
Getting back to Crimea, the voters there have overwhelming voted to become part of Russia and Crimea's parliament has now formally applied to Russia:
March 17, 2014
KYIV, UKRAINE — With local officials in Crimea saying that 97 percent of voters in the Black Sea Peninsula backed breaking with Ukraine in Sunday's referendum the reaction in Kyiv is a mixture of anger and resignation…
With challenges mounting, from staving off economic collapse to preventing other ethnic Russian regions from breaking with Ukraine, longtime Ukraine resident Michael Willard, who owns a leading public relations agency in Kyiv, said Ukrainians have no alternative but to accept what has happened.

"Ukraine doesn't have a military like Russia does. It would be suicidal for them to go up against Russia," Willard explained. "It would be even shorter probably than the Georgian war and that would be tragic. So given the odds, no other options, I think they would probably have to."…
While the Ukrainians absorb the loss of Crimea, worries are mounting here that other majority ethnic Russian regions in eastern and southern Ukraine will consider joining Russia.  http://www.voanews.com/content/kyiv-somber-angry-over-crimea-result/1872708.html

Crimea's parliament has formally declared independence from Ukraine and asked to join the Russian Federation.

It follows Sunday's controversial referendum which officials say overwhelmingly backed leaving Ukraine.

The government in Kiev has said it will not recognise the results. The US and EU say the vote was illegal and have vowed to impose sanctions on Moscow…

Crimea's chief electoral official, Mikhail Malyshev, said the vote was nearly 97% in favour of joining the Russian Federation, with a turnout of 83%.  http://www.bbc.com/news/world-europe-26609667
Some believe that this situation could lead to World War III:
German politicians might be working hard to dissolve tension between Ukraine and Russia, but a recent poll revealed over half of Germans do not care whether the conflict sparks a third world war.

In the poll at the start of March, which was widely shared on Twitter on Thursday and Friday, 55 percent of those asked said they "did not care" in response to the question: "The world is holding its breath: will the Ukraine conflict lead to a third World War?" The results for the poll, carried out by broadcasters Kabel Eins, showed that 21 percent thought the crisis in Crimea would lead to the outbreak of another world war and 16 percent were hopeful that it would not.  http://www.thelocal.de/20140314/poll-most-germans-do-not-care-about-wwiii

KIEV — It could be seen as saber rattling, fear-mongering or an astute prediction by a man with intimate knowledge of Ukrainian-Russian history, but Leonid Kravchuk is adamant that Russian President Vladimir Putin has strayed into potentially cataclysmic territory, and that the current showdown in Crimea could escalate into a world war…

In an interview with International Business Times, Kravchuk, who led Ukraine to independence in 1991 and became its first president, claimed there are already 18,000 Russian soldiers in his country and that a full-scale Russian invasion would cause Western powers – including NATO – to engage them militarily…

"In case of a full Russian invasion, there is the risk of a third world war," Kravchuk told IBTimes. "Ukraine is in the center of Europe; it has a population of 45 million; it has borders with several Western countries; and, of course, if Russia invaded Ukraine and war started, the conflict could spread to neighboring European countries."  http://www.ibtimes.com/ukraine-crisis-could-spark-third-world-war-former-communist-party-leader-president-kravchuk-warns

The chances that the U.S. and Russia will clash militarily over Moscow's invasion of Ukraine are very, very slim. Ukraine isn't a member of NATO, and President Obama isn't likely to volunteer for another war. But many of Ukraine's neighbors are NATO members, including Poland, Romania, Slovakia, and Hungary. And so are the the Baltic states — Lithuania, Latvia, and Estonia — further north and right on Russia's border.

If any of those countries come to Ukraine's aid and find themselves in a war with Russia, NATO is obliged to intervene. That's also true if Russia comes up with some pretext to invade any of those countries, unlikely as that seems. If we learned anything from World War I, it's that huge, bloody conflicts can start with tiny skirmishes, especially in Eastern Europe.

Nuclear Armageddon…

In all, the U.S. has about 7,700 nuclear warheads, including 1,950 warheads ready to deploy via ICBM, submarine, and airplane, plus thousands more in mothballs or waiting to be dismantled, according to the latest tally by the Federation of American Scientists. Russia has slightly more warheads overall — about 8,500 — but a slightly fewer 1,800 of them operational. China, in comparison, has about 250 nuclear warheads, a bit less that France (300) and a bit more than Britain (225).

http://theweek.com/article/index/257406/what-would-a-us-russia-war-look-like
Notice what the EU and Russia apparently plan to do now:
March 17, 2014

The EU has agreed to impose travel bans and asset freezes against 21 officials from Russia and Ukraine, following Sunday's referendum in Crimea.

The individuals affected are seen as having playing a central role in Crimea's move to break away from Ukraine and join with Russia…

Russia is now expected to fast-track the legislation enabling it to absorb Crimea.

President Vladimir Putin is to address both houses of parliament on Tuesday.
So, the EU has agreed to take financial and travel steps against 21 people for Russia getting involved with Crimea.  That is not enough to dissuade Russia from more actions, and certainly not enough to persuade Russia to not accept Crimea.  That certainly does not sound like the start of WWIII, but there are other concerns going on behind the scenes.
How might the situation with Russia help trigger WWIII?  Basically by showing the Europeans that they need to more quickly increased their military position.  And this is something under consideration:
Europe needs a reset on defence
What many do not realize is that the Europeans have been working on a reset on defense. For some reasons why, notice the following:
NATO's collective defense guarantee is "effective only if the United States is prepared to use force."

Concerned Poles and Balts seeking hard evidence behind America's rhetorical support for NATO are bound to be disappointed. Obama's "pivot to Asia" is only the latest stage in a multi-decade drawdown of U.S. forces in Europe. Only 64,000 U.S. troops are currently stationed there, compared to 450,000 at the height of the Cold War. And U.S. military forces have never been deployed east of the Oder River, which forms the boundary between Germany and Poland. Even planned U.S. missile defense shields for Poland and the Czech Republic were cancelled as part of Obama's attempted reset with Russia in 2009.

Russia's intervention in Crimea also came just days after the Department of Defense proposed a 2015 budget that would reduce the U.S. army to its smallest size since before World War II. The budget is a recognition that the U.S. has been spending too much on its military for decades and will no longer be at war for the first time since 2001. It is also a much larger recognition that a debt-ridden, sequestered America cannot be expected to militarily enforce the interests of every ally in every corner of the globe.
As the USA is in debt, cannot afford to fight all the wars, has been reducing its presence in Europe, has become more focused on Asia, and has also told the Europeans that they must step-up and handle more of their defense,  Europe is deciding to focus more on its military technology.
And the situation in Ukraine and Crimea will serve as an additional wake-up call for that.  And that will lead to WWIII.  According to the Bible, for a time, the final European Beast power will be successful (Revelation 13:4) against the USA (Daniel 11:39) and a coming Arabic-Turkish confederation (Daniel 11:40-43), but not Russia and its allies (Daniel 11:44-45; Jeremiah 50:41-43; 51:11-32).
The seeds for WWIII are now being sown.
Some items of possibly related interest may include:
Russia and Ukraine: Origins and Prophesied Future Where do the Russians come from? What about those in the Ukraine? What is prophesied for Russia and its allies? What will they do to the Europeans that supported the Beast in the end? You can also watch the new video Ukraine in Prophecy?
Is Russia the King of the North? Some claim it is. But what does the Bible teach? Here is a link to a video, also titled Is Russia the King of the North?
The Eurasian Union, the Kings of the East, and Bible Prophecy Is there a Eurasian union that will be formed? Is one being formed right now? Are any leaders working on that in the 21st century? Does the Bible teach that there will be a Eurasian union? If some type of Eurasian union is formed, who might it benefit and who will it destroy? A related video would be Is The Eurasian Union Rising?
Europa, the Beast, and Revelation Where did Europe get its name? What might Europe have to do with the Book of Revelation? What about "the Beast"? Is an emerging European power "the daughter of Babylon"? What is ahead for Europe? Here is a link to a video titled: Can You Prove that the Beast to Come is European?
European Technology and the Beast of Revelation Will the coming European Beast power would use and develop technology that will result in the taking over of the USA and its Anglo-Saxon allies? Is this possible? What does the Bible teach?
Who is the King of the North? Is there one? Do biblical and Roman Catholic prophecies for the Great Monarch point to the same leader? Should he be followed? Who will be the King of the North discussed in Daniel 11? Is a nuclear attack prophesied to happen to the English-speaking peoples of the United States, Great Britain, Canada, Australia, and New Zealand? When do the 1335 days, 1290 days, and 1260 days (the time, times, and half a time) of Daniel 12 begin? When does the Bible show that economic collapse will affect the United States? In the Spanish language check out ¿Quién es el Rey del Norte? Here is a link to a video titled: The Future King of the North.
Barack Obama, Prophecy, and the Destruction of the United States-Second Edition for Second Obama Term This is a 160 page book for people truly interested in prophecies related to Barack Obama and the United States, including learning about many that have already been fulfilled (which the book documents in detail) and those that will be fulfilled in the future. It also has a chapter about a Republican choice. This book is available to order at www.barackobamaprophecy.com. The physical book can also be purchased at Amazon from the following link: Barack Obama, Prophecy, and the Destruction of the United States: Is Barack Obama Fulfilling Biblical, Islamic Catholic, Kenyan, and other America-Related Prophecies? What About Republican Leaders? Second Edition for Second Obama Term.
Barack Obama, Prophecy, and the Destruction of the United States-Second Term-Amazon Kindle edition. This electronic version is available for only US$2.99. And you do not need an actual Kindle device to read it. Why? Amazon will allow you to download it to almost any device: Please click HERE to download one of Amazon s Free Reader Apps. After you go to for your free Kindle reader and then go to Barack Obama, Prophecy, and the Destruction of the United States-Second Term-Amazon Kindle edition.