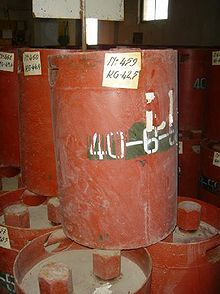 Chemical Weapons Canisters
It has now been reported that Syria has taken another step suggesting that it is planning on using chemical weapons:
Syria loads chemical weapons into bombs; military awaits Assad's order

6 December 2012

The Syrian military is prepared to use chemical weapons against its own people and is awaiting final orders from President Bashar Assad, U.S. officials told NBC News on Wednesday.

The military has loaded the precursor chemicals for sarin, a deadly nerve gas, into aerial bombs that could be dropped onto the Syrian people from dozens of fighter-bombers, the officials said…Sarin is an extraordinarily lethal agent.  http://worldnews.nbcnews.com/_news/2012/12/05/15706380-syria-loads-chemical-weapons-into-bombs-military-awaits-assads-order?lite

US, Russian FM to Meet on Syrian Conflict

6 December 2012

NATO decided to send the Patriot missile-defense system to Turkey earlier this week…NATO officials stress the Patriot system is purely defensive and does not signal any intention to intervene in the Syria conflict.

Secretary of State Clinton said Wednesday the decision sends a "clear message" to Syrian leaders that Turkey has the alliance's full support.  She called for President Bashar al-Assad to reach a political settlement with Syria's newly reorganized opposition and warned that the use of chemical weapons by Syria is unacceptable.

"Our concerns are that an increasingly desperate Assad regime might turn to chemical weapons, or might lose control of them to one of the many groups that are now operating within Syria," she said. "And so, as part of the absolute unity that we all have on this issue, we have sent an unmistakable message that this would cross a red line and those responsible would be held to account."  http://www.voanews.com/content/german-cabinet-agrees-to-deploy-missiles-to-turkey/1559461.html
Syria has, in the past, admitted to having both chemical and biological weapons.  And directly or indirectly, President Assad's regime has told the world that to attack Syria would have a very high cost.
Although at least twice Syria's Foreign Ministry spokesman, Jihad Makdissi  has stated that Syria would not use chemical weapons against its own people e.g. (Syrian Official Acknowledges Having Chemical Weapons and Declares Syria Will Use Them If Attacked), there are at least two concerns that way.  The first is that it is rumored that the Jihad Makdissi has possibly defected, so maybe he feels that President Assad has changed his own mind.  And the second is that Syria has indicated that there are foreign forces mainly behind the opposition, which presumably may 'justify' in the regime's mind releasing chemical agents against people in Syria.
Yet, if President Assad uses chemical weapons against his own people, he realizes that he risks direct military intervention from the West. He is certainly aware that the indirect military and political support his opposition has already received from the West is currently weakening his regime. Plus he knows what happened to Libya's Muammar Gaddafi and Iraq's Saddam Hussein when the West/USA decided those leaders went too far. Thus, while he may feel cornered, he is likely considering many options.  He may also decide that the threat of using biological weapons against the USA and/or others may deter direct attacks against him.  However, that would seem to be a mistake.
Both biblical and Islamic prophecy tell of the destruction of  Syria's capital Damascus. Here is some of what Bible prophecies teaches:
7 thus says the Lord God: "It shall not stand, Nor shall it come to pass. 8 For the head of Syria is Damascus (Isaiah 7:7-8)

3 Thus says the Lord: "For three transgressions of Damascus, and for four, I will not turn away its punishment, Because they have threshed Gilead with implements of iron. (Amos 1:3)

1 The burden against Damascus. "Behold, Damascus will cease from being a city, And it will be a ruinous heap. (Isaiah 17:1)

23 Against Damascus. "Hamath and Arpad are shamed, For they have heard bad news. They are fainthearted; There is trouble on the sea; It cannot be quiet. 24 Damascus has grown feeble; She turns to flee, And fear has seized her. Anguish and sorrows have taken her like a woman in labor. 25 Why is the city of praise not deserted, the city of My joy? 26 Therefore her young men shall fall in her streets, And all the men of war shall be cut off in that day," says the Lord of hosts. 27 "I will kindle a fire in the wall of Damascus, And it shall consume the palaces of Ben-Hadad." (Jeremiah 49:23-27)
The Bible also suggests that Syria will be involved in a confederation of North African and Middle Eastern nations (Ezekiel 30:1-8; Psalm 83:4-8) who will support a leader that the Bible refers to as the final King of the South (Daniel 11:40-43).  Since the Muslim Brotherhood wants a similar confederation, I have long believed that Syria will align with it or a group like it–and since Syria's President is opposed to that, he will have to go or change his views.
Syria's President Assad may decide to release chemical and/or biological weapons against his opposition and/or Israel.  The reactions to this may well result in the destruction of Damascus.  The Bible teaches Damascus has to be destroyed, and probably relatively soon.
"And what I say to you, I say to all: Watch!" (Mark 13:37).

Some articles of possibly related interest may include:
Is There A Future King of the South? Some no longer believe there needs to be. Might Egypt, Islam, Iran, Arabs, or Ethiopia be involved? Might this King be called the Mahdi? What does the Bible say?
The Arab and Islamic World In the Bible, History, and Prophecy The Bible discusses the origins of the Arab world and discusses the Middle East in prophecy. What is ahead for the Middle East and those who follow Islam? What about the Imam Mahdi? What lies ahead for Turkey, Iran, and the other non-Arabic Muslims?
When Will the Great Tribulation Begin? 2012, 2013, or 2014? Can the Great Tribulation begin today? What happens before the Great Tribulation in the "beginning of sorrows"? Is there a needed peace deal first in the Middle East? What happens in the Great Tribulation and the Day of the Lord? Is this the time of the Gentiles? When is the earliest that the Great Tribulation can begin? What is the Day of the Lord? Who are the 144,000?
Anglo – America in Prophecy & the Lost Tribes of Israel Are the Americans, Canadians, English, Scottish, Welsh, Australians, Anglo (non-Dutch) Southern Africans, and New Zealanders descendants of Joseph? Where are the lost ten-tribes of Israel? Who are the lost tribes of Israel? What will happen to Jerusalem and the Jews in Israel? Will God punish the U.S.A., Canada, United Kingdom, and other Anglo nations? Why might God allow them to be punished first?
Barack Obama, Prophecy, and the Destruction of the United States This is a 160 page book for people truly interested in prophecies related to Barack Obama and the United States, including learning about many that have already been fulfilled (which the book documents in detail) and those that will be fulfilled in the future. It also has a chapter about a Republican choice. This book is available to order at www.barackobamaprophecy.com. The physical book can also be purchased at Amazon from the following link: Barack Obama, Prophecy, and the Destruction of the United States: Is Barack Obama Fulfilling Biblical, Islamic, Catholic, Kenyan, and other America-Related Prophecies?
Barack Obama, Prophecy, and the Destruction of the United States–Amazon Kindle edition. This electronic version is available for only US$2.99. And you do not need an actual Kindle device to read it. Why? Amazon will allow you to download it to almost any device: Please click HERE to download one of Amazon's Free Reader Apps. After you go to for your free Kindle reader and then go to Barack Obama, Prophecy, and the Destruction of the United States–Amazon Kindle edition.)