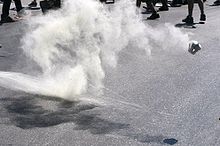 Exploded Tear Gas and Canister (Ντουντούκα)
The situation remains tense as violence has been continuing in Ferguson, Missouri:
August 18, 2014

The governor of the central U.S. state of Missouri has ordered the National Guard to the town of Ferguson, after a week of sometimes violent protests sparked by the shooting death of an unarmed black teenager by a white police officer.

Late Sunday, police in body armor and gas masks accompanied by armored vehicles fired tear gas to disperse a crowd marching toward them.

Police says some protesters threw firebombs and engaged in shootings, looting and vandalism.  At least two protesters were wounded in the shootings and shots were also fired at police, but no officers were reported wounded.

Police described the violence as "premeditated criminal acts" designed to damage property, hurt people and provoke a response.  Several people were arrested.

Protesters denied reports of any acts of violence before police began using tear gas.

The violence took place a few hours before an overnight curfew began.

Violent protests and looting in Ferguson have been almost nightly occurrences since the August 9 death of 18-year-old Michael Brown.

Late Sunday, The New York Times reported preliminary results from a private autopsy showed Brown was shot at least six times, including twice in the head.

The Times said the pathologist who performed the autopsy, Michael Baden, found one of the bullets entered the top of Brown's skull, suggesting his head was bent forward when the bullet struck him and caused a fatal injury.  The pathologist said that could be because Brown was giving up, or because he was charging at the officer.

Brown's family had requested the private autopsy.  http://www.voanews.com/content/protesters-police-calsh-following-shooting-death-of-black-teen-in-us/2416714.html
Here is one report about some of what seems to have happened and led up to the shooting:
August 18, 2014

Brown didn't have a car or his license. Like many here, he walked to nearby stores, including the day he was shot.

Seltzer watched him leave that day in a T-shirt, shorts and flip-flops. Brown, who Seltzer teased as being "LeBron big," was headed for a nearby minimart to buy cigarillos, cigars often used to smoke marijuana.

He stopped to chat with two white landscapers who had been chopping down trees in the complex. They complained about the work, and Brown put it in perspective.

He told them "be thankful you have a job because some people don't have jobs around here," recalled Seltzer, who is among the unemployed.

Moments later, he said, Brown departed with a friend, Dorian Johnson, 22, promising to be right back.

Police said Brown then walked to a minimart and stole some cigarillos. …

Brown was later shot after being confronted on Canfield Drive by Police Officer Darren Wilson in front of several apartment residents.

A woman who lives in the complex and asked not to be identified for fear of being targeted by residents and police said she heard the commotion and ran to her balcony. She said Brown threw his hands up in the air, shouting, "Don't shoot!"

"The officer kept shooting, and he fell to his knees, begging for his life," the woman said. " That's when he finished him off, shot him in the head. http://www.dispatch.com/content/stories/national_world/2014/08/18/ferguson-grieves-for-mans-lost-future.html
I would add that someone told me he saw a video related to the stealing of the cigarillos where Michael Brown seemed threatening to the store clerk–Michael Brown should not have done that.  Stealing is also wrong.  Trying to get high on marijuana is wrong.  There are reports that Michael Brown charged at and/or injured the police officer, which would also be wrong.  However, it would also seem that shooting Michael Brown six times for his actions was also wrong.
Anyway, I do not condone the use of excessive force by the government nor violent protests against the government.  Multiple wrongs do not make a right and violence begets violence.  After Jesus was being mistreated by semi-governmental authorities, one of His followers attempted to use a sword to try to change the situation.  Notice what Jesus said:
52 Then said Jesus unto him, Put up again thy sword into his place: for all they that take the sword shall perish with the sword. (Matthew 26:52, KJV)
Vengeance belongs to God:
17 Repay no one evil for evil. Have regard for good things in the sight of all men. 18 If it is possible, as much as depends on you, live peaceably with all men. 19 Beloved, do not avenge yourselves, but rather give place to wrath; for it is written, "Vengeance is Mine, I will repay," says the Lord. (Romans 12:17-19, NKJV)
As far as violence goes, the Bible also shows that God is against violence and that destruction will come because of it:
23 'Make a chain,
For the land is filled with crimes of blood,
And the city is full of violence.
24 Therefore I will bring the worst of the Gentiles,
And they will possess their houses;
I will cause the pomp of the strong to cease,
And their holy places shall be defiled. (Ezekiel 7:23-24)

28 And even as they did not like to retain God in their knowledge, God gave them over to a debased mind, to do those things which are not fitting; 29 being filled with all unrighteousness, sexual immorality…30…violent, proud, boasters,…31…unmerciful; 32 who, knowing the righteous judgment of God, that those who practice such things are deserving of death, not only do the same but also approve of those who practice them. (Romans 1:28-32)

8…And the violence of the land and the city, And of all who dwell in it. ( Habakkuk 2:8)
In my view, some of the protesters and some in the government turn too quickly to violence.
Some items of possibly related interest may include:
God's Grace is For All Is being Jewish a hindrance to salvation? What about not being a descendant of Israel? What does the Bible really teach? Here is a link to a related sermon titled Race and Grace; Do you view race as God does?
Military Service and the Churches of God: Do Real Christians Participate in Carnal Warfare or Encourage Violence? Here are current and historical perspectives on a matter which show the beliefs of the true church on military participation. Is war proper for Christians? A related sermon would be: Christians, Violence, and Military Service.
Should Christians Smoke Tobacco or Marijuana?  Is smoking a sin? What does the Bible teach? What have COG leaders written? Can smokers change? What about marijuana?
Marijuana: Should a Christian Get High? There is increasing acceptance of the use of marijuana. How should Christians view this? Here is a related video titled How Should a Christian View Marijuana?
Is American Football Evil? Is the most popular spectator sport in the USA something that Christians should watch? What do the Bible and early writings show? There is also a YouTube video available titled Should Christians watch American football?
Christian Soldiers How are Christians to be like soldiers? How are they to be different?
Anglo – America in Prophecy & the Lost Tribes of Israel Are the Americans, Canadians, English, Scottish, Welsh, Australians, Anglo-Saxon (non-Dutch) Southern Africans, and New Zealanders descendants of Joseph? Where are the lost ten-tribes of Israel? Who are the lost tribes of Israel? What will happen to Jerusalem and the Jews in Israel? Will God punish the U.S.A., Canada, United Kingdom, and other Anglo-Saxon nations? Why might God allow them to be punished first? Here is a link to the Spanish version of this article: Anglo-América & las Tribus Perdidas de Israel. Information is also in the YouTube sermons titled Where are the Ten Lost Tribes? Why does it matter? and British are the Covenant People. A short YouTube of prophetic interest may be Barack Obama and the State of the Apocalypse.
Will the Anglo-Saxon Nations be Divided and Have People Taken as Slaves? Will the lands of the United States, United Kingdom, Canada, Australia, and New Zealand be divided? What about Jerusalem? What does Bible prophecy teach? Are there non-biblical prophecies that support this idea? Who will divide those lands? Who will end up with the lands and the people? Here is a link to a video titled Will the USA and other Anglo-nations be Divided and Their People Made Slaves? Here is a related item in the Spanish language ¿Serán divididas las naciones anglosajonas?
The Ten Commandments Reflect Love, Breaking them is Evil Some feel that the ten commandments are a burden. Is that what Jesus, Paul, Peter, James, and John taught?