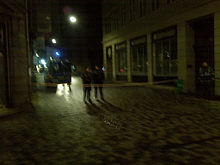 Police Blockade Synagogue After Shooting (FunkMonk)

Denmark was hit by terror and officials believe that they killed the only shooter:
February 15, 2015

Danish police said a man they shot dead early Sunday was likely behind the two shooting attacks Saturday in Copenhagen that killed two civilians and wounded five police officers.

Officials said no evidence suggests other gunmen were involved in the shootings, one of which took place at a free-speech event at a cafe and the other outside Copenhagen's main synagogue.

Danish Prime Minister Helle Thorning-Schmidt said on Sunday that two innocent people lost their lives due to a "cynical act of terror against Denmark."

Thorning-Schmidt said nobody should get away with attacking the "open, free and democratic Danish society."

The free-speech event was attended by Swedish cartoonist Lars Vilks, who is known for provocative satiric drawings, including a 2007 cartoon of the Prophet Muhammad with the body of a dog. He was not harmed in the incident.

In the first attack, a gunman with an automatic weapon killed one person and wounded three police officers at the free-speech event.  A volunteer guard was killed and two police officers wounded in the synagogue shooting a few hours later. Sources said the guard was Jewish.

Early Sunday, police said they had shot dead a man who opened fire on officers near a train station in an area where police had put a building under observation. Authorities later linked that man to the two deadly incidents on Saturday.

"We are still faced with a huge investigation. We need to make sure that our theory is in fact correct. A number of things indicate that we did get the right man, but we still have to investigate whether he acted alone, but at the moment there is nothing to suggest that any other perpetrators were involved," police investigator Joegen Skov said Sunday.

In light of the violence, Israeli Prime Minister Benjamin Netanyahu urged Jewish people in Europe to immigrate to Israel. He said at his Cabinet meeting Sunday that Jews were killed on European soil just because they are Jews.

Netanyahu said this wave of attacks will continue.

Lars Vilks was the apparent target of the first shooting.

Vilks cartoon of the Prophet Muhammad was deeply offensive to many Muslims, and the 68-year-old cartoonist has been threatened many times since it was published.  http://www.voanews.com/content/copenhagen-cafe-shooting/2644266.html

February 15, 2015

"Denmark has been hit by terror," Danish Prime Minister Helle Thorning-Schmidt said. "We do not know the motive for the alleged perpetrator's actions, but we know that there are forces that want to hurt Denmark. They want to rebuke our freedom of speech."

Jens Madsen, head of the Danish intelligence agency PET, said investigators believe the gunman was inspired by Islamic radicalism.

"PET is working on a theory that the perpetrator could have been inspired by the events in Paris. He could also have been inspired by material sent out by (the Islamic State group) and others," Madsen said. http://www.mercurynews.com/nation-world/ci_27531927/denmark-attack-police-kill-suspect-islamic-link-investigated
Apparently believing that there is safety in numbers, notice more about Israeli Prime Minister Netanyahu's appeal:
February 15, 2015

JERUSALEM—Israeli Prime Minister Benjamin Netanyahu called for "massive" Jewish immigration to Israel in the wake of the shooting at a synagogue in Copenhagen that left a 37-year-old Jewish security guard dead in the attack.Speaking Sunday at the weekly Cabinet meeting in Jerusalem, Netanyahu said Jews deserve to live in security in every country, but he questioned whether Europe could provide it.He said anti-Semitic attacks "are expected to continue in Europe… where Jews are being murdered because they are Jews."The prime minister blamed the attacks on Islamic extremists.

Addressing the Jews of Europe as "our brothers and sisters," Netanyahu said, "Israel is your home."

Appeal after France attacks

Netanyahu made a similar appeal to French Jewry in January after the terrorist attack on a kosher supermarket in Paris. And many French Jews are responding, saying they no longer feel safe amid a growing wave of anti-Semitism.

About 7,000 Jews from France immigrated to Israel in 2014 and officials said that number is expected to rise to 10,000 this year.

But Israel's appeals for the immigration of European Jews have not been well received by their host countries. Leaders in France said Jews are an integral part of French society and history and they should remain in the country.

In Denmark, the chief rabbi expressed disappointment with Netanyahu's remarks. The rabbi said that "terror is not a reason to move to Israel."

Danish Prime Minister Helle Thorning-Schmidt vowed her country will "do everything we can to protect the Jewish community."  http://www.voanews.com/content/israel-calls-for-mass-jewish-immigration-after-denmark-attacks/2644862.html
There is a lot of antisemitism in France and parts of Europe.  While there is antisemitism in Denmark, it has not been as widespread as in certain other countries. However, notice the following:
February 15, 2015
Whether or not many Jews in Denmark will go to Israel will be seen, yet this incident may get more to Jews to leave France.
But that will not stop war, antisemitism, nor terrorism.  The Bible shows that terrorism is prophesied:
14 'But if you do not obey Me, and do not observe all these commandments, 15 and if you despise My statutes, or if your soul abhors My judgments, so that you do not perform all My commandments, but break My covenant, 16 I also will do this to you: I will even appoint terror over you, wasting disease and fever which shall consume the eyes and cause sorrow of heart. And you shall sow your seed in vain, for your enemies shall eat it. 17 I will set My face against you, and you shall be defeated by your enemies. Those who hate you shall reign over you, and you shall flee when no one pursues you. (Leviticus 26:14-17)

25 The sword shall destroy outside; There shall be terror within (Deuteronomy 32:25)

12 "Cry and wail, son of man; For it will be against My people, Against all the princes of Israel. Terrors including the sword will be against My people; Therefore strike your thigh. (Ezekiel 21:12)

12 Behold, these are the ungodly,Who are always at ease; They increase in riches…19 Oh, how they are brought to desolation, as in a moment! They are utterly consumed with terrors. (Psalms 73:12,19)

25 Because you disdained all my counsel, And would have none of my rebuke, 26 I also will laugh at your calamity; I will mock when your terror comes, 27 When your terror comes like a storm, And your destruction comes like a whirlwind, When distress and anguish come upon you. (Proverbs 1:25-27)

5 Also they are afraid of height, And of terrors in the way (Ecclesiastes 12:5).
The Bible also shows that a confederation against the USA, its Anglo-Saxon allies, and Israel involving Arab and European forces is coming (Psalm 83:3-8). And I have long believed that terrorism will have to be part of this. The USA, its Anglo-Saxon allies, and Israel will end up being hit by massive terrorism (at least partially from Islamic-related sources) combined with destruction (Deuteronomy 32:25) from the King of the North (Daniel 11:39).
There is danger in the world, even for some in places like Denmark.  Problems will not truly go away until Jesus comes and establishes the millennial kingdom of God.
Several items of possibly related interest may include:
Europa, the Beast, and Revelation Where did Europe get its name? What might Europe have to do with the Book of Revelation? What about "the Beast"? Is an emerging European power "the daughter of Babylon"? What is ahead for Europe? Here is a link to a video titled: Can You Prove that the Beast to Come is European?
European Technology and the Beast of Revelation Will the coming European Beast power would use and develop technology that will result in the taking over of the USA and its Anglo-Saxon allies? Is this possible? What does the Bible teach? Here is a related YouTube video: Military Technology and the Beast of Revelation.
Must the Ten Kings of Revelation 17:12 Rule over Ten Currently Existing Nations? Some claim that these passages refer to a gathering of 10 currently existing nations together, while one group teaches that this is referring to 11 nations getting together. Is that what Revelation 17:12-13 refers to? The ramifications of misunderstanding this are enormous. A related sermon is titled Ten Kings of Revelation and the Great Tribulation.
Jerusalem: Past, Present, and Future What does the Bible say about Jerusalem and its future? Is Jerusalem going to be divided and eliminated? Is Jesus returning to the area of Jerusalem? There is also a related YouTube video you can watch titled Jerusalem To be divided and eliminated.
The Arab and Islamic World In the Bible, History, and Prophecy The Bible discusses the origins of the Arab world and discusses the Middle East in prophecy. What is ahead for the Middle East and those who follow Islam? What about the Imam Mahdi? What lies ahead for Turkey, Iran, and the other non-Arabic Muslims? An item of possibly related interest in the Spanish language would be: Líderes iraníes condenan la hipocresía de Occidente y declaran que ahora es tiempo para prepararse para el Armagedón, la guerra, y el Imán Mahdi.
Is the Future King of the South Rising Up? Some no longer believe there needs to be a future King of the South. Might Egypt, Islam, Iran, Arabs, or Ethiopia be involved? Might this King be called the Mahdi or Caliph? What does the Bible say? A YouTube video of related interest may be: The Future King of the South is Rising.
The Prophesied 'Islamic' Confederation Where is an Islamic caliphate prophesied? Will one happen? Should you be concerned about it? A related video is Will an Arabic Calphiphate Destroy the West?
Obama Administration Pushing for an Islamic Empire? Because of the rise of groups such as the Islamic State, the Obama Administration and others are pushing for a coalition of Arab nations along with Turkey. Does this resemble the final King of the South of Bible prophecy? Is there an Islamic antichrist? Does the Bible teach that terrorism and the sword will affect the USA and some of its allies? What does the Bible teach in Ezekiel about a confederation involving Egypt? Will an Arabic confederation end in destruction for those who strongly support it? Are the 10 nations in the Arab coalition the ten kings of Revelation 17:12-13? Are the 10 nations including the USA and Turkey the ten nations of Revelation 17:12-13? Who is? Was the pushing of the Obama Administration to do this predicted by in 2009 in a writing by Dr. Thiel? What does the Bible show?
Iraq, the King of the South, Armageddon, and Prophecy What will happen to Iraq? Is it the prophesied Mystery Babylon? What is Armageddon and how does that have to do with Iraq? Here is a related video Iraq, Armageddon, & Prophecy.
How Will Middle East Peace be Brought About? Can humans bring peace to the Middle East? Here is a link to a related video: Middle East Peace? When?
The 'Peace Deal' of Daniel 9:27 This prophecy could give up to 3 1/2 years advance notice of the coming Great Tribulation. Will most ignore or misunderstand its fulfillment? Here is a link to a related sermon video Daniel 9:27 and the Start of the Great Tribulation.
Anglo – America in Prophecy & the Lost Tribes of Israel Are the Americans, Canadians, English, Scottish, Welsh, Australians, Anglo-Saxon (non-Dutch) Southern Africans, and New Zealanders descendants of Joseph? Where are the lost ten-tribes of Israel? Who are the lost tribes of Israel? What will happen to Jerusalem and the Jews in Israel? Will God punish the U.S.A., Canada, United Kingdom, and other Anglo-Saxon nations? Why might God allow them to be punished first? Here is a link to the Spanish version of this article: Anglo-América & las Tribus Perdidas de Israel. Information is also in the YouTube sermons titled Where are the Ten Lost Tribes? Why does it matter? and British are the Covenant People. A short YouTube of prophetic interest may be Barack Obama and the State of the Apocalypse.
The 'Lost Tribe' of Reuben: France in Prophecy? What is the origin of this in France? What is prophesied to happen to them? A two-part sermon related to history and prophecy is available online: The 'Lost Tribe' of Reuben and France and Prophecy.
When Will the Great Tribulation Begin? 2015, 2016, or 2017? Can the Great Tribulation begin today? What happens before the Great Tribulation in the "beginning of sorrows"? What happens in the Great Tribulation and the Day of the Lord? Is this the time of the Gentiles? When is the earliest that the Great Tribulation can begin? What is the Day of the Lord? Who are the 144,000? Here is a version of the article in the Spanish language: ¿Puede comenzar la Gran Tribulación en 2014 o 2015? ¿Es el Tiempo de los Gentiles? You can also see the English language sermon video: The Great Tribulation from the Mount of Olives.
The Gospel of the Kingdom of God was the Emphasis of Jesus and the Early Church Did you know that? Do you even know what the gospel of the kingdom is all about? You can also see a YouTube video sermon The Gospel of the Kingdom.