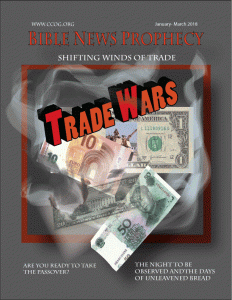 January-March 2018 cover of Bible News Prophecy magazine
Talks of trade war remain in the news:
Trump sees China trade as a war he can win

August 21, 2018

With China's economy cooling, President Trump and his aides are emboldened on the hardline tariffs strategy that they increasingly believe is jamming President Xi Jinping, officials tell Axios.

Why it matters: For West Wing policy advisers, China has become a rare unifying issue …

A member of Congress who recently spoke at length with Trump about trade said: "He thinks he's right and he thinks he's winning."

"He's resolved to be the guy that changes the world trading system. … He's willing to take some pain to do it."
"Trade is the one policy issue he feels comfortable with: He owns it, and he's 100 percent convinced he's right." …

Based on news reports out of China (Wall Street Journal, Aug. 14, from Beijing: "China's Growth Engine Sputters as It Battles U.S. Over Trade"), some administration officials believe Trump is winning his fight with Beijing.

August 21, 2018

The Chinese government is eager to see the dispute settled quickly, for obvious reasons: A protracted trade conflict with the U.S. would damage China economically and complicate Xi's plans to transform the country from a low-wage manufacturing powerhouse into a global leader in high technology. He has reportedly instructed his deputies to stabilize the relationship with the U.S. as soon as possible.

The Trump administration, on the other hand, is not in such a rush. …

The economic impact of a full-on trade war would complicate things politically for Xi, but giving into American demands to his country's disadvantage would be even more damaging to his prestige. Xi has consolidated his power in Beijing, indeed to a troubling extent, and will likely remain in control of the country for another decade or more no matter what, but if he is given a choice between belt-tightening and national humiliation, he won't have to think too hard about that decision. http://nymag.com/daily/intelligencer/2018/08/trump-trade-war-china-talks.html
Yes, the Chinese are concerned about this, but so are the Australians:
Australia has a lot to lose in the US-China trade war

August 21, 2018

Australia risks getting caught in the crossfire as the world's two biggest economies move ahead with tariffs on large swathes of each other's exports in a dispute that shows little sign of ending anytime soon.

The resource-rich country has benefited hugely from China's voracious appetite for goods ranging from iron ore and copper to milk and wine. Chinese visitors also spend billions of dollars per year in Australia.  …
The Australian government is in a difficult spot because it can't afford to upset either the United States or China by being seen to take sides in the trade war.

"They have to try and keep both sides happy," Dales said.  https://money.cnn.com/2018/08/21/news/economy/australia-economy-trade-war/index.html
Speaking of Australia, notice something from an article by its former Prime Minister Kevin Rudd:
Could Trade War Lead to the Real Thing?

Historically, we've failed to see tipping points until too late.

News that China and the U.S. will resume trade talks this week swiftly lifted markets. This follows the first meetings at the annual summer retreat of the Chinese Communist Party leadership at the beachside resort of Beidaihe. As might be expected, the main topic this summer has been the U.S.-China trade war, where it might lead and what could conceivably be done to avert it without an unacceptable loss of political face. …
Over the last five years, when faced with domestic challenges, Xi hasn't shown much inclination to back down. Whenever anyone has given him serious trouble in internal politics, he's smashed them and then tarred them as disloyal to the Party or the country. …
And on the security front, we could easily see escalation in the South China Sea and beyond.

Historically, we've routinely failed to discern when the tipping points come between public disagreement, failed diplomacy, political crisis, failed crisis management, limited conflict and then more general war. In this case, we aren't even yet at phase two in the sequence. https://www.bloomberg.com/view/articles/2018-08-20/could-u-s-china-trade-war-lead-to-a-real-conflict
Trade concerns have been heating up in the past year or so, but have accelerated in the past several months due to threats, tariffs, counter-tariffs, etc.
Church of God writers have warned about a coming trade war and related disputes for decades.
Back in 1971, the late Pastor General of the old Worldwide Church of God Herbert W. Armstrong wrote the following:
Trade War Looming to Trigger World War III?

Either we start raising high tariff barriers against other countries, starting a TRADE WAR which in time will trigger the nuclear war that will DESTROY US – or, American workers are going to have to MEET the competition of the workers in other countries, by lowering living standards. Obviously American workers are not going to choose to do the latter. And if they don't – well, THE HANDWRITING IS ON OUR NATIONAL WALL. (Armstrong HW. Trade War Looming to Trigger World War III? Plain Truth, March 1971)
And while his basic impression of timing was off it is correct that trade issues will be a factor that will trigger WWIII. A war that will be against the USA, Canada, and UK by a power that will reorganize (Revelation 17:12-13; Must the Ten Kings of Revelation 17:12 Rule over Ten Currently Existing Nations?) and then rise in Europe (watch also Can You Prove that the Beast to Come is European?). A Europe that is angry at the UK for Brexit and one that is mad at the USA for a host of reasons (including decisions of its President-elect Donald Trump).
China is concerned and part of its plans include its 'Silk Road' project, which helps give it more dominance and trading opportunities in Asia–plus better ties to Europe.
As far as Europe goes, notice the following:
Germany poised to set world's largest trade surplus

21 August 2018

Germany is on track to record the world's largest trade surplus for a third consecutive year. The country's $299 billion surplus is poised to attract criticism, however, both at home and internationally. …

The latest numbers reinforce Germany's dominant export strength in the world and are likely to spark criticism from other leading nations. The US in particularly has chided Germany for its trade surplus, with President Donald Trump singling out the country as one of the main culprits for America's $460 billion trade deficit.

Trump has also threatened to slap tariffs on foreign automobiles in the US, Germany's most important export item. https://www.dw.com/en/germany-poised-to-set-worlds-largest-trade-surplus/a-45150968
Donald Trump has frequently complained about Germany's trade prowess. The above report may well embolden him on European tariffs.
Trade will be a factor in what can be called World War III–and this war will be a conflict with Europe (but the 'shooting' aspect of this will not happen before 2022; for some details, see When Will the Great Tribulation Begin?).
The Europeans are taking steps that will not end well for the USA.
And as far as China goes, not only will it cooperate with Europe against the USA, it may well end up taking over Australia (watch Are Chinese threats against Australia for real?).
The final time of the Gentiles is getting closer.
Some items of possibly related interest may include:
Trade Disputes: CCOG Warnings Are Coming to Pass Trade tensions and talks of trade wars have escalated. US President Donald Trump has put Europe, China, Mexico, and other lands on notice that he wants to change how international trade with the USA has been going. Tariffs, retaliatory tariffs, and even more tariffs are being implemented. Is this all just happenstance? Are we yet in a trade war? What will Europe do? Has the Church of God been warning about trade disputes and a coming trade war for decades? What about the Continuing Church of God (CCOG)? What has been warned, what has been happening, and what will happen? Will trade disputes be a factor in World War III (WW3)? Dr. Thiel explains what has been taught and what to expect.
Trade Wars: Are COG warnings coming to pass? Trade issues, tariffs, and talk of trade wars are in the news. Can trade wars lead to World War III like they did to World War II? Are the events going on with the USA, UK, Asia, and Europe consistent with warnings published by the true Church of God (COG) over the past several years and decades? Do Germany and China hope to take advantage of trade frictions involving the Trump Administration and the Trans-Pacific Partnership agreement? What about Mexico and South America? Does the Bible teach that Europe will become a major trading power? Will the final European Babylonian trading power be destroyed? Dr. Thiel addresses these issues and more in this video.
18 items to prophetically watch in 2018 Much is happening. Dr. Thiel points to 18 in this article. Here is a link to a related sermon: 18 items to prophetically watch in 2018.
Donald Trump and Mexico's future Mexico has increasingly been in the news because of statements and policies of US President Donald Trump. Many in Mexico are not intending to sit back and accept whatever Donald Trump attempts to force them to do. What will happen to Mexico? Will it make trade deals with Europe? Will it ultimately go to was against the USA? Will the Mexican economy drop at times and then improve? Dr. Thiel answers these questions and more in this video.
US Dollar being challenged by Gold-Petro-Yuan The US dollar has been the world's primary reserve currency for decades. Is this about to change? What is going on with the Chinese yuan and oil and gold? What do the BRICS nations want? What did Venezuela do? Do the Europeans want to dislodge the US dollar as the world's primary reserve currency? Does US debt play any role? Does the Bible tell us what will happen to the USA and its dollar? What happens if the USA loses its status? Will gold outlast the US dollar? Dr. Thiel addresses those issues and more in this video.
Gentile Cryptocurrency Proposal Two Russian leaders have called for a BRICS-wide and/or EAEU-wide cryptocurrency. This is hoped to be used to replace the US dollar for international trade. BRICS stands for Brazil, Russia, India, China, and South Africa. The BRICS nations represent 3.6 billion people. The EAEU includes Russia, Armenia, Belarus, Kazakhstan, and Kyrgyzstan. Will Gentiles rise up? Are there any prophetic ramifications of what these nations are looking to do? This is a video.
World War III: Steps in Progress Are there surprising actions going on now that are leading to WWIII? Might a nuclear attack be expected? Does the Bible promise protection to all or only some Christians? How can you be part of those that will be protected? A related video would be Is World War III About to Begin? Can You Escape?
Forbes' Brexit Monster is the Beast of Revelation Various ones have been properly convinced that there is a plan for a European superstate. Forbes' writer Tom Worstall wrote that the Brexit vote was about the United Kingdom "not joining the monster of the European Union to come." The Bible tells of a Beast monster that will arise in the end times in Europe. Dr. Thiel cites news reports, as well as the Old and New Testaments, to show that the monster many fear will arise in Europe, despite the vote by the British to exit the European Union.
Post Brexit Prophecy On June 23, 2016, the voters of the United Kingdom of Great Britain and Northern Ireland (UK) chose to leave the European Union. Now with this BRitish EXIT (Brexit) vote, what is prophesied to happen to the UK? Will the UK do well or be taken over and made slaves? Dr. Thiel explains from biblical prophecies what is ahead for the UK, Europe, and even the USA, Canada, Australia, and New Zealand. This is a video.
China, Its Biblical Past and Future, Part 1: Genesis and Chinese Characters Where did the Chinese people come from? This article provides information showing that the Chinese peoples must have known about various accounts in the Book of Genesis up until their dispersion after the Tower of Babel. Here is a link to a version of this article in Spanish: ¿Prueban los caracteres chinos la exactitud de la Biblia?
China, Its Biblical Past and Future, Part 2: The Sabbath and Some of God's Witness in China When did Christianity first come to China? And is there early evidence that they observed the seventh day sabbath?
Asia in Prophecy What is Ahead for Asia? Who are the "Kings of the East"? What will happen to nearly all the Chinese, Russians, Indians, and others of Asia? China in prophecy, where? Who has the 200,000,000 man army related to Armageddon? Two YouTube video are Is China THE Threat to the United States of America? and China: A King of the East.
Who is the King of the North? Is there one? Do biblical and Roman Catholic prophecies for the Great Monarch point to the same leader? Should he be followed? Who will be the King of the North discussed in Daniel 11? Is a nuclear attack prophesied to happen to the English-speaking peoples of the United States, Great Britain, Canada, Australia, and New Zealand? When do the 1335 days, 1290 days, and 1260 days (the time, times, and half a time) of Daniel 12 begin? When does the Bible show that economic collapse will affect the United States? In the Spanish language check out ¿Quién es el Rey del Norte? Here is a link to a video titled: The Future King of the North.
Does God Have a 6,000 Year Plan? What Year Does the 6,000 Years End? Was a 6000 year time allowed for humans to rule followed by a literal thousand year reign of Christ on Earth taught by the early Christians? Does God have 7,000 year plan? What year may the six thousand years of human rule end? When will Jesus return? 2026 or 20xx? There is also a video titled 6000 Years: When will God's Kingdom Come? Here is a link to the article in Spanish: ¿Tiene Dios un plan de 6,000 años?
When Will the Great Tribulation Begin? 2018, 2019, or 2020? Can the Great Tribulation begin today? What happens before the Great Tribulation in the "beginning of sorrows"? What happens in the Great Tribulation and the Day of the Lord? Is this the time of the Gentiles? When is the earliest that the Great Tribulation can begin? What is the Day of the Lord? Who are the 144,000? Here is a version of the article in the Spanish language: ¿Puede comenzar la Gran Tribulación en 2018 o 2019? ¿Es el Tiempo de los Gentiles? You can also see the English language sermon videos: The Great Tribulation from the Mount of Olives and Can the Great Tribulation begin before 2020? A shorter video is: Can the Great Tribulation begin in 2018?
The Times of the Gentiles Has there been more than one time of the Gentiles? Are we in it now or in the time of Anglo-America? What will the final time of the Gentiles be like? A related sermon is available and is titled: The Times of the Gentiles.
Europa, the Beast, and Revelation Where did Europe get its name? What might Europe have to do with the Book of Revelation? What about "the Beast"? Is an emerging European power "the daughter of Babylon"? What is ahead for Europe? Here is a link to a video titled: Can You Prove that the Beast to Come is European?
European Technology and the Beast of Revelation Will the coming European Beast power would use and develop technology that will result in the taking over of the USA and its Anglo-Saxon allies? Is this possible? What does the Bible teach? Here is a related YouTube video: Military Technology and the Beast of Revelation.
Must the Ten Kings of Revelation 17:12 Rule over Ten Currently Existing Nations? Some claim that these passages refer to a gathering of 10 currently existing nations together, while one group teaches that this is referring to 11 nations getting together. Is that what Revelation 17:12-13 refers to? The ramifications of misunderstanding this are enormous. A related sermon is titled Ten Kings of Revelation and the Great Tribulation.
WTO/TTIP and the Babylonian Beast Will international trade agreements like WTO/TTIP/CETA lead to the fulfillment of end time prophecies concerning the Babylonian Beast power that the Book of Revelation warns against? What does the Bible teach? A related video would be WTO Trade Deal and the Rise of the European Beast Power.
Anglo – America in Prophecy & the Lost Tribes of Israel Are the Americans, Canadians, English, Scottish, Welsh, Australians, Anglo-Saxon (non-Dutch) Southern Africans, and New Zealanders descendants of Joseph? Where are the lost ten-tribes of Israel? Who are the lost tribes of Israel? What will happen to Jerusalem and the Jews in Israel? Will God punish the U.S.A., Canada, United Kingdom, and other Anglo-Saxon nations? Why might God allow them to be punished first? Here is a link to the Spanish version of this article: Anglo-América & las Tribus Perdidas de Israel. Information is also in the YouTube sermons titled Where are the Ten Lost Tribes? Why does it matter? and British are the Covenant People. A short YouTube of prophetic interest may be: Are Chinese threats against Australia for real?
Will the Anglo-Saxon Nations be Divided and Have People Taken as Slaves? Will the lands of the United States, United Kingdom, Canada, Australia, and New Zealand be divided? What about Jerusalem? What does Bible prophecy teach? Are there non-biblical prophecies that support this idea? Who will divide those lands? Who will end up with the lands and the people? Here is a link to a video titled Will the USA and other Anglo-nations be Divided and Their People Made Slaves? Here is a related item in the Spanish language ¿Serán divididas las naciones anglosajonas?
British are the Covenant People What do 'British' and 'Britain' mean in Hebrew? Are the descendants of the Anglo-Saxons people of the covenant? Does the British royal family connect to the throne of David? What does the Bible teach? What does history show us? Is there any DNA evidence related to British-Israelism? When did Christianity make it to the British Isles? Could Jeremiah have made it to the British Isles? What type of Christians made it to the British Isles? Did the last King of England believe in British Israelism?
Donald Trump in Prophecy Prophecy, Donald Trump? Are there prophecies that Donald Trump may fulfill? Are there any prophecies that he has already helped fulfill? Is a Donald Trump presidency proving to be apocalyptic? Two related videos are available: Donald: 'Trump of God' or Apocalyptic? and Donald Trump's Prophetic Presidency.
Trump Presidency Magic 8 Ball or Bible Prophecy? BBC reported that one might as well use a 'Magic Eight-Ball' to try to predict what will happen in the remaining time of Donald Trump's presidency. What is a 'Magic Eight-Ball'? Dr. Thiel not only explains that, but also briefly goes over 10 biblically-based warnings he wrote would happen if Donald Trump were elected that have already began to come to pass. He also goes over something he wrote back in 2008 that the Trump presidency is also helping lead to fulfillment. Should you trust Bible prophecy or not? Dr. Thiel says that Bible prophecy can be trusted, despite the view of skeptics and others that either overlook or despise the Bible. This is a video.
Donald Trump and America's Apocalypse This 188 page book is for people truly interested in prophecies related to Donald Trump and the United States, including learning about several that have already been fulfilled and those that will be fulfilled in the future. The physical book can be purchased at Amazon for $12.99 from the following link: Donald Trump and America's Apocalypse.
Donald Trump and America's Apocalypse-Kindle Edition This electronic version of the 188 page print edition is available for only US$3.99. And you do not need an actual Kindle device to read it. Why? Amazon will allow you to download it to almost any device: Please click HERE to download one of Amazon s Free Reader Apps. After you go to for your free Kindle reader and then go to Donald Trump and America's Apocalypse-Kindle Edition.