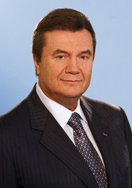 Viktor Yanukovich
Russia is concerned about Ukrainian moves towards the European Union:
November 14, 2013

MOSCOW — President Putin's advisor on economic integration warns Ukraine a move to the European Union would be "economic suicide."A close friend of Russia's president floods Ukraine's capital with billboards warning EU association is a ticket to gay marriage.

From steel to chocolates, Ukrainian products are held up at the border with Russia, Ukraine's largest trading partner.

The Kremlin has woken up to the fact that Ukraine, seen for centuries as a cradle of Russian culture and religion, may be on the verge of taking a decisive step out of Moscow's orbit.

At stake in this increasingly tense East-West tug-of-war, is a nation the size of France with 46 million people, nearly one third the population of Russia.

Maxim Trudolyubov, editorial page editor of Moscow's Vedemosti newspaper, warns the Kremlin will take reprisals if Ukraine signs an agreement of association with the European Union at a November 28-29 summit meeting in Vilnius, Lithuania.

"On the face of it, it looks like the Kremlin will be very tough on Ukraine, and they can do a lot of things, they can do terrible things," said Trudolyubov, whose newspaper is politically independent.  "But, on the other hand, from the long perspective, of course, it is not in the Kremlin's interest to harm Ukraine in any serious way."

At the Vilnius meeting, four former Soviet republics were expected to sign or initial agreements with the European Union. One, Armenia, folded in face of heavy Russian pressure.  It agreed to join the Eurasian Economic Union, the rival trade group administered by Moscow.

The other three – Ukraine, Moldova and Georgia – are on track, for now.

The big prize

The big prize is Ukraine, the second most populous former Soviet republic, after Russia.

Pro-Kremlin analysts charge that "Polish imperialism" is pushing the European Union to admit Ukraine.  They charge Washington is using the European Union to drive a wedge between Russia and its historic Slavic brother, Ukraine.

Sergei Mikhailov, an analyst at the Russian Institute of Strategic Studies, warns the European Union is too broke to give Ukraine and Moldova the kind of infrastructure support doled out in earlier expansions.

"Bulgaria and Romania are two countries that show the risks," he said here.

Russia's pressure is taking its toll.  Ukraine's parliament has missed three deadlines to pass laws required by the European Union.  The fight is expected to go right down to the wire, the day the meeting opens in Lithuania.

Strong popular support

But public opinion and Ukraine's political calendar may be on the side of Ukraine choosing Europe.

In a poll last month, 45 percent of Ukrainians favored the association agreement with the European Union.  This is three times greater than the 14 percent who wanted to join the Moscow-led economic bloc.

Dmitri Trenin, director of the Moscow Carnegie Center, sees Ukraine and Moldova's move to integrate with Europe as a natural, positive evolution.

"This will be an important stimulus to the modernization, not just of their economies, or political and legal systems, but also of societies," he said in Moscow.  "So I see it as hugely important and, on balance, very positive."

In 16 months, Ukrainians vote for president.  With polls indicating growing popular support for joining Europe, analysts say President Viktor Yanukovych will win reelection only if he signs the European accession agreement.

Indeed, Yanukovych seems to be preparing alternatives to weather economic blasts from Russia.  This year, China is to become Ukraine's second largest trading partner.

Last week, Ukraine suspended imports of Russian gas until the end of this year.  This is possible because of warm weather, an expanded gas storage system, and pipeline changes that allow Ukraine to import gas from Europe.

In Moscow, Sergei Mikhailov compares the tension between Russia and Ukraine to the tension between two candidates in days before a close election.  He says much of the tension is psychological.  If a deal is signed in Lithuania, Russia and Ukraine will adjust to the new reality.

Vygaudas Usackas is a Lithuanian living in Moscow.  He is the E.U. ambassador here and says the deal could benefit Russia: "It will also have, I hope, a strong impact towards Russia, which is the most immediate and closest neighbor of Ukraine, benefiting from that pathway towards European values, governance, accountability and economic diversity of the systems we all embrace."

The coming days will tell: whether Ukraine stays East, or goes West.  http://www.voanews.com/content/will-ukraine-go-west-or-stay-east/1790305.html
In the past, Ukrainian political leaders have indicated that they want to be part of the Europe and be a bridge to Eurasia (see Ukraine apparently wants to be part of EU, but also maintain Eurasian ties).  Russia does not like that idea.  It wants Ukraine as part of its Eurasian Union.
Bring up the homosexual agenda is interesting.  Unlike the European Union which endorses much of the homosexual agenda (and requires its member states to accept much of it), Russia has taken a steps to oppose this agenda.  As most of the Ukrainians tend to have the same or similar religious faith as most of the Russians, it may well be that this could be a factor in Ukraine not entering the European Union.  The dominant religion in Ukraine is some version of Eastern Orthodox.  In Ukraine, this is currently mainly split between three Church bodies: the Ukrainian Orthodox Church autonomous church body under the Patriarch of Moscow, the Ukrainian Orthodox Church – Kiev Patriarchate, and the Ukrainian Autocephalous Orthodox Church and some smaller groups (Wikipedia).  The connection with the Patriarch of Moscow may be important, but how important compared to hoped for economic benefits from the European Union remains to be seen.
The reality is that economics are important to people and most of the political leaders in Ukraine seem to be leaning more towards the European Union than towards the Eurasian Union.  Russia has indicated that economically, Ukraine is better off dealing with it.
Ukraine itself would like to be a bridge. Russia would prefer it to be a border and not tied to Europe (see ).  As far as Georgia goes, some have expressed limited interest in the Eurasian Union, while others have indicated that it would not be a founding member of it (see Some support in Georgia for Eurasian Union).  Regarding Moldova, it wants European Union membership and has implemented the first three-year Action Plan within the framework of the European Neighbourhood Policy (ENP); its proximity and certain language ties to Romania suggest that it is a less likely candidate for the Eurasian Union, despite once being a Soviet republic.
Biblically (because of prophecies involving the Medes, some of which are in Ukraine, and some in the "north and east" in Daniel 11:44), it would seem that Russia would be closer to Ukraine, and possibly Georgia and others, in the end than it appears to be right now. Yet it should also be mentioned that Bible prophecy indicates that there will be some type of cooperation between Russia and its allies and Europe for a while after the European Beast power has risen up (Revelation 13:3-4).
However, Bible prophecy shows that ultimately Russia and its allies (likely to include Ukraine at some point) will turn against the European Beast power–for biblical details, see Russia: Its Origins and Prophesied Future.
Some items of possibly related interest may include:
Russia: Its Origins and Prophesied Future Where do the Russians come from? What about those in the Ukraine? What is prophesied for Russia and its allies? What will they do to the Europeans that supported the Beast in the end?
Is Russia the King of the North? Some claim it is. But what does the Bible teach? Here is a link to a video, also titled Is Russia the King of the North?
The Eurasian Union, the Kings of the East, and Bible Prophecy Is there a Eurasian union that will be formed? Is one being formed right now? Are any leaders working on that in the 21st century? Does the Bible teach that there will be a Eurasian union? If some type of Eurasian union is formed, who might it benefit and who will it destroy? A related video would be Is The Eurasian Union Rising?
Some Similarities and Differences Between the Eastern Orthodox Church and the Continuing Church of God Both groups claim to be the original church, but both groups have differing ways to claim it. Both groups have some amazing similarities and some major differences. Do you know what they are?
Europa, the Beast, and Revelation Where did Europe get its name? What might Europe have to do with the Book of Revelation? What about "the Beast"? Is an emerging European power "the daughter of Babylon"? What is ahead for Europe? Here is a link to a video titled: Can You Prove that the Beast to Come is European?
Who is the King of the North? Is there one? Do biblical and Roman Catholic prophecies for the Great Monarch point to the same leader? Should he be followed? Who will be the King of the North discussed in Daniel 11? Is a nuclear attack prophesied to happen to the English-speaking peoples of the United States, Great Britain, Canada, Australia, and New Zealand? When do the 1335 days, 1290 days, and 1260 days (the time, times, and half a time) of Daniel 12 begin? When does the Bible show that economic collapse will affect the United States? Here is a link to a video titled: The Future King of the North.