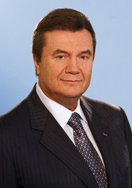 Viktor Yanukovich
Various ones are concerned about what is going on in Ukraine:
November 21, 2013

(Reuters) – Ukraine's parliament on Thursday rejected draft laws that would allow jailed opposition leader Yulia Tymoshenko to go to Germany for medical treatment, clouding prospects for a landmark trade agreement with the European Union.

The ex-Soviet republic is scheduled to sign a far-reaching free trade and cooperation agreement with the EU at a summit on November 29 – but EU governments are pressing for the release of Tymoshenko, President Viktor Yanukovich's fiercest opponent.

Yanukovich, whose pro-Europe course has angered Russia and led to threats of trade retaliation from Moscow, earlier this week took a harder line in negotiations with the EU and threatened not to sign the deal…parliament, dominated by allies of Yanukovich, on Thursday rejected all six draft laws proposed by the opposition which would allow her to be released. They all fell well short of getting the required 226 votes to pass.  http://www.reuters.com/article/2013/11/21/us-ukraine-eu-idUSBRE9AK0F120131121

November 21, 2013

Ukraine's government announced it was suspending preparations for a landmark trade pact with the European Union on Thursday and said it would renew active dialogue with Russia to help its economy. A dramatic diplomatic turnaround, the government order came just eight days before President Viktor Yanukovich was due to sign an agreement on trade and cooperation with the EU which would mark a pivotal shift westwards for the ex-Soviet republic's 46 million people, away from historic ally Moscow.    http://article.wn.com/view/2013/11/21/Ukraine_drops_plan_to_go_West_turns_East/#/related_news

November 21, 2013

Ukrainian Prime Minister Mykola Azarov issued a decree on Thursday announcing the "halt of the process of preparing" the pact, which would have seen Ukraine shift closer to the West and away from historic ally Russia.

The Association Agreement was considered an important step towards Ukraine's eventual membership in the 28-member bloc. 

Ukraine said it would now seek to "renew active dialogue" with Russia, other members of a Moscow-led customs union and the Commonwealth of Independent States, a grouping of former republics of the Soviet Union. : http://www.dw.de/ukraine-scraps-plan-to-sign-historic-pact-with-european-union

November 21, 2013

The opposition factions at the Verkhovna Rada (the All-Ukrainian Union Batkivschyna Party, the All-Ukrainian Union Svoboda Party and Vitalii Klitschko's Ukrainian Democratic Alliance for Reforms (UDAR)) have announced the intention to initiate a change of government due to its decision to suspend the preparations for the signing of the Association Agreement with the European Union, the opposition leaders (Arsenii Yatseniuk, Oleh Tiahnybok and Volodymyr Klitschko) told journalists.  http://un.ua/eng/article/477837.html
Ukraine is in a tough spot.  It would like to be part of the EU as well as part of Russia's Eurasian Union.  But since it cannot (by treaty arrangements if it is a full EU member) be part of both, it seems to be playing both sides.  Some believe that Ukraine really wants to be in the EU, hence will change.
In the past, Ukrainian political leaders have indicated that they want to be part of the Europe and be a bridge to Eurasia (see Ukraine apparently wants to be part of EU, but also maintain Eurasian ties). Russia does not like that idea. It wants Ukraine as truly part of its Eurasian Union.
The reality is that economics are important to people.  In the recent past, most of the political leaders in Ukraine seemed to be leaning more towards the European Union than towards the Eurasian Union. Russia has indicated that economically, Ukraine is better off dealing with it.  But, as seen by opposition party resignations (which are perhaps more political than economic), others prefer that Ukraine draws closer to the EU.
Those in power in Ukraine might simply be trying to negotiate a better deal with the EU now or they might conclude that Ukrainian 'values' are closer to those of Russia and not go to the EU (or use this as an excuse to send messages to political opponents).
Biblically (because of prophecies involving the Medes, some of which are in Ukraine, and some in the "north and east" in Daniel 11:44), it would seem that Russia would be closer to Ukraine in the end than it appears to be right now. Yet it should also be mentioned that Bible prophecy indicates that there will be some type of cooperation between Russia and its allies and Europe for a while after the European Beast power has risen up (Revelation 13:3-4).
However, Bible prophecy shows that ultimately Russia and its allies (likely to include Ukraine at some point) will turn against the European Beast power–for biblical details, see Russia: Its Origins and Prophesied Future.  Until then, we will see if Ukraine moves away from Russia and towards the EU (with some of that being played out in the next week) or the other direction.
Some items of possibly related interest may include:
Russia: Its Origins and Prophesied Future Where do the Russians come from? What about those in the Ukraine? What is prophesied for Russia and its allies? What will they do to the Europeans that supported the Beast in the end?
Is Russia the King of the North? Some claim it is. But what does the Bible teach? Here is a link to a video, also titled Is Russia the King of the North?
The Eurasian Union, the Kings of the East, and Bible Prophecy Is there a Eurasian union that will be formed? Is one being formed right now? Are any leaders working on that in the 21st century? Does the Bible teach that there will be a Eurasian union? If some type of Eurasian union is formed, who might it benefit and who will it destroy? A related video would be Is The Eurasian Union Rising?
Some Similarities and Differences Between the Eastern Orthodox Church and the Continuing Church of God Both groups claim to be the original church, but both groups have differing ways to claim it. Both groups have some amazing similarities and some major differences. Do you know what they are?
Europa, the Beast, and Revelation Where did Europe get its name? What might Europe have to do with the Book of Revelation? What about "the Beast"? Is an emerging European power "the daughter of Babylon"? What is ahead for Europe? Here is a link to a video titled: Can You Prove that the Beast to Come is European?
Who is the King of the North? Is there one? Do biblical and Roman Catholic prophecies for the Great Monarch point to the same leader? Should he be followed? Who will be the King of the North discussed in Daniel 11? Is a nuclear attack prophesied to happen to the English-speaking peoples of the United States, Great Britain, Canada, Australia, and New Zealand? When do the 1335 days, 1290 days, and 1260 days (the time, times, and half a time) of Daniel 12 begin? When does the Bible show that economic collapse will affect the United States? Here is a link to a video titled: The Future King of the North.