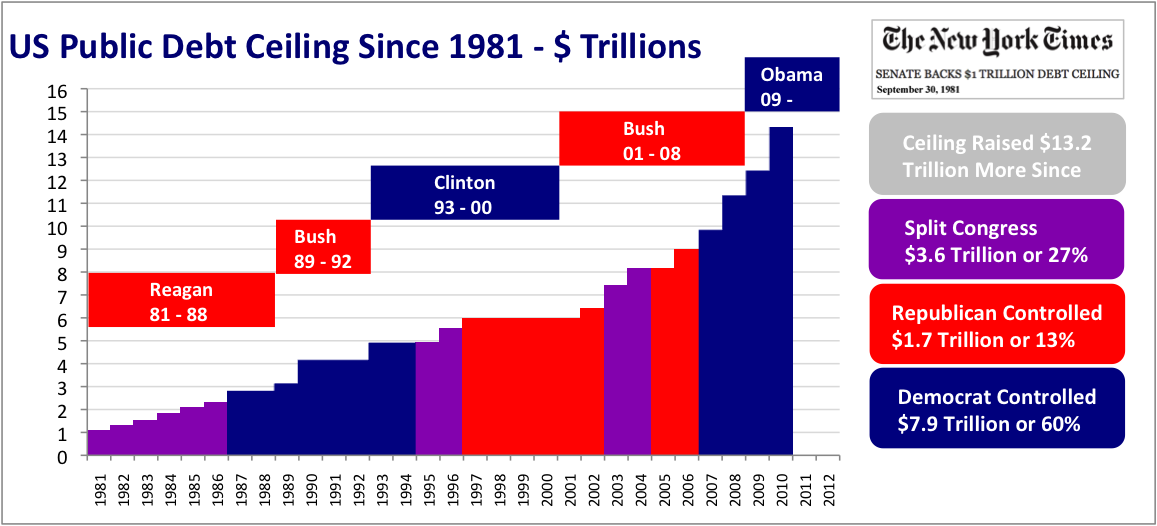 USA Hit a $1 Trillion 'Debt Ceiling' in 1981, Currently It Has No Debt Ceiling
A reader sent me a link to the following:
Uncle Sam's $8 Trillion Annual Debt Churn: Why Washington Is Petrified Of Honest Interest Rates

I know that headline sounds completely outrageous.  But it is actually true.  The U.S. government is borrowing about 8 trillion dollars a year…the U.S. national debt has increased by more than a trillion dollars in fiscal year 2014.

But that does not count the huge amounts of U.S. Treasury securities that the federal government must redeem each year.  When these debt instruments hit their maturity date, the U.S. government must pay them off.  This is done by borrowing more money to pay off the previous debts.  In fiscal year 2013, redemptions of U.S. Treasury securities totaled $7,546,726,000,000 and new debt totaling $8,323,949,000,000 was issued.  The final numbers for fiscal year 2014 are likely to be significantly higher than that.

So why does so much government debt come due each year?

Well, in recent years government officials figured out that they could save a lot of money on interest payments by borrowing over shorter time frames.  For example, it costs the government far more to borrow money for 10 years than it does for 1 year.  So a strategy was hatched to borrow money for very short periods of time and to keep "rolling it over" again and again and again.

This strategy has indeed saved the federal government hundreds of billions of dollars in interest payments, but it has also created a situation where the federal government must borrow about 8 trillion dollars a year just to keep up with the game.

So what happens when the rest of the world decides that it does not want to loan us 8 trillion dollars a year at ultra-low interest rates?

Well, the game will be over and we will be in a massive amount of trouble. … Don't get blindsided by what is ahead.  Evidence of the coming catastrophe is all around you.  http://davidstockmanscontracorner.com/uncle-sams-8-trillion-annual-debt-churn-why-washington-is-pertrified-of-honest-interest-rates/
Notice something that Forbes reported:
America has the largest debt burden in the world. … How did our debt grow so large? Why does it continue to rise? We'll look at these issues. But first, to be perfectly clear, when our federal government spends more than it collects, the result is a "deficit" which is added to the debt. Therefore, debt expansion is a result of fiscal deficits or if you prefer, overspending. …

Why did the debt begin to expand as sharply as it did? One of the chief reasons was President Nixon's decision to decouple the dollar from the gold standard in 1971. In doing so, he essentially lifted the lid on Pandora's Money Box as there was no longer a limit on the amount of money which could be printed. At that point we became a nation with a "fiat" currency, meaning, there is nothing to back the dollar except the "full faith and credit of the U.S. government."  Since dollars were no longer redeemable for gold, the government was free to overspend as long as they could get their bills through Congress and signed by the President. …

I learned that the Fed believes the deficits will continue to improve until around 2020. Then, due to demographics (i.e. our aging population), entitlement spending will rise, placing a strain on the federal budget which will lead to higher deficits and a reacceleration of our debt. In essence, there will be more retirees receiving Social Security and Medicare. Entitlements are on course to become a significant issue unless Washington takes preemptive action to gain control over its fiscal issues. If Congress continues to avoid this, we may not be able to avert a second and perhaps more dire crisis than we recently experienced. Moreover, when interest rates rise, the cost of borrowing will become a serious issue in Washington.  http://www.forbes.com/sites/mikepatton/2014/09/18/the-u-s-debt-why-it-will-continue-to-rise/
Once interest rates rise, it will be a serious issue for more than the politicians in Washington.  It, as the first article stated, will be a 'catastrophe' that will be a factor in the 'game' of the USA standard of living being over.  And actually it will be worse that that.
The time will likely come when USA interest rates will rise so much that this will ultimately cause a crisis of intense magnitude. The admitted US federal debt (not counting the money created through the quantitative easing programs) is so large that if interest rates rise to the place that they were in the USA in the early 1980s, the USA will have difficulty even paying the interest on the debt it has been accumulating. This will tend to cause interest rates to further rise and contribute to hyperinflation.
The Bible warns the following:
13 "Behold, therefore, I beat My fists at the dishonest profit which you have made, and at the bloodshed which has been in your midst. 14 Can your heart endure, or can your hands remain strong, in the days when I shall deal with you? I, the Lord, have spoken, and will do it. 15 I will scatter you among the nations, disperse you throughout the countries, and remove your filthiness completely from you. 16 You shall defile yourself in the sight of the nations; then you shall know that I am the Lord. (Ezekiel 22:13-16)
Printing/electronically creating money, as the USA has been doing to finance its debt, is a 'dishonest profit.'  The USA has been more and more living off of these dishonest profits and that will end.
Why?  Notice the following:
43 The alien who is among you shall rise higher and higher above you, and you shall come down lower and lower. 44 He shall lend to you, but you shall not lend to him; he shall be the head, and you shall be the tail. 45 Moreover all these curses shall come upon you and pursue and overtake you, until you are destroyed because you did not obey the voice of the LORD your God, to keep His commandments and His statutes which He commanded you…47 "Because you did not serve the LORD your God with joy and gladness of heart, for the abundance of everything, 48 therefore you shall serve your enemies, whom the LORD will send against you, in hunger, in thirst, in nakedness, and in need of everything; and He will put a yoke of iron on your neck until He has destroyed you. 49 The LORD will bring a nation against you from afar, from the end of the earth, as swift as the eagle flies, a nation whose language you will not understand, 50 a nation of fierce countenance, which does not respect the elderly nor show favor to the young. 51 And they shall eat the increase of your livestock and the produce of your land, until you are destroyed; they shall not leave you grain or new wine or oil, or the increase of your cattle or the offspring of your flocks, until they have destroyed you. 52 They shall besiege you at all your gates until your high and fortified walls, in which you trust, come down throughout all your land; and they shall besiege you at all your gates throughout all your land which the LORD your God has given you (Deuteronomy 28:42-45,47-52)
The Bible teaches that the time will come when it will be 'game over' as foreign creditors will decide the USA has past the point of no return:
3 For the vision is yet for an appointed time; But at the end it will speak, and it will not lie. Though it tarries, wait for it; Because it will surely come, It will not tarry…5 Indeed, because he transgresses by wine, He is a proud man… 6 "Will not all these take up a proverb against him, And a taunting riddle against him, and say, 'Woe to him who increases What is not his–how long? And to him who loads himself with many pledges'? 7 Will not your creditors rise up suddenly? Will they not awaken who oppress you? And you will become their booty. 8 Because you have plundered many nations, All the remnant of the people shall plunder you (Habakkuk 2:3,5,6-8).
The United States has already past the point of no return as its political leaders continue to believe they do not have to solve the problem, but can instead continue to live off the dishonest profits of increasing debt.  The USA is able to get away with this for several reasons, the main of which is that because it is the world's dominant military power and its dollar is the world's reserve currency, much of the rest of the world feels it has no choice but to put up with it.
Yet, Russia, China, India, Iran, some of the Gulf States, and the Europeans are all working to dethrone the dominance of the USA dollar.  And while they are still not able to, the time will come when the USA dollar will be worthless for anything except burning for warmth or other uses for the type of 'paper' the bills are printed on.
Once interest rates get too high, the USA will have an economic crisis of unbelievable magnitude.  National repentance is what is required, and since that is not going to happen, catastrophe will.
Personal repentance is still possible as that is the only way out of the problems that will hit the USA and its Anglo-Saxon descended allies.
Some items of possibly related interest may include:
Project Prophecy: Economic Collapse Starting in 2015? Jim Rickards once worked for the CIA and also was once part of a a USA government program called called 'Project Prophecy.' He has a video were he claims that starting in 2015, the USA may have economic collapse resulting in a 25-Year Great Depression. He mainly cites debt figures and claims advises alternatives to the USA dollar which he says will collapse? What did Rand Paul state? Can the USA dollar collapse? This is a video.
Market Collapse then New World Order in 2015? A long-time financial adviser named Harvey Organ claims that claims that because of insufficient gold in the central banks of USA and UK, that Shanghai would bring about exposing this and that this would lead to a massive, overnight, rise in the price of gold and silver, diminished value of their currencies. He states a market collapse will occur before the end of 2014, that the petroyuan will replace the petrodollar, and that a Chinese led New World Order will be in place for 2015. Is this possible? Where does the leader of the 'New World Order' come from? What does the Bible teach?  This is a video.
Anglo – America in Prophecy & the Lost Tribes of Israel Are the Americans, Canadians, English, Scottish, Welsh, Australians, Anglo-Saxon (non-Dutch) Southern Africans, and New Zealanders descendants of Joseph? Where are the lost ten-tribes of Israel? Who are the lost tribes of Israel? What will happen to Jerusalem and the Jews in Israel? Will God punish the U.S.A., Canada, United Kingdom, and other Anglo-Saxon nations? Why might God allow them to be punished first? Here is a link to the Spanish version of this article: Anglo-América & las Tribus Perdidas de Israel. Information is also in the YouTube sermons titled Where are the Ten Lost Tribes? Why does it matter? and British are the Covenant People. A short YouTube of prophetic interest may be Barack Obama and the State of the Apocalypse.
Will the Anglo-Saxon Nations be Divided and Have People Taken as Slaves? Will the lands of the United States, United Kingdom, Canada, Australia, and New Zealand be divided? What about Jerusalem? What does Bible prophecy teach? Are there non-biblical prophecies that support this idea? Who will divide those lands? Who will end up with the lands and the people? Here is a link to a video titled Will the USA and other Anglo-nations be Divided and Their People Made Slaves? Here is a related item in the Spanish language ¿Serán divididas las naciones anglosajonas?
British are the Covenant People What do 'British' and 'Britain' mean in Hebrew? Are the descendants of the Anglo-Saxons people of the covenant? Does the British royal family connect to the throne of David? What does the Bible teach? What does history show us? Is there any DNA evidence related to British-Israelism? When did Christianity make it to the British Isles? Could Jeremiah have made it to the British Isles? What type of Christians made it to the British Isles? Did the last King of England believe in British Israelism?
Hillary Clinton in Prophecy Prophecy, Hillary Clinton? Are there prophecies that Hillary Clinton may fulfill? Are there any prophecies that she has already helped fulfill? Could Hillary Clinton be apocalyptic? Could Hillary Clinton be the final Antichrist?
Canada in Prophecy: What Does Bible Prophecy, Catholic Prophecy, and other Predictions Suggest About the Future of Canada? There are prophecies that suggest involvement with Canada. And many are not positive about its future.
Protestant and Church of God views of the United States in Bible Prophecy Is the USA mentioned in Bible prophecy? Some Protestants say yes, while others say no. What does the Bible really teach? Learn the truth about this. There is also a video available: Is The United States Mentioned In Bible Prophecy?
Physical Preparation Scriptures for Christians. We all know the Bible prophecies famines. Should we do something? Here is a version in the Spanish language Escrituras sobre Preparación física para los Cristianos.
The Plain Truth About Gold in Prophecy. How Should a Christian View Gold? What do economists and the Bible teach about gold? Gold and silver may drop in value. Inflation/deflation? What do Christians need to know about gold?
Who is the King of the North? Is there one? Do biblical and Roman Catholic prophecies for the Great Monarch point to the same leader? Should he be followed? Who will be the King of the North discussed in Daniel 11? Is a nuclear attack prophesied to happen to the English-speaking peoples of the United States, Great Britain, Canada, Australia, and New Zealand? When do the 1335 days, 1290 days, and 1260 days (the time, times, and half a time) of Daniel 12 begin? When does the Bible show that economic collapse will affect the United States? Here is a link to a video titled: The Future King of the North.
The Gospel of the Kingdom of God was the Emphasis of Jesus and the Early Church Did you know that? Do you even know what the gospel of the kingdom is all about? You can also see a YouTube video sermon The Gospel of the Kingdom.
Just What Do You Mean the Kingdom of God? A booklet that was written by Herbert Armstrong answers questions about the Kingdom.
Just What Do You Mean — Repentance? Do you know what repentance is? Have you truly repented? Repented of what? Herbert W. Armstrong wrote this as a booklet on this important subject.
When You Sin: Do You Really Repent? This is an article by Charles F. Hunting. A related sermon is Confess to God and truly repent.
Who is the King of the West? Why is there no End-Time King of the West in Bible Prophecy? Is the United States the King of the West?
Barack Obama, Prophecy, and the Destruction of the United States-Second Edition for Second Obama Term This is a 160 page book for people truly interested in prophecies related to Barack Obama and the United States, including learning about many that have already been fulfilled (which the book documents in detail) and those that will be fulfilled in the future. It also has a chapter about a Republican choice. This book is available to order at www.barackobamaprophecy.com. The physical book can also be purchased at Amazon from the following link: Barack Obama, Prophecy, and the Destruction of the United States: Is Barack Obama Fulfilling Biblical, Islamic Catholic, Kenyan, and other America-Related Prophecies? What About Republican Leaders? Second Edition for Second Obama Term.
Barack Obama, Prophecy, and the Destruction of the United States-Second Term-Amazon Kindle edition. This electronic version is available for only US$2.99. And you do not need an actual Kindle device to read it. Why? Amazon will allow you to download it to almost any device: Please click HERE to download one of Amazon s Free Reader Apps. After you go to for your free Kindle reader and then go to Barack Obama, Prophecy, and the Destruction of the United States-Second Term-Amazon Kindle edition.