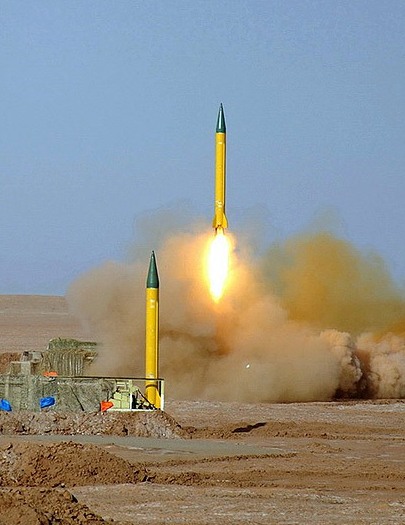 Iranian Shahab 3 missiles (Hossein Velayati)
The Biden-Harris Administration has had the US military respond to an attack from Syria:
US Strikes Back After Rocket Attack in Syria

June 28, 2021 0814 pm

PENTAGON – U.S. troops in Syria have returned fire after a rocket attack targeted American forces there Monday, according to a military spokesman.

"U.S. Forces in Syria, while under multiple rocket attack, acted in self-defense and conducted counter-battery artillery fire at rocket launching positions," U.S. Colonel Wayne Marotto, the spokesman for the international military intervention against Islamic State, wrote on Twitter.

The rockets targeted a military base in Deir ez-Zour known as Green Village, multiple sources with knowledge of the attack confirmed to VOA. Marotto told VOA the U.S. responded to the rockets with 155 mm artillery rounds.

The rocket attack caused no injuries, and damage is still being assessed, Marotto wrote on Twitter.

The back and forth of rockets and artillery rounds came hours after the U.S. military said it struck three targets near the border between Syria and Iraq used by Iranian-backed militias to carry out drone attacks on U.S. personnel and facilities.

"I directed last night's airstrikes targeting sites used by the Iranian-backed militia groups responsible for recent attacks on U.S. personnel in Iraq," U.S. President Joe Biden said Monday in the Oval Office.

Overnight, the U.S. struck weapons storage and operational facilities used by militias such as Kata'ib Hezbollah (KH) and Kata'ib Sayyid al-Shuhada (KSS), according to Pentagon press secretary John Kirby. Two of the targets were inside Syria and one was inside Iraq.

"The attacks against our troops need to stop, and that is why the president ordered the operation last night in self-defense of our personnel," White House press secretary Jen Psaki told reporters Monday.

U.S. troops in Iraq have come under attack from drone strikes three times in a "little over a month," General Frank McKenzie, head of U.S. Central Command, told VOA in an interview in Cairo on June 15. The attacks resulted in no casualties.

"There are a lot of drones in Iraq. Some of them are indigenous. Some of them came from Iran. We're certain of that," McKenzie said. https://www.voanews.com/usa/us-strikes-back-after-rocket-attack-syria

Iran-Backed Militias Fire Rockets in New Attack Aimed at U.S. Forces

June 28, 2021 8:31 pm

U.S. troops in northeast Syria came under rocket fire Monday night after Iran-backed militias vowed revenge for U.S. airstrikes earlier that day in Iraq and Syria, a sign that fighting may be evolving into sustained confrontation.

A spokesman for the U.S.-led coalition, Col. Wayne Marotto, said that multiple rockets had been fired at U.S. troops and that American forces responded by firing artillery at the rocket launching positions. There were no U.S. injuries, he added. https://www.wsj.com/articles/iran-backed-militias-threaten-revenge-after-u-s-airstrikes-in-iraq-syria-11624877977
Things are heating up in the Middle East.
One reason for Iranian-backed attacks, could be the election of a 'hard-line' president over there (see 'Hard-line judiciary head wins Iran presidency as turnout low' and AP: Iran's election unsettles Biden's hope for a nuclear deal; NM: Iran Nuke Deal Based on 'a Fantasy').
Another reason may have to do with statements from US President Biden himself regarding Iran and nuclear weapons:
June 28, 2021 06:32 pm

President Joe Biden on Monday declared that Iran would "never get a nuclear weapon on my watch," after affirming an "iron-clad" relationship between the U.S. and Israel. https://www.politico.com/news/2021/06/28/biden-iran-nuclear-weapon-496801
It is not certain that he can guarantee that. But it is certain he sent a message to Iran that it probably did not want to hear. And that could have possibly played a role in the attack from Syria last night.
Notice something that is in book titled Biden-Harris: Prophecies and Destruction related to Iran:
Iran and Prophecy

Joe Biden wants to have the U.S.A. rejoin the nuclear deal with Iran that Donald Trump pulled the U.S.A. out of. [i]

He also might be more willing than the Obama-Biden Administration had been to trigger enforcement provisions if he feels Iran has violated portions of the agreement.

After Donald Trump's election, Iran declared it would pursue development of nuclear powered ships.[ii]

Because Bible prophecy indicates that it will be primarily Arabic nations that support the final King of the South (Daniel 11:40-43; Ezekiel 30:1-8), though with some (probably temporary per Daniel 11:25-26) support from Turkey and possibly Pakistan and/or Afghanistan, it is not biblically possible that Iran can truly be the leader of the Islamic world as it seems to want to be. Also, because it is basically due east of Jerusalem, Iran should not be considered to be a candidate to be the final 'King of the South' of biblical prophecy.

Despite its posturing and relative military strength, Iran will be somehow effectively neutralized (cf. Ezekiel 32:24). This could perhaps be from an attack involving Israel and/or internal civil unrest — this could also include electromagnetic (EMP) or similar weapons used against Iran (Jeremiah 49:34-39).

It is of prophetic interest to note that the small nation of Israel is prophesied to one day be attacked by some that seem to have connection to Iran and its ally Syria (Isaiah 22:1-14).

In January 2021, it was reported, "Iranian lawmakers have submitted a bill seeking the government by law to commit to Israel's destruction by the year 2040, Iranian state media ISNA reported." [iii]

Iran may decide to strike out against Israel, and likely Jerusalem (cf. Isaiah 22:7-8) if it determines that it should. If it is frustrated with the Biden-Harris Administration policies or delays, that may very well be a factor in it taking prophesied military action.

Iran has weapons that can cause damage. Furthermore, the U.S.A. itself, as well as the State of Israel, are vulnerable to EMP type attacks and even items such as biological weapons, chemical weapons, terrorism, nuclear weapons, dirty bombs, etc. because of a conflict involving Iran, Syria, and/or others.

But should this attack occur, this would NOT be the final destruction of the U.S.A. Prophetically, Iran would not end up faring well (cf. Ezekiel 32:24-25). …

In the future, a Biden/Harris Administration may attempt to get Israel to accept the type of "peace deal" that Daniel 9:27 seems to refer to. This looks to be something to occur in the first term of the Biden/Harris Administration.

A confirmation of a particular deal with a time element in it by a European 'prince' will set the countdown for the rise of the Beast and the destructive Great Tribulation. …

As far as certain end-time events go, here is a brief semi-sequential summary of some items:

The basic sequence is that certain sorrows, violence, and troubles will continue (Mark 13:7-8). This is happening.
The 'peace' deal of Daniel 9:27 is confirmed. Deals have been proposed, but the biblical one has not yet been made nor confirmed. Because of prophecies related to the destruction of Damascus (Isaiah 17:1) and great damage to be done to Jerusalem (Isaiah 22:8-9), one or both of those events may well precede the deal of Daniel 9:27.

A King of the North (who was a 'prince' in Daniel 9:27) and a King of the South (Daniel 11:27) will arise. They will make a lying deal together (Daniel 11:27). …

The King of the North is discussed in Daniel 11. Now before he is called a "king," this same leader is called a prince in Daniel 9:26.

Daniel 9:27 shows that this leader takes the same actions that the King of the North does in Daniel 11:31. This prince is foretold to come from the people who destroyed the temple sanctuary in Jerusalem. Since those that destroyed the second temple in Jerusalem in 70 A.D. were part of the Roman Empire, and that prince later is to come from those people, this shows that he is European. …

Because of prophecies related to the destruction of Damascus (Isaiah 17:1) and great damage to be done to Jerusalem (Isaiah 22:8-9), one or both of those events may well precede the deal of Daniel 9:27.

[i] Erlanger S. Biden Wants to Rejoin Iran Nuclear Deal, but It Won't Be Easy … New York Times, November 18, 2020

[ii] Norman L. Europe Hopeful Trump Will Stick With Iran Nuclear Deal. Wall Street Journal, December 13, 2016

[iii] Iran Parliament to debate bill calling for Israel's destruction by 2040. i24news, January 6, 2021
Joe Biden's anti-nuclear comments may well be seen as delays by Iran in getting to a nuclear deal it could accept.
Iranian proxies have now attacked forces of the US military.
Might Iran get desperate enough to attack the USA or at least Israel?
Yes.
While Iran does not have the power to truly defeat the USA militarily, it has the capacity to cause damage. It also has EMP and other capabilities (like dirty bombs) that could even harm those in the USA.
In the Hebrew Bible, also known as the Old Testament, is the following prophecy about peoples that look to be in Iran (Elam below) and Syria (Kir below; cf. Isaiah 15:1) damaging the tiny nation of Israel in the end times:
6 Elam bore the quiver With chariots of men and horsemen, And Kir uncovered the shield. 7 It shall come to pass that your choicest valleys Shall be full of chariots, And the horsemen shall set themselves in array at the gate.

8 He removed the protection of Judah. You looked in that day to the armor of the House of the Forest; 9 You also saw the damage to the city of David, That it was great; (Isaiah 22:1-14)
To be clear, in Isaiah 22: 8, "Judah" is a reference to those in the land commonly called Israel–God will allow Israel to be attacked! In Isaiah 22:9, consider that "the damage to the city of David" is a reference to at least part of Jerusalem–and notice that the damage will be great. This, in turn, would be expected to result in a massive Israeli, possibly with US involvement, attack against Iran and its allies, like Syria.
The Bible also shows that Damascus, the capital of Syria will be destroyed:
1 The burden against Damascus. "Behold, Damascus will cease from being a city, And it will be a ruinous heap. (Isaiah 17:1).
Damascus has been claimed to be the "oldest continuously inhabited city" in the world. And while some have questioned that claim, the reality is that Damascus has not been destroyed to the point of becoming the "ruinous heap" since God inspired Isaiah, thousands of years ago, to record that it would one day happen. The destruction would be expected to come from some type of warfare. The US and Israel have both been launching attacks against targets in Syria. But Damascus has not been destroyed, therefore we know that death and destruction is prophesied to come (watch also Damascus and Syria in Prophecy).
We may be in the early stages of the ride of the second horseman of the Apocalypse–that is the horseman that takes peace from the earth.
A regional war will come to the Middle East and it could be very soon.
We seem to be seeing some of the initial volleys.
Some items of possibly related interest may include:
Biden-Harris: Prophecies and Destruction Can the USA survive two full presidential terms? In what ways are Joe Biden and Kamala Harris apocalyptic? This book has hundreds of prophecies and scriptures to provide details. A Kindle version is also available and you do not need an actual Kindle device to read it. Why? Amazon will allow you to download it to almost any device: Please click HERE to download one of Amazon s Free Reader Apps. After you go to your free Kindle reader app (or if you already have one or a Kindle), you can go to: Biden-Harris: Prophecies and Destruction (Kindle) to get the book in seconds.
The 'Peace Deal' of Daniel 9:27 This prophecy could give up to 3 1/2 years advance notice of the coming Great Tribulation. Will most ignore or misunderstand its fulfillment? Here is a link to a related sermon video Daniel 9:27 and the Start of the Great Tribulation. A short video is also available titled Trump's Deal of the Century and Daniel 9 27? Here is a link to something related in the Spanish language: Estados Árabes emiratos unidos y el tratado de paz en el medio este.
Does God Have a 6,000 Year Plan? What Year Does the 6,000 Years End? Was a 6000 year time allowed for humans to rule followed by a literal thousand year reign of Christ on Earth taught by the early Christians? Does God have 7,000 year plan? What year may the six thousand years of human rule end? When will Jesus return? 2028 or or 2031 or 20xx? There is also a video titled 6000 Years: When will God's Kingdom Come? Here is a link to the article in Spanish: ¿Tiene Dios un plan de 6,000 años?
Might the U.S.A. Be Gone by 2028? Are there prophetic reasons to believe that the USA will not last two complete presidential terms? Yes. There is a tradition attributed to the Hebrew prophet Elijah that humanity had 6,000 years to live before being replaced by God's Kingdom. There are scriptures, writings in the Talmud, early Christian teachings that support this. Also, even certain Hindu writings support it. Here is a link to a related video: Is the USA prophesied to be destroyed by 2028?
The Great Tribulation: What Happens First? What events have happened? What are some events that are now happening? And what events need to happen for the Great Tribulation to start? Here is a link to a related sermon video: Counting Down to the Great Tribulation.
When Will the Great Tribulation Begin? 2021, 2022, or 2023? Can the Great Tribulation begin today? What happens before the Great Tribulation in the "beginning of sorrows"? What happens in the Great Tribulation and the Day of the Lord? Is this the time of the Gentiles? When is the earliest that the Great Tribulation can begin? What is the Day of the Lord? Who are the 144,000? Here is a version of the article in the Spanish language: ¿Puede la Gran Tribulación comenzar en el 2020 o 2021? ¿Es el Tiempo de los Gentiles? A related video is: 2021: The Great Tribulation or the Great Reset?
USA in Prophecy: The Strongest Fortresses Can you point to scriptures, like Daniel 11:39, that point to the USA in the 21st century? This article does. Two related sermon are available: Identifying the USA and its Destruction in Prophecy and Do these 7 prophesies point to the end of the USA?
Who is the King of the West? Why is there no Final End-Time King of the West in Bible Prophecy? Is the United States the King of the West? Here is a version in the Spanish language: ¿Quién es el Rey del Occidente? ¿Por qué no hay un Rey del Occidente en la profecía del tiempo del fin? A related sermon is also available: The Bible, the USA, and the King of the West.
Who is the King of the North? Is there one? Do biblical and Roman Catholic prophecies for the Great Monarch point to the same leader? Should he be followed? Who will be the King of the North discussed in Daniel 11? Is a nuclear attack prophesied to happen to the English-speaking peoples of the United States, Great Britain, Canada, Australia, and New Zealand? When do the 1335 days, 1290 days, and 1260 days (the time, times, and half a time) of Daniel 12 begin? When does the Bible show that economic collapse will affect the United States? In the Spanish language check out ¿Quién es el Rey del Norte? Here are links to two related videos: The King of the North is Alive: What to Look Out For and The Future King of the North.
The Great Monarch: Biblical and Catholic Prophecies Is the 'Great Monarch' of Catholic prophecies endorsed or condemned by the Bible? Two sermons of related interest are also available: Great Monarch: Messiah or False Christ? and Great Monarch in 50+ Beast Prophecies.
Jesus Returning, David's Throne, and the Stone of Destiny Will Jesus return to the throne of David? What about the Stone of Scone? Here is a link to a related video: Stone of Destiny and Jesus' Return.
Is the Future King of the South Rising Up? Some no longer believe there needs to be a future King of the South. Might Egypt, Islam, Iran, Arabs, or Ethiopia be involved? Might this King be called the Mahdi or Caliph? What does the Bible say? A YouTube video of related interest may be: The Future King of the South is Rising. Here is a version the Spanish language: ¿Esta Surgiendo el Rey Del Sur?
Damascus and Syria in Prophecy Will Bashar al-Assad hold power as he has it? Does the Bible show that Damascus, the capital of Syria, will be destroyed? What will happen to Syria? Will the Syrians support the final King of the South that the Bible tells will rise up? Which scriptures discuss the rise and fall of an Arabic confederation? Does Islamic prophecy predict the destruction of Syria. This is a YouTube video.
Iran in Prophecy Is Iran in Bible prophecy? If so, what does the Bible teach? What names, other than Persia, may be used to describe Iran? There is also a related YouTube video titled Iran In Prophecy.