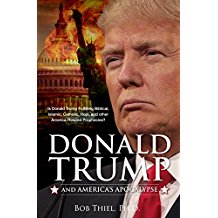 Many Republicans and Democrats in Congress as well as US President Trump are quite pleased with the result of the latest round of budget negotiations. Here are some reports:
Sweeping budget deal would add more than $500 billion in federal spending, end months of partisan wrangling

February 8, 2018

The Republican-led Congress is set to vote Thursday on a two-year budget deal that would include massive increases in military and domestic spending programs, reflecting an ideological shift for a party whose leaders long preached fiscal conservatism but have now embraced big spending.

If the plan wins passage, it would quell months of squabbling between the parties with another big addition to the federal deficit, ending the need for repeated short-term agreements that led to frequent brinkmanship and a government shutdown.

The accord would deliver the defense funding boost wanted by President Trump and Republican lawmakers alongside an increase in domestic programs sought by Democrats, as well as tens of billions of dollars for disaster victims.

Trump backed the deal Wednesday, saying in a tweet that it would give Defense Secretary Jim Mattis "what he needs to keep America Great" and calling on lawmakers of both parties to "support our troops and support this Bill!" https://www.washingtonpost.com/business/economy/spending-deal-in-jeopardy-as-pelosi-issues-last-minute-demand-on-immigration/2018/02/07/a07e4e68-0c1b-11e8-8890-372e2047c935_story.html?utm_term=.aa1ae72d2aae

February 8, 2018

CAPITOL HILL — 

U.S. lawmakers are set to vote Thursday on a budget plan that would keep the federal government funded for two years and avoid another shutdown.

The Senate will vote first after its leaders agreed Wednesday on a bipartisan deal that does not include addressing contentious immigration topics.

"I'm pleased to announce that our bipartisan, bicameral negotiations on defense spending and other priorities have yielded a significant agreement," Majority Leader Mitch McConnell, a Kentucky Republican, said on the Senate floor.

"We came together with an agreement that is very good for the American people," Democratic Minority Leader Chuck Schumer of New York said. "After months of legislative logjams, this budget deal is a genuine breakthrough."

The package would boost U.S. government spending on national defense and domestic programs by $300 billion over a two-year period, ending years of mandatory budget caps Republicans argued were hollowing out America's military and Democrats said were harming the needy.

"The compromise we've reached will ensure that, for the first time in years, our armed forces will have more of the resources they need to keep America safe," McConnell said. https://www.voanews.com/a/us-lawmakers-budget-deal-vote/4244221.html
Whether it increases the deficit by $500 or $300 billion, it is still more debt. Politicians tend to believe that the more they spend the more likely they will keep (and increase) power. Increasing debt will NOT make America great again.
Of course, not every US politician is pleased with the tentative bill:
US Senate's bipartisan spending-hike budget is 'monstrosity' …

Conservative Republicans are up in arms about the bill's ramifications for the US federal debt.

When asked if he supported the bill, Alabama Republican Mo Brooks said: "I'm not only a no. I'm a hell no."

Mr Brooks, a member of the Freedom Caucus, a congressional group of budget hawks, dubbed the bill a "debt junkie's dream".

He called his fellow Republicans the party of "big spending" and "big government".

Dave Brat from Virginia agreed, calling the bill a "Christmas tree on steroids".

Freedom Caucus leader Jim Jordan, of Ohio, said the agreement was a "monstrosity", which he found hard to believe could have emanated from his own party. 02/07/18 http://www.bbc.com/news/world-us-canada-42981072

Several Republicans, citing their continued belief in the virtue of limiting government spending, on Wednesday voiced their objections to the plan.

"This spending bill is a debt junkie's dream," said Rep. Mo Brooks (R-Ala.), warning that it would set up trillion-dollar-a-year deficits. …

Democrats remained disgruntled that the agreement did not include protections for young undocumented immigrants who were brought to the United States as children and are now at risk for deportation after Trump moved to cancel the Obama-era Deferred Action for Childhood Arrivals program.

House Minority Leader Nancy Pelosi (D-Calif.) said Wednesday that she and "a large number" of fellow Democrats would oppose the deal unless she is guaranteed a vote on immigration legislation.

She delivered the ultimatum at the top of an eight-hour stretch of remarks that broke a modern record for the longest House floor speech. 02/08/18 https://www.washingtonpost.com/business/economy/spending-deal-in-jeopardy-as-pelosi-issues-last-minute-demand-on-immigration/2018/02/07/a07e4e68-0c1b-11e8-8890-372e2047c935_story.html?utm_term=.aa1ae72d2aae
And the debt goes on, and the debt goes on.
According to the US Treasury, official USA debt was $19,947,304,555,212.49 on the day that Donald Trump was inaugurated as President of the USA.
According to the US Treasury, official USA debt was $20,494,165,051,604.50 as of February 6, 2018. This was without this bipartisan bill and did not include any significant amount yet for the tax bill past last December.
Now add to the "normal" debt deficit, an additional $300-500 billion for the bipartisan bill (presuming it becomes law) and the approximately $300 billion that the tax bill past last December is projected to add to the deficit for the same period, and we are seeing a lot of increases in debt.
In my book, Donald Trump and America's Apocalypse, I wrote:
Donald Trump and many other American politicians have not run away from increasing U.S.A. debt—that will be to the nation's peril. …

Although as president Donald Trump inherited a debt-laden nation, his policies, according to his own public pronouncements will continue to lead to, increased U.S.A. debt. … Increasing national debt will lead to destruction at the appointed time of the end (Habakkuk 2:3–8). (Thiel B. Donald Trump and America's Apocalypse. Nazarene Books, 2017, pp. 35,37)
This is coming to pass. Biblical prophecies are being fulfilled.
As far as debt and Donald Trump goes, he once claimed:
I'm the king of debt. I love debt. (Egan M. Donald Trump: 'I'm the king of debt.' CNN, May 7, 2016)
Donald Trump also said:
I have borrowed, knowing that you can pay back with discounts. And I have done very well with debt. Now, of course, I was swashbuckling, and it did well for me and it was good for me and all that. …

Now we're in a different situation with a country, but I would borrow knowing that if the economy crashed you could make a deal. And if the economy was good it was good so therefore you can't lose. …

I don't want to renegotiate the bonds, but I think you can do discounting. … I'm not even suggesting that we don't borrow money at very low rates long term so we don't have to worry about when they come due. (Kurtzleben D. Donald Trump's Messy Ideas For Handling The National Debt, Explained. NPR, May 9, 2016)

Nobody knows debt better than me. I've made a fortune by using debt and if things don't work out, I renegotiate the debt. Well, you go back and you say, 'hey, guess what? The economy just crashed. I'm going to give you back half. ("Trump recession"? Presumptive GOP nominee fires back at Clinton. CBS, June 22, 2016)
It sounds like Donald Trump believes that debt is good and there is nothing wrong with defaulting or otherwise not intending to pay the total debt back. Other USA politicians have also basically suggested paying the debt back in inflated currency or something else other than the original value of the debt.
The Bible says the wicked have that attitude:
21 The wicked borrows and does not repay, But the righteous shows mercy and gives. (Psalms 37:21)
Not paying back debt is biblically immoral.
Yet various US presidents, the Federal Reserve, many Congressional leaders, and many in the mainstream press seem to love debt.
Yet, the Bible teaches that debt is one of the curses that happen to the disobedient:
15 "But it shall come to pass, if you do not obey the voice of the Lord your God, to observe carefully all His commandments and His statutes which I command you today, that all these curses will come upon you and overtake you: (Deuteronomy 28:15)

43 "The alien who is among you shall rise higher and higher above you, and you shall come down lower and lower. 44 He shall lend to you, but you shall not lend to him; he shall be the head, and you shall be the tail.

45 "Moreover all these curses shall come upon you and pursue and overtake you, until you are destroyed, because you did not obey the voice of the Lord your God, to keep His commandments and His statutes which He commanded you. 46 And they shall be upon you for a sign and a wonder, and on your descendants forever.

47 "Because you did not serve the Lord your God with joy and gladness of heart, for the abundance of everything, 48 therefore you shall serve your enemies, whom the Lord will send against you, in hunger, in thirst, in nakedness, and in need of everything; and He will put a yoke of iron on your neck until He has destroyed you. 49 The Lord will bring a nation against you from afar, from the end of the earth, as swift as the eagle flies, a nation whose language you will not understand, 50 a nation of fierce countenance, which does not respect the elderly nor show favor to the young. 51 And they shall eat the increase of your livestock and the produce of your land, until you are destroyed; they shall not leave you grain or new wine or oil, or the increase of your cattle or the offspring of your flocks, until they have destroyed you. (Deuteronomy 28:43-51)
The end result of the coming massive financial crisis will be worse than a monstrosity. It will result in the END OF THE USA!
However, this will not happen this month, next year, or even during the first term of Donald Trump's Administration. But it will happen!
The Bible shows that the highly indebted will be destroyed in the appointed time of the end:
2 Then the Lord answered me and said:

"Write the vision
And make it plain on tablets,
That he may run who reads it.
3 For the vision is yet for an appointed time;
But at the end it will speak, and it will not lie.
Though it tarries, wait for it;
Because it will surely come,
It will not tarry.

4 "Behold the proud,
His soul is not upright in him;
But the just shall live by his faith.

5 "Indeed, because he transgresses by wine,
He is a proud man,
And he does not stay at home.
Because he enlarges his desire as hell,
And he is like death, and cannot be satisfied,
He gathers to himself all nations
And heaps up for himself all peoples.

6 "Will not all these take up a proverb against him,
And a taunting riddle against him, and say,
'Woe to him who increases
What is not his — how long?
And to him who loads himself with many pledges'?
7 Will not your creditors rise up suddenly?
Will they not awaken who oppress you?
And you will become their booty.
8 Because you have plundered many nations,
All the remnant of the people shall plunder you,
Because of men's blood
And the violence of the land and the city,
And of all who dwell in it. (Habakkuk 2:2-8)
The USA is the most indebted nation in world history and will be taken over.
And the official debt does not count future obligations (e.g. Social Security/Medicare) or household debt (e.g. US Household Debt Reaches New Record as Some Delinquency Rates Rise) both of which are high.
Do not think that the USA can continue to increase its debt forever.
Despite what Democratic Minority Leader Chuck Schumer of New York said, this increased debt deal is NOT "very good for the American people." Despite what President Donald Trump tweeted, it WILL NOT make America great again.
The USA needs national repentance or it is doomed.
Increasing debt will help seal its doom and destruction.
Some items of possibly related interest may include:
The End of US Dollar Dominance Is the USA losing its economic status? What about the petro-gold-yuan? A related video is also available: US Dollar being challenged by Gold-Petro-Yuan.
United Nations: Humankind's Last Hope or New World Order? Is the UN the last hope for humanity? Or might its goals end up with sinister results? Two related videos include UN's 'New Universal Agenda' is a False Gospel! and United Nations and Vatican Are Planning the New World Order.
Are You Being Called by God? Norman Shoaf wrote various points to consider.
Is God Calling You? Alfred E Carrozzo wrote this.
What Did Christ Mean Many Are Called, But Few Are Chosen? This article was by Raymond McNair.
Christian Repentance Do you know what repentance is? Is it really necessary for salvation? A related sermon is also available titled: Real Christian Repentance.
Blockchain, Karl Guttenberg, and 666. American Express just announced a deal with Ripple related to using its blockchain technology. No longer confined to Bitcoin, blockchain technology is moving towards the mainstream. Former German Economic and later Defense Minister, Karl-Theodor zu Guttenberg has long been an adviser to Ripple and has plans for internationally-expanding the use of blockchain money. Jim Rickards, Doug Casey, and others have expressed concerns that blockchain money will give governments too much control over buying and selling. Could any of this be related to biblical prophecies in the Books of Daniel and Revelation? Could any of this help fulfill the prophecies related to buying and selling and 666 in Revelation 13? Dr. Thiel addresses these issues and more in this video. A related written article is also available: Amex launches blockchain-based business payments using Ripple: Prelude to the Beast and 666?
USA in Prophecy: The Strongest Fortresses Can you point to scriptures, like Daniel 11:39, that point to the USA in the 21st century? This article does. A related sermon is titled: Do these 7 prophesies point to the end of the USA?
When Will the Great Tribulation Begin? 2018, 2019, or 2020? Can the Great Tribulation begin today? What happens before the Great Tribulation in the "beginning of sorrows"? What happens in the Great Tribulation and the Day of the Lord? Is this the time of the Gentiles? When is the earliest that the Great Tribulation can begin? What is the Day of the Lord? Who are the 144,000? Here is a version of the article in the Spanish language: ¿Puede comenzar la Gran Tribulación en 2018 o 2019? ¿Es el Tiempo de los Gentiles? You can also see the English language sermon videos: The Great Tribulation from the Mount of Olives and Can the Great Tribulation begin before 2020? A shorter video is: Can the Great Tribulation begin in 2018?
The Times of the Gentiles Has there been more than one time of the Gentiles? Are we in it now or in the time of Anglo-America? What will the final time of the Gentiles be like? A related sermon is available and is titled: The Times of the Gentiles.
Who is the King of the North? Is there one? Do biblical and Roman Catholic prophecies for the Great Monarch point to the same leader? Should he be followed? Who will be the King of the North discussed in Daniel 11? Is a nuclear attack prophesied to happen to the English-speaking peoples of the United States, Great Britain, Canada, Australia, and New Zealand? When do the 1335 days, 1290 days, and 1260 days (the time, times, and half a time) of Daniel 12 begin? When does the Bible show that economic collapse will affect the United States? In the Spanish language check out ¿Quién es el Rey del Norte? Here is a link to a video titled: The Future King of the North.
Anglo – America in Prophecy & the Lost Tribes of Israel Are the Americans, Canadians, English, Scottish, Welsh, Australians, Anglo-Saxon (non-Dutch) Southern Africans, and New Zealanders descendants of Joseph? Where are the lost ten-tribes of Israel? Who are the lost tribes of Israel? What will happen to Jerusalem and the Jews in Israel? Will God punish the U.S.A., Canada, United Kingdom, and other Anglo-Saxon nations? Why might God allow them to be punished first? Here is a link to the Spanish version of this article: Anglo-América & las Tribus Perdidas de Israel. Information is also in the YouTube sermons titled Where are the Ten Lost Tribes? Why does it matter? and British are the Covenant People. A short YouTube of prophetic interest may be: Are Chinese threats against Australia for real?
Will the Anglo-Saxon Nations be Divided and Have People Taken as Slaves? Will the lands of the United States, United Kingdom, Canada, Australia, and New Zealand be divided? What about Jerusalem? What does Bible prophecy teach? Are there non-biblical prophecies that support this idea? Who will divide those lands? Who will end up with the lands and the people? Here is a link to a video titled Will the USA and other Anglo-nations be Divided and Their People Made Slaves? Here is a related item in the Spanish language ¿Serán divididas las naciones anglosajonas?
Who is the King of the West? Why is there no Final End-Time King of the West in Bible Prophecy? Is the United States the King of the West? Here is a version in the Spanish language: ¿Quién es el Rey del Occidente? ¿Por qué no hay un Rey del Occidente en la profecía del tiempo del fin?
Donald Trump in Prophecy Prophecy, Donald Trump? Are there prophecies that Donald Trump may fulfill? Are there any prophecies that he has already helped fulfill? Could a Donald Trump presidency be apocalyptic? A related video is titled: Donald: 'Trump of God' or Apocalyptic?
Trump Presidency Magic 8 Ball or Bible Prophecy? BBC reported that one might as well use a 'Magic Eight-Ball' to try to predict what will happen in the remaining time of Donald Trump's presidency. What is a 'Magic Eight-Ball'? Dr. Thiel not only explains that, but also briefly goes over 10 biblically-based warnings he wrote would happen if Donald Trump were elected that have already began to come to pass. He also goes over something he wrote back in 2008 that the Trump presidency is also helping lead to fulfillment. Should you trust Bible prophecy or not? Dr. Thiel says that Bible prophecy can be trusted, despite the view of skeptics and others that either overlook or despise the Bible. This is a video.
Donald Trump and America's Apocalypse This 188 page book is for people truly interested in prophecies related to Donald Trump and the United States, including learning about several that have already been fulfilled and those that will be fulfilled in the future. The physical book can be purchased at Amazon for $12.99 from the following link: Donald Trump and America's Apocalypse.
Donald Trump and America's Apocalypse-Kindle Edition This electronic version of the 188 page print edition is available for only US$3.99. And you do not need an actual Kindle device to read it. Why? Amazon will allow you to download it to almost any device: Please click HERE to download one of Amazon s Free Reader Apps. After you go to for your free Kindle reader and then go to Donald Trump and America's Apocalypse-Kindle Edition.
The Gospel of the Kingdom of God This free online pdf booklet has answers many questions people have about the Gospel of the Kingdom of God and explains why it is the solution to the issues the world is facing. Here are links to three related sermons: The World's False Gospel, The Gospel of the Kingdom: From the New and Old Testaments, and The Kingdom of God is the Solution.