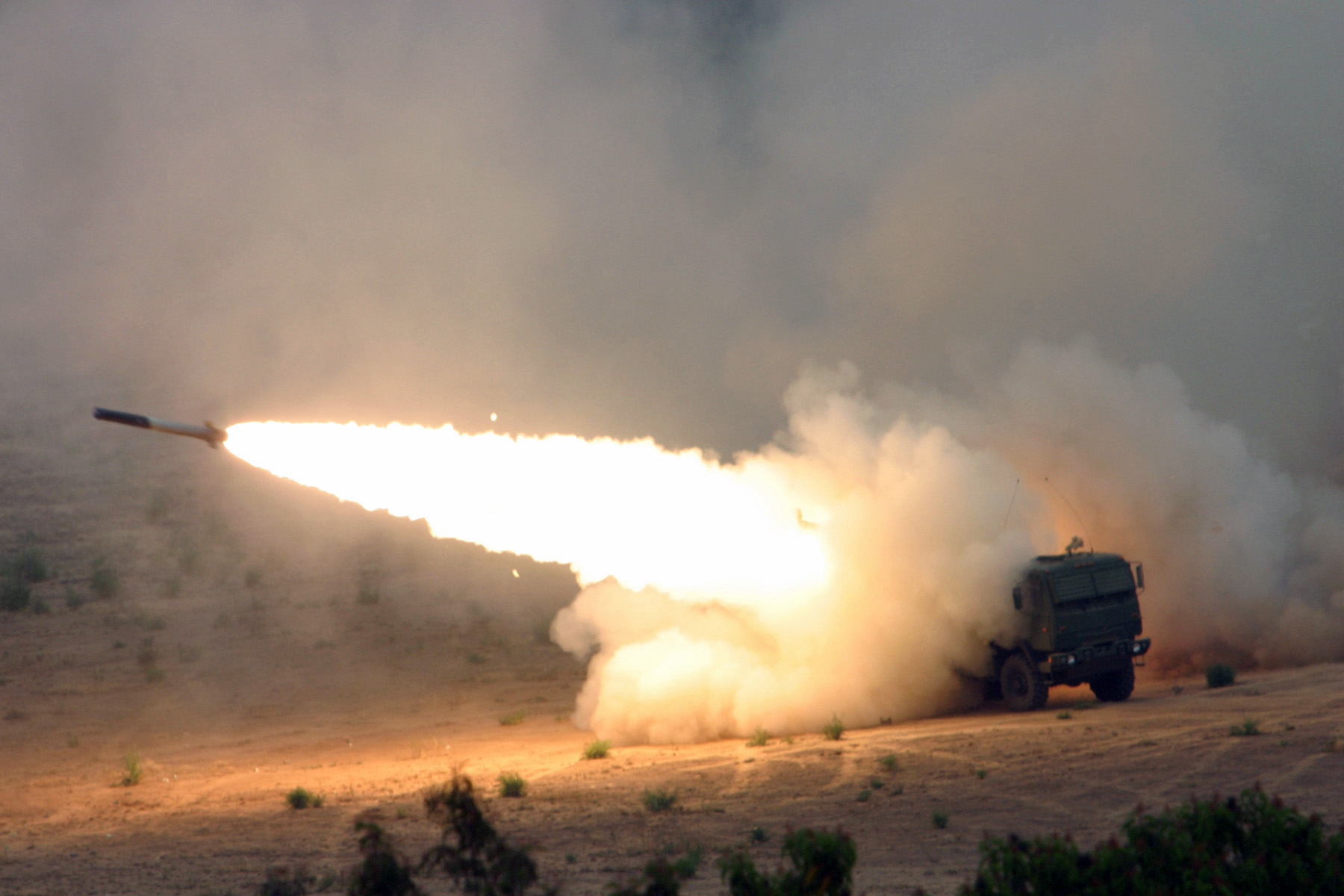 Reduced Range Rocket (US government photo)
Voice of America reported the following:
US to Send 'Advanced Rocket Systems' to Ukraine

June 1, 2022
U.S. President Joe Biden said Tuesday he decided to provide Ukraine with "more advanced rocket systems and munitions" as part of U.S. efforts to help the Ukrainian fight against a Russian invasion now in its fourth month. …
The decision to send more advanced weapons follows earlier reluctance on the part of the Biden administration. Biden himself said Monday that the United States would not send rockets "that can strike into Russia."

The Associated Press cited senior administration officials as saying the new weapons package, set to be detailed Wednesday, includes medium-range rockets that can travel about 70 kilometers. The officials also said Ukraine had given assurances its forces would not fire rockets into Russian territory.

Biden wrote Tuesday that he does not seek war with Russia.

"As much as I disagree with Mr. Putin, and find his actions an outrage, the United States will not try to bring about his ouster in Moscow," Biden said. "So long as the United States or our allies are not attacked, we will not be directly engaged in this conflict, either by sending American troops to fight in Ukraine or by attacking Russian forces. We are not encouraging or enabling Ukraine to strike beyond its borders."

Kremlin spokesman Dmitry Peskov told reporters Wednesday that Russia takes a negative view of U.S. weapons shipments to Ukraine, adding that they do not encourage the renewal of peace talks.

"We believe that the U.S. is deliberately pouring oil on the fire. The U.S. is obviously holding the line that it will fight Russia to the last Ukrainian," Peskov said.

Ukraine's general staff reported Wednesday that Russian forces were pounding infrastructure in areas of eastern and southern Ukraine, including in the city of Sievierodonetsk, which is key to Russia's attempt to capture the Donbas region.

Luhansk's regional governor, Serhiy Gaidai, said that after days of fierce fighting between Russian and Ukrainian troops, Moscow's forces control most of the city but have not surrounded it. https://www.voanews.com/a/us-to-send-advanced-rocket-systems-to-ukraine/6598106.html
The US continues to push its limits to what weapons it will send.
More people will die.
While I have some understanding as to why the US is doing this, there will be unintended consequences from sending weapons.
Notice, for example, the following:
May 31, 2022 – 11:45 PM

In a weekend German media interview the head of the European police agency Europol has issued a dire warning about the huge amount of weapons being pumped from the West into Ukraine.

Europol Director Catherine De Bolle told the German newspaper Welt am Sonntag that the flood of weapons on the Ukraine-Russia battlefield could end up in the hands of criminal groups for years to come. "At some point the war will be over. We want to avoid a situation like the one that followed the war in the Balkans 30 years ago," she said to the publication in reference to conflicts in the wake of Yugoslavia's collapse.

"The weapons from this war are still being used by criminal groups today," De Bolle emphasized in speaking of Balkan conflicts, and what's looking to be a similar situation emerging in Ukraine. …

The Kremlin has especially complained about Stinger missiles from the US flooding the Ukrainian battlefield. Stingers don't only pose a severe threat to military aircraft, but to civilian aviation as well. …

The type of scenario that Europol's De Bolle is now alarmed about has already played out in Syria, as has long been documented, given that twin CIA and Pentagon programs to arm so-called "moderate rebels" resulted in an array of weapons, including TOW anti-tank missiles, going straight to Syrian al-Qaeda, ISIS, and all terror groups in between. https://www.zerohedge.com/geopolitical/europol-warns-weapons-shipped-ukraine-could-be-used-criminal-groups-years
Yes, some of the weapons being sent to Ukraine may one day be used by terrorists. Including some who may choose to use them against the US or US interests abroad.
The Bible clearly prophesies terrorism. Notice some of those prophecies:
5 They have corrupted themselves; They are not His children, Because of their blemish: A perverse and crooked generation. … 25 The sword shall destroy outside; There shall be terror within (Deuteronomy 32:5,25)

12 "Cry and wail, son of man; For it will be against My people, Against all the princes of Israel. Terrors including the sword will be against My people; Therefore strike your thigh. (Ezekiel 21:12)

25 Because you disdained all my counsel, And would have none of my rebuke, 26 I also will laugh at your calamity; I will mock when your terror comes, 27 When your terror comes like a storm, And your destruction comes like a whirlwind, When distress and anguish come upon you. (Proverbs 1:25-27)

5 Also they are afraid of height, And of terrors in the way (Ecclesiastes 12:5).

6 You have forsaken Me," says the Lord,
"You have gone backward.
Therefore I will stretch out My hand against you and destroy you;
I am weary of relenting!
7 And I will winnow them with a winnowing fan in the gates of the land;
I will bereave them of children;
I will destroy My people,
Since they do not return from their ways.
8 Their widows will be increased to Me more than the sand of the seas;
I will bring against them,
Against the mother of the young men,
A plunderer at noonday;
I will cause anguish and terror to fall on them suddenly. (Jeremiah 15:6-8)
While many political, media, and other leaders refuse to believe the Bible, the reality is that those of us who believe the Bible realize that terrorism is prophesied.
US Senator Rand Paul complained recently that there are not enough controls over the funds and weapons being sent to Ukraine. That, combined with Ukraine's reputation of corruption, sets up a scenario for some weapons to be sold to terrorists.
More terrorism will hit the US and other lands. It is likely some weapons sent to Ukraine will be used.
That being said, notice what will happen after the great tribulation and day of the Lord once Jesus returns:
4 He shall judge between the nations,
And rebuke many people;
They shall beat their swords into plowshares,
And their spears into pruning hooks;
Nation shall not lift up sword against nation,
Neither shall they learn war anymore.  (Isaiah 2:4)

3 He shall judge between many peoples,
And rebuke strong nations afar off;
They shall beat their swords into plowshares,
And their spears into pruning hooks;
Nation shall not lift up sword against nation,
Neither shall they learn war anymore. (Micah 4:2)
You will notice that the above verses say the same thing.
We believe that is for emphasis.
During the millenarial kingdom, peace will be enforced.
Instead of wasting resources on harming others, resources will be re-directed to do good.
That is part of the good news of the coming Kingdom of God.
Pray for God's kingdom to come (Matthew 6:10).
Some items of possibly related interest may include:
Russia and Ukraine: Their Origins and Prophesied Future Russia in prophecy. Where do the Russians come from? What about those in the Ukraine? What is prophesied for Russia and its allies? What will they do to the Europeans that supported the Beast in the end? There is also a video sermon available: Russia in the Bible and in Prophecy as are two video sermonettes Russia, Ukraine, Babylonian Europe, and Prophecy and Ukraine in Prophecy?
Is Russia the King of the North? Some claim it is. But what does the Bible teach? Here is a link to a video, also titled Is Russia the King of the North?
Ezekiel 38: For Russia & Iran in Our Day? Is Ezekiel 38 about to be fulfilled? Are we close to the battle with Gog and Magog? Four related videos are available: Ezekiel 38 Gog and Magog War: Is it Soon?, Ezekiel 38: For Russia, Ukraine, & Iran Now?, Russia, Iran, Syria, & the Bible (Code), and Gog, Magog, Vladimir Putin, and Ezekiel 38?
Why Terrorism? Is Terrorism Prophesied? What does the Bible teach? Which nations may be affected? Here is a link to a related sermon: Terrorism, Christianity, and Islam. Here is a shorter video: Afghanis: Potential terrorists?
The Gospel of the Kingdom of God This free online pdf booklet has answers many questions people have about the Gospel of the Kingdom of God and explains why it is the solution to the issues the world is facing. Here are links to four related sermons:  The Fantastic Gospel of the Kingdom of God!, The World's False Gospel, The Gospel of the Kingdom: From the New and Old Testaments, and The Kingdom of God is the Solution.
The Great Monarch: Biblical and Catholic Prophecies Is the 'Great Monarch' of Catholic prophecies endorsed or condemned by the Bible? Two sermons of related interest are also available: Great Monarch: Messiah or False Christ? and Great Monarch in 50+ Beast Prophecies.
Does God Have a 6,000 Year Plan? What Year Does the 6,000 Years End? Was a 6000 year time allowed for humans to rule followed by a literal thousand year reign of Christ on Earth taught by the early Christians? Does God have 7,000 year plan? What year may the six thousand years of human rule end? When will Jesus return? 2029 or 20xx? There is also a video titled 6000 Years: When will God's Kingdom Come? Here is a link to the article in Spanish: ¿Tiene Dios un plan de 6,000 años?
When Will the Great Tribulation Begin? 2022, 2023, or 2024? Can the Great Tribulation begin today? What happens before the Great Tribulation in the "beginning of sorrows"? What happens in the Great Tribulation and the Day of the Lord? Is this the time of the Gentiles? When is the earliest that the Great Tribulation can begin? What is the Day of the Lord? Who are the 144,000? Here is a version of the article in the Spanish language: ¿Puede la Gran Tribulación comenzar en el 2020 o 2021? ¿Es el Tiempo de los Gentiles? A related video is: Great Tribulation: 2026 or 2027? A shorter video is: Can the Great Tribulation start in 2022 or 2023? Here is a video in the Spanish language: Es El 2021 el año de La Gran Tribulación o el Grande Reseteo Financiero.
Did The Early Church Teach Millenarianism? Was the millennium (sometimes called chiliasm) taught by early Christians? Who condemned it? Will Jesus literally reign for 1000 years on the earth? Is this time near? Three related sermons are available Let's Talk About the Earthly Millennium, Millennial Utopia, and The Millennium.