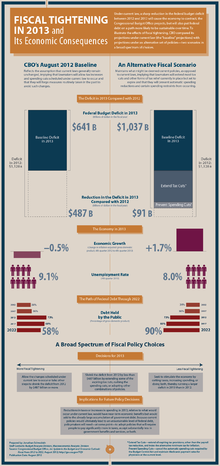 The possible so-called 'budget deal' that some in the federal government of the USA thought existed is not really working, nor will it solve the real problems facing the USA:
May 10, 2013

Budget deal on life support as optimism fades

Less than two months ago, Democrats and Republicans in Congress were uncharacteristically confident about the prospects of passing a full-year budget plan: Over the course of a few weeks, both parties passed their own budget proposals, complete with amendments, and swiftly went to work writing up the bills and gearing up for negotiations. Senators and House members were cautiously optimistic that, despite years of bitter partisanship in Congress, something could be worked out.

In the 40-plus days since both sides passed their respective bills, however, the hopes for a comprehensive budget package have all but collapsed.

"It's not dead, but it's not looking nearly as favorable as we might have thought a month or two ago," said Norm Ornstein, a congressional expert and American Enterprise Institute scholar, in an interview with CBSNews.com.  http://www.cbsnews.com/8301-250_162-57583764/budget-deal-on-life-support-as-optimism-fades/
May 9, 2013
Sen. Rob Portman (R-Ohio), the former director of the Office of Management and Budget, said he thinks Majority Leader Harry Reid (D-Nev.) should simply force a vote on sending the budget to conference. If he did so, Portman said he would vote in favor of starting the conference process.

For weeks now Democrats have been publicly beating up on Republicans for refusing to agree to a conference after the Senate and House both passed budgets in April. Democrats feel they have a winning hand and can convince voters this is another example of the Republicans obstructing progress.

But the partisan back and forth rose — or fell — to new levels this week, when Reid called Sen. Ted Cruz (R-Texas) a "schoolyard bully" for objecting to a motion to go to conference.

On Tuesday, Republicans — led by Minority Leader Mitch McConnell — accused Democrats of trying to sneak in a hike to the debt ceiling in the reconciliation bill. The debt ceiling is set to expire late this summer. McConnell, Cruz and others want to set the parameters of any conference before one starts.  http://www.politico.com/story/2013/05/some-gop-ers-antsy-to-start-budget-conference-91165.html#ixzz2Stiubp85
While there are more similarities between the two major political parties in the USA than are apparent to many, there also is a major divide between them.  And that divide has been growing in the past several years.
That being said, a temporary budget deal is not the real solution to the US debt situation.  The reality is that even with a budget deal the total debt of the USA will rise.  Increasing acceptance of sin is the real problem, and because of that, leaders simply cannot see even a lot of the proper carnal economic solutions for the USA.  The ramifications of this are severe (cf. Romans 1:18-32).
Of course, the physical reality is that something needs to be done (and it may essentially be some type of sham, like the "quantitative easing" programs are; see Doubling QE3 is not good). The politicians are making it clear to me, at least, that it will take massive devastation and the return of Jesus for the needed solutions to be implemented here.
Biblically, these budget problems are more serious than most people realize.  The related debt is also more dangerous than most realize. Notice what the Bible warns about those who increase debt in the end times:
3 For the vision is yet for an appointed time; But at the end it will speak, and it will not lie. Though it tarries, wait for it; Because it will surely come, It will not tarry…5 Indeed, because he transgresses by wine, He is a proud man… 6 "Will not all these take up a proverb against him, And a taunting riddle against him, and say, 'Woe to him who increases What is not his–how long? And to him who loads himself with many pledges'? 7 Will not your creditors rise up suddenly? Will they not awaken who oppress you? And you will become their booty. 8 Because you have plundered many nations, All the remnant of the people shall plunder you. Because of men's blood And the violence of the land and the city, And of all who dwell in it. (Habakkuk 2:3,5,6-8).
The USA is in more debt than any country in the history of humanity. Despite biblical warnings, the USA continues to increase its debt and engage in political posturing. At some point in time, the USA will likely start to experience massive inflation and currency devaluation. And afterwards, its creditors will rise up (Habakkuk 2:7). The realities of USA debt as well as policies of the Federal Reserve like "quantitative easing" are setting the stage for the absolute end of economic dominance by the U.S.A.–have no doubt about it (although there could be some major positive economic events before that happens).
While the Republicans and Democrats have often used this as a major partisan fight and sometimes treat this like a political game, the reality is that the rest of the world is also watching and is very disturbed by all of this (see earlier post IMF: Suspending debt ceiling hurts United States tremendously). The Europeans and others are realizing that the USA is losing its position of world leadership–and when it does, this will be the final "time of the Gentiles" that the Bible warns of (Ezekiel 30:2-3; Luke 21:23-24; Revelation 11:2). The leaders in the USA are causing the nation to err (cf. Isaiah 3:12; 9:16).
The policies and decisions in Washington, D.C. are helping to create the conditions for the upcoming European Beast power to fill the void in economic (and even military) leadership that the USA is in the process of making.
Change is coming, and in several years, those in the USA (as well as their Anglo-allies) will not like the change that is coming.
The USA needs national repentance or it, despite its military strength, is doomed (cf. Daniel 11:39; Habakkuk 2:5-8).  However, individually, you can repent (Acts 2:38-39) and you can be protected (Luke 21:36).
Some articles of possibly related interest may include:
Anglo – America in Prophecy & the Lost Tribes of Israel Are the Americans, Canadians, British, Scottish, Welsh, Australians, Anglo-Southern Africans, and New Zealanders descendants of Joseph? Where are the lost ten-tribes of Israel? Who are the lost tribes of Israel? Will God punish the U.S.A., Canada, United Kingdom, and other Anglo nations? Why might God allow them to be punished first?
Will the Anglo-Nations be Divided and Have People Taken as Slaves? Will the lands of the United States, United Kingdom, Canada, Australia, and New Zealand be divided? What about Jerusalem? What does Bible prophecy teach? Are there non-biblical prophecies that support this idea? Who will divide those lands? Who will end up with the lands and the people? Here is a link to a video titled Will the USA and other Anglo-nations be Divided and Their People Made Slaves?
Just What Do You Mean — Repentance? Do you know what repentance is? Have you truly repented? Repented of what? Herbert W. Armstrong wrote this as a booklet on this important subject.
Overcoming Sin What is sin? How are Christians suppose to overcome it? Here is also a link to a video titled How to Overcome Sin.
Just What Do You Mean Conversion? Many think that they are converted Christians. But are they? Would you like to know more about conversion. Herbert W. Armstrong wrote this as a booklet on this important subject.
False Conversion Have you really been converted? Herbert W. Armstrong wrote this article on this important subject.
All About Water Baptism What is baptism? Would you like to know more about it. Herbert W. Armstrong wrote this as a booklet on this important subject. As far as early history, see also Baptism and the Early Church.
God's Grace is For All Is being Jewish a hinderance to salvation? What about not being a descendant of Israel? What does the Bible really teach?
The Gospel of the Kingdom of God was the Emphasis of Jesus and the Early Church Did you know that? Do you even know what the gospel of the kingdom is all about? You can also see a YouTube video sermon The Gospel of the Kingdom.
Europa, the Beast, and Revelation Where did Europe get its name? What might Europe have to do with the Book of Revelation? What about "the Beast"? Is an emerging European power "the daughter of Babylon"? What is ahead for Europe?
Who is the King of the North? Is there one? Do biblical and Roman Catholic prophecies for the Great Monarch point to the same leader? Should he be followed? Who will be the King of the North discussed in Daniel 11? Is a nuclear attack prophesied to happen to the English-speaking peoples of the United States, Great Britain, Canada, Australia, and New Zealand? When do the 1335 days, 1290 days, and 1260 days (the time, times, and half a time) of Daniel 12 begin? When does the Bible show that economic collapse will affect the United States?
Barack Obama, Prophecy, and the Destruction of the United States-Second Edition for Second Obama Term This is a 160 page book for people truly interested in prophecies related to Barack Obama and the United States, including learning about many that have already been fulfilled (which the book documents in detail) and those that will be fulfilled in the future. It also has a chapter about a Republican choice. This book is available to order at www.barackobamaprophecy.com. The physical book can also be purchased at Amazon from the following link: Barack Obama, Prophecy, and the Destruction of the United States: Is Barack Obama Fulfilling Biblical, Islamic, Catholic, Kenyan, and other America-Related Prophecies? What About Republican Leaders? Second Edition for Second Obama Term.
Barack Obama, Prophecy, and the Destruction of the United States-Second Term-Amazon Kindle edition. This electronic version is available for only US$2.99. And you do not need an actual Kindle device to read it. Why? Amazon will allow you to download it to almost any device: Please click HERE to download one of Amazon s Free Reader Apps. After you go to for your free Kindle reader and then go to Barack Obama, Prophecy, and the Destruction of the United States-Second Term-Amazon Kindle edition.