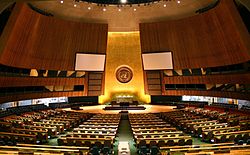 United Nations General Assembly Hall (Patrick Gruban)

Because of the win by Israeli Prime Minister Benjamin Netanyahu as well as disappointment related to some of his statements, the Obama Administration is rumored to be considering abandoning Israel at the United Nations:
March 19, 2015

Washington (CNN) The Obama administration's frustration with Benjamin Netanyahu is turning into outright hostility after the Israeli prime minister's commanding victory this week.

A senior administration official said that Netanyahu's sharp tacks to the right before Tuesday's vote — in which he ruled out the creation of a Palestinian state, a pillar of U.S. policy in the Middle East — "raise very significant substantive concerns" for the White House, and that "we have to reassess our options going forward."  …

President Barack Obama made it clear to Netanyahu on Wednesday that the Israeli prime minister, with whom he has repeatedly clashed, is still in the doghouse — likely more so than ever before.

Waning U.S. support for Israel at the U.N.? …

While U.S. officials continue to insist that U.S. support for Israel's security is sacrosanct, they have suggested that U.S. political support for Israel at the United Nations and with its European allies could suffer if the rift between the U.S. and Israel deepens.

Steven Simon, a former National Security Council official under Obama, said that given the strain with Netanyahu, the White House might now consider paring down the defense American diplomats play for Israel at the U.N.

The U.S. typically uses its veto power to swat away any anti-Israel resolutions or Palestinian attempts at reaching statehood through the U.N. Now, American diplomats could instead authorize some resolutions after edits or abstain from voting on them.

"That in itself in the context of administration policy would be a fairly dramatic step," Simon said.  http://www.cnn.com/2015/03/18/politics/benjamin-netanyahu-israel-elections-obama/

March 19, 2015

Israel and the United States have a long, deep friendship. It's based on shared interests and values. But it's no longer clear that the old interests and values are shared. The U.S. government believes that Palestinian Arabs, like Jews, are entitled to a sovereign state. …

We must clarify the price Israel will pay for continuing to flout international norms and commitments. The challenge is to find the right measure. It can't be destructive, vengeful, or disproportionate. That rules out sanctions, cutting military aid, and subjecting Israel to prosecution under the International Criminal Court. It also rules out supporting a Palestinian-backed United Nations resolution that would demand the establishment of a Palestinian state within a year, with no corresponding promises to Israel.

The right vehicle is a different resolution, floated three months ago by France, which would authorize a two-year timetable for resolving the terms of statehood. It would stipulate a "non-militarized" Palestine, as well as a "full-phased withdrawal of Israeli security forces." The terms of the French draft aren't much different from what the United States informally accepts. But by endorsing the resolution and making clear that we will no longer use our veto in the Security Council to fend off such measures, the United States would signal to Israel that our patience has run out. Israel can join the discussions and move toward recognition of Palestine. Or it can stand alone.  http://www.slate.com/articles/news_and_politics/foreigners/2015/03/benjamin_netanyahu_isn_t_the_problem_the_united_states_has_enabled_israel.html
Notice some other developments on this story:
March 19, 2015

On Monday evening, a day before his party would come out on top of Israel's elections by an impressive margin, Israeli Prime Minister Benjamin Netanyahu performed an act of political survival by renouncing his previous support of a two-state solution to the Israeli-Palestinian conflict.

The move earned him both international scorn and domestic support…

On Thursday, Netanyahu performed yet another act of political survival by disavowing his disavowal. In his first interview after the elections, Netanyahu equivocated on his "not on my watch" stance on Palestinian statehood, offering instead that his statement had been a reflection of what was currently possible rather than what was desirable.

"I don't want a one-state solution; I want a sustainable, peaceful two-state solution, but for that, circumstances have to change," he told NBC News. "I was talking about what is achievable and what is not achievable. We have to have real negotiations with people who are committed to peace." http://www.theatlantic.com/international/archive/2015/03/bibi-walks-back/388243/

March 19, 2015

WASHINGTON, March 19 (Reuters) – Israeli Prime Minister Benjamin Netanyahu denied on Thursday abandoning his commitment to the eventual creation of a Palestinian state, backing away from pre-election comments that deepened a rift with Israel's ally the United States.

But the White House, unmoved by Netanyahu's post-election effort to backtrack, delivered a fresh rebuke against the Israeli leader and signaled that Washington may reconsider its long-standing policy of shielding Israel from international pressure at the United Nations.

"I haven't changed my policy. I never retracted my speech in Bar-Ilan University six years ago calling for a demilitarized Palestinian state that recognizes the Jewish state," Netanyahu said in an interview with MSNBC two days after winning a bitterly contested Israeli election. http://af.reuters.com/article/commoditiesNews/idAFL2N0WL14220150319
How the Obama Administration will really handle this is not entirely clear.
If it is seen as too anti-Israeli, then the Democratic party may face additional losses in the 2016 elections, including possible loss of the White House itself.
However, since Barack Obama is not a fan of Israel and its Prime Minister, at minimum I expect that his administration will take some steps against Israel in places, possibly including the United Nations, that Israel will not like.
As far as the Palestinians go, they already did not care for Benjamin Netanyahu and will likely refer to his statement on Monday as proof that he is not really serious about peace with them.  On the other hand, Benjamin Netanyahu will try to say he is always willing to discuss a two-state solution is the Palestinians agree to his terms and are not a threat.
The reality is that peace is not coming to this area for a while.  And when a prophesied significant peace deal comes into play (and this likely after a regional war or other conflict), it will be temporary according to Bible prophecy (Daniel 9:27).
As far as the USA and Israel goes, relations between the two will be tense for a while, but would be expected to change once there is a new USA president and/or a new Israeli prime minister.  Bible prophecy does NOT allow for a complete detachment between the USA and Israel yet (cf. Daniel 11:29-39; Psalm 83:3-8).
Several items of possibly related interest may include:
United Nations: Humankind's Last Hope or New World Order? Is the UN the last hope for humanity? Or might its goals end up with sinister results? A related video would be United Nations and Vatican Are Planning the New World Order.
Jerusalem: Past, Present, and Future What does the Bible say about Jerusalem and its future? Is Jerusalem going to be divided and eliminated? Is Jesus returning to the area of Jerusalem? There is also a related YouTube video you can watch titled Jerusalem To be divided and eliminated.
Gaza and the Palestinians in Bible Prophecy What does the Bible teach about Gaza and the fate of the Palestinians? Here is a link to a related video: Gaza and Palestine in Prophecy.
Obama Administration Pushing for an Islamic Empire? Because of the rise of groups such as the Islamic State, the Obama Administration and others are pushing for a coalition of Arab nations along with Turkey. Does this resemble the final King of the South of Bible prophecy? Is there an Islamic antichrist? Does the Bible teach that terrorism and the sword will affect the USA and some of its allies? What does the Bible teach in Ezekiel about a confederation involving Egypt? Will an Arabic confederation end in destruction for those who strongly support it? Are the 10 nations in the Arab coalition the ten kings of Revelation 17:12-13? Are the 10 nations including the USA and Turkey the ten nations of Revelation 17:12-13? Who is? Was the pushing of the Obama Administration to do this predicted by in 2009 in a writing by Dr. Thiel? What does the Bible show?
How Will Middle East Peace be Brought About? Can humans bring peace to the Middle East? Here is a link to a related video: Middle East Peace? When?
The 'Peace Deal' of Daniel 9:27 This prophecy could give up to 3 1/2 years advance notice of the coming Great Tribulation. Will most ignore or misunderstand its fulfillment? Here is a link to a related sermon video Daniel 9:27 and the Start of the Great Tribulation.
Anglo – America in Prophecy & the Lost Tribes of Israel Are the Americans, Canadians, English, Scottish, Welsh, Australians, Anglo-Saxon (non-Dutch) Southern Africans, and New Zealanders descendants of Joseph? Where are the lost ten-tribes of Israel? Who are the lost tribes of Israel? What will happen to Jerusalem and the Jews in Israel? Will God punish the U.S.A., Canada, United Kingdom, and other Anglo-Saxon nations? Why might God allow them to be punished first? Here is a link to the Spanish version of this article: Anglo-América & las Tribus Perdidas de Israel. Information is also in the YouTube sermons titled Where are the Ten Lost Tribes? Why does it matter? and British are the Covenant People. A short YouTube of prophetic interest may be Barack Obama and the State of the Apocalypse.
When Will the Great Tribulation Begin? 2015, 2016, or 2017? Can the Great Tribulation begin today? What happens before the Great Tribulation in the "beginning of sorrows"? What happens in the Great Tribulation and the Day of the Lord? Is this the time of the Gentiles? When is the earliest that the Great Tribulation can begin? What is the Day of the Lord? Who are the 144,000? Here is a version of the article in the Spanish language: ¿Puede comenzar la Gran Tribulación en 2014 o 2015? ¿Es el Tiempo de los Gentiles? You can also see the English language sermon video: The Great Tribulation from the Mount of Olives.
Barack Obama, Prophecy, and the Destruction of the United States-Second Edition for Second Obama Term This is a 160 page book for people truly interested in prophecies related to Barack Obama and the United States, including learning about many that have already been fulfilled (which the book documents in detail) and those that will be fulfilled in the future. It also has a chapter about a Republican choice. This book is available to order at www.barackobamaprophecy.com. The physical book can also be purchased at Amazon from the following link: Barack Obama, Prophecy, and the Destruction of the United States: Is Barack Obama Fulfilling Biblical, Islamic Catholic, Kenyan, and other America-Related Prophecies? What About Republican Leaders? Second Edition for Second Obama Term.
Barack Obama, Prophecy, and the Destruction of the United States-Second Term-Amazon Kindle edition. This electronic version is available for only US$2.99. And you do not need an actual Kindle device to read it. Why? Amazon will allow you to download it to almost any device: Please click HERE to download one of Amazon s Free Reader Apps. After you go to for your free Kindle reader and then go to Barack Obama, Prophecy, and the Destruction of the United States-Second Term-Amazon Kindle edition.