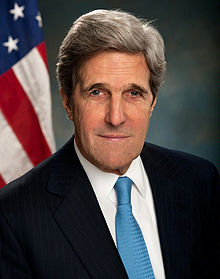 US Secretary of State John Kerry

In the past few weeks the migrant crisis in Europe has accelerated. Today, the USA pledged to take more migrants:
September 20, 2015

U.S. Secretary of State John Kerry said the Obama administration will increase the number of refugees allowed to enter the United States to 100,000 annually in 2017, as Europe grapples with its largest influx of migrants since the end of World War II.

Speaking Sunday in Berlin, Kerry called the U.S. decision a "step in keeping with America's best tradition as a land of second chances and a beacon of hope."

Under the new plan, the U.S. limit on refugee visas — currently capped at 70,000 annually — would jump to 85,000 in fiscal 2016 and then rise to 100,000 the following year.

Kerry also said Washington would explore ways to boost the limit beyond the 100,000 ceiling in future years.

Kerry did not say how many of the additional refugees would be from Syria but pledged that the U.S. was ready to help.  http://www.voanews.com/content/austria-hungary-croatia-european-migrant-crisis/2971094.html
While many alien refugees truly need help, some people are not grateful for the help they get, and some people become hostile to nations that take them in.  Many in Syria blame actions and inactions by the USA for their troubles already.
The Bible warns of a time when aliens will rise up:
43 "The alien who is among you shall rise higher and higher above you, and you shall come down lower and lower. 44 He shall lend to you, but you shall not lend to him; he shall be the head, and you shall be the tail.

45 "Moreover all these curses shall come upon you and pursue and overtake you, until you are destroyed, because you did not obey the voice of the Lord your God, to keep His commandments and His statutes which He commanded you. 46 And they shall be upon you for a sign and a wonder, and on your descendants forever.

47 "Because you did not serve the Lord your God with joy and gladness of heart, for the abundance of everything, 48 therefore you shall serve your enemies, whom the Lord will send against you, in hunger, in thirst, in nakedness, and in need of everything; and He will put a yoke of iron on your neck until He has destroyed you. 49 The Lord will bring a nation against you from afar, from the end of the earth, as swift as the eagle flies, a nation whose language you will not understand, 50 a nation of fierce countenance, which does not respect the elderly nor show favor to the young. 51 And they shall eat the increase of your livestock and the produce of your land, until you are destroyed; they shall not leave you grain or new wine or oil, or the increase of your cattle or the offspring of your flocks, until they have destroyed you. (Deuteronomy 28:43-51)
The USA was essentially founded by descendants of ancient Israel (see Anglo – America in Prophecy & the Lost Tribes of Israel).  The USA will not serve God with joy and gladness and various curses are beginning to hit it.  As far as a nation whose language is not understood being involved, Psalm 83 refers to Middle Eastern nations and one in Europe (see also Germany in Biblical Prophecy).
As regular readers of this page are aware, the Bible shows that terrorism is prophesied:
14 'But if you do not obey Me, and do not observe all these commandments, 15 and if you despise My statutes, or if your soul abhors My judgments, so that you do not perform all My commandments, but break My covenant, 16 I also will do this to you: I will even appoint terror over you, wasting disease and fever which shall consume the eyes and cause sorrow of heart. And you shall sow your seed in vain, for your enemies shall eat it. 17 I will set My face against you, and you shall be defeated by your enemies. Those who hate you shall reign over you, and you shall flee when no one pursues you. (Leviticus 26:14-17)

25 The sword shall destroy outside; There shall be terror within (Deuteronomy 32:25)

12 "Cry and wail, son of man; For it will be against My people, Against all the princes of Israel. Terrors including the sword will be against My people; Therefore strike your thigh. (Ezekiel 21:12)

12 Behold, these are the ungodly,Who are always at ease; They increase in riches…19 Oh, how they are brought to desolation, as in a moment! They are utterly consumed with terrors. (Psalms 73:12,19)

25 Because you disdained all my counsel, And would have none of my rebuke, 26 I also will laugh at your calamity; I will mock when your terror comes, 27 When your terror comes like a storm, And your destruction comes like a whirlwind, When distress and anguish come upon you. (Proverbs 1:25-27)

5 Also they are afraid of height, And of terrors in the way (Ecclesiastes 12:5).
Bringing in people from areas filled with terrorists could be a factor in fulfilling prophecies like the above.
In the 83rd Psalm, the Bible also shows that a confederation will form against the USA, its Anglo-Saxon allies, and Israel involving Arab and European forces (see also the article Anglo – America in Prophecy). And I have long believed that terrorism will have to be part of this–having more people with connections to terrorists within the UK and USA would tend to facilitate this.
The USA, its Anglo-Saxon allies, and Israel will end up being hit by massive terrorism. They will also face destruction (Deuteronomy 32:25) from the King of the North (Daniel 11:39). Terrorism may be a factor in weakening them first.
As many of the migrants are Islamic that are currently being discussed, I thought I would add the following related to Muslims and Donald Trump today:
Donald Trump still won't acknowledge President Barack Obama was born in the U.S. and insinuated on Sunday that the country has already had its first Muslim president.

The real estate mogul called in to "Meet The Press" Sunday morning to address the ongoing controversy that followed his lack of response after a supporter asked Trump how he would address "a problem in this country … called Muslims." Host Chuck Todd used the line of question to turn to another tea party stumping point: that the president isn't a U.S. citizen.

Trump refused to share his current views on the factually inaccurate sentiment, instead telling Todd he just doesn't like talking about it and "won't talk about it."

"I just don't discuss it," the candidate said. "Really, it hasn't been brought up in a long time."

Trump is actually one of the forefathers of the Obama birther conspiracy. He made headlines in 2011 after persistently demanding to see the president's birth certificate while raising doubts over Obama's birthplace in Hawaii. Even after the White House released an official copy of the document, Trump questioned its authenticity. …

candidate said he didn't "talk about people's faith" and added that he was "willing to take [the president] at his word."

Despite his reluctance to address an individual's faith, the candidate made a point to note that he "love[s] the Muslims" and thinks "they're great people" during a stop at a high school homecoming Saturday night. He gave Todd a similar one-liner before reversing himself to say he believes there is, in fact, a problem there.

"I feel strongly that Muslims are excellent. I know so many Muslims that are such fabulous people," he told Todd. "But there is a problem. I mean, there's no question about it. And we can be politically correct and we can say there is no problem whatsoever. But the fact is there is a problem with some. And it's a very severe problem." http://www.huffingtonpost.com/entry/trump-obama-muslim_55fed420e4b0fde8b0ce9ef2
Like Donald Trump I have known a lot of Muslims that I like and respected personally.  Yet, within Islam there are various terrorist elements.
As far as Barack Obama goes, he is most certainly not a true Christian and is at least a Muslim sympathizer (see VOA, 'Trump Under Fire After Supporter Calls Obama a Muslim Foreigner ').
Prophetically, some of the Islamic migrants to the USA would seem to pose a threat per Psalm 83.
Some items of possibly related interest may include:
The Prophesied 'Islamic' Confederation Where is an Islamic caliphate prophesied? Will one happen? Should you be concerned about it? A related video is Will an Arabic Calphiphate Destroy the West?
Obama Administration Pushing for an Islamic Empire? Because of the rise of groups such as the Islamic State, the Obama Administration and others are pushing for a coalition of Arab nations along with Turkey. Does this resemble the final King of the South of Bible prophecy? Is there an Islamic antichrist? Does the Bible teach that terrorism and the sword will affect the USA and some of its allies? What does the Bible teach in Ezekiel about a confederation involving Egypt? Will an Arabic confederation end in destruction for those who strongly support it? Are the 10 nations in the Arab coalition the ten kings of Revelation 17:12-13? Are the 10 nations including the USA and Turkey the ten nations of Revelation 17:12-13? Who is? Was the pushing of the Obama Administration to do this predicted by in 2009 in a writing by Dr. Thiel? What does the Bible show?
Differences Between Islam and the Continuing Church of God What are some of the main differences? Are there any similarities? A video of related interest is titled: Islam: Any Christian Concerns or Similarities?
Iraq, the King of the South, Armageddon, and Prophecy What will happen to Iraq? Is it the prophesied Mystery Babylon? What is Armageddon and how does that have to do with Iraq? Here is a related video Iraq, Armageddon, & Prophecy.
How Will Middle East Peace be Brought About? Can humans bring peace to the Middle East? Here is a link to a related video: Middle East Peace? When?
The 'Peace Deal' of Daniel 9:27 This prophecy could give up to 3 1/2 years advance notice of the coming Great Tribulation. Will most ignore or misunderstand its fulfillment? Here is a link to a related sermon video Daniel 9:27 and the Start of the Great Tribulation.
Who is the King of the West? Why is there no Final End-Time King of the West in Bible Prophecy? Is the United States the King of the West? Here is a version in the Spanish language: ¿Quién es el Rey del Occidente? ¿Por qué no hay un Rey del Occidente en la profecía del tiempo del fin?
Who is the King of the North? Is there one? Do biblical and Roman Catholic prophecies for the Great Monarch point to the same leader? Should he be followed? Who will be the King of the North discussed in Daniel 11? Is a nuclear attack prophesied to happen to the English-speaking peoples of the United States, Great Britain, Canada, Australia, and New Zealand? When do the 1335 days, 1290 days, and 1260 days (the time, times, and half a time) of Daniel 12 begin? When does the Bible show that economic collapse will affect the United States? In the Spanish language check out ¿Quién es el Rey del Norte? Here is a link to a video titled: The Future King of the North.
Europa, the Beast, and Revelation Where did Europe get its name? What might Europe have to do with the Book of Revelation? What about "the Beast"? Is an emerging European power "the daughter of Babylon"? What is ahead for Europe? Here is a link to a video titled: Can You Prove that the Beast to Come is European?
European Technology and the Beast of Revelation Will the coming European Beast power would use and develop technology that will result in the taking over of the USA and its Anglo-Saxon allies? Is this possible? What does the Bible teach? Here is a related YouTube video: Military Technology and the Beast of Revelation.
Must the Ten Kings of Revelation 17:12 Rule over Ten Currently Existing Nations? Some claim that these passages refer to a gathering of 10 currently existing nations together, while one group teaches that this is referring to 11 nations getting together. Is that what Revelation 17:12-13 refers to? The ramifications of misunderstanding this are enormous. A related sermon is titled Ten Kings of Revelation and the Great Tribulation.
Might German Baron Karl-Theodor zu Guttenberg become the King of the North? Is the former German Defense Minister (who is also the former German Minister for Economics and Technology) one to watch? What do Catholic, Byzantine, and biblical prophecies suggest?
Germany's Assyrian Roots Throughout History Are the Germanic peoples descended from Asshur of the Bible? Have there been real Christians in Germanic history? What about the "Holy Roman Empire"? There is also a You-Tube video sermon on this titled Germany's Biblical Origins.
Germany in Biblical Prophecy Does Assyria in the Bible equate to an end time power inhabiting the area of the old Roman Empire? What does prophecy say Germany will do and what does it say will happen to most of the German people? Here are links to two sermon videos Germany in Bible Prophecy and The Rise of the Germanic Beast Power of Prophecy.
Anglo – America in Prophecy & the Lost Tribes of Israel Are the Americans, Canadians, English, Scottish, Welsh, Australians, Anglo-Saxon (non-Dutch) Southern Africans, and New Zealanders descendants of Joseph? Where are the lost ten-tribes of Israel? Who are the lost tribes of Israel? What will happen to Jerusalem and the Jews in Israel? Will God punish the U.S.A., Canada, United Kingdom, and other Anglo-Saxon nations? Why might God allow them to be punished first? Here is a link to the Spanish version of this article: Anglo-América & las Tribus Perdidas de Israel. Information is also in the YouTube sermons titled Where are the Ten Lost Tribes? Why does it matter? and British are the Covenant People. A short YouTube of prophetic interest may be Barack Obama and the State of the Apocalypse.
When Will the Great Tribulation Begin? 2015, 2016, or 2017? Can the Great Tribulation begin today? What happens before the Great Tribulation in the "beginning of sorrows"? What happens in the Great Tribulation and the Day of the Lord? Is this the time of the Gentiles? When is the earliest that the Great Tribulation can begin? What is the Day of the Lord? Who are the 144,000? Here is a version of the article in the Spanish language: ¿Puede comenzar la Gran Tribulación en 2014 o 2015? ¿Es el Tiempo de los Gentiles? You can also see the English language sermon video: The Great Tribulation from the Mount of Olives.
Barack Obama, Prophecy, and the Destruction of the United States-Second Edition for Second Obama Term This is a 160 page book for people truly interested in prophecies related to Barack Obama and the United States, including learning about many that have already been fulfilled (which the book documents in detail) and those that will be fulfilled in the future. It also has a chapter about a Republican choice. This book is available to order at www.barackobamaprophecy.com. The physical book can also be purchased at Amazon from the following link: Barack Obama, Prophecy, and the Destruction of the United States: Is Barack Obama Fulfilling Biblical, Islamic Catholic, Kenyan, and other America-Related Prophecies? What About Republican Leaders? Second Edition for Second Obama Term.
Barack Obama, Prophecy, and the Destruction of the United States-Second Term-Amazon Kindle edition. This electronic version is available for only US$2.99. And you do not need an actual Kindle device to read it. Why? Amazon will allow you to download it to almost any device: Please click HERE to download one of Amazon s Free Reader Apps. After you go to for your free Kindle reader and then go to Barack Obama, Prophecy, and the Destruction of the United States-Second Term-Amazon Kindle edition.