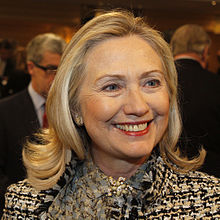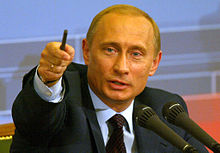 Hillary Rodham Clinton (Kai Moerk 2012)

Vladmir Putin comments about Hillary Clinton and one of her comments about him:
June 4, 2014

Russian President Vladimir Putin on Tuesday said Hillary Clinton's recent comments comparing his actions to those of Adolf Hitler are a sign of weakness, saying she "has never been too graceful" in her public statements.

"It's better not to argue with women. But Ms. Clinton has never been too graceful in her statements," Putin said…

At a private fundraiser in March, Clinton reportedly compared Putin's move to issue Russian passports to those with Russian connections outside the country to Hitler's efforts to protect German's outside of Germany.

"Now if this sounds familiar, it's what Hitler did back in the '30s," Clinton said…

Putin said, "Someday I will indulge myself and we will laugh together at some good joke. But when I hear such extreme statements, to me it only means that they don't have any valid arguments."  …

Putin was asked if he thought "it would be worse if you were meeting with Hillary Clinton" given the former secretary of state's rhetoric.

"I think even in this case we could reach an agreement," Putin said. "When people push boundaries too far, it's not because they are strong but because they are weak. But maybe weakness is not the worst quality for a woman.  http://www.nbcnews.com/politics/politics-news/putin-hillary-clinton-has-never-been-too-graceful-statements-n122776
Vladimir Putin does not appreciate the Hitler comments that Hillary Clinton and others have sometimes brought up.  But they do not seem to have affected him too much.  He still is working on his agenda, which includes increasing the influence of Russia throughout Eurasia at minimum.
Hillary Clinton herself made the news today for not committing to whether or not she will run for president:
Hillary Clinton for the umpteenth time is coyly chewing over the possibility of a 2016 White House run.

"I know I have a decision to make," the former secretary of state recently told People magazine about her status as early frontrunner for the Democratic presidential nomination. "But part of what I've been thinking about is everything I'm interested in, and everything I enjoy doing. And with the extra added joy of, 'I'm about to be a grandmother,' I want to live in the moment; at the same time, I am concerned about what I see happening in the country and in the world."…

he's spent that past 16 months spearheading projects with the Clinton Foundation, delivering weighty speeches across the country, and gearing up to launch a book tour next week for her memoir "Hard Choices." Her continued public presence has only stoked the rampant speculation that she'll reprise her 2008 presidential bid in 2016.

On Wednesday, the "Ready for Hillary" Super PAC announced the undraping of "The Hillary Bus," which "will travel from coast to coast, channeling the enthusiasm around a potential Hillary 2016 candidacy to activate supporters in the 2014 midterms, while further building a grassroots army of supporters who are encouraging her to run and ready to help her win."

Still, just as clamorous as the calls for her to throw her hat in the ring are the mounting criticisms arguing she shouldn't. http://www.cbsnews.com/news/hillary-clinton-on-2016-i-have-a-decision-to-make/
If she is not planning on running, then her comments, at minimum, would seem to increase the sale of her upcoming book.
She remains one to watch.  But for other reasons, so is Vladimir Putin.
Several items of possibly related interest may include:
Hillary Clinton in Prophecy Are there prophecies that Hillary Clinton may fulfill? Are there any prophecies that she has already helped fulfill? Could Hillary Clinton be apocalyptic? Could Hillary Clinton be the final Antichrist?
Anglo – America in Prophecy & the Lost Tribes of Israel Are the Americans, Canadians, English, Scottish, Welsh, Australians, Anglo-Saxon (non-Dutch) Southern Africans, and New Zealanders descendants of Joseph? Where are the lost ten-tribes of Israel? Who are the lost tribes of Israel? What will happen to Jerusalem and the Jews in Israel? Will God punish the U.S.A., Canada, United Kingdom, and other Anglo-Saxon nations? Why might God allow them to be punished first? Here is a link to the Spanish version of this article: Anglo-América & las Tribus Perdidas de Israel. A video of possible interest may be Will Will USA Spying Help the Beast Power?
Can you see the 'Handwriting on the Wall'? Thousands of years ago, King Belshazzar saw a hand appear at a big party he was hosting. The hand wrote Mene, Mene, Tekel, Upharsin. Shortly after the Prophet Daniel explained it, his empire was taken over and King Belshazzar died. Is this applicable today? Are there signs right before our eyes that show that the end is coming to the United States and its Anglo-descended allies. Do abortions, sexual immorality, celebrity pornography, and increased debt mean anything? What does the Bible show?
When Will the Great Tribulation Begin? 2014, 2015, or 2016? Can the Great Tribulation begin today? What happens before the Great Tribulation in the "beginning of sorrows"? What happens in the Great Tribulation and the Day of the Lord? Is this the time of the Gentiles? When is the earliest that the Great Tribulation can begin? What is the Day of the Lord? Who are the 144,000? Here is a version of the article in the Spanish language: ¿Puede comenzar la Gran Tribulación en 2013 o 2014? ¿Es el Tiempo de los Gentiles? You can also see the English language sermon video: The Great Tribulation from the Mount of Olives.
Women and the New Testament Church Were women important in the New Testament Church? Which women and how were they involved?
Abortion, the Bible, and a Woman's Right to Choose Do you know what the Bible teaches on this? Has the Roman Catholic Church allowed abortions? What about the real Church of God? Some may also, or instead, wish to view the YouTube video Abortion, the Bible, and US Debt.
Cross-dressing and other assaults against your children. What should you do? Is there an agenda to turn your children and/or grandchildren away from biblical morality and towards practices promoted by homosexuals? What does the Bible teach about cross-dressing? What should parents do? If there is an agenda, what has been going on? There is also a YouTube video on this, titled Cross dressing and Other Assaults Against Your Children.
The Bible Condemns Homosexuality "Same-sex marriage" for "gays" and lesbians is becoming more acceptable to many. What does the Bible teach about homosexuality? Can homosexuals change?
Russia in the Bible and in Prophecy Is Russia mentioned in the Bible? It it is where is it? Is there any evidence of a people moving to the land that the Russians now occupy? What do Catholic and other prophecies say about Russia? What does the Bible teach? How are Protestants often in error on this? Is there more in biblical prophecy for Russia than war? Does God have a plan to save Russia and her allies? Does Russia have a history involving Sabbath keepers? Does scripture tie Russia in with Armageddon? Will Russia help defeat the end time Babylonian power? What did the Apostle John, and the prophets Isaiah, Jeremiah, and Daniel, write about Russia? This is a sermon-length video.
World War III: Steps in Progress Are there surprising actions going on now that are leading to WWIII? Might a nuclear attack be expected? Does the Bible promise protection to all or only some Christians? How can you be part of those that will be protected? A related video would be Is World War III About to Begin? Can You Escape?
Wars, rumors of wars, and the Apocalypse Jesus foretold a time before the end where there would be wars and rumors of wars. The Apocalypse (the Book of Revelation) warns of the red horseman of war. Now, even secular writers, like Larry Edelson, are worried that wars and rumors of war are the most menacing problem that now haunts the earth? Are they right? What is the solution? This is a sermonette-length video.
Russia and Ukraine: Origins and Prophesied Future Where do the Russians come from? What about those in the Ukraine? What is prophesied for Russia and its allies? What will they do to the Europeans that supported the Beast in the end? You can also watch the new video Ukraine in Prophecy?
Is Russia the King of the North? Some claim it is. But what does the Bible teach? Here is a link to a video, also titled Is Russia the King of the North?
The Eurasian Union, the Kings of the East, and Bible Prophecy Is there a Eurasian union that will be formed? Is one being formed right now? Are any leaders working on that in the 21st century? Does the Bible teach that there will be a Eurasian union? If some type of Eurasian union is formed, who might it benefit and who will it destroy? A related video would be Is The Eurasian Union Rising?
Barack Obama and the State of the Apocalypse Is Barack Obama apocalyptic? Could he be the final Antichrist? Dr. Thiel has been writing about this since 2008 and covers this in this 2014 video. Dr. Thiel quotes statements that Barack Obama made in his 2014 State of the Union address and tied several in with events that are aligning with the warnings in the Book of Revelation also known as the Apocalypse. Is the US "alliance with Europe remains the strongest the world has ever known" as Barack Obama's State of Union message claims true or very dangerous? This is a video.
Barack Obama, Prophecy, and the Destruction of the United States-Second Edition for Second Obama Term This is a 160 page book for people truly interested in prophecies related to Barack Obama and the United States, including learning about many that have already been fulfilled (which the book documents in detail) and those that will be fulfilled in the future. It also has a chapter about a Republican choice. This book is available to order at www.barackobamaprophecy.com. The physical book can also be purchased at Amazon from the following link: Barack Obama, Prophecy, and the Destruction of the United States: Is Barack Obama Fulfilling Biblical, Islamic Catholic, Kenyan, and other America-Related Prophecies? What About Republican Leaders? Second Edition for Second Obama Term.
Barack Obama, Prophecy, and the Destruction of the United States-Second Term-Amazon Kindle edition. This electronic version is available for only US$2.99. And you do not need an actual Kindle device to read it. Why? Amazon will allow you to download it to almost any device: Please click HERE to download one of Amazon s Free Reader Apps. After you go to for your free Kindle reader and then go to Barack Obama, Prophecy, and the Destruction of the United States-Second Term-Amazon Kindle edition.