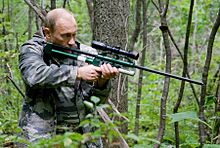 Vladimir Putin (Premier.gov.ru)
Russia's Vladimir Putin spoke of Ukraine's planned October 26th election:
October 2, 2014

President Vladimir Putin said on Thursday he hoped Ukraine's parliamentary poll, scheduled for October 26, would help restore stability in the country, saying that such a development would also be welcomed by Russia.

Relations between Moscow and Kyiv have been teetering on the brink since Russia annexed Ukraine's Crimean peninsula in March and has since been seen as having fomented and directly supported a separatist rebellion in the country's east, a charge Moscow denies.

"I hope Ukraine's parliamentary elections will be worthy and there will finally be long-awaited political stability," Putin told VTB Capital "Russia Calling" investment forum in Moscow.

"Ukraine's exit from political and economic crisis is in Russia's national interests," he added referring to Ukraine as Russia's "most brotherly" nation.

"We are tied together through an ethnic, spiritual, religious and historic commonality," said Putin.

Charges, counter-charges

At the same time the Russian leader warned Ukraine that it can "preserve its territorial integrity and unity only if it guarantees the rights of all its citizens," a clear reference to Ukraine's ethnic Russians and Russian speakers, who Moscow claims are being discriminated against. Kyiv denies the allegation, accusing Russia of exaggerating and artificially inflaming tensions as part of efforts to destabilize Ukraine.

Ukrainians are seen as having turned their back on their former Soviet overlord when after months of massive protests they ousted Russia-backed president Viktor Yanukovych in February. Yanukovych, who fled to Russia, in November of last year spurned an association deal with the European Union in favor of a bail-out from Moscow. Ukraine's new government has since signed the agreement, raising concerns in Moscow over its European course.

Meanwhile, in Ukraine's still restive east, Pro-Russia rebel leaders, who do not recognize Kyiv's sovereignty over territory they control, have already said the October 26 poll has no validity for them. http://www.voanews.com/content/putin-says-he-hoped-election-will-bring-ukraine-stability/2470026.html
Vladimir Putin wants Ukraine, to influence, dominate, and ultimately control. He is repeatedly taking steps in order to increase Russian influence there.
Many in Ukraine do not trust him or Russia.  They hope that they will be able to be a real part of the European Union and benefit economically and politically from that.
Notice also what has been going on in the East:
October 2, 2014

Rebel forces in eastern Ukraine are conducting an offensive to capture the government-held airport in Donetsk, officials say.

Pro-Russian rebels have tried several times in recent weeks to take the airport, which lies to the north-west of the city, despite an official truce.

The Ukrainian military said the rebels were moving on "a broad front".

However a spokesman denied claims they had taken a large part of the airport and insisted it was not surrounded.

The ceasefire was called on 5 September, but on Wednesday four people were killed by a shell which landed on a school in Donetsk, and six died when a minibus was hit. http://www.bbc.com/news/world-europe-29455133
Parts of Ukraine are dangerous and the situation within that country remain tense.
Some items of possibly related interest may include:
Russia and Ukraine: Origins and Prophesied Future Where do the Russians come from? What about those in the Ukraine? What is prophesied for Russia and its allies? What will they do to the Europeans that supported the Beast in the end? You can also watch the short video Ukraine in Prophecy?
Russia in the Bible and in Prophecy Is Russia mentioned in the Bible? It it is where is it? Is there any evidence of a people moving to the land that the Russians now occupy? What do Catholic and other prophecies say about Russia? What does the Bible teach? How are Protestants often in error on this? Is there more in biblical prophecy for Russia than war? Does God have a plan to save Russia and her allies? Does Russia have a history involving Sabbath keepers? Does scripture tie Russia in with Armageddon? Will Russia help defeat the end time Babylonian power? What did the Apostle John, and the prophets Isaiah, Jeremiah, and Daniel, write about Russia? This is a sermon-length video.
Ezekiel 38: For Russia & Iran in Our Day? Is Ezekiel 38 about to be fufilled? A related video is available titled Ezekiel 38: For Russia, Ukraine, & Iran Now?
Bible News Prophecy July-Sept. 2014: The Coming Eurasian Union Here is the latest magazine from the Continuing Church of God. The cover of which shows Vladimir Putin and features an article about the coming Eurasian Union.
Europa, the Beast, and Revelation Where did Europe get its name? What might Europe have to do with the Book of Revelation? What about "the Beast"? Is an emerging European power "the daughter of Babylon"? What is ahead for Europe? Here is a link to a video titled: Can You Prove that the Beast to Come is European?
European Technology and the Beast of Revelation Will the coming European Beast power would use and develop technology that will result in the taking over of the USA and its Anglo-Saxon allies? Is this possible? What does the Bible teach? Here is a related YouTube video: Military Technology and the Beast of Revelation.
Must the Ten Kings of Revelation 17:12 Rule over Ten Currently Existing Nations? Some claim that these passages refer to a gathering of 10 currently existing nations together, while one group teaches that this is referring to 11 nations getting together. Is that what Revelation 17:12-13 refers to? The ramifications of misunderstanding this are enormous. A related sermon is titled Ten Kings of Revelation and the Great Tribulation.
World War III: Steps in Progress Are there surprising actions going on now that are leading to WWIII? Might a nuclear attack be expected? Does the Bible promise protection to all or only some Christians? How can you be part of those that will be protected? A related video would be Is World War III About to Begin? Can You Escape?
Wars, rumors of wars, and the Apocalypse Jesus foretold a time before the end where there would be wars and rumors of wars. The Apocalypse (the Book of Revelation) warns of the red horseman of war. Now, even secular writers, like Larry Edelson, are worried that wars and rumors of war are the most menacing problem that now haunts the earth? Are they right? What is the solution? This is a sermonette-length video.
Is Russia the King of the North? Some claim it is. But what does the Bible teach? Here is a link to a video, also titled Is Russia the King of the North?
The Eurasian Union, the Kings of the East, and Bible Prophecy Is there a Eurasian union that will be formed? Is one being formed right now? Are any leaders working on that in the 21st century? Does the Bible teach that there will be a Eurasian union? If some type of Eurasian union is formed, who might it benefit and who will it destroy? A related video would be Is The Eurasian Union Rising?
Who is the King of the North? Is there one? Do biblical and Roman Catholic prophecies for the Great Monarch point to the same leader? Should he be followed? Who will be the King of the North discussed in Daniel 11? Is a nuclear attack prophesied to happen to the English-speaking peoples of the United States, Great Britain, Canada, Australia, and New Zealand? When do the 1335 days, 1290 days, and 1260 days (the time, times, and half a time) of Daniel 12 begin? When does the Bible show that economic collapse will affect the United States? In the Spanish language check out ¿Quién es el Rey del Norte? Here is a link to a video titled: The Future King of the North.